This three day kayaking and camping adventure is not only an ideal add on to one of our Torres del Paine itineraries, but it's a fantastic way for kayak enthusiasts to enjoy Patagonia from a different perspective. Kayak along the impressive Serrano River, passing awe-inspiring ice fields, mighty peaks and fjords. Paddling through this remote wilderness allows you to fully appreciate the grandeur of these pristine and untouched lands.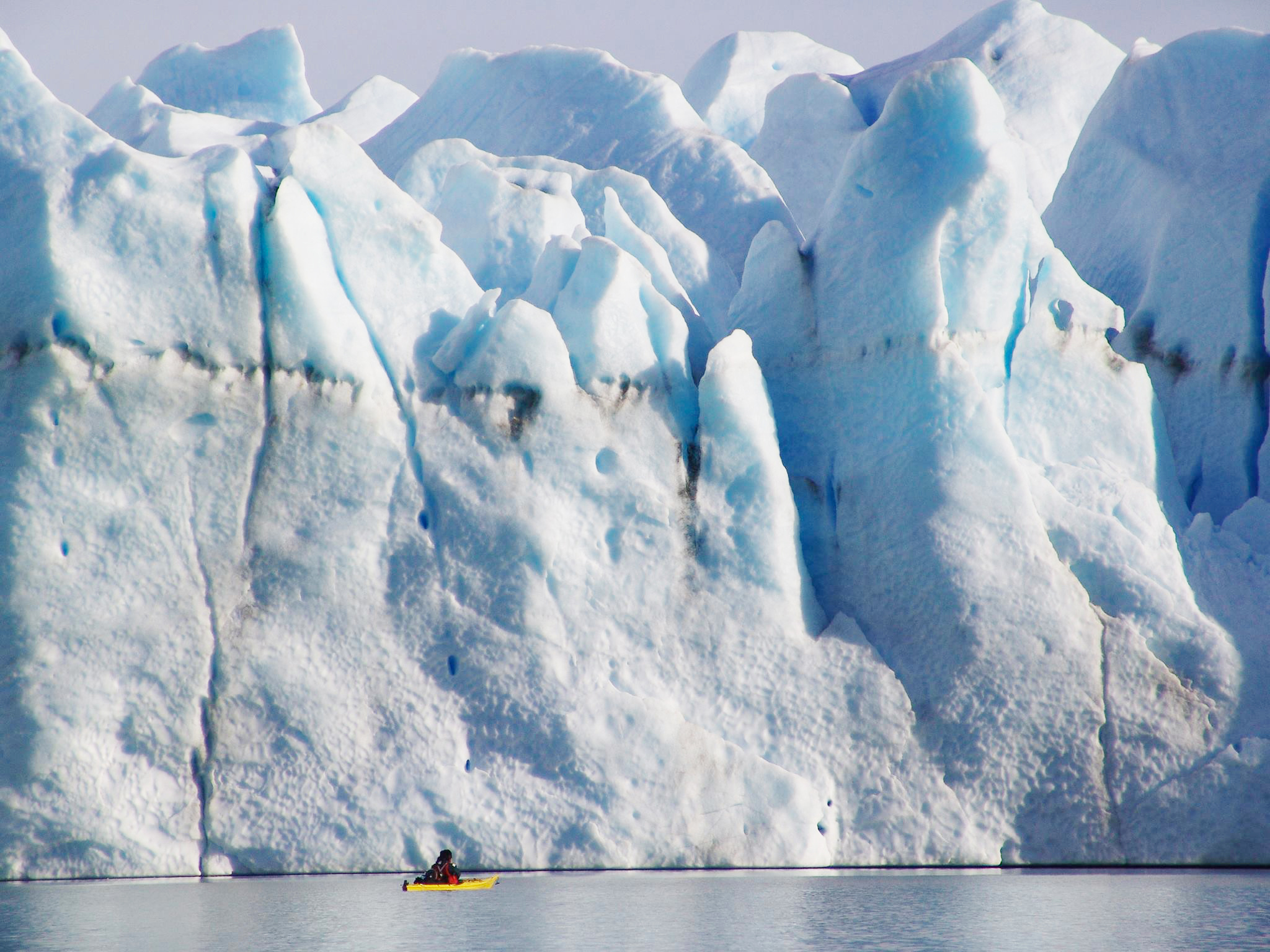 One can expect some of the most breath-taking landscapes you're ever likely to witness in Patagonia. Paddle your way down the impressive Serrano River, through scenic fjords and beautiful ice fields, whilst gazing in awe at the lenga covered mountains and mighty peaks that surround you.

You will encounter two phenomenal glaciers, including the Balmaceda and Serrano, which form the southern tip of Parque Nacional Bernado O'Higgins, one of the least visited National parks in the whole of Chile. At these glaciers you can often witness huge chunks of ice calving from them and crashing into the water below, which is quite a spectacle to see.

Accompanied by a certified kayak guide, depending on your experience, you have the choice of a double or single kayak, with all necessary kayaking equipment included. By night you will pitch tents at carefully selected riverside campsites, where you will be able to enjoy the sights and the sounds of nature.

This trip can also be enjoyed as a standalone experience including pick up and drop off from your accommodation in Puerto Natales (approx 80 minute drive from Torres del Paine National Park). Please contact us for hotel suggestions.
Itinerary
3 Day Sample Itinerary
The vast unbroken stretch of ocean to the west and south of the South American continent leaves the Patagonian Andes very exposed to the saturated winds that circle the Antarctic landmass. Also, both the strong marine and the South Patagonic Ice field influence make the weather hard to predict. In spring or early summer, fine weather may deteriorate almost without warning, bringing rains and eventually snow. Even in summer (December to March) you should come prepared to find cold- strong winds (up to 130 km/hr) and rainfalls. The summer's average temperature is 11ºC/52ºF (24ºC max, 2ºC min).

Sea kayaking in Patagonia can be very unpredictable due to weather conditions. Sometimes the winds blow from the ocean with such force that makes waves break upstream, making navigation almost impossible. If you book this trip please keep in mind that the whole trip is weather permitting and that considerable physical effort is required.
Day 1: Embark your Kayaking Adventure
You will begin your day by driving towards Serrano Camp on the southwest shore of the Park, where the Serrano River begins its winding path towards the Pacific ocean leaving Torres del Paine NP. When you reach the camp you are provided with your equipment and given a safety briefing to prepare you for the next three days of your adventure. You start paddling down Serrano River, whilst appreciating the spectacular scenery around you. When you've been kayaking for about 4 hours you will cross a small section over land to avoid a waterfall. You will then continue downstream passing beautiful mountains covered in Lenga forests. You disembark at a riverside campsite near the mouth of the Tyndall River, pitch your tents and enjoy dinner by the campfire.
After enjoying a delicious breakfast by the Serrano River and drinking in one of the most beautiful views of the valleys, mountains and Patagonian glaciers, you will continue rowing downstream. After 2 hours of rowing, you will slowly approach Mount Balmaceda until you enter the waters of the Ultima Esperanza Fjord. A pause for lunch-time will give you the strength to reach Balmaceda Glacier if the Patagonian winds allow it. We will go back to Puerto Toro, where you will set up camp. After an exhausting day, you will enjoy your dinner under a native forest of Lenga trees only a few feet away from the Serrano River.
Day 3: Serrano Glacier and Last Hope Fjord
After a very early breakfast this morning you will paddle towards Serrano Lagoon (where Serrano Glacier ends) and row for approximately 1 hour between the glistening icebergs that fall from the immense glacier. At noon you will return and wait for an embarkation that will take you back through the Última Esperanza Fjord, enjoying the beautiful landscape of the Patagonian fjord.

After a few hours of navigation, you will stop by a Magellanic estancia to enjoy a traditional and well deserved Patagonian Asado (barbeque). You will continue your navigation towards your final destination: Puerto Natales.
Dates
Departures
Regular departures every day on request, October to March.

Starting / Finishing Points
The trip starts on day 1 at midday at your accommodation in Torres del Paine NP or Puerto Natales. The trip finishes on day 3 at your hotel in Puerto Natales approx. 6 PM.

Physical Demands
This trip is recommended for people in good physical condition who are accustomed to camping outdoors. Basic experience with kayaks is recommended.

Minimum age: 15 years old
Maximum age: 65 years old

Camping
The camping gear consists of all-season tents for 2,3 or 4 people. You are required to bring your own mat and sleeping bag (rental shops can be found in Puerto Natales). The guides have marine VHF radios for communication and emergency purposes.

Price Includes:
Certified kayak guide
Transfer from Puerto Natales.
Double or single kayak, depending on your experience.
Fee for the Bernardo O'Higgins National Park.
Navigation ticket Puerto Toro – Puerto Natales.
2 nights of camping.
Complete rowing equipment, including dry suit and dry bag.
Complete camping equipment (MSR Elixir 3 tent and Thermarest mats).
Asado in Estancia Perales (drinks not included).
Transfer from Puerto Bories back to the Hotel.
Meals:
Day 1: BL, D
Day 2: B, BL, D
Day 3: B, L
B: Breakfast, BL: Box-Lunch, D: Dinner

Price Excludes:
Fee for the Torres del Paine National Park
Sleeping bags (-10°C/4°F is recommended).
Flight tickets
Insurance (it's mandatory you purchase appropriate insurance for this trip)
Voluntary tipping of guides and staff
Items of personal nature.

Group Size & Guiding staff
4 travelers is the most typical group size plus guiding staff.
Maximum 12 clients. Guide to passenger ratio: 1:3

Transport
Kayaks! In Torres del Paine and throughout Patagonia transfers are in minivans that normally seat from 8 to 14 people. Smaller vehicles are used with small groups.