M/Y Odyssey is a beautifully designed luxury motor yacht, specifically crafted to ensure maximum levels of comfort and minimal environmental impacts. Odyssey provides all the comforts and facilities of a hotel, yet offers ever changing and fascinating views from its panoramic windows.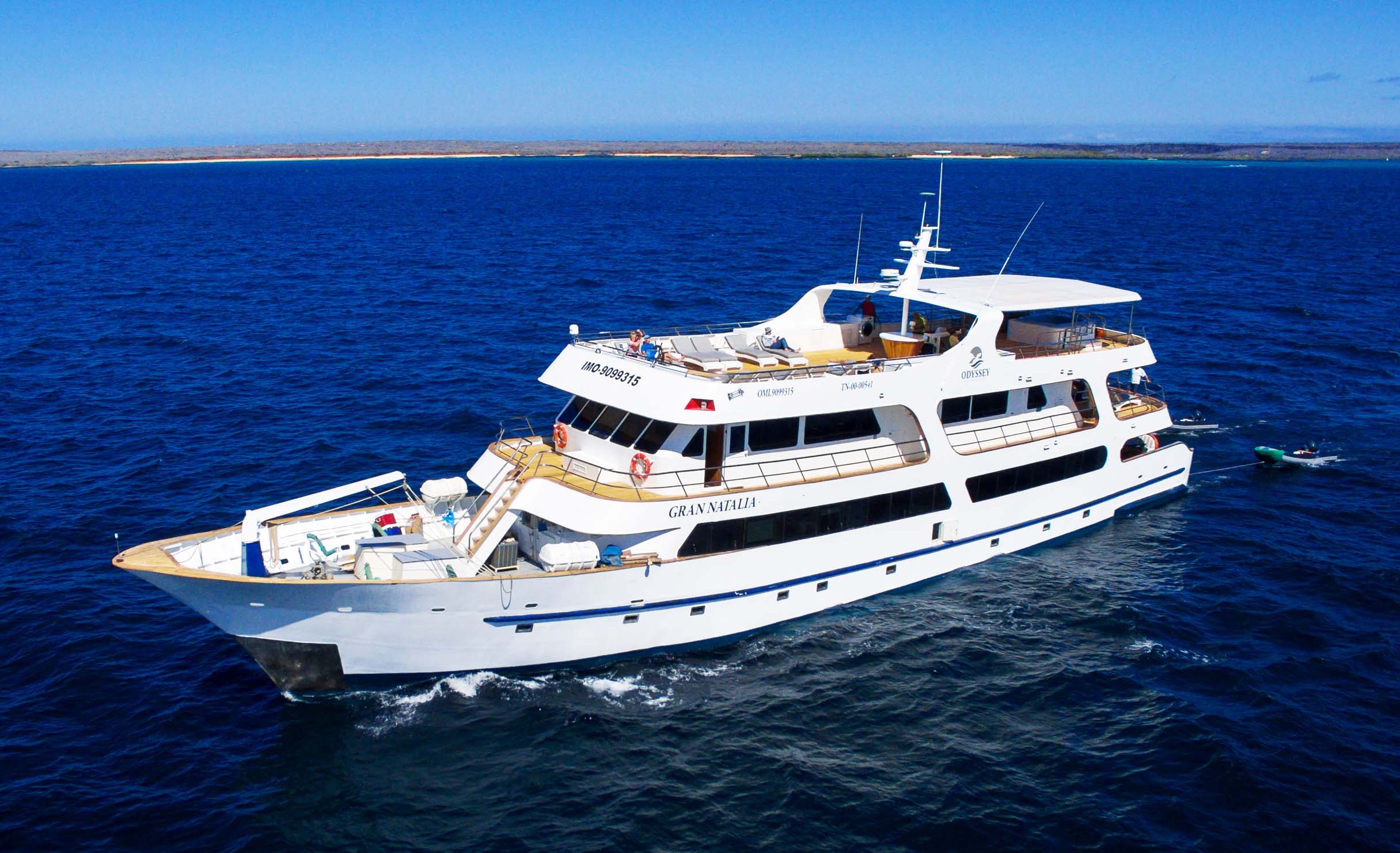 She offers accommodation for up to 16 guests in 8 spacious and tastefully decorated cabins. All main deck and upper deck cabins are approximately 20 square metres in size. All cabins are well equipped with air conditioning, small desk, sofa, mini-bar, wardrobe and en suite bathroom facilities.

Guests can enjoy meals served with fresh local ingredients in the dining room or al fresco dining area.

Social areas include spacious outside deck areas with sun loungers, a Jacuzzi, bar and TV and DVD facilities.

Technical Specifications
Registered Vessel Name:
M/Y Galapagos Odyssey (Registered name: M/Y Gran Natalia)
Type & Class:
Motor Yacht / First Class
Construction Year:
Guayaquil, 2007 / 2008; last maintenance: 2016
Capacity:
16 Passengers + 10 staff / crew members
Length & Beam:
Length: 41 metres / 134 ft | Beam: 8 metres / 26 ft
Naturalist Guide:
1 National Park-certified multilingual naturalist guide
Crew:
10 experienced, trained and IMO-certifies crew members (international Marine Organization): captain, cruise manager, 2 pilots, 2 sailors, machinist, bartender, chef, kitchen help / housekeeper
Social Areas:
- Sun Deck
Solarium area, shaded relaxing area with whirlpool
- Upper Deck
Shaded terrace & barbecue area
- Main Deck
'Al Fresco' dining area, lounge with small library, bar
Cabin Location:
Total Cabins: 9
Main Deck: 2 Double Cabins / 2 Twin Cabins
Upper Deck: 2 Suites (convertible Triple / Twin / Double) & 2 Twin Cabins
Lower Deck: 1 Single Cabin
Machinery:
2 Cummins 465 HP engines
Amenities:
TV, DVD, laptop, beamer, small library, deck chairs, whirlpool, 8 inflatable tandem kayaks, 2 inflatable dinghies for 8 persons
Electricity:
110 V
Cruising Speed:
10 knots (ca. 18.5 km / h)
Wastewater Treatment:
2 water treatment systems
Itinerary
Our shortest routes give an excellent impression of this unique 'laboratory of evolution' in case you have little time, or are on a limited budget. However, you must understand that it would be impossible to see all the highlights in just a few days, and you will probably only visit the Galapagos Islands once in your lifetime. Each island is distinctive and well worth a visit, with different landscapes and an ever-changing spectrum of adapted species.
Please note that these itineraries are subject to change without notice due to seasonal changes, last minute weather conditions and the decision of the Galapagos National Park authority.
Itinerary A: 6 Days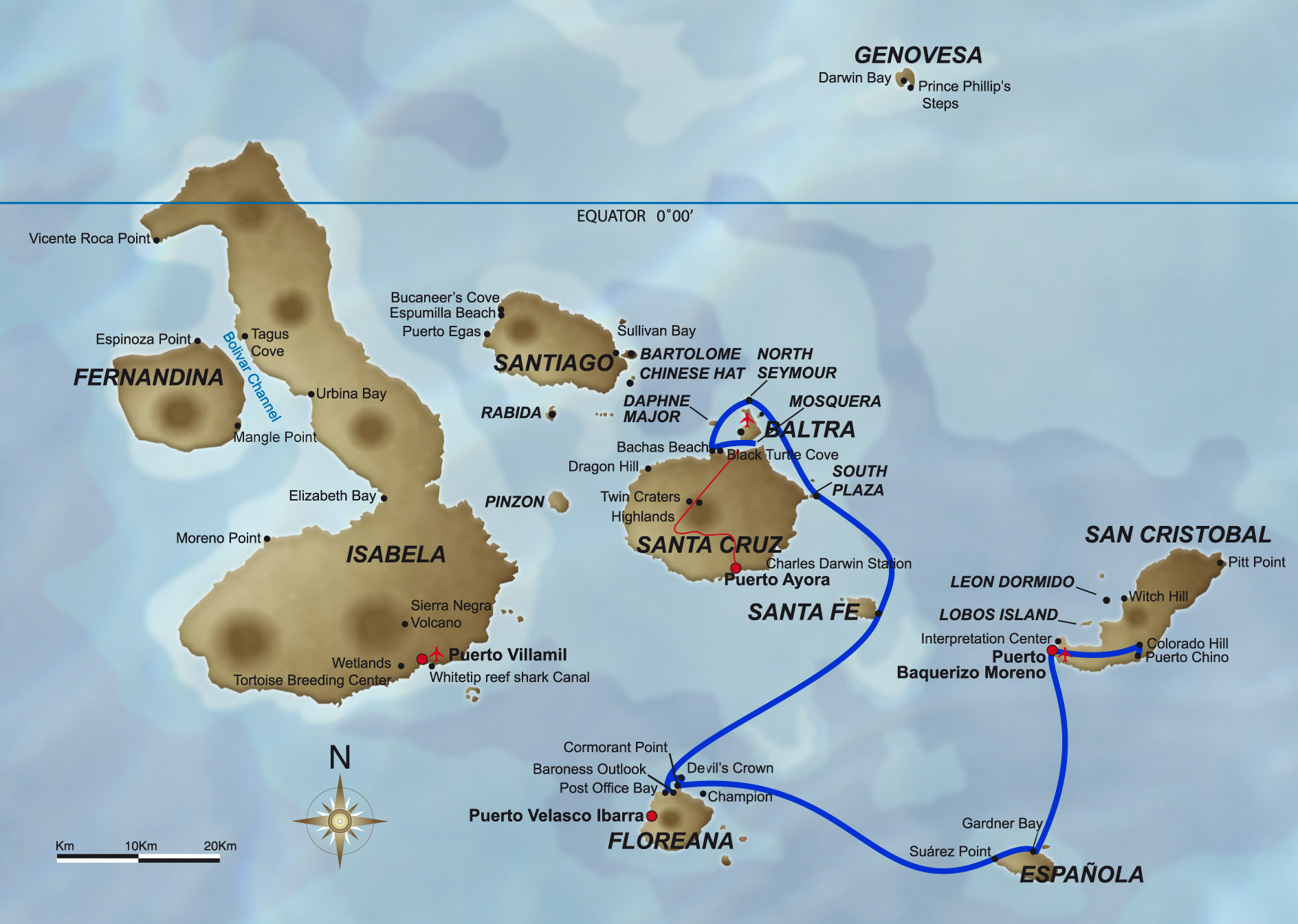 AM: Flight to San Cristóbal Airport

PM: Cerro Colorado / Puerto Chino Beach
AM: Punta Suarez (Española)
PM: Gardner Bay (Española)
AM: Punta Cormorant / Devil's Crown

PM: Baroness Lookout / Post Office Bay
AM: Barrington Bay (Santa Fe)

PM: South Plaza
AM: North Seymour

PM: Bachas (Santa Cruz)
AM: Mosquera

Tour ends: Transfer to Baltra Airport
Itinerary B: 5 Days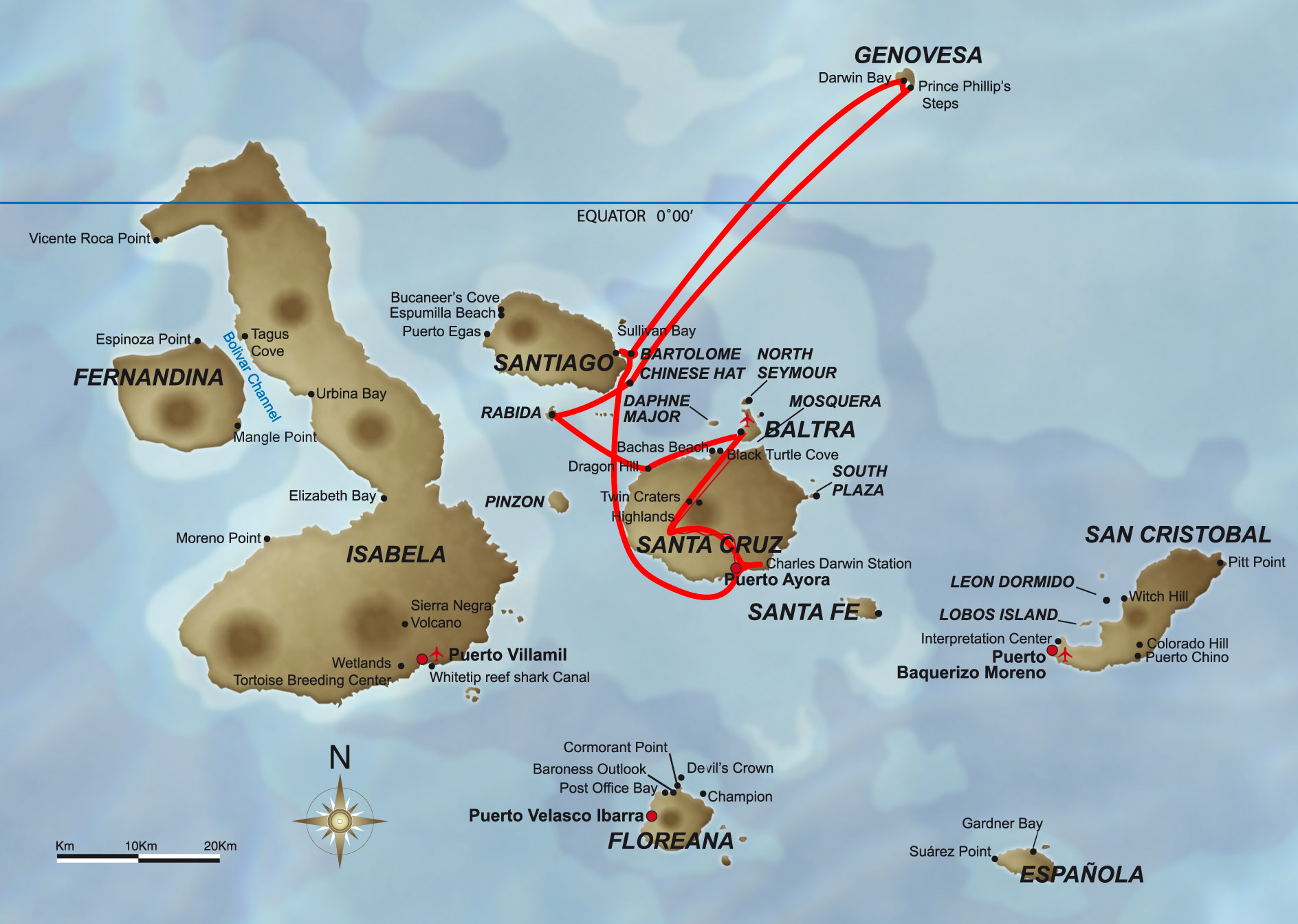 AM: Flight to Baltra Airport

PM: Dragon Hill (Santa Cruz)
AM: Rabida

PM: Chinese Hat
AM: Prince Phillip's Steps (Genovesa)

PM: Darwin Bay (Genovesa)
AM: Bartolomé

PM: Sullivan Bay (Santiago)
AM: Highlands (Santa Cruz)

Transfer to Baltra Airport
Itinerary C: 6 Days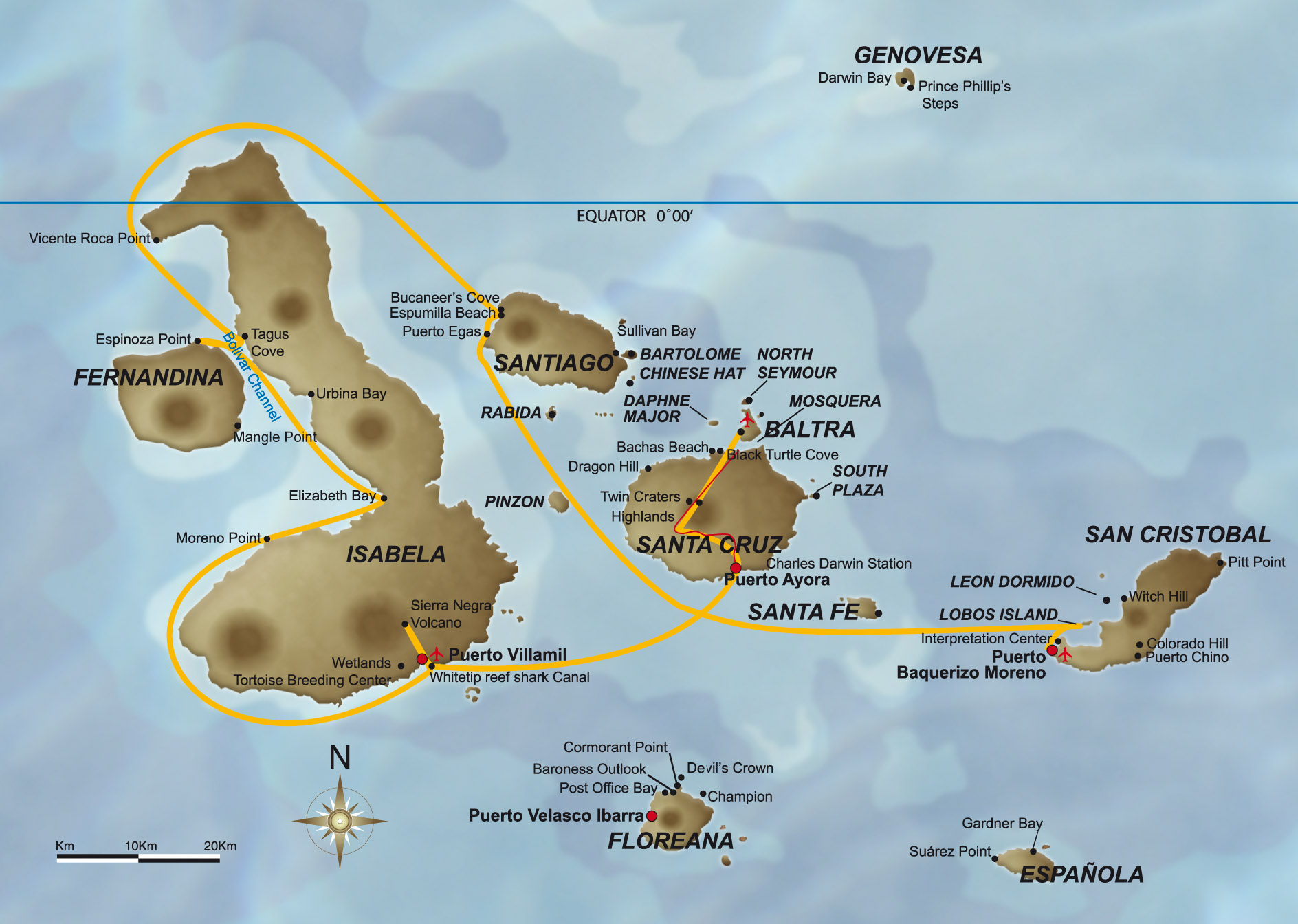 AM: Flight to Baltra Airport (GPS)

PM: Ch. Darwin Research Station
AM: Whitetip Reef Shark Canal

PM: Tortoise breeding centre
AM: Punta Moreno (Isabela)

PM: Elizabeth Bay (Isabela)
AM: Punta Espinoza (Fernandina)

PM: Tagus Cove (Isabela)
AM: Espumilla Beach / Buccaneer Cove

PM: Puerto Egas (Santiago)
AM: Isla Lobos

Transfer to San Cristóbal Airport