This Winter Iceland experience combines some of the country's famous volcanic landscapes, spurting geysers, meandering rivers and cascading waterfalls; with opportunities to see the mystical Northern Lights (Aurora Borealis).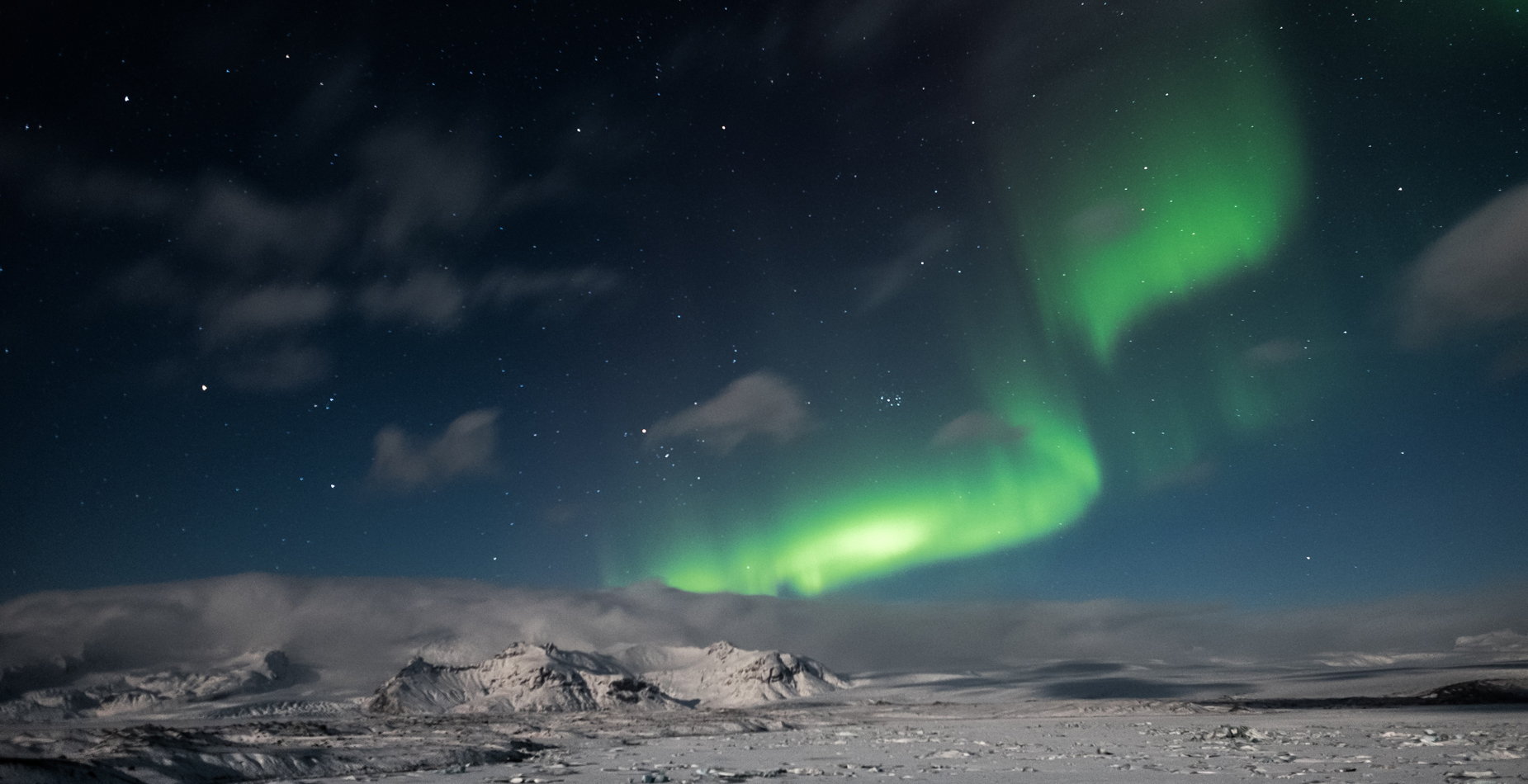 Northern Lights sightings can occur anytime from Autumn to early Spring, though largely rely on clear skies and a little bit of luck. They are best observed in areas away from artificial light, with full moon periods avoided since strong moonlight can itself partially obscure the Northern Lights. Some say that the colder the night's frost, the more vibrant and intense the colours. Swirling and swaying overhead, displays are usually greenish yellow; but white, red and pink lights also frequently appear. One thing is for sure - witnessing the Northern Lights is a sight not soon forgotten.

A comfortable and traditional Icelandic hotel in the centre of Reykjavik provides an ideal start and end point for this experience, from where to explore some of Iceland's most spectacular geological wonders by day. Come nightfall, we will take you in search of the Northern Lights, venturing deep into the countryside, free from the interference of artificial light.

Amidst the excitement of chasing the Northern Lights, we will take you to explore some of Iceland's dramatic volcanic landscapes. Taking to a 'super jeep', with extra wide tyres for enhanced off road capacity, you will visit the spectacular 32 metre high Gulfoss waterfall; the famous Geysir hot springs; and Thingvellir National Park where you can witness one of the only two tectonic rift valleys in the world.

You will get the chance to explore some fascinating subterranean landscape of one of Iceland's many lava fields. Located in the Blue Mountains you will visit a typical lava tube and witness the multitude of colours and jagged rock formations from within.

You will also hike on Iceland's 4th biggest glacier to explore the raw and ever changing hub of ancient frozen water, riddled with crevasses, sinkholes and jagged ridges. If you are feeling particularly adventurous there will be an opportunity to try your hand at ice climbing too.

Your experience will be rounded off with a relaxing bathe in the world famous Blue Lagoon, where you can soak up the scenic beauty, fresh air and geothermal seawater with an enhanced understanding of where this relaxing 'spa water' comes from.
Itinerary
Arrive Reykjavik. Please Contact Us to receive a flight quote.

You will step onboard a pre-arranged shuttle to your hotel.

You will be spending 5 nights in a comfortable traditional style hotel within the heart of Reykjavik on a bed and breakfast basis, conveniently located on one of the city's oldest streets, in close proximity to shops, restaurants and bars. Hotel upgrades can be arranged.

Tonight you will go in search for the Northern Lights in the comfort of a super jeep on a 3-4 hour trip, to where the tour buses cannot and learn all about this amazing light display from an expert guide in a small group setting. You will be dropped back to your hotel in Reykjavik afterwards.
Day 2: Glacier Hiking on Sólheimajökull Glacier
Your day trip will begin by journeying to the frozen glacial tongue of Sólheimajökull - a magnificent phenomenon and a rugged, raw and ever changing hub of ancient frozen water. The journey to the glacier will take around 2 hours, with a brief stop for refreshments en route.

Once at the glacier you will be geared up with an ice climbing harness (ice climbing is optional) and adorn your crampons. If you decide to do this you will explore the crevassed riddled outlet glacier and witness its fascinating ice formations, sinkholes and jagged ridges. Throughout the glacier hike your guides will share their knowledge and provide deeper insights into the glacier, its history and the surrounding area.

Along the way you will come across an ice wall on the glacier, which you will have the exciting opportunity to climb if you wish. If you choose to have a go at ice climbing, you will be fully briefed beforehand, provided with an axe and safety ropes and fully supervised throughout.

After around 4 1/2 - 5 hours on the glacier, you will begin your journey back to Reykjavik, paying a visit en route to the beautiful Skógafoss waterfall. You will arrive back to Reykjavik at around 7pm.
You will be collected from your hotel in the early afternoon and will spend the next few hours discovering the hidden world beneath you.

Iceland is known for its volcanic activity across the country. This is your chance to explore the fascinating subterranean landscape of one of Iceland's many lava fields. Cave Leiðarendi, located in the Blue Mountains just out of Reykjavik is typical lava tube, formed by flowing lava moving beneath the hardened surface thousands of years ago.

With an endless multitude of colours and jagged rock formations, this caving trip is sure to give you a unique and captivating experience. This is a perfect opportunity to step outside your comfort zone and discover something completely new. In the winter time, you are sure to see some amazing icicles hanging from the cave roof on your underworld adventure.
From Reykjavik, you'll drive towards Iceland's three most famous attractions that make up the Golden Circle: Thingvellir National Park, Geysir Hot Springs, and Gullfoss Waterfall. You will have plenty of time to take in the magnificent landscape and the rich history found at every footstep.
Þingvellir (Thingvellir National Park) is strongly rooted in Icelandic history and is famous for numerous reasons. It's a UNESCO World Heritage Site, it's where Iceland's first Althing (Parliament) was founded in the year 930, and it's where the tectonic plates drift apart. The park is, quite simply, stunning. The waters, pond, and fissures are extraordinarily clear and the history of the place is endless.
This UNESCO World Heritage Site is a place that should not be missed.
Geysir Hot Spring Area is located in Haukadalur Valley. Here you'll find the famous Geysir, after which all other geysers are named. The area is filled with steam and magical geothermal phenomena. At the moment, the most active geyser is Strokkur. It erupts every 4-10 minutes and treats visitors to a show giving you that tingly feeling in your stomach.
Gullfoss or the Golden Falls are next up on the itinerary. It's one of the most powerful waterfalls in Iceland. The cascade plunges a little over 30 m (98 ft) and has two drops. Gullfoss has been locals' favorite since the Viking times, and now it's your time to explore it.
The extra stops will be at:
Hveragerði, a geothermal town famous for its steaming hot springs and greenhouses. Also known as "the earthquake town," Hveragerði is an active earthquake location. Grab a cup of coffee and visit an earthquake exhibition in Sunnumörk Shopping Center free of charge.
Faxi Waterfall (often called the little brother of Gullfoss) is one of Iceland's hidden gems where you can enjoy peace and tranquility. The cascade is 80 m (262 ft) wide and 7 m (23 ft) high.
This morning we take to a boat in search of whales in Faxafló Bay from Reykjavik. During this whale watching trip, you will be on the lookout for such species as minke, humpback, fin and orca. For further details about this expert guided whale watching trip, please Click Here.
Day 6: Blue Lagoon & Depart Reykjavik
This morning you will head to Iceland's famous geothermal spa - the Blue Lagoon on the bus for an ideal finale to your week of hunting the Northern Lights and geological exploration. Here you can soak up the beauty of your surroundings and breathe in the fresh air whilst bathing in the naturally heated pure geothermal seawater.

Afterwards you will catch a shuttle transfer bus to the airport.
Dates
Price includes
All accommodation (based on standard double / twin room)
Meals as specified (B=breakfast L=lunch D=dinner)
All guided activities and equipment as specified in the itinerary
Return airport transfers
Return transfer to the Blue Lagoon

Price excludes
Flights
Travel insurance
Items not specified

Hotel Upgrade to Deluxe Room £55 per person. Further hotel upgrades are available.

Activity Level Easy