This Winter wilderness experience will take you on an exciting week long journey where you can hope to encounter one of the largest marine mammals on earth - the killer whale, explore magical ice-clad volcanic landscapes, frozen waterfalls and towering glaciers with the possibility of observing the incredible ghostly night shows of the Northern Lights (Aurora borealis). For those keen to extend their adventure an extra day, we can take you on a thrilling Dog Sledding trip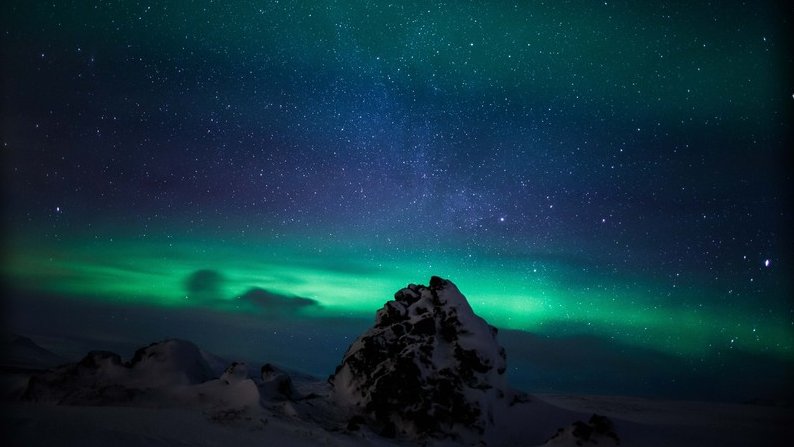 A comfortable and traditional Icelandic hotel in the centre of Reykjavik provides an ideal start and end point for this experience. Whale watching opportunities will be sought aboard small boats in both Reykjavik and Ólafsvík, accompanied by knowledgeable and enthusiastic guides. The most likely sightings from Reykjavik during the winter months are of humpbacks, orcas, white-beaked dolphins and harbour porpoises. Meanwhile, further north on the Snæfellsnes Peninsula, you will seek out orcas and sperm whales. Late winter, spring and early summer are the most likely time to see them. Other species including minke, humpback and pilot whales are also seen here, but usually later in teh summer and Autumn.

Come nightfall, we will take you in search of the Northern Lights on at least three nights to areas free from the interference of artificial light. One of these nights will be spent in a remote countryside hotel, boasting fantastic views of the nearby glacier and mountain peaks - a great location from which to observe the Northern Lights should they appear.

Amidst the excitement of chasing the Northern Lights and surveying the icy waters for whales, we will take you to explore some of Iceland's dramatic volcanic landscapes, which during the winter months look truly magical, enrobed in snow and ice. You will visit the spectacular 32 metre high Gulfoss waterfall, the famous Geysir hot springs, Faxi waterfall, Hveragerði and Thingvellir National Park where you can witness one of the only two tectonic rift valleys in the world.

You will explore the beautiful black beaches, observe extraordinary glaciers, feel the force of thundering waterfalls, go in search of whales and witness the Eyjafjallajokull volcano, infamous for being responsible for the halt to 2010 air travel.

We will take you to the stunning Jökulsárlón Ice Lagoon, characterised by huge floating icebergs and famous for being the set for several blockbuster movies, including Batman Begins and The Secret Life of Walter Mitty. You will also experience the unique beauty of the Crystal Cave, which you can only visit during Winter and where you can capture unparalleled photographic opportunities.

To enhance your inspiring exploration of this fascinating country of fire and ice, why not stay an extra night and we will take you on a thrilling Dog Sledding adventure through the frosty Icelandic wilderness. Just an hour's drive from Reykjavik, you will feel a real sense of escapism as you experience the epic silence of your majestic surroundings as your friendly husky team guide you across the snow.
Itinerary
7 Day Sample Itinerary
Please note that this itinerary can be shortened, lengthened and changed to incorporate any of the other short trips you can find through the Iceland Home Page on our website.
Please Contact Us to receive a flight quotes.

You will step onboard a pre-arranged shuttle to your hotel.

You will be spending tonight, night 2, 4 and 5 in a comfortable traditional style hotel within the heart of Reykjavik on a bed and breakfast basis, conveniently located on one of the city's oldest streets, in close proximity to shops, restaurants and bars. Hotel upgrades can be arranged.

Tonight you will go in search for the Northern Lights in the comfort of a super jeep on a 3-4 hour trip, to where the tour buses cannot and learn all about this amazing light display from an expert guide in a small group setting. You will be dropped back to your hotel in Reykjavik afterwards.
Day 2: Whale Watching from Reykjavik
After a morning spent at leisure, this afternoon we take to a boat in search of whales in Faxafló Bay from Reykjavik. During this whale watching trip, you will be on the lookout for such species as humpbacks and orcas as well white-beaked dolphins and harbour porpoises. As these trips are very much dependent on the weather, it may be that you will instead venture to another harbour location where the weather in more favourable.
Day 3: The South Coast & Northern Lights
Lace up your hiking boots and join this two-day trip for close encounters with the wonders of Icelandic nature. Explore the South Coast with its iconic waterfalls and black sand beaches, and be the first to step into a blue ice cave of Europe's largest ice cap. To top it all off, you'll have ample moments to hunt the magical, ever-elusive Northern Lights!

Pick up is at 09:00 am from your hotel or the Reykjavík meeting point you have chosen. Please note: picking everyone up can take up to 30 minutes but you do have to be ready and waiting at 09:00 am.
You will head south before continuing to the east as your guide whisks you away for two days of amazing adventure sightseeing. You will drive towards the slowly rising sun on the way to your first stop, the very unusual Seljalandsfoss waterfall, you can actually walk behind the gracefully falling cascade. It is well worth getting a little damp for such an exciting experience!

Your next highlight is another waterfall, Skógafoss, located at the foot of a very famous volcano, Eyjafjallajökull. On a clear day, you will also get a great view of another volcano mountain glacier, Mýrdalsjokull. As you continue on, you come to Reynisfjara, a black beach where some fantastic sights, such as the picturesque basalt column formations and the famous Reynisdrangar peaks, will greet you. You will drive through the charming small town of Vík on your way to your accommodation. Throughout the entire day, you can expect to see breathtaking landscapes consisting of vast lava fields, waterfalls, black sands and glacier tongues. You will enjoy a relaxing evening, if the conditions are right you will hunt for those northern lights! The countryside close to Vatnajökull glacier, away from the city lights, is perfect for spotting this natural phenomenon. Your hotel will be located in Hof, a small municipality, home to the notable turf church.
Day 4: Jökulsárlón Ice Lagoon & Ice Caves
Today you will really get to know the glacier, venturing into the sparkling, blue/white world of an ice cave with a qualified guide, and visiting the extraordinary glacier lagoon, Jökulsárlón. Getting up close and personal with a vast glacial tongue of the great Vatnajökull glacier does not get any better than this!

The renowned Jökulsárlón Ice Lagoon, made famous by several blockbuster movies including Batman Begins and The Secret Life of Walter Mitty, to name just a couple, is a totally mind-blowing place. Splendid icebergs of amazing shapes, some incredibly large, have calved off the receding Breiðamerkurjökull glacier. They jostle one another in the huge lagoon before gliding on their surreal and stately journeys to the Atlantic ocean. Many of these natural ice sculptures are washed onto the nearby Diamond Beach, you will see them glittering like diamonds, as they rest on the dramatic coal blackness of the beach.

Next, you go into the glacier with a qualified guide! You'll visit the fascinating Crystal ice cave during the winter season or the Katla ice cave during the summer season. New caves are formed each winter by the melt/freeze cycle of the glacier, they are always changing, both from year to year and within each winter. The journey into an ice cave will give photographers the most amazing opportunity to capture the shimmering blue light which passes through the glacial ice. Surprisingly deep shades of jewel blue will surround you, these tones are caused by ice compression, the way we perceive light and colour, and the blueness can sometimes be intensified by algae.
After visiting the ice cave youhead towards Reykjavík. You stop at Skaftafell Nature Reserve in Vatnajokull National Park, a green area in the midst of amazingly jagged mountains and glacier-topped peaks, the splendid scenery of Skaftafell is certain to be a highlight of your tour. You will keep an eye out for the Northern Lights on your way back to the city and will make a short stop if conditions allow for it.
You return to Reykjavík around 21:00 pm.
Day 5: Whale Watching on the Snæfellsnes Peninsula
This morning you will pick up your hire car and drive some 190 km to Olafsvik (approx 2.5 hour drive), a small town situated in the north of the Snæfellsnes peninsula in West Iceland. You will set off on a 2 - 3 ½ hour boat trip in and around the fjord here in the search for Orcas.

This unique trip takes you into the water around Snaefellsnes where ocean giants swim in the shadow of the magnificent Snæfellsjökull Glacier. Nowhere else in Iceland is there a better chance to see toothed-whales such as orcas, sperm whales, and pilot whales than along this beautiful coastline.

The orcas (killer whales) are more often seen in winter, spring, and early summer, February to early July, but there is a chance of seeing them all the way through the summer months. During July and August they show up sometimes but generally by September you will be witnessing different species.

Sperm Whales
Male sperm whales can be seen between about March and June (mostly) out in deeper water regularly and sometimes show up on trips later in the year also.
Other species
During late summer and into autumn we are mostly looking for Minke whales, pilot whales, humpback whales and white-beaked dolphins but of course you never know what you might see with nature. Rarer visitors on our tours have included blue whales, fin whales, sei whales and northern bottlenose whales.
ALL BOAT TRIPS ARE SUBJECT TO WEATHER CONDITIONS.
In the event of no whale or dolphin sighting, passengers will be given a reschedule ticket for another trip on any other day during the season.

After the trip you will drive back to Reykjavik and drop off your hire car.

Please contact us for past month-by-month whale watching species list in Snaefellsnes.
Your Golden Circle small-group sightseeing tour starts with pick-up from your selected location in Reykjavik at 8:00 a.m. Please note that the pick-up can take up to 30 min.

From Reykjavik, you'll drive towards Iceland's three most famous attractions that make up the Golden Circle: Thingvellir National Park, Geysir Hot Springs, and Gullfoss Waterfall. Your guides will ensure that you get enough time to take in the magnificent landscape and the rich history found at every footstep.

Þingvellir (Thingvellir National Park) is deeply rooted in Icelandic history and is famous for numerous reasons. It's a UNESCO World Heritage Site, where Iceland's first Althing (Parliament) was founded in 930. It's also where the tectonic plates of North America and Eurasia drift apart, creating a stunning canyon. The park is, quite simply, breathtaking. The waters, ponds, and fissures are extraordinarily clear, and the place's history is endless.

When traveling through Iceland, this UNESCO World Heritage Site is a place that should not be missed.
Geysir Hot Spring Area is located in Haukadalur Valley. Here you'll find the famous Geysir, after which all other geysers are named. The area is filled with steam and magical geothermal phenomena. At the moment, the most active geyser is Strokkur. It erupts every 4-10 minutes and treats visitors to a show giving you that tingly feeling in your stomach.
Gullfoss or the Golden Falls are next up on the itinerary. It's one of the most powerful waterfalls in Iceland. The cascade plunges slightly over 30 m (98 ft) and has two drops. Gullfoss has been locals' favourite since the Viking times, and now it's your time to explore it.
The extra stops will be at:
Hveragerði is a geothermal town famous for its steaming hot springs and greenhouses. Also known as "the earthquake town," Hveragerði is an active earthquake location. Grab a cup of coffee and visit an earthquake exhibition in Sunnumörk Shopping Center free of charge.
Faxi Waterfall (often called the little brother of Gullfoss) is one of Iceland's hidden gems where you can enjoy peace and tranquility. The cascade is 80 m (262 ft) wide and 7 m (23 ft) high.
After breakfast, a shuttle transfer bus will come to your hotel and take you to the airport. Alternatively, if you are departing on the afternoon flight, you will have the morning free to explore Reykjavik and spend as you wish, perhaps with a visit to the world famous geothermal spa of the Blue Lagoon.
Optional Day 8 - Dog Sledding (additional supplement required)
If you would like to extend your stay in Iceland for an additional day, we can arrange an exciting Dog Sledding Adventure for you.

You will be picked up and driven to one of two potential Dog Sledding locations (depending on the weather), which will be no more than a 70 minute drive from Reykjavik.

After meeting your own team of huskies you will gear up and go dog sledding into the Icelandic wilderness on a fun and thrilling adventure. During the trip you will be taught all necessary dog commands and skills by a professional musher, who will also share their knowledge about these friendly dogs and of this wonderful country.

Afterwards you will be taken back to Reykjavik, drop of your hire car and you will have your last evening to spend as you wish.
Dates
Enquire / Book
15 Feb - 30 Sep 2023
-
from £ 1,730
based on two people sharing a standard twin / double room.
Enquire / Book
15 Feb - 30 Sep 2024
-
from £ 1,730
based on two people sharing a standard twin / double room.
Available: 15th February - 30th September*

*Whale watching in Ólafsvík is only available 15th February - 30th September. Meanwhile, Northern Lights sightings are generally only possible from 1st September through to 15th April. Alternate trips can be tailored to suit if your timings mean that either of the pre-mentioned activities are not possible. Please contact us for past month-by-month whale watching species list.

Price includes
All accommodation (based on standard double / twin room bed and breakfast)
All guided activities and equipment as specified in the itinerary
Return airport transfers
One day hire of self drive vehicle

Price excludes
Flights
Travel insurance
Items not specified
Dog Sledding
Blue Lagoon

Activity level Your choice: from easy to moderate.