This Winter wilderness experience will take you on an exciting week long journey where you can hope to encounter one of the largest marine mammals on earth - the killer whale, explore magical ice-clad volcanic landscapes, frozen waterfalls and towering glaciers with the possibility of observing the incredible ghostly night shows of the Northern Lights (Aurora borealis). For those keen to extend their adventure an extra day, we can take you on a thrilling Dog Sledding trip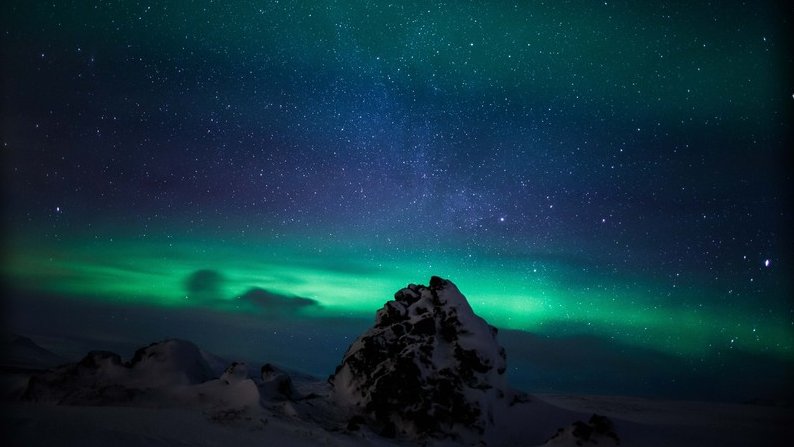 A comfortable and traditional Icelandic hotel in the centre of Reykjavik provides an ideal start and end point for this experience. Whale watching opportunities will be sought aboard small boats in both Reykjavik and Grundarfjordur, accompanied by knowledgeable and enthusiastic guides. The most likely sightings from Reykjavik during the winter months are of humpbacks, orcas, white-beaked dolphins and harbor porpoises. Meanwhile, further north on the Snæfellsnes Peninsula, you will seek out orcas, which for the past few winters have been seen in very large numbers in and around Grundarfjörður, as schools of herring frequent the waters here at this time. Orcas have been known to be spotted from the shore here, but by taking to the water yourself, you can help for even closer encounters.

Come nightfall, we will take you in search of the Northern Lights on at least three nights to areas free from the interference of artificial light. One of these nights will be spent in a remote countryside hotel, boasting fantastic views of the nearby glacier and mountain peaks - a great location from which to observe the Northern Lights should they appear.

Amidst the excitement of chasing the Northern Lights and surveying the icy waters for whales, we will take you to explore some of Iceland's dramatic volcanic landscapes, which during the winter months look truly magical, enrobed in snow and ice. Taking to a 'super jeep', with extra wide tires for enhanced off road capacity, you will visit the spectacular 32 metre high Gulfoss waterfall; the famous Geysir hot springs; and Thingvellir National Park where you can witness one of the only two tectonic rift valleys in the world.

You will explore the beautiful black beaches, observe extraordinary glaciers, feel the force of thundering waterfalls, go in search of whales and witness the Eyjafjallajokull volcano, infamous for being responsible for the halt to 2010 air travel.

We will take you to the stunning Jökulsárlón Ice Lagoon, characterised by huge floating icebergs and famous for being the set for several blockbuster movies, including Batman Begins and The Secret Life of Walter Mitty. You will also experience the unique beauty of the Crystal Cave, which you can only visit during Winter and where you can capture unparalleled photographic opportunities.

To enhance your inspiring exploration of this fascinating country of fire and ice, why not stay an extra night and we will take you on a thrilling Dog Sledding adventure through the frosty Icelandic wilderness. Just an hour's drive from Reykjavik, you will feel a real sense of escapism as you experience the epic silence of your majestic surroundings as your friendly husky team guide you across the snow.
Itinerary
7 Day Sample Itinerary
Please note that this itinerary can be shortened, lengthened and changed to incorporate any of the other short trips you can find through the Iceland Home Page on our website.
Please Contact Us to receive a flight quotes.

You will step onboard a pre-arranged shuttle to your hotel.

You will be spending tonight, night 2, 4 and 5 in a comfortable traditional style hotel within the heart of Reykjavik on a bed and breakfast basis, conveniently located on one of the city's oldest streets, in close proximity to shops, restaurants and bars. Hotel upgrades can be arranged.

Tonight you will go in search for the Northern Lights in the comfort of a super jeep on a 3-4 hour trip, to where the tour buses cannot and learn all about this amazing light display from an expert guide in a small group setting. You will be dropped back to your hotel in Reykjavik afterwards.
Day 2: Whale Watching from Reykjavik
After a morning spent at leisure, this afternoon we take to a boat in search of whales in Faxafló Bay from Reykjavik. During this whale watching trip, you will be on the lookout for such species as humpbacks and orcas as well white-beaked dolphins and harbour porpoises. As these trips are very much dependent on the weather, it may be that you will instead venture to another harbour location where the weather in more favourable.
Day 3: The South Coast & Northern Lights
Imagine this: Huge thundering waterfalls, endless rolling valleys, beautiful black beaches, extraordinary glaciers and small villages with unique landscapes in between. This is exactly what you can expect as you venture your way down the south coast of Iceland. Experience the secluded drive down ring road no. 1, to the famous Eyjafjallajokull, home of the massive eruption that halted all European air travel in 2010. Here you will have the chance to explore two of the most beautiful waterfalls in Iceland: Seljalandsfoss and Skogafoss. On a clear day, you will have the opportunity to see the two surrounding glaciers, Eyjafjallajökull and Myrdalsjokull. Continuing on, the drive takes us to the coastal village of Vik where you will find Reynisfjara, the black sand beach, with some fantastic sights such as the picturesque basalt column formations and the famous Reynisdrangar peaks. Throughout the entire day, you can expect to see breathtaking landscape consisting of vast lava fields, waterfalls, black sands and glacier tongues.

After enjoying the south coast marvels, we'll head deeper into the countryside to our accommodation place. Here we will enjoy a relaxing evening and recharge for the upcoming day. When the conditions are right, we will hunt for the Northern Lights. The countryside, away from the city lights, is perfect for spotting this natural phenomenon.
Day 4: Jökulsárlón Ice Lagoon & Ice Caves
The second day of the tour is sure to unravel the excitement of glacier exploration on more than one level. After an early start you will head off early in the morning to the renown Jökulsárlón Ice Lagoon, home of the massive floating icebergs and the location for several blockbuster movies like Batman Begins and The Secret Life of Walter Mitty to name a few.

Next you head to the Crystal Cave where certified guides will assure a safe and exciting experience. Ice caves, like the crystal cave, are only found during the wintertime when the glacial rivers retract and the water freezes. New caves are formed in different locations each year. Ice Caves give you unparalleled photographic opportunity where you can capture the blue light passing through the glacier ice.

After visiting the Ice Cave, you start making our way back to Reykjavik. Before you leave this magnificent area behind you will stop at Skaftafell Nature Reserve, a part of Vatnajokull National Park. Surrounded by amazing jagged mountains and glacier-topped peaks, the scenery consists of indistinguishable features making it a definite highlight of the tour. On the drive back, after the night falls, be sure to look for the Northern Lights.
Day 5: Whale Watching on the Snæfellsnes Peninsula
This morning you will pick up your hire car and drive some 100 miles to Grundarfjörður, a small town situated in the north of the Snæfellsnes peninsula in West Iceland. You will set off on a 1 ½ - 2 hour boat trip in and around the fjord here in the search for Orcas, which for the past four years have been attracted here in pursuit of the large quantities herring that inhabit the waters.

After the trip you will drive back to Reykjavik and drop off your hire car.
After being picked up from your accommodation, your first stop is the Þingvellir National Park 40 min due east of the city. Þingvellir is one of Iceland's most historic sites as it was there that Iceland's first parliament was founded in the year 930 AD. Here you will also see for yourself one of only two tectonic rift valleys in the worlds, created as the continental plates slowly drift.

From there you will drive to the serene Lake Laugarvatn and along gravel tracks toward the world-renowned geothermal area around the Geysir hot spring. Iceland's "Geysir" is known as one of four places on earth to regularly erupt up to 25 meters high! It was the first geothermal erupting area described in a printed source and the first known to modern Europeans. This is the one spouting hot spring that all such phenomena on Earth are named after and there you will see a variety of geothermal pools and erupting hot springs, surely one of the highlights of any visit to Iceland.

From there you will continue to Gullfoss ("The Golden waterfall") where your proximity to its edge is so close you can feel the refreshing spray of the glacial water on your face.

After Gullfoss comes the mighty Langjökull glacier, displaying its endless snowfields and panoramic views of south Iceland.

After the trip you will be dropped back to your hotel in Reykjavik.
After breakfast, a shuttle transfer bus will come to your hotel and take you to the airport. Alternatively, if you are departing on the afternoon flight, you will have the morning free to explore Reykjavik and spend as you wish, perhaps with a visit to the world famous geothermal spa of the Blue Lagoon.
Optional Day 8 - Dog Sledding (additional supplement required)
If you would like to extend your stay in Iceland for an additional day, we can arrange an exciting Dog Sledding Adventure for you.

You will be picked up and driven to one of two potential Dog Sledding locations (depending on the weather), which will be no more than a 70 minute drive from Reykjavik.

After meeting your own team of huskies you will gear up and go dog sledding into the Icelandic wilderness on a fun and thrilling adventure. During the trip you will be taught all necessary dog commands and skills by a professional musher, who will also share their knowledge about these friendly dogs and of this wonderful country.

Afterwards you will be taken back to Reykjavik, drop of your hire car and you will have your last evening to spend as you wish.
Dates
Available: 1st November - 31st March

Price includes
All accommodation (based on standard double / twin room)
Meals as specified (B=breakfast L=lunch D=dinner)
All guided activities and equipment as specified in the itinerary
Return airport transfers
One day hire of 4x4 self drive vehicle

Price excludes
Flights
Travel insurance
Items not specified
Dog Sledding
Blue Lagoon

Hotel Upgrade to Deluxe Room £60 per person. Further hotel upgrades are available.

Activity level Your choice: from easy to moderate.