This Winter wilderness experience will take you on a journey where you can hope to encounter one of the largest marine mammals on earth, the orca or killer whale; explore magical ice-clad volcanic landscapes, frozen waterfalls and towering glaciers; with the possibility of observing the ghostly night shows of the Northern Lights (Aurora borealis). For those keen to extend their adventure, we can also take you Dog Sledding through Icelandic wilderness.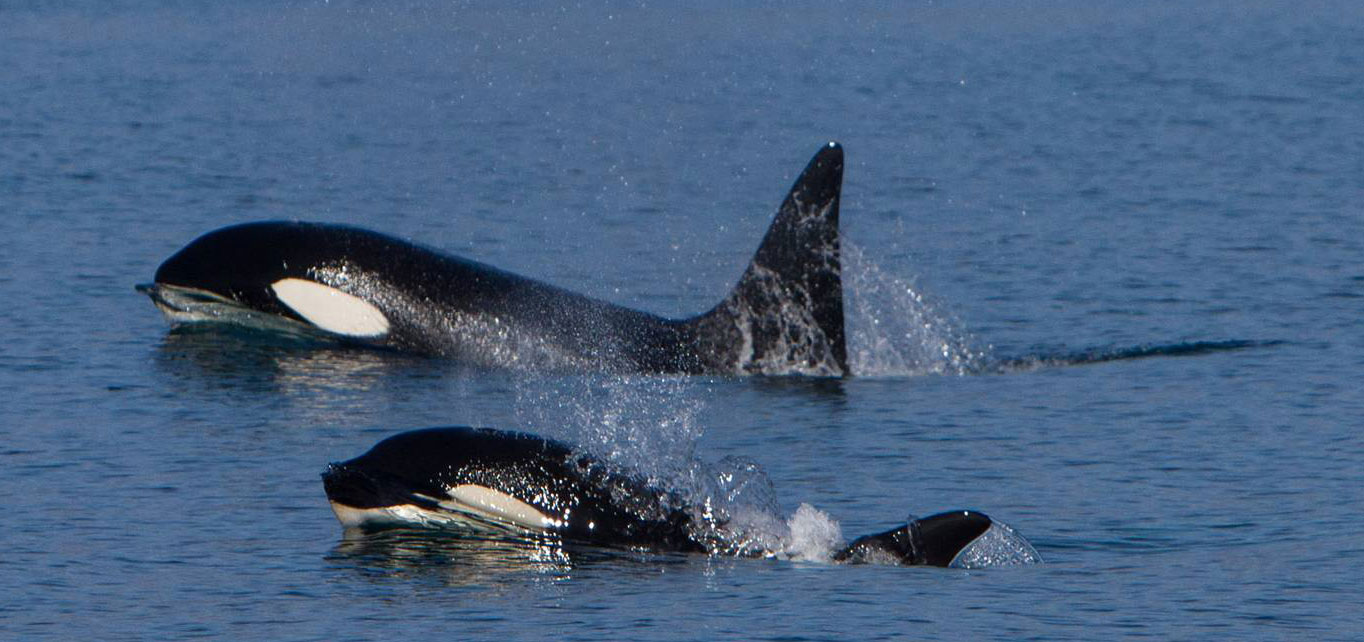 A comfortable and traditional Icelandic hotel in the centre of Reykjavik provides an ideal start and end point for this experience. We will take you in search of whale in two locations, accompanied by knowledgeable and enthusiastic guides. In waters closest to Reykjavik during winter, marine life most often seen include humpback whales, white-beaked dolphins and harbour porpoises. Meanwhile, further north on the Snæfellsnes Peninsula, you will seek out orcas, which for the past few winters have been seen in large numbers in and around Grundarfjörður. These fish easting orcas have been following schools of herring which are frequenting these waters. We can sometimes see orcas from the shore in this area, but by boat we hope to enable closer yet responsible encounters.

Come nightfall, we will take you in search of the Northern Lights on at least two nights, to areas free from the interference of artificial light. One of these nights will start with an insight into the hidden world of lava caves beneath the Blue Mountains, followed by a delicious two course lobster dinner at one of Iceland's most renowned fish restaurants. What better way to end your evening than to then witness the magical northern lights!

Amidst the excitement of chasing the Northern Lights and surveying the icy waters for whales, we will take you to explore some of Iceland's dramatic volcanic landscapes, which during the winter months look truly magical covered in snow and ice. Taking to a 'super jeep', with extra wide tyres for enhanced off road capability, you will visit the waterfalls of Seljalandsfoss and Skógar and adorn your crampons for glacier walking on the Sólheimajökull glacier.

To enhance your inspiring exploration of this fascinating country of fire and ice, why not stay an extra night and we will take you on a thrilling Dog Sledding adventure through the frosty Icelandic wilderness. Just an hour's drive from Reykjavik, you will feel a real sense of escapism as you experience the epic silence of your majestic surroundings as your friendly husky team guide you across the snow.
Itinerary
5 Day Sample Itinerary
Please note that this itinerary can be shortened, lengthened and changed to incorporate any of the other short trips you can find through the Iceland Home Page on our website.
Day 1: Arrive Reykjavik & Northern Lights
Please Contact Us to receive a flight quotes.

You will step onboard a pre-arranged shuttle to your hotel.

You will be spending the next 5 nights in a comfortable traditional style hotel within the heart of Reykjavik on a bed and breakfast basis, conveniently located on one of the city's oldest streets, in close proximity to shops, restaurants and bars. Room or hotel upgrades can be arranged.

Tonight you will go in search for the Northern Lights in the comfort of a super jeep on a 3-4 hour trip, to where the tour buses cannot and learn all about this amazing light display from an expert guide in a small group setting. You will be dropped back to your hotel in Reykjavik afterwards.
Day 2: Whale Watching, Caving & Northern Lights
After a morning spent at leisure, this afternoon we take to a boat in search of whales in Faxafló Bay from Reykjavik. During this whale watching trip, you will be on the lookout for such species as humpbacks and orcas as well white-beaked dolphins and harbour porpoises. As these trips are very much dependent on the weather, it may be that you will instead venture to another harbour location where the weather in more favourable.

This evening you will be picked up at around 6pm by your expert guide in a super jeep for an exciting evening of caving, a lobster dinner and with any luck the Northern Lights.

Your first stop will be the fascinating underground world of the Blue Mountains, wherewith just the light from your headtorch, you'll explore the incredible rock formations left behind after the last volcanic eruption. You will then head to one of Iceland's most renowned fish restaurants, where you will be treated to a two course lobster dinner. Afterward you will drive to an area far from artificial light and hope that luck is on your side and that the auroras appear.
After being picked up from your hotel, your day trip will begin by journeying to the frozen glacial tongue of Sólheimajökull - a magnificent phenomenon and a rugged, raw and ever changing hub of ancient frozen water. The journey to the glacier will take around 2 hours, with a brief stop for refreshments en route.

Once at the glacier you will be geared up with an ice climbing harness (optional) and adorn your crampons. If you decide to do this you will explore the crevassed riddled outlet glacier and witness its fascinating ice formations, sinkholes and jagged ridges. Throughout the glacier hike your guides will share their knowledge and provide deeper insights into the glacier, its history and the surrounding area.

Along the way you will come across an ice wall on the glacier, which you will have the exciting opportunity to climb if you wish. If you choose to have a go at ice climbing, you will be fully briefed beforehand, provided with an axe and safety ropes and fully supervised throughout.

After around 4 1/2 - 5 hours on the glacier, you will begin your journey back to Reykjavik, paying a visit en route to the beautiful Skógafoss waterfall. You will arrive back to Reykjavik at around 7pm.
Day 4: Orca Whale Watching
This morning you will pick up your hire car and drive some 100 miles to Grundarfjörður, a small town situated in the north of the Snæfellsnes peninsula in West Iceland. You will set off on a 1 ½ - 2 hour boat trip in and around the fjord here in the search for Orcas, which for the past four years have been attracted here in pursuit of the large quantities herring that inhabit the waters.

After the trip you will drive back to Reykjavik and drop off your hire car.
Day 5: Blue Lagoon & Depart
After breakfast, a shuttle transfer bus will come to your hotel and take you to the airport. Alternatively, if you are departing on the afternoon flight, you will have the morning free to explore Reykjavik and spend as you wish, perhaps with a visit to the world famous geothermal spa of the Blue Lagoon.
Optional Day 6: Dog Sledding (additional supplement required)
If you would like to extend your stay in Iceland for an additional day, we can arrange an exciting Dog Sledding Adventure for you.

You will pick up your hire car for the day and drive to one of three potential Dog Sledding locations (depending on the weather), which will be no more than a 70 minute drive from Reykjavik.

After meeting your own team of huskies you will gear up and go dog sledding into the Icelandic wilderness on a fun and thrilling adventure. During the trip you will be taught all necessary dog commands and skills by a professional musher, who will also share their knowledge about these friendly dogs and of this wonderful country.

Afterwards you will drive yourself back to Reykjavik, drop of your hire car and have the remainder of your last evening to spend as you wish.
Dates
Price includes
All accommodation (based on standard double / twin room)
Meals as specified (B=breakfast L=lunch D=dinner)
All guided activities and equipment as specified in the itinerary
Return airport transfers
One day hire of 4x4 self drive vehicle

Price excludes
Flights
Travel insurance
Items not specified
Dog Sledding
Blue Lagoon

Hotel Upgrade to Deluxe Room £45 per person. Further hotel upgrades are available.

Activity level Your choice: from easy to moderate.