This 1,000km privately-guided personally-tailorable journey provides you with one of the best opportunities to see a significant cross-section of Madagascar: its wildlife, habitats, landscapes, people, mountains and coast.
Madagascar is the size of France, but with very poor infrastructure, so it is easy to come away from travelling in this country feeling as though your holiday has just skimmed the surface. This journey is designed to explore far and wide, with your own guide and vehicle to set the pace and adjust your focus as you go.
Wildlife & Habitats
Of natural habitats, this journey makes an early call at the primary rainforest reserve of Ranomafana. This is Madagascar's 4th largest protected area, comprising 12 species of lemur including the Golden Bamboo Lemur which was only discovered in 1986. There is a vast array of other wildlife, birdlife, insects and flora besides, lost within a landscape of rolling rainforest-clad hills, waterfalls and river valleys.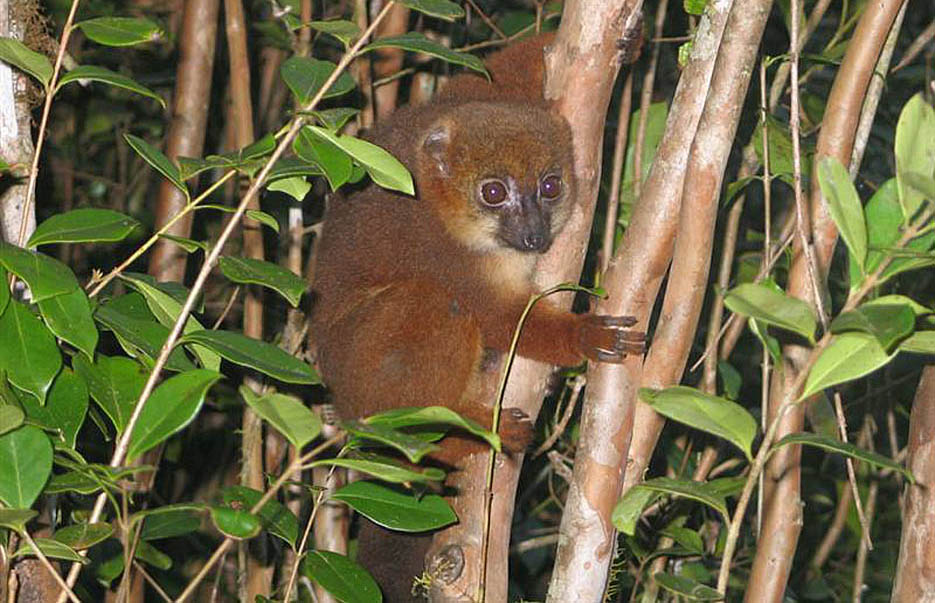 Continuing south, you will tour one of Madagascar's most important community reserves at Anja Village, famous for its population of Madagascar's signature mammal: the Ring Tailed Lemur (Lemur catta), known locally as maki.
The Isalo National Park is one of Madagascar's most scenic national parks, providing wonderful walking and trekking opportunities to admire its deep canyons, eroded sandstone cliffs, palm-lined valleys and open grasslands. This is another place where we can find Ring tailed Lemurs, as well as Verreaux's Sifaka (Propithecus verreauxi) and Red-fronted Brown Lemurs (Eulemur rufifrons). Of 82 species of bird, the Madagascan Ibis (Lophotibis cristata) with its long curved beak, red face, metallic black neck and bright white wings stand out from its mainly rufous brown body feathers.
Heading further south still, we reach dry forests of the Zombitse - Vohibasia National Park, where baobab trees begin to appear. When we reach the Indian Ocean at Ifaty, we can take you into Madagascar's unique spiny forest habitat.
Rural & Urban Life in Madagascar
This journey will also provide a slice of life through Madagascar, starting with the capital and the spa town of Antsirabe, known for its thermal springs, French colonial buildings and colourful rickshaws which are always worth a ride in.
You will also see a vast amount of countryside on this journey, with terraced paddy fields and very red isolated earth brick and thatch houses. These aggregate into villages and medieval-looking towns where you will see busy markets with local produce. This is often to a backdrop of high granite mountains, including Madagascar's 3rd highest mountain at Ankaratra, where you can admire the wider scenery from the Tritriva Crater Lake.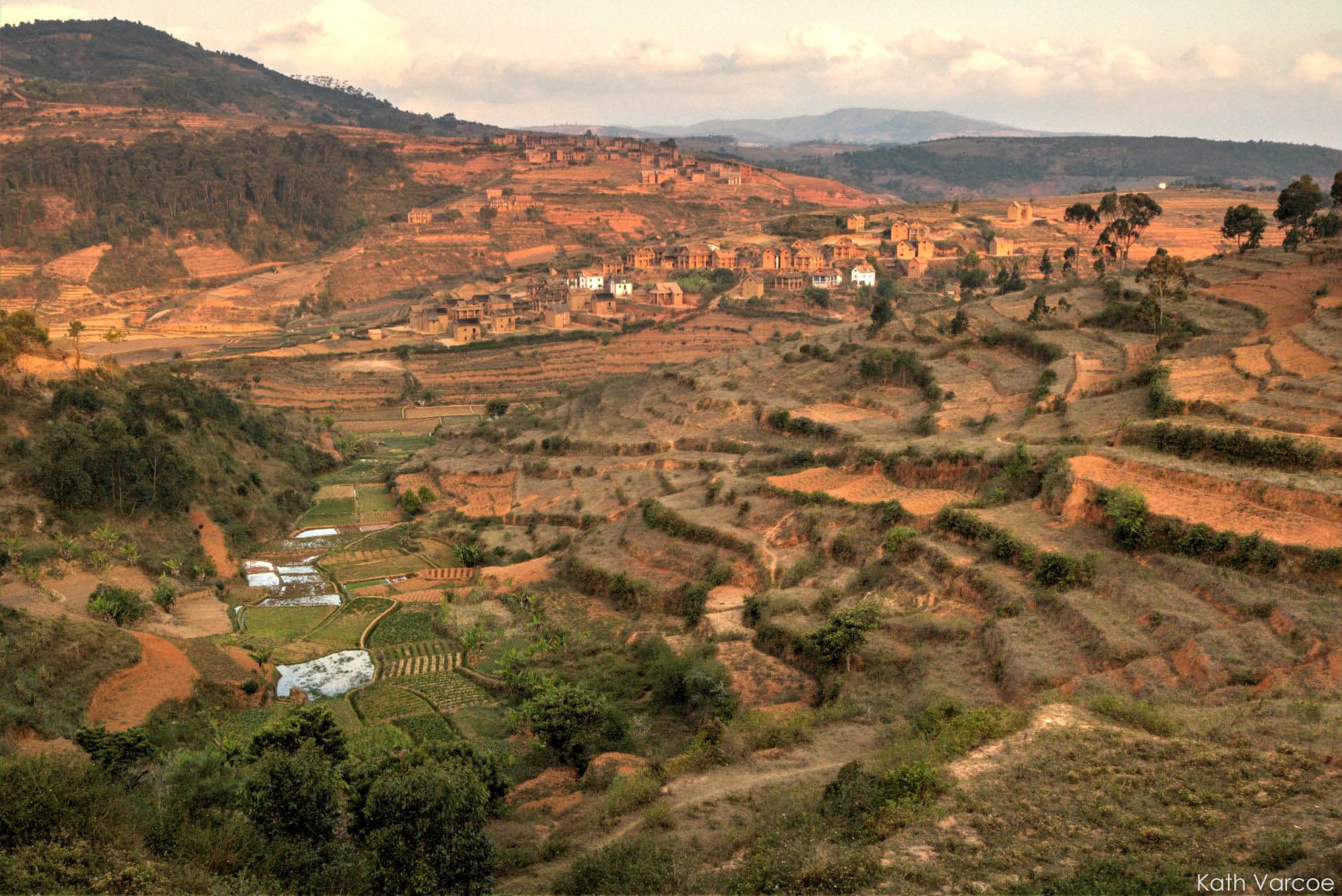 Life becomes harsher as we head south west, where Tandroy herdsmen walk their zebu. We will also see some of the tombs they build to bury their dead. We will leave it to your guide to explain the long funeral process the Tandroy go through.
Itinerary
Sample 11 Day Itinerary
This 11 days 1,000km transect journey from Madagascar's capital to the south west coast will take you through a huge variety of the country's habitats, topography, towns and cultures; not to mention a wide variety of plant, bird, lemur and other endemic animal species.
Day 1: Arrive in Antananarivo
Arrive Antananarivo where we will meet you at the airport and transfer you to a boutique hotel in one of the best parts of town.
Your guide will collect you from the hotel after breakfast. As soon as you are ready, you will drive through and then out of the capital and head south overland to Antsirabe. You will pass through highland scenery typified by rice paddies and traditional red clay houses.
En route you will stop in the tiny city of Ambatolampy at the foot of the Ankaratra massif: the 3rd highest peak in Madagascar. Here you will pay a short visit to a family-run aluminum factory.
You will drive on to pay a visit to the Tritriva Crater Lake and then transfer to a traditional rickshaw for a guided tour of Antsirabe.
Dinner included at the hotel.
Day 3: Overland to Ranomafana Rainforest Reserve
Today you will be driving to the Ranomafana Rainforest Reserve. The drive is 230km and takes between 7 - 7.5 hours, so you will need to set off at about 05:30 or 6am.
You should arrive in time for afternoon walks in the reserve, which closes gates at 4.30pm. You will enter pandanus forest amongst orchids, looking for lemurs and reptiles in particular. This hilly forest has some magnificent landscape.
You will then be able to settle into your hotel and as soon as darkness prevails, take an evening walk in search of wildlife along the edge of the reserve.
Dinner included at the lodge.
Day 4: Ranomafana Rainforest Reserve
You will head back into Ranomafana early today, walking in terrain between 800 and 1,200 metres altitude in search of lemurs, chameleons, aquaic birds and more. Ranomafana National Park was created in 1990, thanks to the discovery in 1986 of the Golden Bamboo Lemur (Hapalemur aureus).
Your guide will take you for another night walk before dinner.
Day 5: Overland from Ranomafana to Isalo National Park
Early morning you will drive south west from Ranomafana to Ambalavao, Ranohira and eventually Isalo National Park.
You will stop en route at one of Madagascar's most important community reserves at Anja Village, famous for its population of Madagascar's signature mammal: the Ring-Tail Lemur, known locally as maki.
Total drive time: 6.5 - 7 hours.
We will eventually drive you over la Porte du Sud ('Door of the South'), crossing the Horombe Plateau, arriving at Ranohira at the end of the day.
Dinner included at your hotel.
Days 6 & 7: Isalo National Park
Two full days to explore the Isalo National Park in the heart of Madagascar.
Day 8: Overland Isalo to Ifaty
We will drive you out of Isalo today, all the way to the coast at Ifaty.

On the way we will take you to visit the National Park of Zombitse - Vohibasia, the least known National Park but very important and interesting dry forest that shelters local endemic flora and particularly a birding hotspot and other wild animals. Opportunity then to spot for rare and local endemic birds, reptiles, lemurs and baobabs.
Day 9: Ifaty Spiny Forest
Ifaty spiny forest.
After breakfast, we'll have a short transfer to the Reniala arboretum to explore this dry forest, have dugout canoe trip to the Massif des Roses, back to the land and picnic lunch on site. Continue forest exploration in the afternoon before driving back to the hotel.
Day 10: Return to Antananarivo
Your guide and driver will take you to the airport in Tulear and whilst you will watch your vehicle take the 1,000km drive back to Tana, you will leapfrog them by taking a flight. Current schedules are these, but you must always expect considerable variation in flight timings in Madagascar:
07:45 Fly from Tulear (close to Ifaty)
08:50 Arr Antananarivo

You will be met upon landing and be taken to your hotel in Tana.
Day 11: Depart from Antananarivo
Transfer to the airport, or onwards overland travel.
Dates
Enquire / Book
01 Mar - 31 Dec 2023
-
from £ 2,090
11-day privately escorted
Price per person based on 4 persons travelling together
Add £790 for 2 persons
Enquire / Book
01 Apr - 31 Dec 2024
-
from £ 2,150
11-day privately escorted
Price per person based on 4 persons travelling together
Add £790 for 2 persons
Flight price Tulear to Antananarivo: £265 pp
Price includes
- All transportation in 4WD inclusive of fuel
- All accommodation
- Private English speaking driver / guide
- Entry fees for all included in the itinerary
- All breakfasts
- All dinners outside of Antananarivo
- Local taxes for these services
Not included
- Lunches
- Dinners in Antananarivo
- Services not specified
- Tips