Jaguars (Panthera onca) are the top terrestrial predator in the Americas. They are beautiful creatures - spotted like a leopard, but larger and generally seen a lot less because the majority of their modern range is lowland rainforest where they keep a very low profile. Speak to a cross section of Amazon veterans and a large proportion will never have seen a jaguar in the wild, even tough they might have spent many months in primary forest and observed their tracks on many occasions.
This is a perfect demonstration of how good the more open landscape of the Pantanal is; so good for seeing some of the same wildlife it is so difficult to see in the rainforest. Jaguars are seen regularly in parts of the Pantanal where ranchers haven't killed them to protect their livestock. In an area of the northern Pantanal, jaguars have over the past two years been seen on every one of these trips between June and November. Jaguars are present all the time in the area, but during these months river levels are lower and fortunately, mosquito levels are lower too.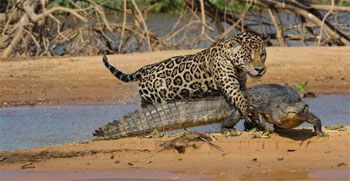 At the core location of this trip, we will base you on a fairly basic but comfortable boat where you will have a cabin, shower facilities, air conditioning (better suite cabin upgrades are available). Each full day you are there, you will be taken out for 8 hours by highly experienced boatmen who will focus on taking you to see jaguars and giant river otters. There will be a lot more wildlife and birdlife to see besides, but the focus will be on these mammals which are so hard to see elsewhere in South America. Your guides will try to manoeuvre boats into ideal positions to photograph and watch the behaviour of these animals. Sightings might last anything from a few minutes to several hours. You might not be lucky everyday, but we would expect you to experience a sighting of some kind during this trip.
If you would like to spend longer in the Pantanal with a broader focus, we can add on as little as a full day with guided boat trips, walks, time on a watch tower or horseback riding. Other great wildlife you can hope to see in the area includse capybara, the world's largest rodent; tayra, Brazilian tapir, marsh deer, caiman and monkeys which include black howlers.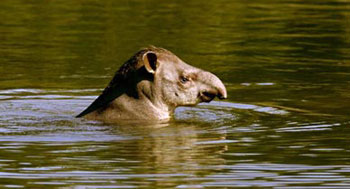 We can also extend your stay to incorporate the Brazilian Amazon, Atlantic Coast Forest, Savannah areas, Ilha Grande, Paratí, Brasilia, Iguazu Falls and more. Please contact us to discuss.
Dates
Dates
end May - October various fixed dates.
Please contact us for dates available.
Private departures are available almost anytime.
Price 10 days £3,150 pp sharing
Accommodation upgrade
to suite room in Pantanal add £750 pp sharing

Single supplements
Standard rooms in Pantanal add £675
Suite rooms in Pantanal add £795

Private departures
2 persons add £285 pp or £1,125 pp for suites
4 persons add £60 pp or £850 pp for suites
Price includes
All accommodation
All meals in the Pantanal
Breakfasts in Rio / São Paulo
All guiding & trips in search of wildlife
Flights to / from Cuiaba
Price excludes
Travel insurance
Tips
Items of a personal nature