This holiday combines some of the best natural assets of the archipelago providing the opportunity to access the beauty and wildlife of several stunning islands of the inner group. Based at a comfortable waterside hotel and then onboard a classic sailing ship, we explore otherwise difficult to access island environments including rainforests, reefs, mountains, and mangroves. You can be as relaxed as you please throughout the voyage or indulge in activities such as snorkelling, hiking, kayaking, cycling, and windsurfing. This trip is also an excellent solution for the diver who wants to see the best of what the inner islands have to offer - both above and below the waterline.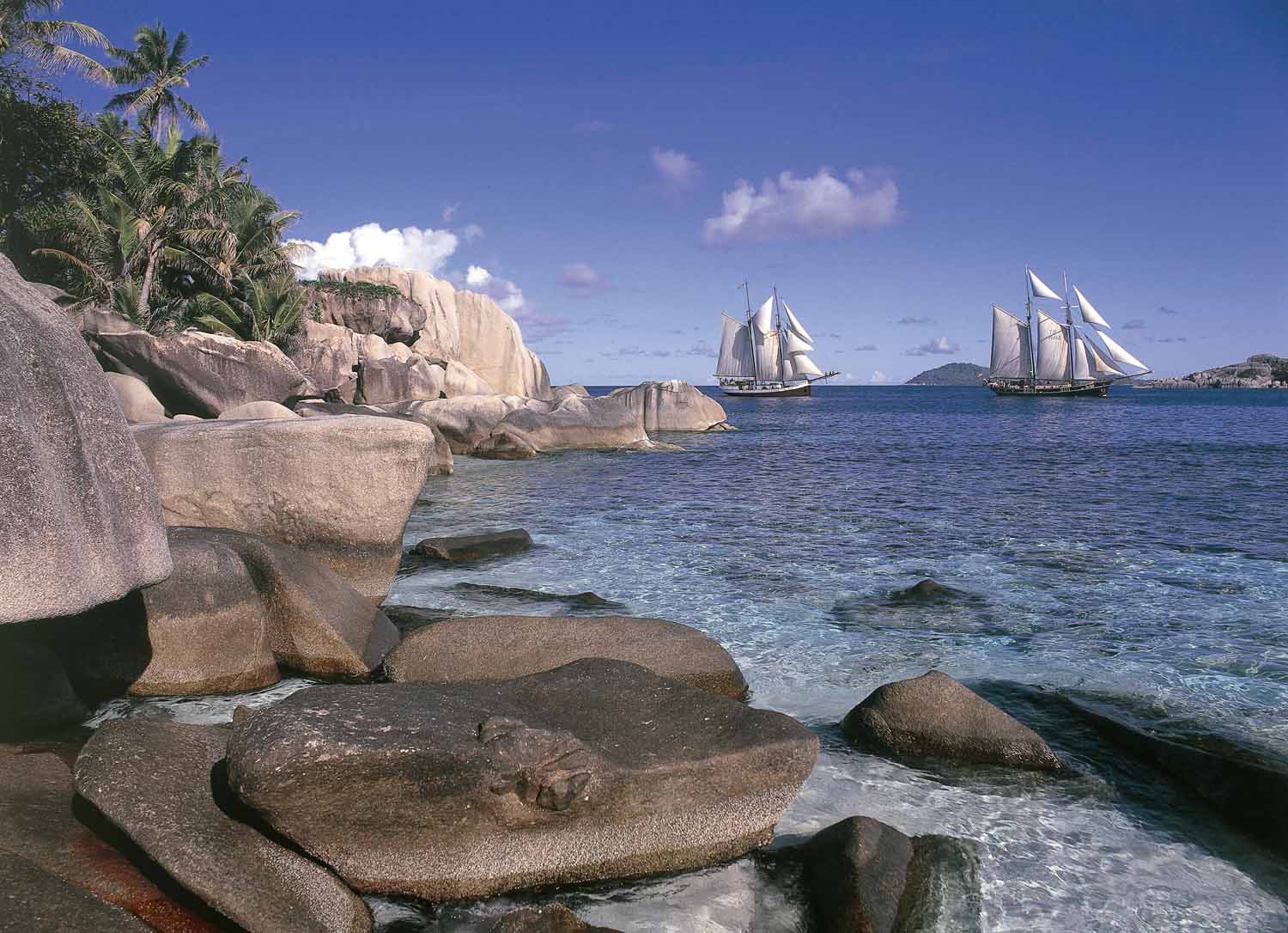 Your journey starts with the land based exploration of Mahé Island with the chance to enjoy its beautiful beaches, explore its forested highlands and dive some of the best underwater sites of the inner islands. A guided trek led by an expert local natural history guide will provide an insight into Mahé's classic combination of native forest and exotic flora, including the extremely rare Jellyfish Tree.

We then fly you by small prop plane to Bird Island in the extreme north of the archipelago. For three days you will share this beautiful, remote sand island with millions of birds, including sooty terns, tropic birds, noddies, egrets and ground doves. Giant tortoises roam freely on the island and hawksbill turtles seasonally nest and hatch along its clear water coastline.

The next 7 days will be boat based, travelling aboard your choice of either a romantic classic sailing yacht or a sleek, modern sailing ship. Both vessels act as a comfortable base from which to explore the great diversity of islands of the inner group.

Your yacht itinerary will vary according to the seasons. Departures from Mahé may anchor off Round island, then sail onwards to Praslin Island , where you have the opportunity to visit the Valle de Mai UNESCO world heritage site, home to the endemic Coco de Mer. Your yacht will anchor in some of the most picturesque bays in the World and you will have the chance to relax, snorkel and dive, and later be refreshed by a private barbeque on the beach.

A short onward sail east to La Digue will transport you to a sleepy and picturesque granitic island, excellent to cycle around or to kayak and snorkel amongst its beautiful coves. We next visit Aride Island, one of the most important protected island in the and a renowned haven for rare and endemic birdlife. It also boasts one of the densest population of lizards on earth !

At the Sisters Islands and Cocos you have the opportunity to explore both above and below the waters in a tranquil area accessed only by boat. Booby Island, is an excellent dive site and in the right season has for the potential for large rays and whale sharks. The mangroves of Curieuse Island are next explored. This spectacular granite island is also home to a giant tortoise breeding project. The clear waters around the island are part of the Curieuse Marine National park and also invite good diving and snorkelling.

Having explored the very best islands of the inner island group the yacht embarks upon a gentle sail back to Mahé taking in the Sainte Anne Marine Park and Ile Seche, before heading back to Port Victoria and your flight home.
Itinerary
14 Day Itinerary
(runs Nov - April)
Itinerary is 13 days May - Oct with 1 night less on the yacht.
Arrive Mahé where you will be welcomed to the island and transferred to your small comfortable hotel close to the Beau Vallon beach. You will have the remainder of the day to acclimatise and recover from your overnight flight.
Day 2: Day to explore Mahé
Today you have the option to relax, take in a walk of the stunning granite coastlines, swim or perhaps locally hire a car and discover the hidden beaches and forest cloaked mountains which define this beautiful island.

Divers will be able to take advantage of three boat-based dives to one of several excellent sites in the north of the island.
Day 3: Guided Hiking or Diving
Today you have the option to relax, take in a walk of the stunning granite coastlines, swim or perhaps locally hire a car and discover the hidden beaches and forest cloaked mountains which define this beautiful island.

Divers will be able to take advantage of three boat-based dives to one of several excellent sites in the north of the island.
Day 4: Fly to Bird Island
After a relaxed breakfast, you will be collected from your hotel and taken to the airport for a small aircraft flight to the Seychelles most northerly point: Bird Island. As you fly in, you should be able to see the turquoise waters around the island giving way to a darker blue off its northern tip. This is where the relatively shallow Inner Islands 'shelf' drops off some 2 kilometres into the deep Indian Ocean.

As soon as you step off the plane you will see the hundreds of thousands of birds which are either resident or seasonal visitors to this island. There are some stunning white sand beaches here, good snorkelling, the World's oldest known living tortoise and opportunities at some times of the year to see turtles.
You will have a full day to explore Bird Island.
After a relaxed breakfast you will be flown back to Mahé where you will stay overnight in the same hotel.
Day 7: Embark your Classic Sailing Yacht
After breakfast you will be picked up from your hotel and transferred to the Victoria quay where you will join your classic yacht diving and sailing voyage around the inner islands. After a welcome and briefing by the captain, you will weigh anchor and head to Round Island, just off Praslin. In the evening you will enjoy a welcome Barbecue.
A morning of discovery, snorkelling or diving.

Afternoon, sail to Bay Ste Anne Jetty, Praslin Seychelles second largest inhabited island. This coral fringed island has sizeable stands of unique island rainforest as well as beaches and bays which are simply some of the most stunning on Earth.

There are some great snorkelling and diving spots around the island where it is relatively common to see turtles and shoals of blue spotted rays, as well as some highly unusual pelagics such as the Guitar Shark.

Praslin is particularly famous for the Valle de Mai World Heritage Site: the one and only home of the Coco de Mer palm tree whose giant nut is the world's largest. Size is not all that makes this nut famous and its phallic female form is matched by an equally dramatic male stamen. Guests can disembark to visit the World Heritage site: Vallée De Mai Nature Reserve.
Today you sail towards La Digue island. La Digue is a beautiful island with a sleepy atmosphere. Car use is restricted and cycles and ox carts are the main mode of transport. Both styles are excellent ways of getting around, though you will need to walk to reach the island's highest point by taking a winding path through native forest. The views from here are excellent overlooking the coral reefs which encircle La Digue as well as other islands scattered beneath you across the Indian Ocean.

There are some excellent flatter walking areas on the island too, taking you through native forest which is home to the rare black paradise flycatcher. Other highlights include the chinese bittern, cave swiftlet, waxbill and two rare species of terrapin. After walking along one of these trails you can end up at just one of the island's spectacular bays whose white sand beaches are protected on two sides by giant granite boulders.
Day 10: Grande Soeur and Petite Soeur
Sail to Grande Soeur and Petite Soeur for a visit to these unique uninhabited tropical islands. Grand Soeur is dominated by massive granite boulders and reaches a height of just over 100m. The best diving and snorkelling is on the western beaches and there are several walks to enjoy around this very pretty palm fringed island. Its neighbouring sister island, Petite Soeur, is a little smaller island and separated from its neighbour by a deep channel. In the afternoon we sail to the Cocos island, part of a marine protected area where corals are protected and recovering well from the coral bleaching eposide of 1998.
Day 11: Booby Island & Aride Island
Sail to Booby Island for diving and water sports in the morning. After lunch, sail to Aride Island, nature reserve for an afternoon of exploration.
Day 12: Explore Curieuse Island
Sail to Curieuse Island for a visit through the mangrove forests and the giant tortoise conservation project. Barbeque lunch on the beach. The afternoon will be dedicated to diving, water sports or relaxing
Day 13: Heading back to Mahé
After breakfast we sail towards Mahé. On the way we stop at Ile Seche for the last opportunity for snorkelling, diving and a farewell barbecue. During the evening we sail into Port Victoria for our overnight stay.
Day 15: Disembark your Sailing Yacht
Disembarkation at 8:30a.m.

Transfer to the airport for your flight home … unless you would like us to make arrangements to extend your stay.

Note: itineraries may be subject to alteration due to weather conditions, directions from the Seychelles authorities or the decision of the guides and captain.
Dates
Prices:
From £2,590 (13 days June)
Peak season add on = £420pp (14 days version)

Prices based on 2 people sharing in standard rooms and twin cabin.
Upgrade to double cabin: £70pp (low season) - £195pp (peak)

Diving package (13 dives inc tanks and weights): £340

Flights As an ATOL bonded company, we can arrange these or you can do so yourself. Please call us for a flight price. We can arrange flights from several airport in UK and Northern Ireland, incorporating stopovers if you wish in East Africa. We are specialists at tailor made travel in Seychelles, so please speak to us for ideas and sample adjustments to this itinerary.

Single Supplement If you are willing to share your room/cabin with another independent participant then we can try to help you to do this. Alternatively please call for supplement price.

Price includes
Hotel accommodation.
All transfers Mahé.
Meals as specified in itinerary.
Full board on vessel, snorkeling, kayaking and fishing gear onboard.

Price excludes
International flights.
Drinks.
Tips.
Diving equipment rentals payable locally.
Telephone calls, laundry.
Marine park fees for those diving on Mahé (Eur 30*).
Landing and national park entry fees payable locally*:
Eur 155 per adult May - Oct
Eur 182 per adult Nov - Apr
Eur 55 per child under 12

*may be subject to change without notice

Experience / qualifications needed for divers:
Qualified open water certified scuba diver or above.
Diving courses can be arranged if you wish.
Hotel upgrades and Vessel options: please call for further details.