Iceland is alive with volcanic energy. Its mountainous landscape is constantly being reformed by eruptions, earthquakes, glaciers, rivers and oceans. In summer these can be enjoyed during long days, whilst in winter we can incorporate opportunities to see the Northern Lights (Aurora borealis).

For adventure seekers, we have come up with a 7 days itinerary which allows you to explore the country by white water rafting, trekking, glacier hiking, snowmobiling, snorkelling (or scuba diving) and 4 wheel drive 'super jeep'. We can easily tailor this itinerary to adjust the balance of activities you take part in and overall trip duration.

For trekking, super jeep and glacier hiking, our early focus is the infamous Eyjafallajokul Volcano, notorious for its 2010 eruption and subsequent flight disruptions. In autumn and winter, we switch to the Þórsmörk Volcano.

An insightful hike on Iceland's 4th biggest glacier will enable you to explore the raw and ever changing hub of ancient frozen water, riddled with crevasses, sinkholes and jagged ridges. If you are feeling particularly adventurous there will be an opportunity to try your hand at ice climbing too.

Iceland's best locations for white water rafting are in the north if the island, which is where we take you for Class 4 rapids along the appropriately named 'Beast of the East' Glacial River. These adrenaline pumping rapids and raging waters provide an exhilarating rafting experience through one of the most remote areas of Iceland, including the dramatic glacier gorge of the Austurdalur Valley.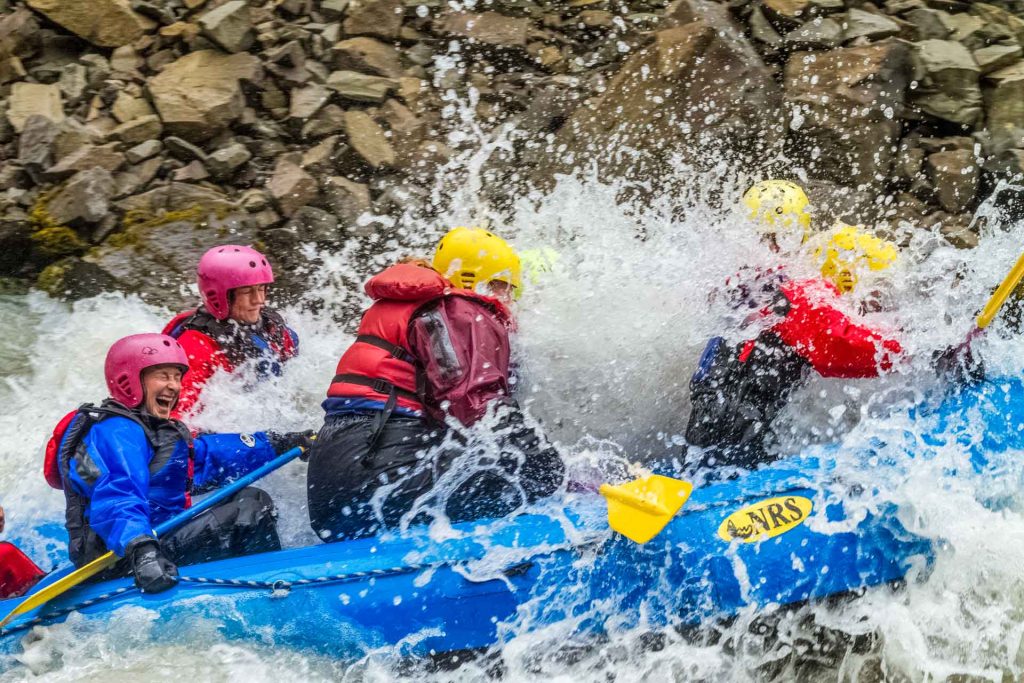 No trip to Iceland would be complete without a guided visit to the famous Golden Circle, home to the famous Geysir hot springs, spurting geysers and the roaring Gullfoss Waterfall (Golden Falls). We take you there by four wheel drive and combine with an exhilarating snowmobile experience on Iceland's second largest glacier.

A particularly unique and otherworldly experience will be either snorkelling or (scuba diving) in the crystal clear waters of the Silfra Fissure. Silfra is located on one of only two tectonic lava field rift valleys that separate the continents of America and Europe. It is an above water section of the mid-Atlantic Rift which as its name suggests, is where two tectonic plates have been drifting apart for millions of years to create the Atlantic Ocean.

At the end of your action packed week, there will be time for a well earned visit to the Blue Lagoon where you can bathe in springs heated by underground geothermal energy.
Itinerary
Please Contact Us to receive a flight quotes.

You will step onboard a pre-arranged shuttle to your hotel.

You will be spending the next 4 nights in a comfortable traditional style hotel within the heart of Reykjavik on a bed and breakfast basis, conveniently located on one of the city's oldest streets, in close proximity to shops, restaurants and bars. Hotel upgrades can be arranged.
Your day trip will begin by journeying to the frozen glacial tongue of Sólheimajökull - a magnificent phenomenon and a rugged, raw and ever changing hub of ancient frozen water. The journey to the glacier will take around 2 hours, with a brief stop for refreshments en route.

Once at the glacier you will be geared up with an ice climbing harness (ice climbing is optional) and adorn your crampons. If you decide to do this you will explore the crevassed riddled outlet glacier and witness its fascinating ice formations, sinkholes and jagged ridges. Throughout the glacier hike your guides will share their knowledge and provide deeper insights into the glacier, its history and the surrounding area.

Along the way you will come across an ice wall on the glacier, which you will have the exciting opportunity to climb if you wish. If you choose to have a go at ice climbing, you will be fully briefed beforehand, provided with an axe and safety ropes and fully supervised throughout.

After around 4 1/2 - 5 hours on the glacier, you will begin your journey back to Reykjavik, paying a visit en route to the beautiful Skógafoss waterfall. You will arrive back to Reykjavik at around 7pm.
From Reykjavik, you'll drive towards Iceland's three most famous attractions that make up the Golden Circle: Thingvellir National Park, Geysir Hot Springs, and Gullfoss Waterfall. We make sure that you get enough time to take in the magnificent landscape and the rich history found at every footstep.
Þingvellir (Thingvellir National Park) is strongly rooted in Icelandic history and is famous for numerous reasons. It's a UNESCO World Heritage Site, it's where Iceland's first Althing (Parliament) was founded in the year 930, and it's where the tectonic plates drift apart. The park is, quite simply, stunning. The waters, pond, and fissures are extraordinarily clear and the history of the place is endless.
This UNESCO World Heritage Site is a place that should not be missed.
Geysir Hot Spring Area is located in Haukadalur Valley. Here you'll find the famous Geysir, after which all other geysers are named. The area is filled with steam and magical geothermal phenomena. At the moment, the most active geyser is Strokkur. It erupts every 4-10 minutes and treats visitors to a show giving you that tingly feeling in your stomach.
Gullfoss or the Golden Falls are next up on the itinerary. It's one of the most powerful waterfalls in Iceland. The cascade plunges a little over 30 m (98 ft) and has two drops. Gullfoss has been locals' favorite since the Viking times, and now it's your time to explore it.
The extra stops will be at:
Hveragerði, a geothermal town famous for its steaming hot springs and greenhouses. Also known as "the earthquake town," Hveragerði is an active earthquake location. Grab a cup of coffee and visit an earthquake exhibition in Sunnumörk Shopping Center free of charge.
Faxi Waterfall (often called the little brother of Gullfoss) is one of Iceland's hidden gems where you can enjoy peace and tranquility. The cascade is 80 m (262 ft) wide and 7 m (23 ft) high.
Day 4: Silfra Snorkelling or Diving
Situated in the heart of Þingvellir, the site of the world's oldest parliament and UNESCO World Heritage Site, the Silfra lava fissure is one of Iceland's best kept secrets and presents a somewhat unearthly scene. The crystal clear water in the deep fissure gives you the surreal feeling of being weightless as you float down with the lazy current, where you will have unobstructed views of this underwater wilderness.

Frequently rated as one of the world's top ten dive sites, the Silfra offers up to 100 meters of underwater visibility and is located on top of the separation between Europe and America. Silfra's waters can go down to as low as 2°C, however, you will be supplied with specially made dry suits, which combined with warm clothing worn underneath will help keep you warm and dry.

After about 40 minutes of snorkelling, you will climb out of the water and those brave enough will get the chance to leap from a cliff into the blue water. This is a relaxing but exotic trip in a completely unique environment that only few will ever be lucky enough to encounter. You will be transferred back to your hotel, where you will arrive at approximately 13:00.

At around 17:45, you will catch a bus and head on up to North Iceland, where you will be spending the next 2 nights in a comfortable hotel in Akureyri.
Day 5: White Water Rafting
Be prepared for an adrenaline pumping experience, as today you will be taken on an exciting white water rafting adventure along the appropriately named Beast of the East River (East Glacier River). This grade 4 + raging river not only provides a thrilling rafting experience, but it also takes you on a geological journey through the beautiful and impressively narrow glacier gorge of Austurdalur Valley.

Your day of rafting will draw to a close with a final relaxing drift in the calm waters of the milky East and West rivers. Please Click Here for further details.

You will spend the night again in Akureyri.
After breakfast in your hotel, you will catch the 08:30 transfer bus to Reykjavik.

This afternoon you will head to Iceland's famous geothermal spa - the Blue Lagoon for an ideal finale to your Iceland experience. Here you will be able to soak up the beauty of your surroundings and breathe in the fresh air whilst bathing in the naturally heated pure geothermal seawater.
After breakfast, a shuttle transfer bus will come to your hotel and take you to the airport.
If you are departing on the afternoon flight, you will have the morning free to explore Reykjavik and spend as you wish.
Dates
Although some of the trips specified within this 7 day itinerary can be enjoyed all year round, the rafting is only available from May - September. Please contact us to discuss alternative adventure trip options outside of these dates.

Price includes
All accommodation
All transportation and transfers within Iceland as per the itinerary
All guided activities and equipment as specified in the itinerary.
Meals as specified in the itinerary (B=breakfast, L=lunch, D=dinner)
Transfers between airport and Reykjavik

Price excludes
International flights
Meals and services not otherwise specified
Blue Lagoon Entrance Fee
Evening meals
Items of a personal nature such as telephone calls, laundry etc
Travel insurance
Tips

Single Supplement For single occupancy standard rooms, there will be an additional supplement. Please Contact Us for current prices.

Hotel Upgrades are available in both Reykjavik and Akureyri. Please Contact Us for further details.

Diving Requirements Divers require a Scuba dive certification (PADI Open Water or equivalent).

All trips are guided in small groups of between 2 and 20 people (50 - 200 on the whale watching trip)

Activity Level Demanding