This 8-day horseback riding experience, run by our expert Andean equine team, will take you through some of the scenic highlights of Ecuador's Avenue of Volcanoes. It will also take you into cloud forests on the Pacific-facing western slopes of the Andes, where you will be riding amongst hummingbirds, orchids and giant guneras.
The glacial peak of Cotopaxi is the centrepiece of this experience. Whilst too high to scale by horse, you will ride out over plains with clear views of it, cantering on top of the world at 4,100 metres. Not many riders ever reach such heights!
Surrounding Volcan Cotopaxi within the Cotopaxi National Park, is a varied landscape of peaks which you will get closer to the top of. These include the lovely Rumiñahui Volcano at 4,250 metres. When trekking towards cloud forest to the west, the highest point you will reach will be 4,000 metres, beneath Volcan Corazon which stands at 4,790m. If skies are clear, you will enjoy some spectacular views of several peaks along Ecuador's Avenue of Volcanoes.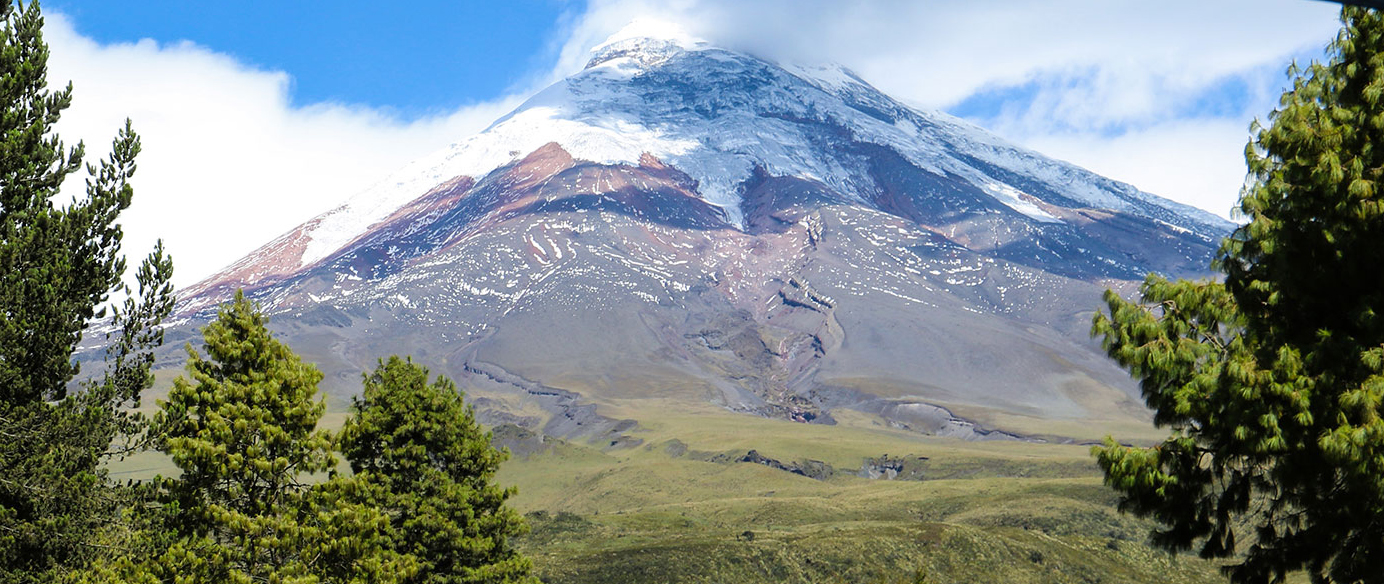 You will be able to ride between 3 to 6 hours on riding days, staying at a selection of family owned comfortable haciendas and a comfortable mountain lodge at the foot of Ecuador's highest active volcano of Cotopaxi. Keep an eye out for condors, because we do sometimes see these, the world's largest raptor here.
Delicious Ecuadorian and international meals, beer and wine is included. Saddles provided are wool protected, but you may of course bring some of your own gear. There is no rough sleeping - only comfortable hacienda and a mountain lodge hotel.
Notes:-
Pace: moderate with trots and canters.
Minimum age: 12 years if the child has good riding skills and a capacity for long journeys.
Additional riding training can be arranged before setting out.
This trip is entirely by horseback. Cars are not involved at any stage except to transfer you between Quito and our start and end points.
The horses used are well-trained and easy to ride, full of stamina.
Smart Voyager certified.
Itinerary
Horseback Riding to Cloud Forest & Cotopaxi
Day 1 - Quito to Machachi
We will collect you from central Quito or Quito airport and drive you to a hacienda in the verdant valley of Machachi.
You will arrive in time for dinner, where you will meet some of your expert equine team who will take care of your horse riding.
Day 2 - Getting to know the horses
After breakfast, you will become acquainted with the horses and tack used to ride here, taking the opportunity to gear up and ride a horse your team will help you to select.
You will then head out on an easy ride through farmlands and amongst neighbouring haciendas. You will be in the saddle for 3 - 4 hours.
After lunch at the hacienda, you will be taken to see the workings of the place, see the milking process and visit a cheese ageing cave.
Day 3 - Machachi, Corazon Volcano & Cloud Forest
You will pack essential today, to leave the hacienda for 2 days overnight trek to Andean cloud forest. Your ride will begin through pastures and eucalyptus forests, trekking out of the Machachi Valley towards the Corazon Volcano. You will reach 4,000m in altitude, which if the skies are clear and provide spectacular views over Ecuador's Avenue of Volcanoes.
From here, you will descend into luxuriant Andean cloud forest. From your mobile platform (your horse!), you will be able to observe rainforest trees, orchids, giant guneras and birds, which at this altitude features a high diversity of hummingbirds.
You will stay at another family-owned hacienda, built at 3,000m above sea level. From the comfort of a fireside this evening, you might be able to see the light of villages far away at the Pacific coast of Ecuador.
Time in the saddle today: 6 hours
Day 4 - Cloud Forest to Machachi
After breakfast, you will be taken to see orchids and cloud forest plants close to the hacienda. Riding will then continue up hill, admiring the cloud forest from above, before descending to your original hacienda by way of an old road built in 1873 to connect Quito to the Pacific coast.
You will arrive in time for lunch, leaving the afternoon free to relax.
Riding time: 4 hours.
Day 5 - Ride to the edge of the Cotopaxi National Park
Today you will ride into the town of Machachi before heading towards the lovely peak of Rumiñahui. You will not scale the 4,721 metre peak, but hopefully you will have skies clear enough to admire it.
You will stop at a hacienda for a snack before heading to the Pedregal Valley where you will stay in a hacienda built at 3,500 metres.
Riding time: 8 hours
Day 6 - Cotopaxi National Park & the Highest Canter in the World
Today you will ride into the Cotopaxi National Park. Your first target will be the Sincholagua Volcano, making a large lopp downhill into a valley before riding across lava flows. You will ascend to high plains north of Cotopaxi, which at 4,100 metres you can enjoy the highest canter in the world!
You will ride in close proximity to Berber horses, which run wild in the park, brought here by Spanish Conquistadores in the 16th Century.
You will stay in a comfortable mountain refuge which has direct views of Cotopaxi. Keep an ey on the skies for condors.
Riding time: 6 hours
Day 7 - Rumiñahui Volcano & your highest point
You will ride back past Rumiñahui Volcano today, reaching 4,250 metres. You will then ride into the Machachi Valley and back to your original hacienda where dinner will be waiting for you, as well as a hot tub if you wish. You will have much to talk about with your close-knit equine team.
Time in the saddle today: 5 - 6 hours
It's time to say farewell to your equine friends when we transfer you to the airport or your next destination.
Dates
Single supplement: £135 / US$185
Transfers from and back to Quito hotel or Quito airport
All meals, wine and beers with dinner
Bi-lingual Englisnh-Spanish horse riding guidance throughout all rides
Use of a horse
Horse-riding equipment including wool ponchos and chaps, horse bag, helmet
Your choice of wool-protected saddles (you may also bring your own gear)
Not included
Insurance
Tips