Giant tortoises, volcanoes, sharks, flamingos, marine iguanas, turtles, sealions and penguins - these privately guided hotel-based 4 & 5 day trips feature some of the best of the Galapagos islands' wildlife, marine life, and scenery. These trips are particularly good for topping up species and areas you may not have come across on a boat based natural history or diving trip. For those with only a short time to spare, they are also highly rewarding trips in their own right.
Southern Isabela, the Sierra Negra Volcano and the islets of Las Tintoreras are the common factor in all of these trips. With an extra day we can also take you to Los Tuneles at the far south western tip of Isabela: one of the best wildlife and marine life sites in all of the Galapagos.
If we first consider the central southern coast of Isabela, including its small offshore islands: sealions are the largest creatures we find here; very often right under our feet, so we have to take care to step around them. Marine iguanas are similarly littered in many places - on pathways through mangroves and along lava trails; but most rewardingly viewed on rocky shorelines, sometimes in their many hundreds draped over each other, reheating their bodies ready to go freediving for algae. Las Tintoreras islands provides us with the best opportunities in the Galapagos we have of snorkelling with them.
Large Green Turtles are another snorkelling highlight at this location; and from above water we can often see dozens of sharks swimming in lava tunnels no more than 1 foot deep. On our 5-days version, mangrove systems and shallow caves further west provide us with some of the best opportunities to snorkel close to White-tip Reef Sharks, amongst schools of juvenile Golden Cownose Rays and yet more Green Turtles.
Back to the central southern parts of Isabela, salty inlets and pools amongst mangroves provide excellent habitat for flamingos, with easy opportunities to film and photograph them. Yellow legs, moorhens and Darwin's finches are also easily spotted in these habitats.
Of volcanic scenery, southern Isabela is home to a volcanic crater second only in scale to Tanzania's Ngorongoro Crater. Volcan Sierra Negra is 6 miles (10 km) across! To reach the closest point of the crater edge involves an overland drive and then a between 45 mins to 1 ½ hour hill walk. On a dry sunny day this can be relatively easy. When cloud comes in and there is rain, we have to pick our way more carefully. The summit can often be seen from the southern coast, but on days when cloud obscures a view, we can often trek above this layer for clear views across the crater. When you reach the crater edge, the scale of the landscapes is difficult to absorb.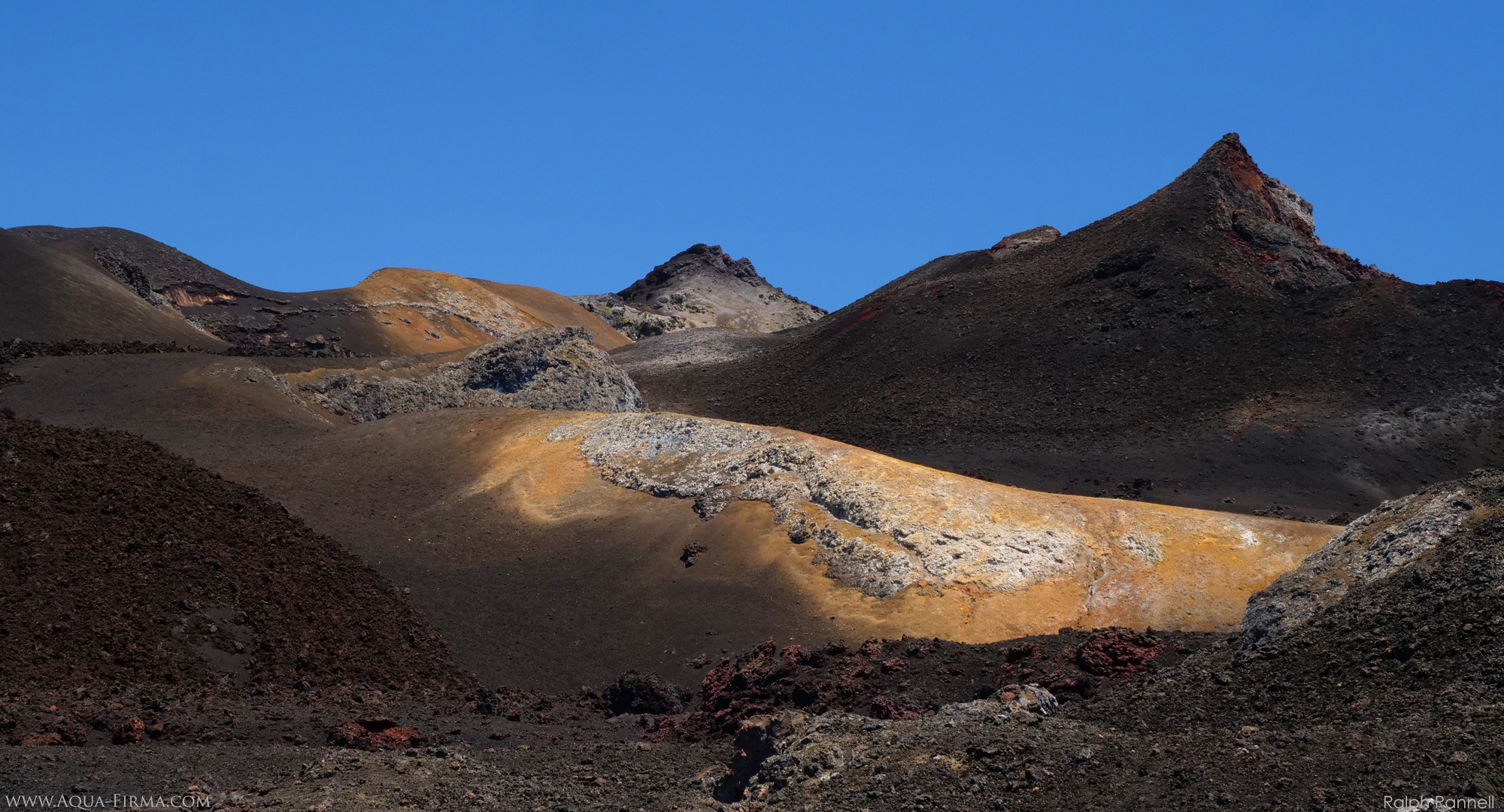 This is a private trip, so how far you trek is up to you, but the ultimate aim is to trek along the crater edge to Cerro Chico. This parasitic cone erupted spectacularly in 2005, just when the BBC were filming a series called Islands that Changed the World . Just beneath the surface, the rocks can be very hot, with lava tunnels running in all directions. It is essential to stick to marked trails here, because apparently solid rock can be very thin, with large voids beneath. The stark scenery here is very beautiful and views from this area extend far north to the enormous Elizabeth Bay and Fernandina Island.
Of other life, brightly coloured Sally Lightfoot Crabs can be seen in many locations on this trip; along with Lava Gulls, , Nazca Boobies and Blue Footed Boobies. On our 5 days version, we can approach Blue Footed Booby nesting sites.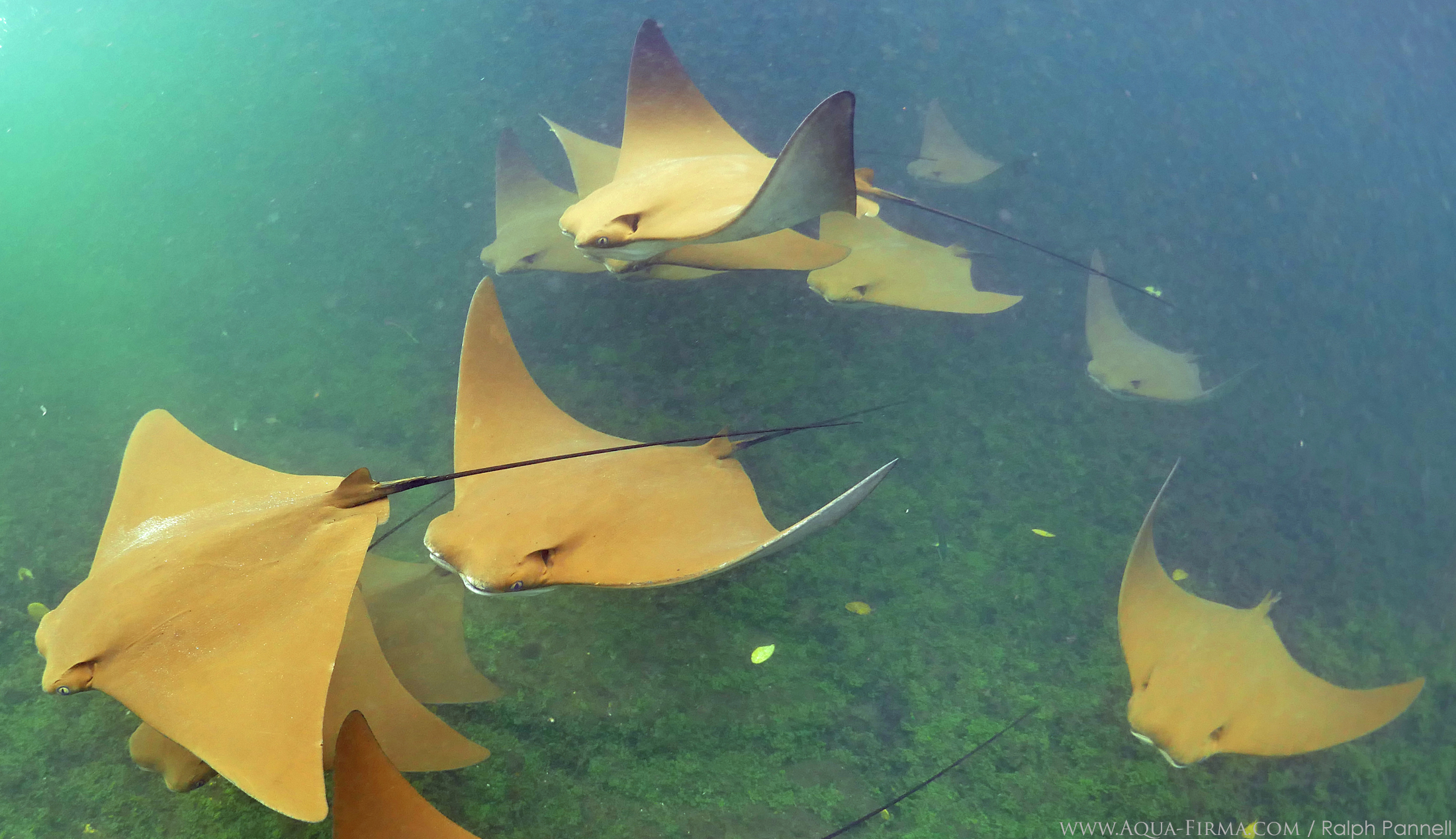 Photographically, wildlife and underwater video opportunities are wonderful on this trip. A GoPro or housing to a camera or video is recommended for snorkelling opportunities, whilst on land you would do well with wide angle, standard and telephoto capability.
Itinerary
4 Days Isabela based itinerary
Please note that itinerary order may be adjusted to optimise for tides and to fit in with your transport to and from Isabela Island.
Day 1: Puerto Ayora to Puerto Villamil, Isabela
This itinerary begins in Puerto Ayora - the main town on Santa Cruz Island. If you need to start this journey at Baltra airport, then we can make additional arrangements as needed.
The public boat journey from Puerto Ayora to Puerto Villamil takea about 2 hours.
You will be met by your private guide as you arrive into Puerto Villamil in Isabela.

You will then be taken to your beachside hotel. After you have settled in, you will be taken into town for lunch. This may, if you wish, include seasonal seafood highlights such as blue lobster.

In the afternoon you will be taken first overland and then by boat to Las Tintoreras - a set of islets close to the shore of Isabela. These beautiful islets, with their blue waters, vibrant green vegetation and stark black and white volcanic rocks, provide opportunities to see a huge amount of wildlife and marine life. This includes white tip sharks, basking in shallow waters of a lava tunnel; Galapagos penguins; marine iguanas at all stages of development; sealions; Pacific green turtles; lava lizards; black octopus; bright orange Sally Lightfoot crabs and more. On land you will be able to walk slowly amongst the lava observing and photographing the flora and fauna at close range.

In the late afternoon you can either enjoy your hotel and facilities; or take a stroll onto one of the most beautiful golden sands beaches in South America's eastern Pacific. There is also a boardwalk close by which is excellent for spotting Darwin's finches, snapes and marine iguanas in amongst mangroves. A similar boardwalk a few hundred yards away is often and ideal point from which to see flamingos.
Day 2: Volcan Sierra Negra
After breakfast, you will be collected from the hotel by 4WD and taken north to the lower slopes of Volcan Sierra Negra. You will then start trekking through guava trees and native flora to the rim of the crater. Depending upon the weather, the trek will take about 45 mins to 1 ½ hours. When dry the walk is easy. Fog and rain can make it slippy.

The rim of the crater is just the start of trekking opportunities. You will next set off along the crater edge and later to the caldera of Cerro Chico which last erupted in 2018. The lava formations of tunnels and puffing fumeroles are wonderful to explore. The views can also be breathtaking. The distance you trek is up to you and the weather. You can discuss as you go with your private guide.

After your trek you will be taken for lunch at a highland hacienda and eat amongst organic groves from where you food comes from. Good opportunities here for birdwatching and seeing Galapagos tortoises.

On the way back to the coast you will be taken by 4WD to locations where you can observe flamingos, and then to the Giant Tortoise Breeding Project.
Late afternoon and evening free.
Day 3: Explore the Southern coast
Today you will be taken to explore the southern coast of Isabela west of Puerto Vilamil. You can do this either in 4WD with opportunities to step out and explore sections of Scalesia forest, hilltop viewpoints, beaches and coastal rock habitats where marine iguanas thrive; … or by mountain bike. Your eventual destination will be the Wall of Tears, built by convicts which after years of torment eventually escaped. Ask your guide for the full story.

Amongst the native wildlife, birdlife and botany you will see, your guide will also be helping you to find giant tortoises introduced into the wild from the Tortoise Breeding Project.

Late afternoon and evening free.
You will be taken to the airport or port for your flight or boat out. Alternatively, consider staying a day longer to enjoy Isabela's stunning beaches, or take our 5 day option to incorporate the coastal lava tunnels where you can hope to snorkel with giant manta rays, sharks, marine iguanas and spectacular schools of fish.
5 Days Isablea based itinerary
This itinerary is privately guided and is the same as our 4 day itinerary above, except that day 4 and 5 become...
Day 4: Coastal lava tunnels
Your private guide will collect you from your hotel and take you to where you will board a speed panga (small shared boat). You will then drive along the coast for about to some coastal lava tunnels which can provide some of the best marine life encounters in the Galapagos. Huge manta rays are one of the most exciting prospects, as well as white tip sharks, golden cow nose rays and large amounts of fish life.
Nazca Boobies can often be sighted on rocks offshore. On tiny volcanic islets, we find Blue Footed Booby nesting sites.
You will be taken to the airport or port for your flight or boat out.
Dates
Enquire / Book
16 Jun - 21 Dec 2022
-
from £ 825
from US$ 990
Combination of shared & private guiding
Enquire / Book
05 Jan - 21 Dec 2023
-
from £ 890
from US$ 1,090
Combination of shared & private guiding
Private trip prices
(price per person sharing - available throughout the year subject to availability of guides and accommodation)

Prices include
Guiding
Accommodation
All meals
All transport starting Puerto Ayora on Santa Cruz and ending Isabela airport
Bikes (if needed)
Essential safety gear
Snorkelling equipment.

Prices exclude
Wetsuit rental
Flights
Items of a personal nature
Tips