The Galapagos is one of the most inspiring wilderness and wildlife locations for active exploration. These private journeys select diverse and exciting modes of adventure - including trekking, sea kayaking, mountain biking and snorkelling - for intimate and exhilarating encounters with habitats and wildlife: from the barren sides of active volcanoes, to the intense vegetation of the Santa Cruz Highlands.
This is a sample itinerary, which we can adjust according to your interests and timing - swapping activities and incorporating others, such as scuba diving. You will be accompanied by a private guide for all activities within your itinerary; with activity specialists as needed.
Sea kayaking in the Galapagos is filled with opportunities for close yet unobtrusive encounters with coastal wildlife. Turtles, sea lions, marine iguanas, frigate birds, blue footed boobies are just some of the possible sightings you could expect to have. Young sea lions have been known to ride the bow wave of swifter paddlers.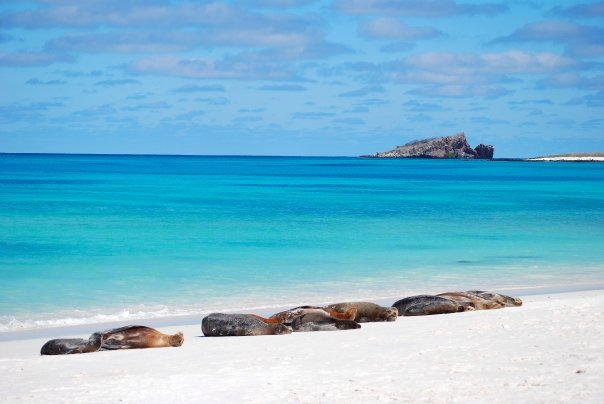 When it comes to exploring the volcanic landscapes of the Galapagos, hiking is most often the only option. We trek well beyond where most yacht based landings would allow you - from lava trails to Frigate Hill on San Cristobal, to the puffing fumeroles of Cerro Chico on Isabela.
On the Galapagos's largest island, Isabela, we trek to the perimeter of the world's second largest volcanic caldera. Volcan Sierra Negra is a spectacular feature of the islands, often active and a regular sighting place for wild tortoises. The views from here are some of the best in the islands - both of the 6 x 5 mile wide volcanic rim and of the rest of the islands spread out across the Pacific Ocean beneath you.
The highlands of Santa Cruz are some of the most densely vegetated parts of the islands, with moss laden forests and volcanic vents. There are also a number of dirt roads here for which a downhill Mountain Bike ride provides a refreshing windswept way to move without the need of an engine. Speeds will need checking, especially with the chance of there being a giant tortoise in your path.
To Snorkel is an often unsung highlight of a visit to the Galapagos and on this trip you will have many opportunities. Leon Dormido and Punta Pitt are two of San Cristobal's best snorkel locations; and Las Tintoreras off Isabela, where we can usually enjoy some wonderful close encounters with turtles and watch marine iguanas steam past us at the surface.
Itinerary
7 Days Sample Itinerary
Please note that this itinerary is subject to change without notice due to seasonal changes, last minute weather conditions and the decision of the Galapagos National Park authority and your guides.
B=breakfast, L=lunch, D=Dinner)
Day 1: Fly to Galapagos & Hike on San Cristóbal (L,D)
You will be met upon arrival to San Cristobal Island and be taken for lunch and an initial briefing about the trip.

After lunch you will hike out of town to the San Cristobal Interpretation Centre to learn about the island's formation, evolution and natural history. You will then continue hiking to explore the island's unique dry forest and see cacti, acacia, palo santo and Galapagos cotton. You will hike towards Cerro Tijeretas (Frigate Hill) along trails of lava rock with splendid views of the coastline and Puerto Baquerizo Moreno. Here we may enjoy our first encounters with the local wildlife. The hill is often visited by Galapagos wildlife such as frigate birds, blue footed boobies, brown pelicans, gulls, herons and land birds including Darwin finches, warblers and mockingbirds. On your way back we can stop for a refreshing swim at Carola Beach. In the evening you can explore the town and dine at a waterfront restaurant.
Day 2: Sea Kayak at Playa Ochoa & Snorkel at Leon Dormido or Punta Pitt (B,L,D)
In the morning we take to our ocean kayaks and spend the morning paddling along the coast, heading north to explore bays and coves and abundant wildlife. Darwin Bay is where Darwin's HMS Beagle landed for the first time. This route is filled with sea lions, marine turtles, blue footed boobies and frigate birds. From Playa Ochoa we continue to one of the two best snorkel sites in the Galapagos: either Punta Pitt or Leon Dormido (the precise location will be determined in consultation with the Galapagos National Park).
Day 3: Mountain Biking the Coastline of Isabela & Explore Las Tintoreras Islets (B, L, D)
In the morning we board a small plane for an inter-island flight from San Cristobal to Isabela Island. Isabela is the largest Island in the archipelago, formed by 6 shield volcanoes - Alcedo, Cerro Azul, Darwin, Ecuador, Sierra Negra and Wolf. All of these volcanoes except one remain active, making this island one of the most volcanically active places on Earth.

When we arrive we set up our mountain bikes to explore Isabela's beautiful coastline, starting with a visit to El Muro de las Lágrimas which means Wall of Tears. This historic site dates back to between 1946 and 1959 when Isabela Island was used as a penal colony. The wall was built with lava blocks and had no other purpose that of keeping prisoners busy from the madness of isolation. We continue riding along the coast as we explore expansive white sand beaches, mangroves and brackish lagoons. This area is filled with birdlife such as American oyster catchers, herons, flamingos, finches and many shore birds, as well as sea lions and marine iguanas.

In the afternoon we visit Las Tintoreras: a set of small Islets within Isabela bay. The islets are filled with wildlife and are home to the Galapagos Penguin, the only penguin that lives in equatorial region. We can also hope to see white-tip sharks swimming close to the surface, marine turtles, sea lions and much more wildlife as we explore its many small coves and beaches. The evening is spent in the tranquil port town of Puerto Villamil.
Day 4: Hiking to Volcan Sierra Negra (B,L,D)
In the morning we will head up to the highlands to hike about 6 miles (9 km) on irregular terrain taking us to the rim of the Sierra Negra volcano. Sierra Negra is the second largest crater in the world and last erupted in 2005 - something which was recorded in a BBC TV documentary about the islands. On a clear day you can enjoy fantastic view from here, of the 6 x 5 mile-wide crater, the other the volcanoes and the Perry Isthmus beyond.

From the crater we will hike to Chico Volcano, with its puffing fumaroles and striking lava formations which are examples of the dramatic geological events that have forged the Galapagos Islands over millennia. In the late afternoon, we will return to Puerto Villamil for a last chance to enjoy its exotic white sand beaches.
Day 5: Hiking in the Santa Cruz Highlands (B,L,D)
After breakfast, we take a fast boat from Isabela to Santa Cruz Island. Upon arrival, you will be taken to the El Chato Reserve in the Santa Cruz Highlands. This is an important habitat for the Galapagos tortoise. As we explore this area, we'll also come across pintail ducks, egrets, flycatchers, finches and frigate birds, bathing in fresh water lakes. We will also visit lava caves and tunnels created by hot flowing lava.

You will then continue to Los Gemelos: two volcanic craters near the top of the Island. Here you can walk amongst tropical scalesia forest which is covered with epiphytes and ferns. If you are lucky you will be able to see the short-eared owl - one of the two types of owls that live in the Islands. We return to Puerto Ayora in the afternoon. If there is time, you will be able to visit the Charles Darwin Research Station.
This evening we will dine at one of the island restaurants, or the excellent open air food market four blocks back from the quayside.
Day 6: Sea Kayaking at Santa Cruz Island & Hike to Tortuga Bay (B,L,D)
In the morning we will pick up sea kayaks and head around Divine Bay and Punta Estrada, paddling through several lava channels with their calm, turquoise waters. Within the channels, white tipped sharks and rays patrol beneath the waves, while colonies of blue footed-boobies, tropic birds, herons and marine iguanas perch along the jagged cliffs.

In the afternoon we will hike to Tortuga Bay - a beautiful white sand beach area and nesting site to thousands of marine turtles. This trail is 3½ miles (6 kilometers) long and crosses through a dry forest lava habitat home to hundreds of iguanas. We return to Puerto Ayora to spend the evening at leisure in the Galapagos' most populous town.
Day 7: Santa Cruz & Baltra (B)
From Puerto Ayora, you will be taken across Santa Cruz Island by bus and ferry to Baltra Island for your flight back to the continent .. or continue your travels in the Galapagos.
Dates
Enquire / Book
09 Feb - 17 Dec 2023
-
£ 3,595
US$ 4,320
(7 days)
Privately guided island-hopping Wildlife Adventure
Price per person sharing
Enquire / Book
18 Dec 2023 - 03 Jan 2024
-
£ 3,860
US$ 4,640
(7 days)
Privately guided island-hopping Wildlife Adventure
Price per person sharing
Minimum number of participants: 2
Single supplement
£495 / US$590 - comfort
Add a further £375 / US$450 - premium

Add £435 / $520 for shared premium accommodation

Timing We operate these trips privately at any time, subject to our guide availability.

Important Facts This experience is classified as Moderate to Energetic with around 2 to 4 hours paddling some days and small boat journeys between Galapagos islands of up to 2 to 3 hours per day.

Accommodation Comfortable hotel accommodation. Premium version upgrade available.

The Kayaks and Canoes
We use a combination of Prijon solid canoes and inflatable Sevylor's. The former holds a better course at sea whilst the latter is easier for coming ashore. All canoeing and kayaking activites are overseen by an American Canoe Association instructor. Spraydecks are not used.

Our prices include
Accommodation in the Galapagos in standard & tourist superior hotels
All meals as per itinerary (B=breakfast, L=lunch, D=dinner)
All transfers by land and sea
Activities as indicated
All guidance including American Canoe Association certified instructor for kayaking activities
A year's free membership of the Galapagos Conservation Trust donated towards their Shark Campaign and the Charles Darwin Research Station Marine Programme.

Our prices exclude
Flights*
Arrangements in Quito*
Galapagos National Park entrance fee - $100** per person to be paid in cash at the airport in Galápagos).
$20** immigration tax payable before you arrive in Galapagos.
$10 fee to enter Isabela Island
Drinks, tips.
Travel insurance.
(*we can arrange these - please Contact Us for details)
(**correct at time of writing)