The characteristic mountain formations and the unique landscape in Spitsbergen are so unlike anything you may have seen before, that it feels like you are visiting a different planet. These mountains, filled with old sediments from rivers and swamps, can be read like ancient books - if you know where to look. Most of the major fossils that have been unearthed on Svalbard over the last few decades have been marine reptiles from the Jurassic period, approx. 150 million years ago.

The Jurassic period is most well-known for the dinosaurs which inhabited the lands, but the fossils found on Svalbard are marine reptiles, like plesiosaurs, which lived in the ocean. These would have sunk into the seabed when they died, when they have remained for millenia. The Jurassic was the time of the reptiles, and these marine reptiles could be up to 13 metres long and weigh up to 3 tonnes.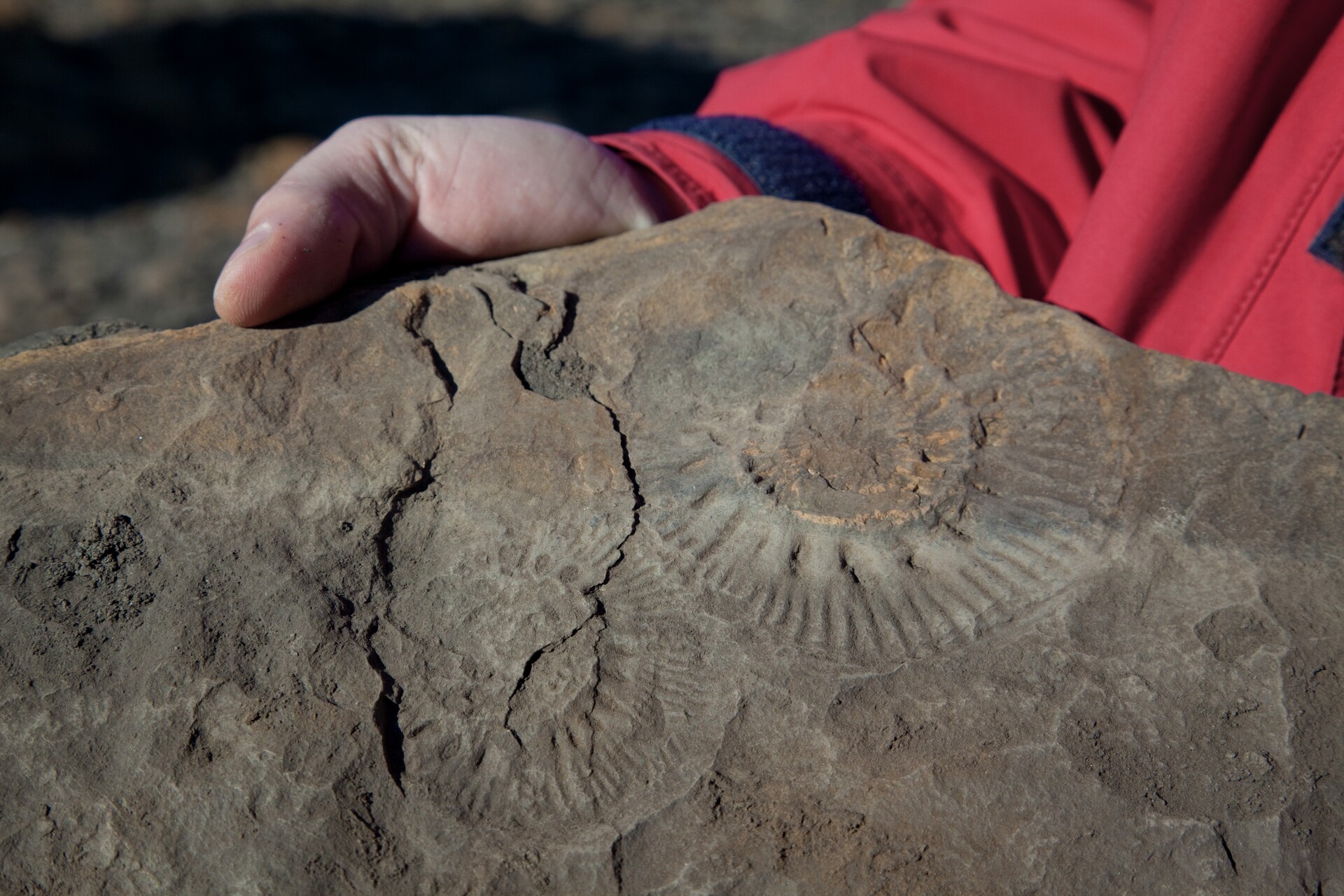 You will head out of Longyearbyen in an open Polarcirkel boat to Deltaneset. From the shore you will hike for approximately one hour up to 200 metres over sea level, where you will start to look for fossils. This is the same area where the paleontologist, Jørn Hurum, and his team, have spent the last several years digging out several plesiosaurs.

The Polarcirkel (RIB) boats are quite small and you may experience some bumpy seas and sea spray. The tour is not recommended for people with back problems or pregnant women. All participants are requested to dress warmly, wear hiking boots and a hat and mittens. Participants must speak and understand English or one of the Scandinavian languages.
Dates
Price includes:
- Transport to / from main hotels in Longyearbyen
- Loan of floatation suit and fossil hammer
- Expedition lunch & hot drinks

Trip Starts: 13:00
Duration: 6 hours
Minimum Age: 8 years with an adult
Difficulty Level: 4 – good physical fitness
Minimum Participants: 2
Available: June – August