Easter Island (Rapa Nui in the people's native language) is a remote volcanic island in Polynesia. Merely a speck in the expansive Pacific Ocean, it is one of the most isolated places on Earth, which lends itself to the unmistakable authenticity and mystery that surrounds it. It is a Chilean territory, however, it is easy to feel disconnected from the mainland which is some 3,700km to the east.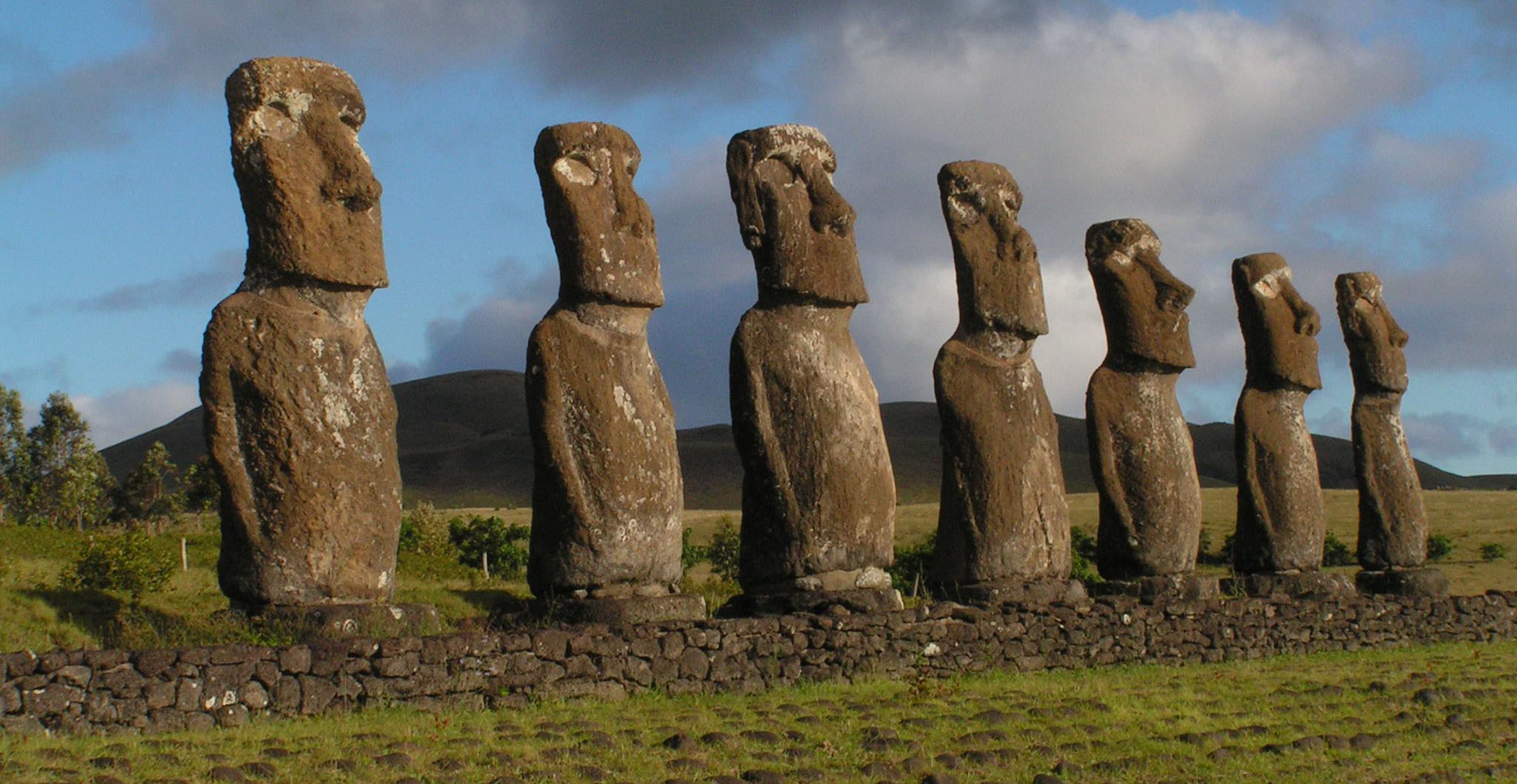 The island is characterised by its archaeological sites, which include around 900 monumental statues called 'moai' which were hand-carved by inhabitants between 13th and 16th centuries. The moai depict human figures with oversized heads (averaging around 4 metres and 14 tons), often resting on a huge stone pedestal called an 'ahus'. Much mystery surrounds these monuments as to firstly, why they were created and secondly, how this mammouth task took place. It is thought that the moai were created to honour ancestors, chiefs or other important people.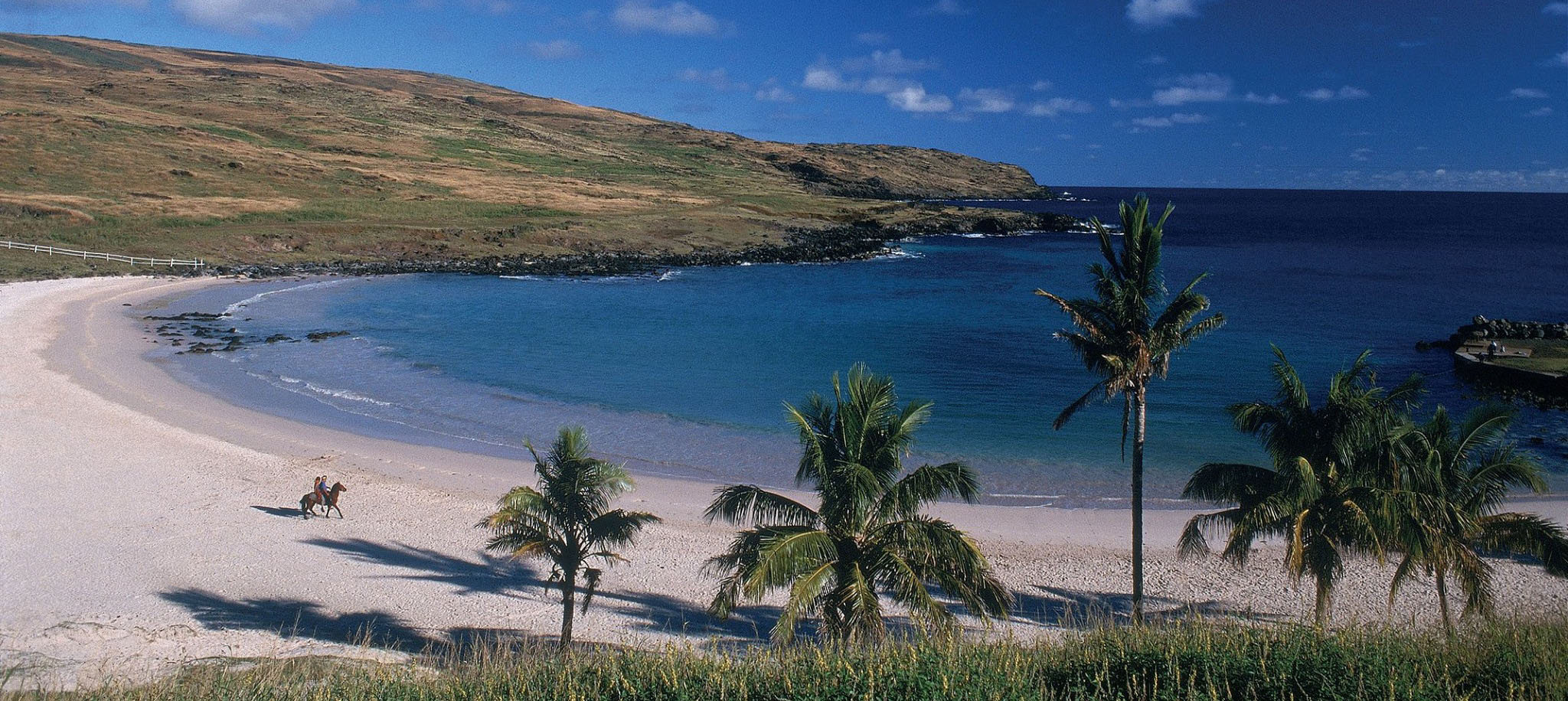 Aside from the statues, Easter Island has much to offer, including surfing, diving and snorkelling opportunities and numerous trails to explore on foot, bike saddle or horseback. For those times when you just want to relax, there are a few wonderful stretches of white sandy beach.

We offer three different levels of accommodation on Easter Island, from basic and affordable with group day trip options to luxurious with privately guided day trips. For further information on accommodation options, please contact us.
Itinerary
Day 1: Arrive Easter Island
Upon arrival at Easter Island airport, you will be met by a local representative and escorted to your hotel. You will be assisted with check-in procedures and provided with a detailed itinerary, covering all the services included in your 4 day trip to Easter island and additional information on the organization of your trip in Chile. You will also receive a contact information sheet with all the hotel details as well as our offices contact information and a 24-hour emergency number.

Overnight in Easter Island.
Day 2: Half Day Orongo Ceremonial Village and Rano Kau Volcano
Today you will depart from the hotel towards Rano Kao Volcano. This fascinating deep crater holds a lake of fresh water, which is entirely covered with totora (large reed). Located on the top of the crater you will find Orongo, the centre where each year the Tangata Manu or Bird Man ceremony is celebrated. These festivities currently take place during summer. There are more than 100 petroglyphs representing the God Make Make, the Tangata Manu, and the Manutara sea bird, among others.

You will also visit the Ana Kai Tangata caves, which contain several paintings from previous centuries. You will then depart to the ceremonial platform Ahu Vinapu, well known for its architectural perfection. After the tour finishes you will head back to the hotel.
Day 2: Half Day Ahu Akivi
You will depart from your hotel in Hanga Roa and head north towards Ahu Akivi, a stone platform composed by 7 Moais built in the middle of the island. These are the only Moais in the region that were placed facing the sea and they represent the 7 explorers who were sent to Rapa Nui by King Hotu Matua.

After spending some time admiring these incredible creations, you will head towards Ana Te Pahu, also known as the Cave of the Bananas. You will then continue towards topknot-quarry Puna Pau, where the Pukao pieces (moais´hats) where carved. Pukao are also known as the typical hairstyle or hats of the moais. Here you will learn more about the making, building, and transportation process of these colossal sculptures carved on volcanic rock. Your last visit will be to the ceremonial site of Tahai with 3 Ahus and restored statues, where you can also observe remains of boathouses, a boat ramp and the only statue with eyes. Here you can hope to enjoy a stunning sunset. After the sun has set you will return to your hotel.
This full day trip will enable you to experience the best that Rapa Nui has to offer. You will depart from the hotel towards the ceremonial site of Tahai.

Here you will find 3 completely restored platforms with different statues that have been lifted from the ground and placed vertically standing-up. You will be able to witness the only statue in the island that has eyes. You will also go around the region and visit what once was a chicken house, a boathouse and a huge boat ramp. After that, you will arrive to one of the most important places of Rapa Nui's culture, Rano Raraku, quarry of almost 900 stone statues. 397 of them are still lying or standing at the slopes of the already extinct volcano that boasts a lake within its crater.

You will then visit Ahu Tongariki, the most recent and biggest restoration on the island counting with 15 moais. You will go on towards Anakena Beach, where you will visit the restored Ahus (platforms) of Nau Nau and Ature Huki. As a last stop during your way back to the village, you will visit the extinct volcano Rano Kau to appreciate the magnificent view of the island from the top. You will be able to distinguish the different geological features of the land and get impressed by a breathtaking postcard of the lake.

Afterwards, you will drive to the ceremonial village of Orongo, where the birdman competition took place every year. Here you can admire the spectacular petroglyphs related to this culture and enjoy the beautiful view of the 3 islands opposite the coast: Motu Nui, Motu Iti and Motu Kao Kao.
Day 4: Depart Easter Island
After breakfast in your hotel you will check out of your room. You will be transferred to the airport in time to catch your onward flight.
Dates
Price includes:
Private / Shared services as indicated
Local English Speaking Guides
3 nights B&B accommodation
Entrance fee to Easter Island National Park

Price exclude:
Flights
Services and non-mentioned meals in the itinerary
Early check-in, late check-out and hotel extras
Personal expenses
Tips

Accommodation Level: Basic, Standard or Luxury