The Cayman Islands provides some of the most dramatic diving in all the Caribbean. With crystal clear, warm waters, you can enjoy a variety of walls, reefs and wrecks with abundant marine life including sharks, turtles and rays. Exploring by liveaboard is by far the easiest way to reach some of the best dive sites across all three islands of Grand Cayman, Cayman Brac and Little Cayman.
Your base at sea will be a state of the art 40m dive liveaboard. With nine comfortable cabins the vessel is both small enough to be access in shore dive sites and provide an intimate, fun and relaxed atmosphere; yet large enough to provide a high standard of comfort in each cabin and group areas. Diving up 5 times a day, you'll be able to make the most Cayman's diving opportunities - with Nitrox available and other underwater courses such as underwater photography available onboard.
Your precise schedule will be determined by your crew as your week onboard unfolds, taking into consideration prevailing weather conditions and wind direction to make the most of each day's underwater exploration around the three islands:
Grand Cayman
The largest of the three islands, Grand Cayman offers a wide range of wrecks and reefs. The island provides a wide range of reef life and fish, from eagle rays and sometimes a shark.
Depending on which side of Grand Cayman you are diving, you will find dramatic walls starting from 15m - 20m. The shallows offer "spur-and-groove" coral formations that are noted for their swim throughs. Though commonly known for its small reef life, turtles and southern stingrays can often be encountered here.
Little Cayman
Little Cayman has some of the most spectacular ealls and drop-offs in the Caribbean and indeed worldwide. The majority of the diving in Little Cayman takes place within the boundaries of the world-famous Bloody Bay Wall. This marine park offers a combination of dramatic walls, swim throughs, mini-walls (in the shallows) and healthy coral reefs. When weather dictates, you will move to the South side of Little Cayman for diving at Windsock Reef, Grundy's Wall or the Soto Trader (wreck).
Cayman Brac
Cayman Brac offers fabulous coral reefs and formations, along with fabulous visibility (often over 30m) and excellent chances of encountering species such as Nassau Groupers, Turtles, Morays and more. The island is also renowned for its superb wreck diving.
Itinerary
Sample 8 Day Itinerary
This recently refurbished liveaboard yacht carries 18 guests in 10 cabins all with private facilities and air-conditioning. Standard Twin Staterooms are located on the lower deck and have bunk-style beds (double lower + single upper) and a porthole, Deluxe Staterooms are also located on the lower deck and have side-by-side twin beds and a porthole. The Master Stateroom is located on the Main Deck and has a king size bed and picture window.
Onboard you will find a spacious air-conditioned salon and dining area, a sundeck with hot tub, lounge and deck chairs, a shaded bar and grill and complete photo centre. The spacious dive deck provides individual dive lockers, camera table with low-pressure hoses and two hot, fresh water showers.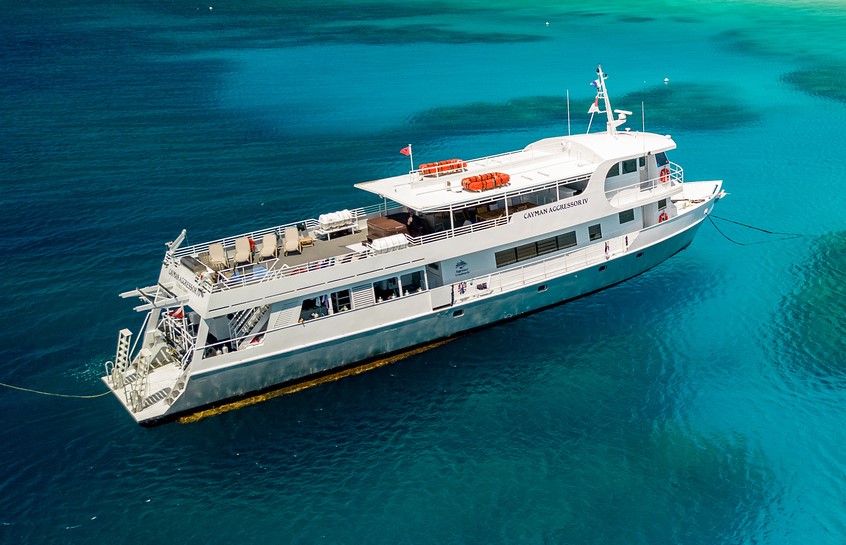 Day 1: Embark in George Town
You will embark this afternoon in George Town, the capital city of the Cayman Islands located on Grand Cayman.
Days 2 - 7: Exploring the Cayman Islands
You will make up to 5 dives per day. Some of the dive sites you may visit include:
Rum Point Dropoff (White Stroke Canyon)
Coral plates make up this site just outside the cut of Grand Cayman's Rum Point. As all North Wall sights go, spotted eagle rays, turtle, channel clinging crab and lobster can all be found in this region.
Tarpon Alley
Large sand passage slice through the coral fingers, leading out onto the North Wall. Between two of these
fingers, you can find tarpon displaying their buoyancy. Barracuda sometimes pose as imposters, lurking around, looking for a meal. On the wall, the beautiful spotted eagle ray is often sited as well as an occasional reef shark. If you are really lucky, you might spot a hammerhead.
Stingray City
An introduction of this site is not needed – The World's Most Famous 12ft. Dive. Stingray City is home to the many Southern Stingrays that pass the time away performing for divers. It is a must dive.
M/V Kittiwake
Sunk as an artificial reef in 2011 The Kittiwake, a former submarine rescue vessel (ASR-13) rests 64 feet deep at the bottom and only 15 feet from the surface making her ideal for both divers and snorkelers. You can swim overhead and see the main decks and topography of the ship, plus take a look down the smoke stack that opens up straight down to the bottom of the hull and the engine rooms. There is no end of rooms to explore within this wreck.
Randy's Gazebo
"One of the most spectacular dives", commented one diver. This site is home to some wonderful swim-throughs and some of the largest barrel sponges in the Cayman Islands. A wonderful photo op awaits at the 'gazebo'. Be on the alert for spotted eagle rays just off the wall and turtles at any time. The Chimney is a narrow passage that begins at 80ft, and burps you out at 30ft. Take it slow! and you can enjoy this experience.
Great Wall
The name says it all. You will moor in just 15ft of water, and the wall begins at 18ft; then there is a sheer drop. This portion of Bloody Bay Wall is full of pristine vegetation growing off the wall – gorgonians, soft and hard corals and all types of rope sponges. Turtles are often seen munching on a sponge or just swimming by at 40ft. Look for juvenile spotted drums and juvenile smooth trunkfish here.
Jackson's Wall / Reef (also known as The Meadows)
The mooring pin is set in the middle of several coral heads, which can be traversed. Various snapper call this portion of the reef home. Cosmo the grouper can also be spotted in and around this site. Jackson's Wall is highlight with swim-throughs onto the wall. Once again, look out for Caribbean reef sharks. In the sand area of the shallow, a spotted eagle ray can be seen feeding.
3 Fathom Wall (Mixing Bowl)
This is the crossroads of Bloody Bay Wall. Here, the "sheer" wall, meets the "gentle slope". This site is known to offer more fish than any site in Little Cayman. Schools of Bermuda chub, 3-spotted goatfish, snappers and grouper of all sorts can often be identified here. The rubble of the shallows is home to an array of creatures, including the timid yellowhead jawfish. If you are more adventurous, make a cut through the coral fingers and end up on the wall (there are several passages covered over by coral formations). Lobsters are frequently seen on the wall area. Turtles, spotted eagle rays and an occasional reef shark or nurse shark can be spotted at any time.
M/V Keith Tibbetts
Formerly known as the Russian Destroyer #356, this wreck has become a fixture for wreck dive of the Caribbean. Today, the boat lies in 40-90ft. of water. It provides a great backdrop for photos/videos, and offers some great penetration for the avid, suitably experienced wreck diver.
Day 8: Disembark in George Town
You will disembark this morning for your ownward travel arrangements, or why not extend your time on this stunning Caribbean island! Contact us to discuss your options.
Dates
Price includes:
- Accommodation onboard, 3 meals per day* and snacks
- All diving and shore landings
- Tanks, weight belts and weights
- Soft drinks, water, tea, coffee, local beer and wines
Not included:
- Dinner on the last evening of the voyage*
- US$95 / $135pp port fee**
- Use of NITROX (US$100 / $150pp)**
- Fuel surcharge where applicable (currently US$150pp)**
- Airport transfers
- Equipment rental and diving courses
- Spirits and cocktails from the bar
- Gratuities
- International flights
- Accommodation pre or post liveaboard (please contact us for assistance)
- Insurance
*Dinner on the last evening of the voyage is the only meal that is not included. This evening is spent at the marina where the crew will recommend a local restaurant for you.
**These fees may be subject to change without notice