This adventurous day trip will have you river rafting on the wildest white water in Iceland. The East Glacial River (Austari-Jökulsá) has long since become famous throughout Europe. If you are an adrenaline junky, this is likely to be the one trip in Iceland you cannot afford to miss.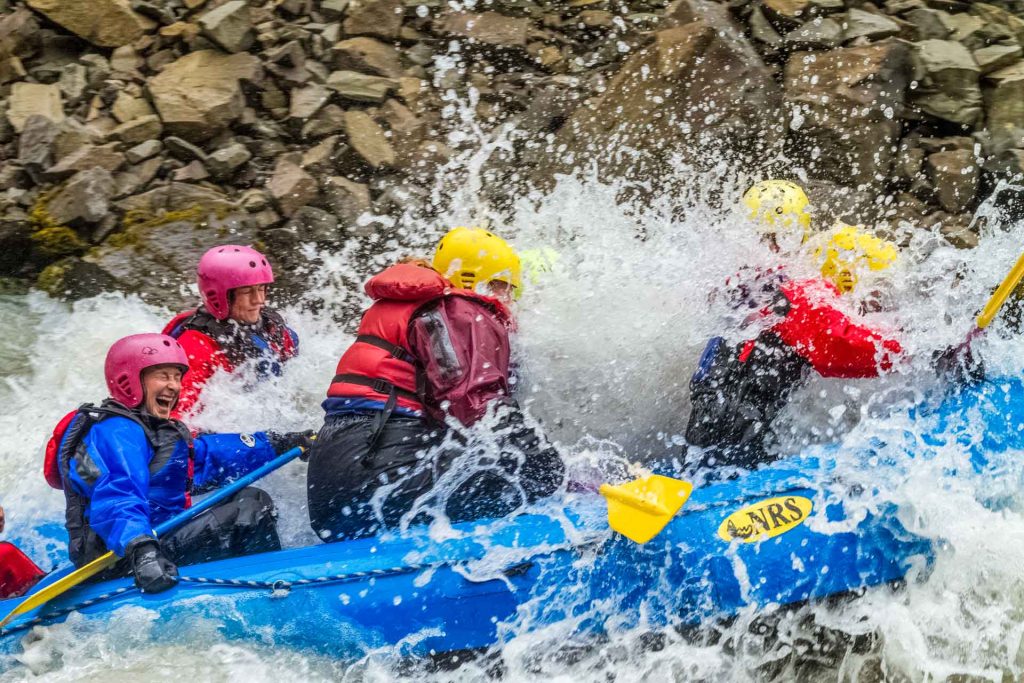 An incredible adrenaline adventure awaits you on our legendary, action packed, rafting trip on the Austari-Jökulsá Glacier River in North Iceland. This Class 4+ White Water River powers through the staggeringly beautiful and impressively narrow glacier gorge of Austurdalur Valley, which has consistently topped the Lonely Planet's list of things to do in Iceland. The East Glacier River simply provides the ultimate Iceland river rafting experience.

This is not a trip for the faint hearted - the Beast of the East has a powerful roar and sharp teeth. The only thing likely to surge in bigger waves then the river will be your adrenaline as you charge the famous East River Rapids. To put it mildly, you will scream out your lungs on the "Screaming Lady", be lost for words in the "Lost", beg for mercy in the "Green Room" and face your fears on the 8 meter high jumping rock into the river (optional and depending on conditions).

Your trip will be rounded off with a relaxing drift and swim in the calm waters after the confluence of the East and West rivers, as you let the milky glacial water carry you gently to your exit point close to Hafgrímsstaðir rafting base camp.
Dates
Price Includes: All rafting equipment, qualified rafting guides, transportation between base and river, riverside refreshments.

Distance from Reykjavik: 294 km, 3,5 hour drive or 4,5 hours by bus

Duration of Trip: 6 - 7 hours

Minimum Age: 18 years

Minimum Group Size: 4 persons

Experience Required Some experience of river rafting or a strong spirit of adventure is highly recommended.

Recommended Clothing
Dress as if you are going on a cold mountain trip as glacier rivers are very cold!
- Very warm clothing to wear under the raft gear. Expect everything you wear/bring to get wet
- Bring only wool, fleece and thermals (no cotton)
- Base layer pants and sweater
- Warm fleece / wool sweater
- Warm trousers
- Thick warm socks (winter wool socks or hiking socks)
- Towel & bathing suit

River Difficulty: 4+ out of 5 possible - Action Packed & Demanding