The coastlines of West Greenland and Baffin Island are simply stunning with towering mountains, glaciers and icebergs and are rich in wildlife and marine life, Inuit culture and history. This epic 20 day voyage aims to circumnavigate Baffin Bay and explore the first section of the Northwest Passage to Beechey Island. Beechey Island is a part of the Lancaster Sound - one of the richest marine habitats in the Arctic and is an important summer feeding area for whales and polar bears.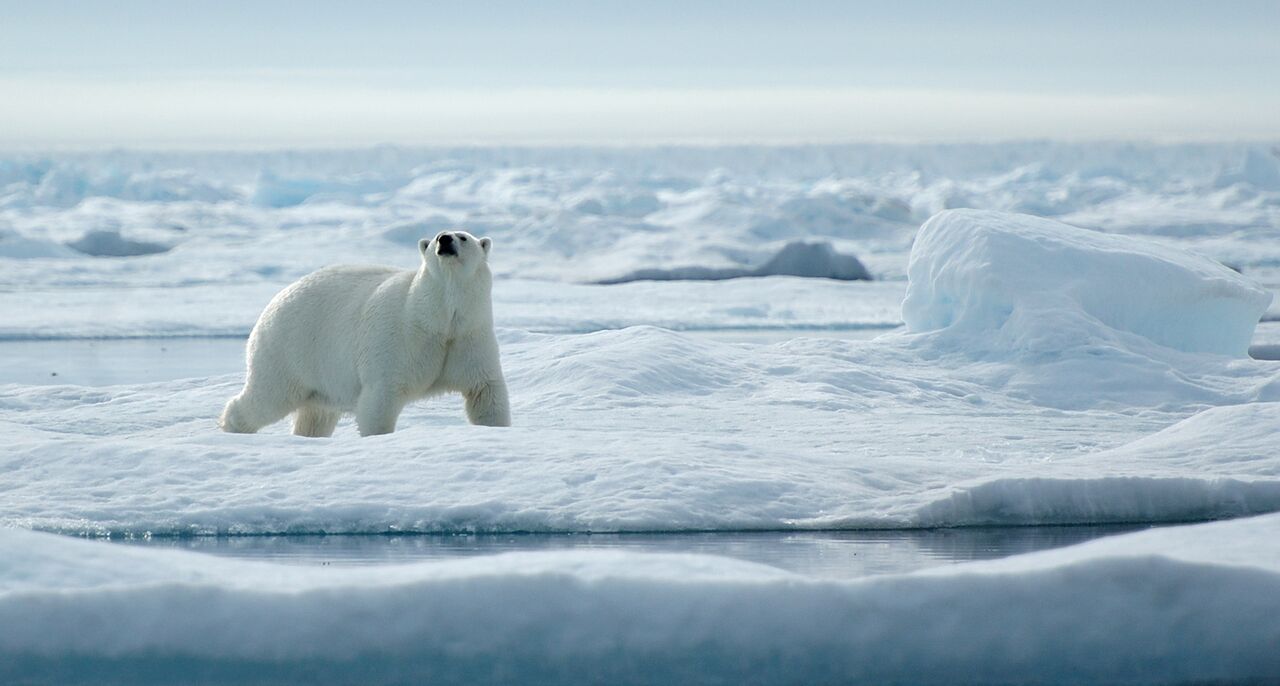 Travelling by small expedition ship, your voyage will begin by crossing the Davis Strait to reach the coast of Baffin Island; here you can enjoy a range of zodiac cruises, shore landings and hiking opportunities to explore this stunning and dramatic landscape. Wildlife opportunities are excellent along the coast here, with potential for encounters with polar bears, walrus, seals, beluga whales and even bowhead whales and narwhal. You will also visit some of the villages along the coast and learn about the blend of traditional and modern life of the Inuit communities.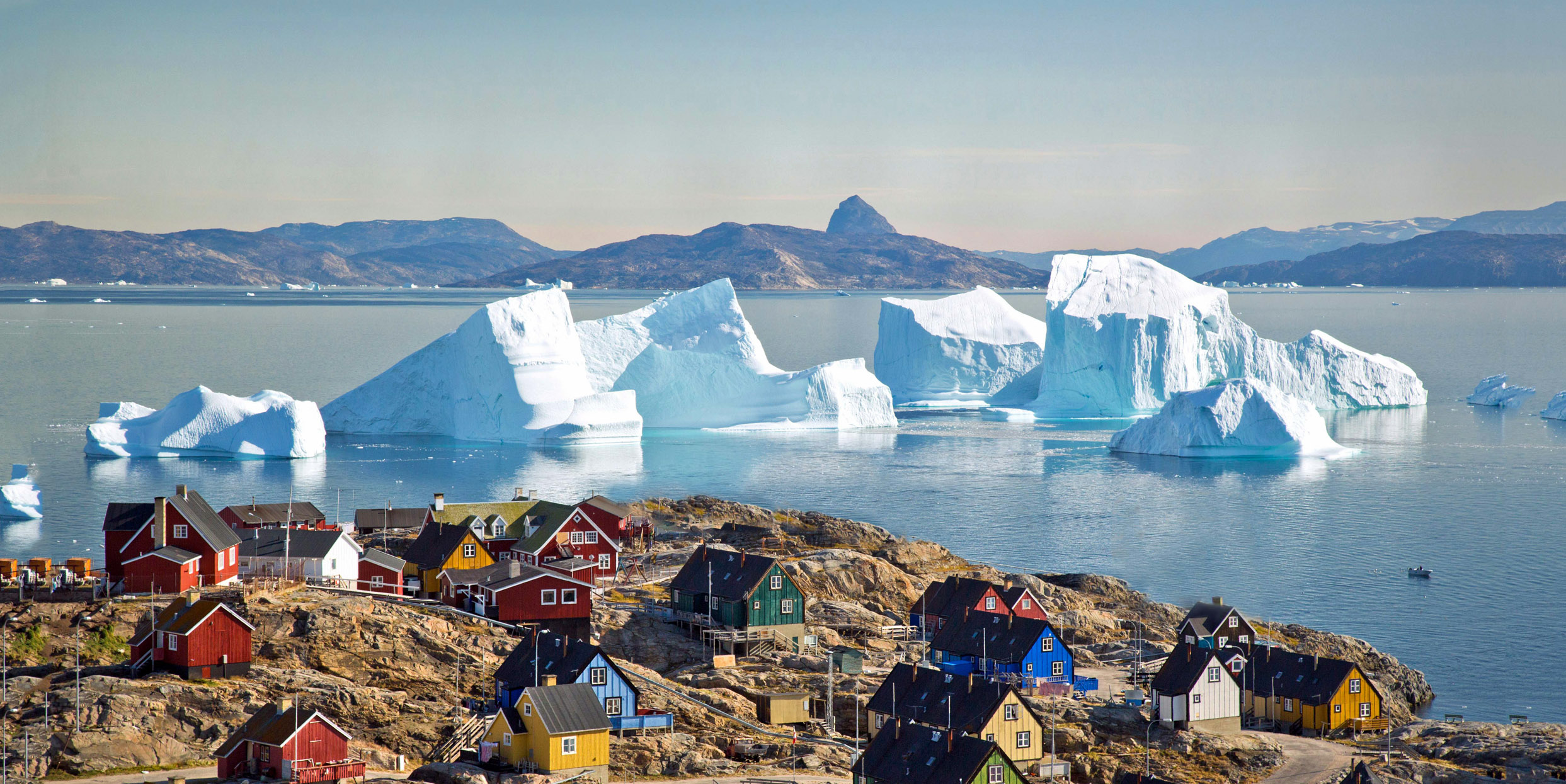 The gateway to the Northwest Passage, Lancaster Sound - also known as the wildlife superhighway of the Arctic – is home to bowhead and beluga whales. There are also possibilities for seeing the elusive narwhal and staggering numbers of seabirds who nest in the sheer cliffs around the Canadian Arctic Archipelago. You will explore some of the beautiful bays and islands here in search of historical sites and wildlife. You will also attempt a landing at Beechey Island; one of the most important historical sites in the Northwest Passage, where the somber grave markers and remains of the lost Franklin expedition can still be seen. Your onboard expedition team will be able to bring the story of the ill-fated expedition by Sir John Franklin, as he made his last heroic foray into the Arctic in 1845 with two ships and 129 men, never to be heard from again.
Heading west to Greenland, you will begin to explore this and little-visited region and visit isolated Inuit communities to learn about their traditional way of life, including one of the northernmost towns in the world – Qaanaaq (at 77° North, it sits just below Barentsburg, Ny Ålesund and Longyearbyen at 78° North!). As you head south, you will pass colourful villages, impressive icebergs and towering mountains until you reach Ilulissat Icefjord: a UNESCO World Heritage Site home to Jacobshavn, one of the most active glaciers in the world. This is where you will be able to enjoy a final zodiac cruise or hike to gain the best viewpoints of this unforgettable spectacle.
Itinerary
Sample 20 Day Itinerary
This epic 20 Day itinerary explores the stunning coast of West Greenland, rich in culture and history before entering the wildlife-rich Lancaster Sound and returning down the dramatic, beautiful coast of Baffin Island.
Please note that our polar itineraries are written to provide a flavour of each voyage. The actual route will be decided by the captain and expedition team in accordance with prevailing ice, weather and sea conditions and opportunities to see wildlife and wilderness scenery.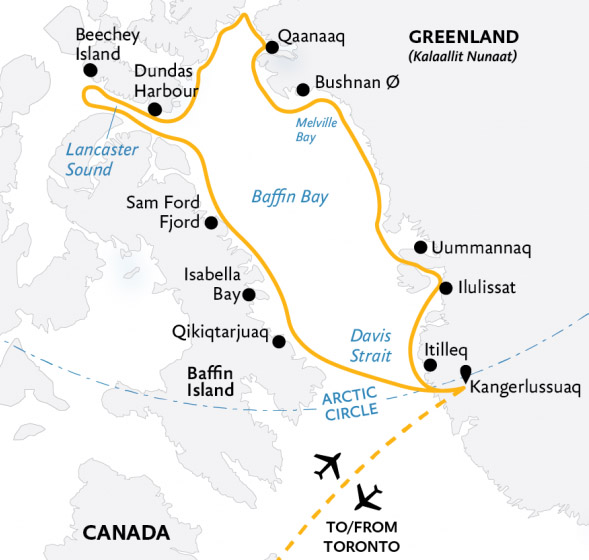 We strongly recommend that you arrive in Toronto at least one day before your trip is due to begin to mitigate against any potential flight or baggage delays and to allow yourself time to relax and explore before your trip begins!
You will have today free to explore the vibrant city of Toronto and will have a hotel night included in the city tonight.
Day 2: Fly to Kangerlussuaq for embarkation
This morning you will board your charter flight to Kangerlussuaq, a small town at the eastern head of Sondre Stromfjord, one of the longest fjords in the world. After embarking this afternoon, be sure to spend some time out on deck taking in your new surroundings as you set sail on your arctic expedition.
As you cruise across the Davis Strait, your onboard Expedition Team will prepare you for the adventures that await. Learn about the storied history and politics of the Arctic, its fascinating wildlife, geology, ecology and climate, and the incredible sights you will soon explore. Be sure to keep a lookout for seabirds soaring above the ship, as well as whales that frequent the waters here.
Cruising in this remote region, you will navigate the same icy inlets, channels and bays that fascinated legendary explorers of long ago. Your ship has been designed to offer unprecedented access to the hardest-to-reach places on the planet and is equipped with two onboard twin-engine helicopters.
Days 4 – 6: Exploring Baffin Island
Baffin Island is the fifth-largest island in the world, it was named for English navigator William Baffin, who ventured to the area in the early 17th century in search of the fabled Northwest Passage. Your days sailing along the island's eastern coast will be guided by weather and ice conditions, with each day and each landing presenting new adventures. Some of your team's favourite destinations include Qikiqtarjuaq, Isabella Bay and Sam Ford Fjord. Towering mountains, deep fjords, colourful tundra, and Inuit settlements await!
The Inuit community of Qikiqtarjuaq (which means "the big island" in Inuktitut) is located just north of the Arctic Circle, on Broughton Island. Fondly called Qik by locals, the welcoming hamlet offers a superb vantage point of the Davis Strait. You'll also have a chance to support local Inuit artisans here by purchasing unique artwork, crafts and jewellery.
The rarely explored Sam Ford Fjord is one of the most isolated places on the planet. It is a spectacular big-wall playground, attracting adventurous climbers eager to scale the dozens of towering vertical granite cliffs that erupt from the sea. Have your camera handy as you cruise along this impressive coastline carved by ancient glaciers—the towering formations, stacked side by side, are simply majestic.
As you sail further north, take in a presentation by our on-board experts, sip an icy cocktail in the bar or join your Expedition Team on the bridge as they scan for wildlife.
Days 8 – 11: Lancaster Sound
The gateway to the Northwest Passage, Lancaster Sound is one of the richest marine habitats in the Arctic. With open-water areas staying ice-free all year, it is an important summer feeding area for whales and other marine wildlife. Your days here will be spent exploring several of the sound's beautiful bays and inlets, discovering historical sites, enjoying Zodiac cruises and searching for such iconic wildlife as walrus, seals and, of course, whales. Polar bear sightings are possible too, as Lancaster Sound is known for polar bear sightings.
There may be a possibility for a shore visit at Radstock Bay, the location of one of the most impressive ancient Thule sites in the Arctic. Exploring the well-preserved remains of the subterranean houses, including the whale bones used as supports for the dwellings, will give you an understanding of how these pre-Inuit people thrived in the Far North.
You will attempt to land at Beechey Island, a Canadian National Historic Site. Named after explorer Frederick William Beechey, the island is the final resting place of members of Sir John Franklin's 1845–46 expedition to find the Northwest Passage. The graves, on a desolate rocky beach, were discovered in 1850 by a team searching for signs of the ill-fated expedition.
Predominantly covered in glaciers and ice fields, Coburg Island and its surrounding waters comprise the Nirjutiqavvik National Wildlife Area. The island's steep coastal cliffs are an ideal habitat for hundreds of thousands of nesting seabirds like Brünnich's guillemots (thick-billed murres), black-legged kittiwakes, northern fulmars and black guillemots.
Before saying goodbye to Canada, you will aim to push as far north as possible, exploring both sides of Smith Sound, the uninhabited passage between Ellesmere Island and Greenland. Experience a true expedition as weather and ice determine how far north you can explore.
Days 13 & 14: Exploring Northwest Greenland
Your return to Greenland will have you sailing along the remote northwest coast, a land of impressive icebergs and massive glaciers. Qaanaaq, formerly known as Thule, is one of the northernmost towns in the world. Here, local Inuit share their culture and traditions, while the museum sheds more light on life near the top of the world.
You can hope to explore Melville Bay, a significant whaling site until the early 1900s. Opening up to Baffin Bay, the area is a major egress for the Greenland ice cap and is home to spectacular icebergs in all shapes and sizes, making it an ideal spot for Zodiac cruising and kayaking (note that kayaking is at an additional cost).
As you continue sailing south along the west coast of Greenland, presentations by your on-board experts will prepare you for the adventures that lie ahead.
Days 16 – 18: Exploring West Greenland
Boasting spectacular glaciers, mountainous landscapes, dramatic fjords and vibrant communities, the west coast of Greenland will leave you breathless. Some areas you can hope to explore here are Uummannaq, Itilleq and the impressive Ilulissat Icefjord.
Quite possibly the most picturesque place in Greenland, the traditional Inuit town of Uummannaq (which means "heart-like") takes its name from the red heart-shaped mountain that rises up a staggering 3,840 feet (1,170 meters) behind it. You'll want to be positioned on deck as your ship approaches the shore, with your camera ready to capture the inspiring vistas of the twin peaks soaring high above the colourful houses dotting the rugged coastline.
Another beautiful locale is the Ilulissat Icefjord, a UNESCO World Heritage Site. Home to Jakobshavn, one of the most active glaciers in the world, this is a great spot to enjoy a Zodiac excursion past towering icebergs. Venturing ashore in the town of Ilulissat (which means "iceberg") will allow you to visit the icefjord on foot and gaze at this unforgettable river of ice from the rocky shore.
Surrounded by sea and mountains, Itilleq (meaning "crossing place") is situated about a mile (2 km) above the Arctic Circle, in a scenic hollow on a small island. It is the southern limit of the Greenlandic sled dog. To keep the breed pure, the dogs are not permitted south of this community and all other dog breeds are prohibited this far north. Explore the town's traditional wooden houses painted in a rainbow of colours, chat with the locals, whose main trade is fishing, and maybe challenge them to a game of football — it won't be long before you're experiencing Itilleq's famous friendly vibe.
Day 19: Disembark in Kangerlussuaq & fly to Toronto
After bidding farewell to your ship and crew, you will enjoy one more Zodiac ride to shore, where you'll board your charter flight back to Toronto. Upon arrival you will be transferred to your included hotel.
You can depart Toronto at any time today, or consider spending a few more nights here to explore the city.
About the itinerary - Polar exploration can be highly unpredictable. Specific sites visited will depend on prevailing weather and ice conditions at the time of sailing. The above itinerary should be read as a 'guide only' and will likely change. The ship's Captain in conjunction with the Expedition Leader continually review the sailing plan throughout the voyage, making adjustments to the itinerary along the way to take advantage of optimal weather and ice conditions or to maximise encounters with wildlife. Decades of experience spent exploring these waterways mean that a large number of outstanding landing sites and zodiac cruising locations to consider, even when the weather conditions may not be ideal or when heavy ice may block out planned route. A flexible approach is something we encourage you to bring to the ship.
Dates
Enquire / Book
22 Aug - 04 Sep 2023
-
from US$ 8,150
Reykjavik - Kangerlussuaq - Baffin Island Coast - Devon Island - West Greenland Coast - Kangerlussuaq - Reykjavik (14 Days)
Modern x-bow expedition ship: 193 passengers
Optional Activities: Kayaking, Ice Cap trip
Included Activities: Hiking & Snowshoeing, Photography Workshops
Includes: return charter flights Reykjavik - Kangerlussuaq
Please Contact Us for a detailed itinerary
Enquire / Book
11 - 30 Sep 2023
-
from £ 14,095
Toronto - Kangerlussuaq - West Greenland Coast - Beechey Island - Baffin Island Coast - Kangerlussuaq - Toronto (20 Days)
Modern expedition ship: 199 passengers
Included Activities: Scenic helicopter flights
Optional Activities: Kayaking
Includes: free Expedition Jacket
Transfer Package (not included): 1 pre-&-post-voyage hotel night in Toronto, charter flights Toronto-Kangerlussuaq and Resolute-Toronto
Notes
Included:
- Voyage as indicated in draft itinerary
- All meals, snacks, soft drinks, juices, coffee and tea onboard
- Beer and wine during dinner*
- All shore excursions and zodiac activities
- Program of lectures by noted naturalists and leadership by experienced
expedition staff
- All miscellaneous services taxes and port charges throughout the programme
- Comprehensive pre-departure material
- Aqua-Firma automatically offsets the Carbon Emissions of your polar voyage
and flights booked through us in getting to and from your voyage.
- Expedition parka (to keep)*
- Use of waterproof boots onboard (loan)
- Emergency evacuation insurance to a maximum benefit of US$500,000 per
person*
- Greenland voyages cruise passenger tax
Excluded:
- International flights (please enquire)
- Fuel surcharge where applicable**
- Pre and post land arrangements (please enquire)
- Mandatory transfer package (ask us for details)*
- Optional activities (e.g. kayaking, diving) unless stated
- Beverages not included above
- Travel insurance
- Fuel surcharge if applicable
- Passports and visas
- Canadian eTA (required for non-Canadian or US visa-exempt passengers)
- Arrival and departure tax
- Meals ashore
- Items of a personal nature (alcohol, laundry etc)
- Tips
*Ultramarine departures only
Activity Level: Low to Medium
Single supplement:
There is no single supplement to pay if you are willing to share your cabin with someone of the same gender. For a cabin to yourself the supplement is between 1.5x - 2x the per person rate. Single cabins are available onboard for those who prefer a cabin to themselves.
**Fuel surcharge:
The cost of fuel is currently volatile, so a fuel surcharge may be applied by the ship without notice. We will let you know if this applies to your booking and send you an updated invoice.