The most optimistic highlight of the year in the Arctic is the rise of the sun and the recession of the Arctic Sea Ice. You can see this taking place in full force in the early Arctic Spring.
There is a true sea change taking place during this period with a lovely combination of Midnight Sun yet Winter Wonderland feel to Spitsbergen. Passage to the North may sometimes still hindered by sea ice, but from our start point in Longyearbyen the Gulf Stream will be forging a warm water way through. The mountain landscapes of Spitsbergen are also changing fast, from an almost uniform snow white to black where rocky mountains emerge from within.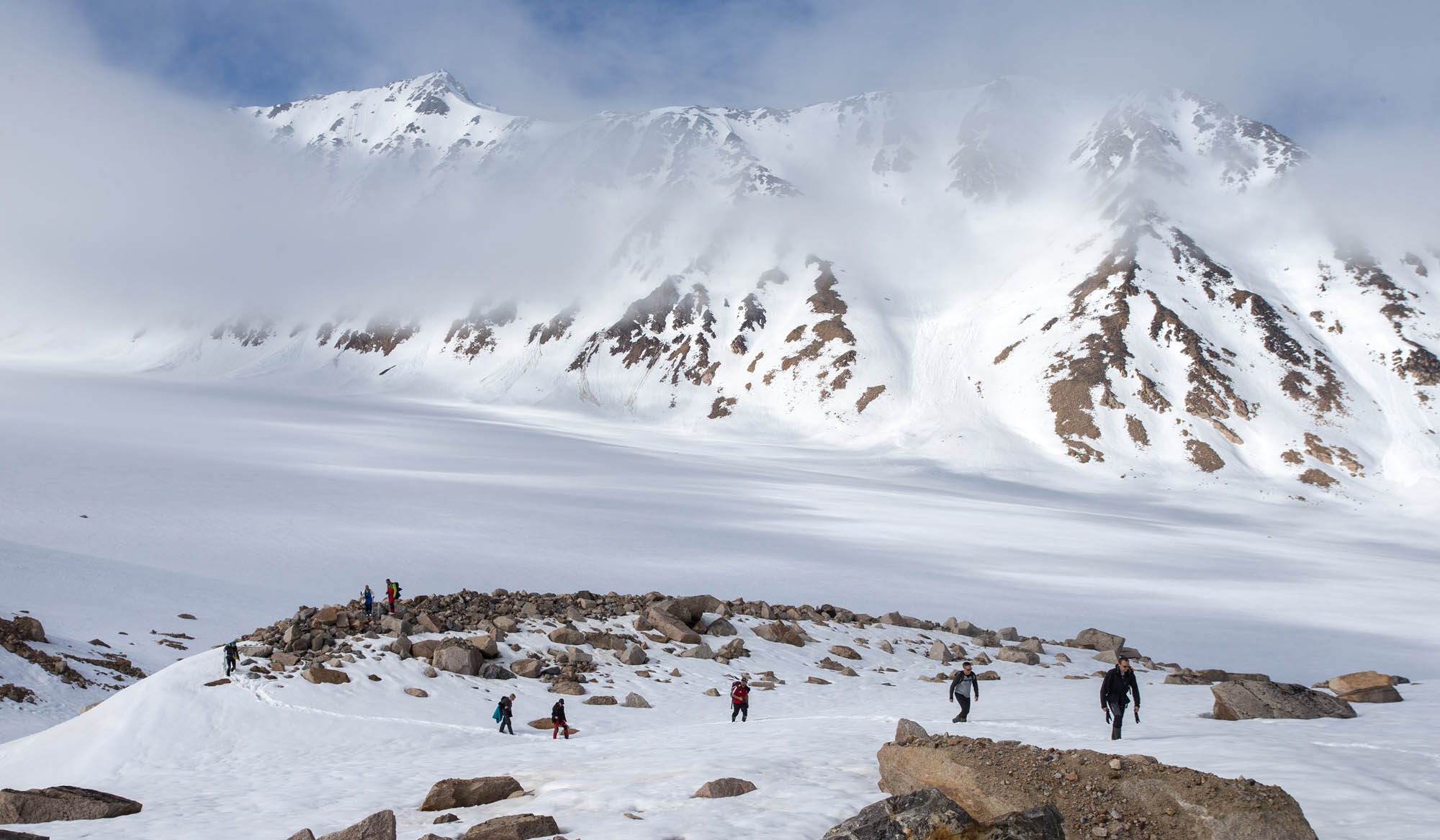 Although males are ever present, female polar bears and cubs begin to emerge from winter denning sites around May. In order to stay camouflaged, Arctic foxes will still be mostly white, as will the large Ptarmigan - the only land bound species of bird resident in Svalbard. These will both moult and darken as the summer progresses.
When we set sail amongst the mountains of Spitsbergen, we would anticipate huge numbers of migratory birds flying overhead. The parting of the ice provides access to food beneath the sea surface for many, whilst others like the skuas focus their feeding attention on eggs and newborn chicks of other species. Arctic Terns, fresh from Antarctica, will protect their eggs as keenly from skuas as they will from Arctic foxes, polar bears and humans, so be prepared to duck your head as they swoop over.
Walruses haul out in the West coast of Spitsbergen, so you can hope to see these in noisy groups, as well as alone on a bed of drifting ice. Svalbard reindeer, who remain here year round are scattered across this area too.
Of landscapes, the mountainous fjord of Hornsund in southern Spitsbergen is considered by many to be the most beautiful in the Svalbard archipelago. Here we can find one of many large glaciers flowing slowly into the Arctic Ocean, breaking up into ice islands or calving in explosive fashion.
Early summer can be good for spotting whales. Species you should be looking out for include minke whales, humpbacks, fin whales and even blue whales.
Your base throughout the voyage will either be a handsome one hundred year old sailing schooner, or a 3 masted brigantine reminiscent of the kind of ship Arctic explorers in the late Eighteenth Century might have used to explore this polar wilderness. The schooner takes just 20 passengers on board, in ten comfortable twin bedded cabins, hot showers, central heating, good food and two beautifully wood-paneled salons to relax in. The spacious pilot house provides excellent all round visibility and with ample space - it is always possible to find your own peace and place from which to absorb the sheer drama and scale of this Arctic wilderness.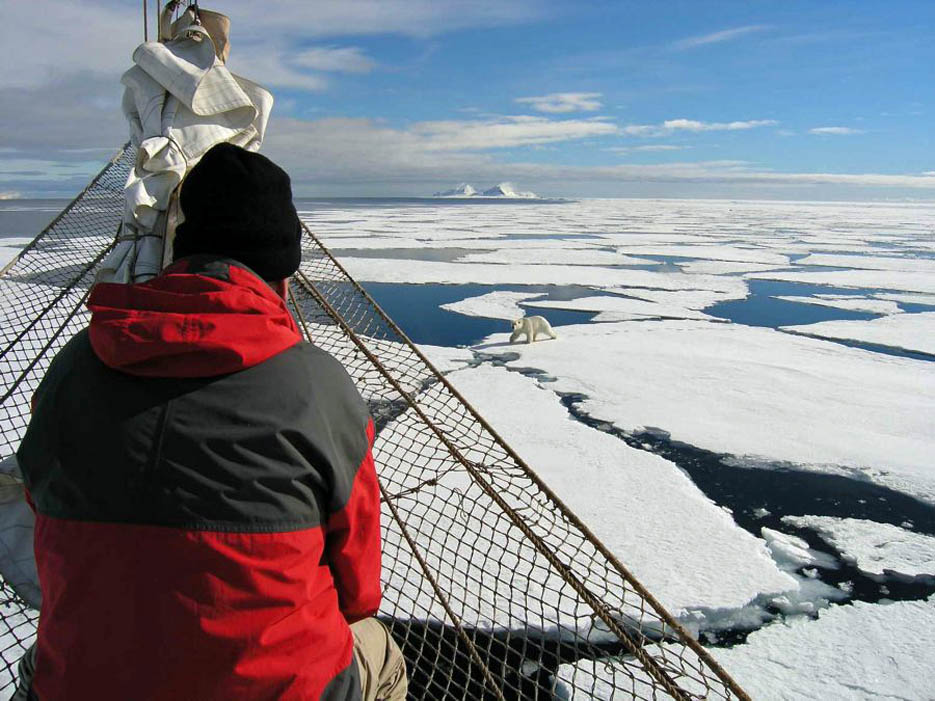 The beautiful three masted brigantine takes 32 passengers in sixteen en suite cabins. She is similarly impressive and benefits from an extra guide and zodiac. Sailing takes place when wind and sea conditions allow and you may participate in sailing the vessel if you wish, or simply relax and enjoy the activity.
These 8 and 9 day North Spitsbergen Sailing Voyages provide an affordable and exciting opportunity to experience dramatic seasonal changes in the High Arctic, with the possibility of spotting a broad range of wildlife, birdlife and marine life species.
Itinerary
8 Day Sample Itinerary
These early season sailing voyages celebrate spring returning to the Arctic! Snow and ice will be a strong feature of the landscape, with chances for encounters with the Arctic's year-round residents.
Day 1: Embarkation in Longyearbyen
Please note that our polar itineraries are written to provide a flavour of each voyage. Sailing rather than motor-only will be undertaken where and when conditions allow. The actual route will be decided by the captain and expedition team in accordance with prevailing ice, weather and sea conditions and opportunities to see wildlife and wilderness scenery. We aim to provide the highest quality trips, providing you with the most rewarding experience possible and as a result, our itinerary may need to change at short notice; and in the case of this voyage, may head north instead of south. Itineraries have been changed in the past on account of instances such as impassable pack ice and the discovery of a dead whale with numerous polar bears feeding on it. Please remember that any changes in our itineraries are made with you in mind. In all the locations listed in the itinerary below, we will be looking out for seals, polar bears, Arctic foxes, ptarmigans, reindeer and the eight species of whale seen in the Arctic.
The ship will sail in the early evening, leaving Isfjorden and sailing for Trygghamna where you will see the remains of an 18th century Russian Pomor hunting settlement and a 17th century English whaling station and where some of Spitsbergen's best-preserved 'blubber ovens' can be seen, which you will visit the next morning.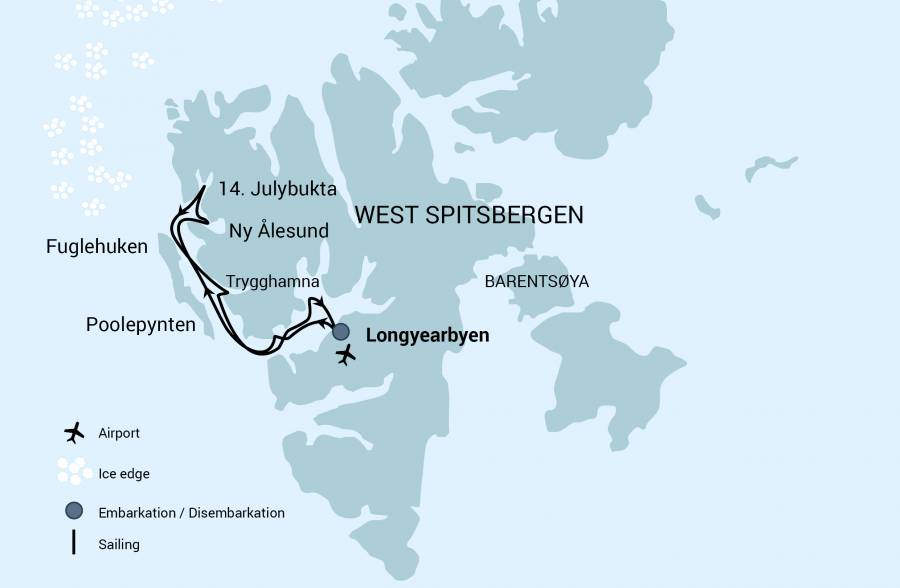 From Trygghamna you will walk to Alkhornet a large seabird cliff, where a large colony of kittiwakes and Brünnichs guillemots come to breed and are prospecting their breeding places. Below the cliffs you can often catch a glimpse of the Arctic foxes emerging from their dens around the base of the cliffs to look for fallen eggs or chicks, and Reindeer graze on the lush vegetation.
Day 3 & 4: Earth's Northernmost Community
Today the plan is to head north for Kongsfjorden and Krossfjorden. The landscape is likely to show signs of winter, the crags and slopes still blanketed with snow. Here there are rich opportunities for snowshoeing (snowshoes provided) and visiting places of historic interest: Ny London, where you can see the remains of early 20th century marble mining, and Ny Ålesund, the northernmost community in the world.
There are also research stations and the famous anchor mast of the dirigible Norge, which took the first flight across the North Pole to Nome, Alaska in 1926. Krossfjorden offers views of colossal glaciers and lofty mountain peaks, but ultimately the extent of fjord ice dictates the itinerary here.
Cutting south between the main island of west Spitsbergen and Prins Karls Forland, you may encounter walruses at Poolepynten, a common haul-out site. You also have views of St. Johnsfjorden, near Gaffelbreen. The winter ice may not have loosened its grip on the water here, and seals (ringed and bearded) could be numerous in the area.
You re-enter Isfjorden and venture into Ymerbukta, possibly embarking on a walk in this mountainous area. Here you find an expansive tundra with its own avifauna (depending on when spring arrives) as well as spectacular geological formations along the coast. Further northeast, near Ekmanfjorden, you have the chance for another hike. Common to this area are myriad glaciers that terminate near or in the sea. In Gipsvika you can go on shore near the cliff of Templet, a mountainous location of eroded sedimentary rock from the Upper Carboniferous period – around 290 million years ago.
Day 8: Disembark in Longyearbyen
Every adventure, no matter how grand, must eventually come to an end. You disembark in Longyearbyen for your flight home, but with memories that will accompany you wherever your next adventure lies.
Dates
Notes:
Single supplement: This supplement can be avoided if you are willing to share with someone of the same gender. Single occupancy price is 1.7 times the per person sharing cabin price.
Our prices include:
Voyage as indicated in draft itinerary.
Group airport transfer to & from the vessel (when arriving/departing on recommended group flight).
All meals, snacks, coffee and tea.
All shore excursions and zodiac activities.
Programme of lectures by noted naturalists and leadership by experienced expedition staff and crew.
All miscellaneous services taxes and port charges throughout the programme.
Comprehensive pre-departure material.
Prices exclude:
Airfares.
Pre- and post- land arrangements.
Transfers to and from the vessel (except when arriving/departing on recommended group flight).
Items of a personal nature (alcohol, laundry, etc).
Cancellation and personal insurance.
Passports and visas.
Arrival and departure tax.
Meals ashore.
Baggage.
Tips.
Activity Level: Low-Medium
Flights: We can arrange flights or we are happy for you to do this yourself. Please contact us for advice.
Ski & Sail Voyages: Please contact us for a detailed itinerary and minimum experience requirements for these departures