This 15 day Around Spitsbergen sailing voyage provides our longest exploration of the Svalbard Archipelago with its mountains, fjords, glaciers and spectacular wildlife. Planned for late July, when sea ice has receded sufficiently to permit access to the east coast - an area, which for most of the year is blocked by ice. This timing provides the best chance to fully circumnavigate Spitsbergen, with opportunities to observe enigmatic Arctic wildlife including walruses, reindeer, Arctic foxes and polar bears.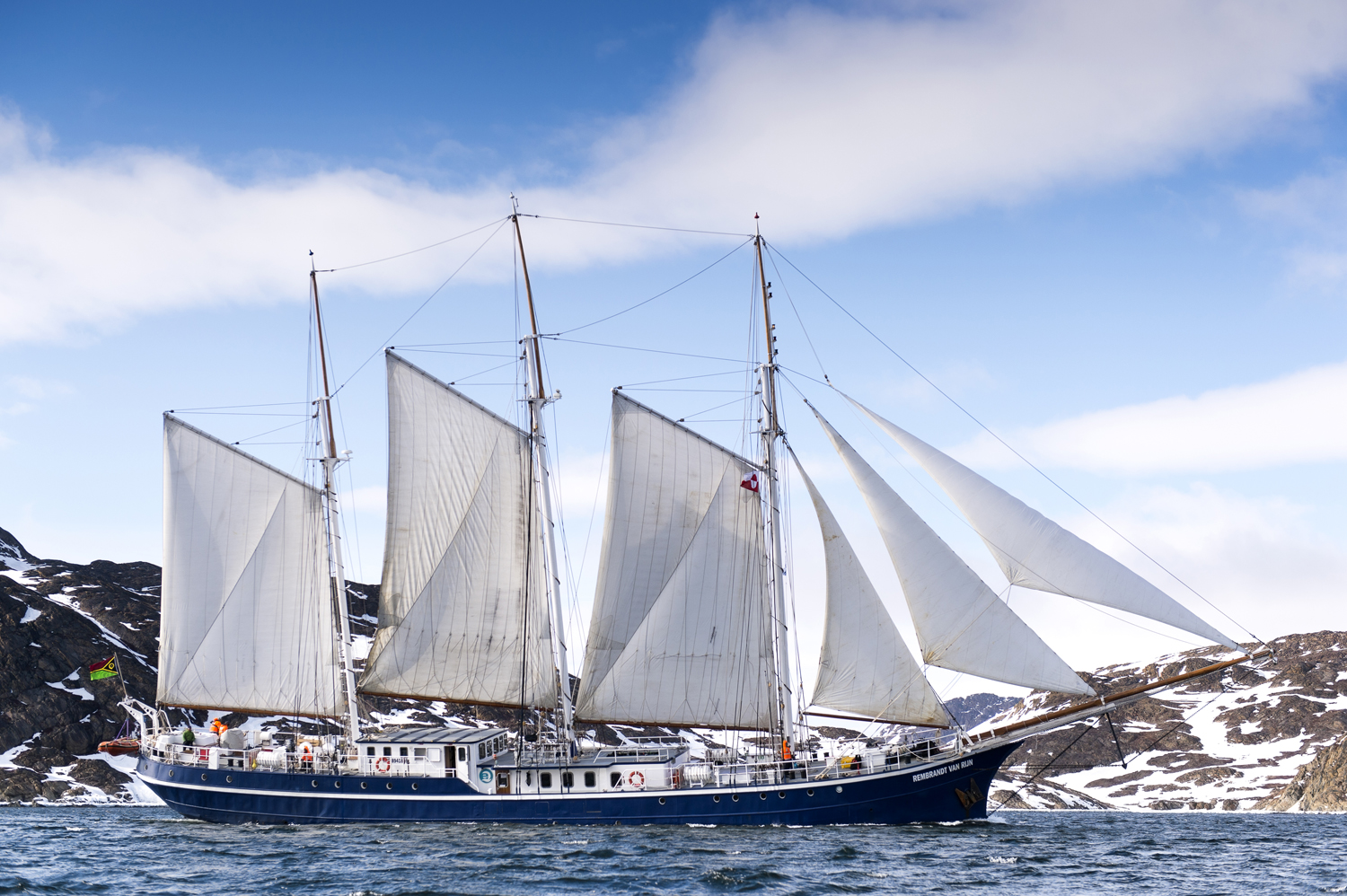 Of marine life, past voyages have enjoyed sightings of the ghostly white beluga whales, fin whales, minke whales, sei whales and even the rare bowhead whale. Bearded and ringed seals are common.
An abundance of migratory seabirds include Arctic and pomarine skuas, rare Ross's gulls and countless little auks and guillemots; many of which are stacked on precipitous cliffs. Whilst exploring these vast colonies, we can look out for the Arctic foxes which raise their young close to nesting areas which provide an ideal source of food for them and their cubs.

You can hope for some wonderful photographic opportunities both from the ship herself and when hiking on land (often twice in a day), with visits to cultural and historical sites forming an integral aspect of the trip. Your expedition leader and knowledgeable guide are passionate about the history and nature of Svalbard and always on hand to offer a small group guided experience.
Spitsbergen is the largest island in the Svalbard Archipelago - an area of highly contrasting land and seascapes and these Around Spitsbergen voyages give you the broad experience of what the region has to offer under sail. On the western coasts of the island group, where the waters and tundra vegetation are influenced by the Gulf Stream, stunning glaciers plummet into deep fjords. The eastern side of Spitsbergen is littered with fields of floating ice and it is here where you most may feel in the midst of remote Arctic wilderness.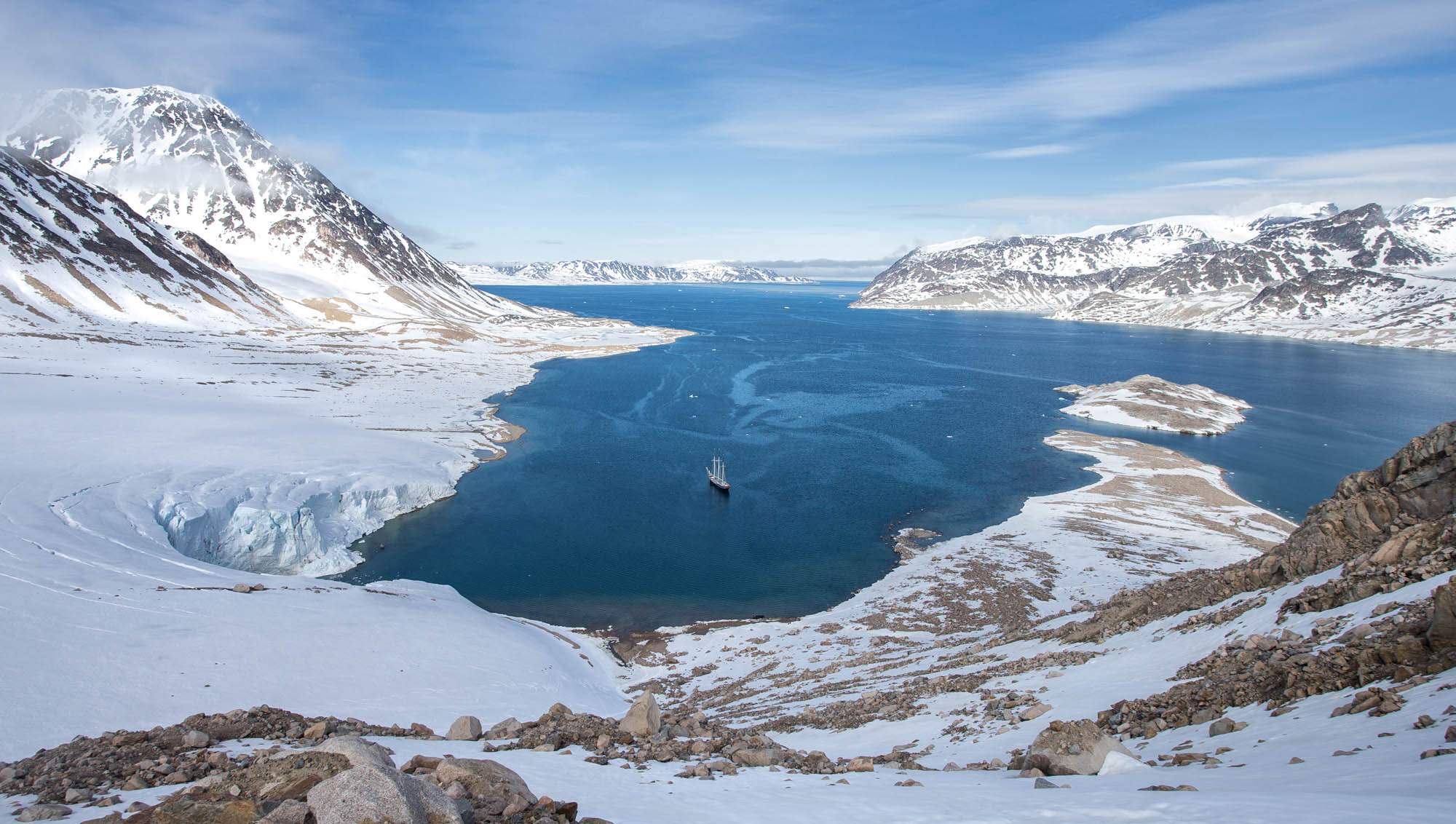 Your base throughout the voyage is a handsome ship carrying only 32 passengers onboard. She boasts comfortable all ensuite cabins, hot showers, central heating, good food and two beautifully wood-paneled salons to relax in. The spacious decks offer excellent all round visibility and with ample space onboard it is always possible to find your own peace and place from which to absorb the sheer drama and scale of this Arctic wilderness. Sailing takes place only when wind and sea conditions allow and you may participate in sailing the vessel if you wish, or simply relax and enjoy the activity.
For those keen on photography, an Around Spitsbergen Voyage provides the greatest variety of landscapes, for which the ship herself is a wonderful subject. This is our longest midsummer voyage which means that you will have the greatest amount of time afloat for chance encounters with Arctic wildlife.
Simply stunning. Quite the most inspiring holiday I have ever been on. I would recommend it to anyone. Finding a land without paths; experiencing the silence and utter beauty of Svalbard; seeing wildlife I had never dreamt of and meeting some very special people.
Jane Mackay
As a fully ATOL bonded travel company, Aqua-Firma Worldwide have the expertise to arrange international flights, hotels, extended stays in Oslo and additional day trips in Spitsbergen before or after your voyage. These include sea kayaking, trekking, learning to dog sled on wheels and fossil hunting.
Itinerary
15 Day Sample Itinerary
These 15 day voyages aim to circumnavigate the island of Spitsbergen, which is the largest island in the Svalbard archipelago and offers stunning scenery and chances for encounters with the unique wildlife and marine life of the Arctic.
Day 1: Embarkation in Longyearbyen
Please note that our polar itineraries are written to provide a flavour of each voyage. Travelling under sail power alone will be undertaken where and when conditions allow. The actual route will be decided by the captain and expedition team in accordance with prevailing ice, weather and sea conditions and opportunities to see wildlife and wilderness scenery. We aim to provide the most rewarding experience possible and as a result, our itinerary may need to change at short notice. The chances that you can complete a full Spitsbergen Circumnavigation are high late July onwards, but if sea ice conditions prevent a full circumnavigation then the Captain will resort to a voyage focused on North East or South East Spitsbergen.
You will board the ship between 4pm and 5pm. In the evening you will set sail and head towards Trygghamna, where you will be able to see the remains of a 17th Century English whaling station and an 18th century Pomor hunting station, with the intention to visit the next morning.
From Tryghamna the plan is to walk to Alkhornet - a large seabird cliff, where below the cliffs lies an Arctic Fox den. At the right time of year, you might be able to see Arctic foxes scavenging for fallen eggs and chicks. Reindeer may also be spotted here grazing on the lush vegetation.
Today you will plan to sail into Fuglefjorden amid views of Svitjodbreen and Birgerbukta, both breeding areas for great skuas as well as potential spots to see a polar bear. On Birgerbukta you can see 17th-century Basque ovens once used for cooking whale blubber. The intention is to then attempt a landing on Ytre Norskøya; a small island which was used for many years as a lookout point for Dutch whalers. There, you can follow the trails made by whalers to the summit of the island, passing by cliffs with nesting birds along the way.
Close to the shore, the remains of 17th Century blubber ovens can be seen and Arctic skuas and eider ducks breed among the graves of 200 Dutch whalers, which have been pushed to the surface by the permafrost.
Days 4 - 14: Exploring Spitsbergen
Today you start by sailing either to Sorgfjord or Murchison Bay, on the north side of which lies an extensive polar desert that is home to numerous reindeer as well as a Swedish research station. You then continue through Hinlopen Strait, surrounded by lofty ice caps.
Over the following days, you may visit the following sites:
Lomfjord – This is a beautiful fjord fringed by towering mountains offering great opportunities for hiking.
Wilhelmøya – A tundra landscape where, if lucky, encounters with Polar Bear may be possible, and is also a good area for shoreline, inland, and altitude-gaining hikes.
Svartknausflya – You may take an excursion to this stark polar desert, which is almost devoid of vegetation but rich with invertebrate fossils and whale skeletons along its raised beaches.
Heleysundet – A narrow but picturesque waterway between Spitsbergen and Barents withthis route can only be made against the current.
Freemansundet – Depending on conditions, you may also sail through this waterway. A walk at Kapp Lee may introduce you to a few new reindeer and walruses, and you might also visit a large colony of kittiwakes nesting in a canyon in Diskobukta. Arctic foxes and polar bears with their young often roam this canyon, scavenging for birds that fall from the ledges. Sub-fossilized whale bones are scattered across the raised beaches.
Hornsund – You continue your Spitsbergen voyage by sailing into the labyrinth of side fjords around Hornsund. At Brepollen rests a large glacial deposit at the head of the fjord. Sailing along the glacier front will afford you good chances of spotting bearded seals and polar bears. The geological formations in this area are vibrant and mesmerizing.
Bellsund – En route to Longyearbyen, you may reach Ahlstrandhalvøya. More fascinating geological formations can be seen here, as well as the remains of 20th-century beluga hunting. (This is still a good area to see beluga.)
Day 15: Disembark in Longyearbyen
The ship will arrive back into Longyearbyen port during the night. After breakfast and bidding farewell to your fellow passengers you will disembark.
Dates
Notes:
Single supplement:
This supplement can be avoided if you are willing to share with someone of the same gender. Single occupancy price is 1.7 times the per person sharing cabin price.
Our prices include:
Voyage as indicated in draft itinerary.
Group airport transfer to & from the vessel (when arriving/departing on recommended group flight).
All meals, snacks, coffee and tea.
All shore excursions and zodiac activities.
Programme of lectures by noted naturalists and leadership by experienced expedition staff and crew.
All miscellaneous services taxes and port charges throughout the programme.
Comprehensive pre-departure material.
Prices exclude:
Airfares.
Pre- and post- land arrangements.
Transfers to and from the vessel (except when arriving/departing on recommended group flight).
Items of a personal nature (alcohol, laundry, etc).
Cancellation and personal insurance.
Passports and visas.
Arrival and departure tax.
Meals ashore.
Baggage.
Tips.
Activity Level: Low-Medium
Flights: We can arrange flights or we are happy for you to do this yourself. Please contact us for advice.