This expert led polar diving, marine life, wildlife and adventure expedition uniquely combines the above and below water exploration of two distinct areas of Antarctica: the Antarctic Peninsula and the Weddell Sea. Antarctica is one of the most remote and least dived locations in the World and exploration of the Weddell Sea to the east will take pioneering diving a step even further.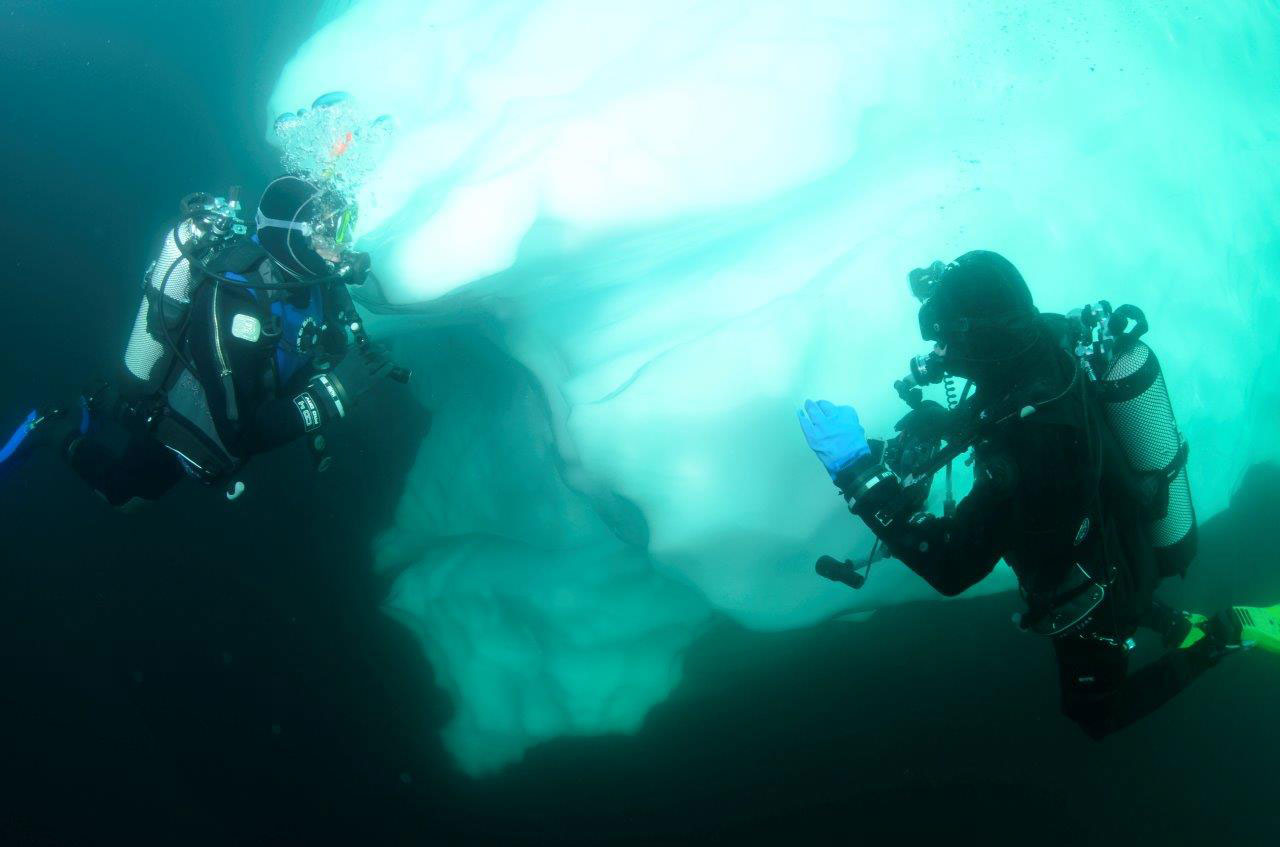 The Weddell Sea is home to the World's biggest icebergs and the largest of all penguins: the Emperor penguin, who we hope to visit at Snow Hill. With a total of 12 days on the water, this voyage is longer than most giving precious extra time to explore the White Continent and its stunning scenery and wildlife.

Dry suit divers hope to be richly rewarded by diving in this pioneering marine environment, the Weddell Sea in particular being rarely explored underwater. February is usually an ideal time to see whales and we can may be lucky enough to encounter Weddell seals, crabeater seals, fur seals; and of course one of Antarctica 's top predators: the leopard seal.

Having the opportunity to witness leopard seals ambush and then feed upon their penguin prey underwater is a truly exhilarating and memorable experience. (Click Here to read more about encounters with Leopard seals).

Rather than dive from a hole in the ice, we dive off the edges of ice flows and around spectacular icebergs where we hope to observe penguins from beneath the surface as they plunge en masse into the sea. The ice itself forms one of the special features of diving in Antarctica and the Weddell Sea, where some bergs, trapped by the western flowing current, can exceed 20 miles in length. Four fifths of every berg is submerged and diving permits us to observe their intricately carved forms beneath the water.

The macro marine life in Antarctic waters includes a fascinating array of species you are unlikely to see anywhere else in the World. Giant isopods (10cm) crawl along the seabed like enormous woodlice, 34 armed star-fish in stunning colours hide amongst kelp walls, and shy Antarctic bloodless fish, filled with their own special anti-freeze survive in these waters. There is a little documented about the underwater world of the Weddell Sea and new species are being discovered in Antarctica all the time.

The opportunities for excellent wildlife and landscape photography abound from the moment we slip our moorings. The landscapes of the region are particularly breath-taking: the precipitous peaks, and sweeping glaciers of the Antarctic peninsula combined with the stark drama and enormous ice bergs of the Weddell Sea. The wildlife itself lives up to its reputation of being abundant, and on this trip a host of penguins, Adelie, Gentoo, Chinstrap and perhaps even the largest of them all the Emperor will hopefully join the whales and seals of this incredible area, as a gift to both the professional and amateur photographer alike, above and below the waterline.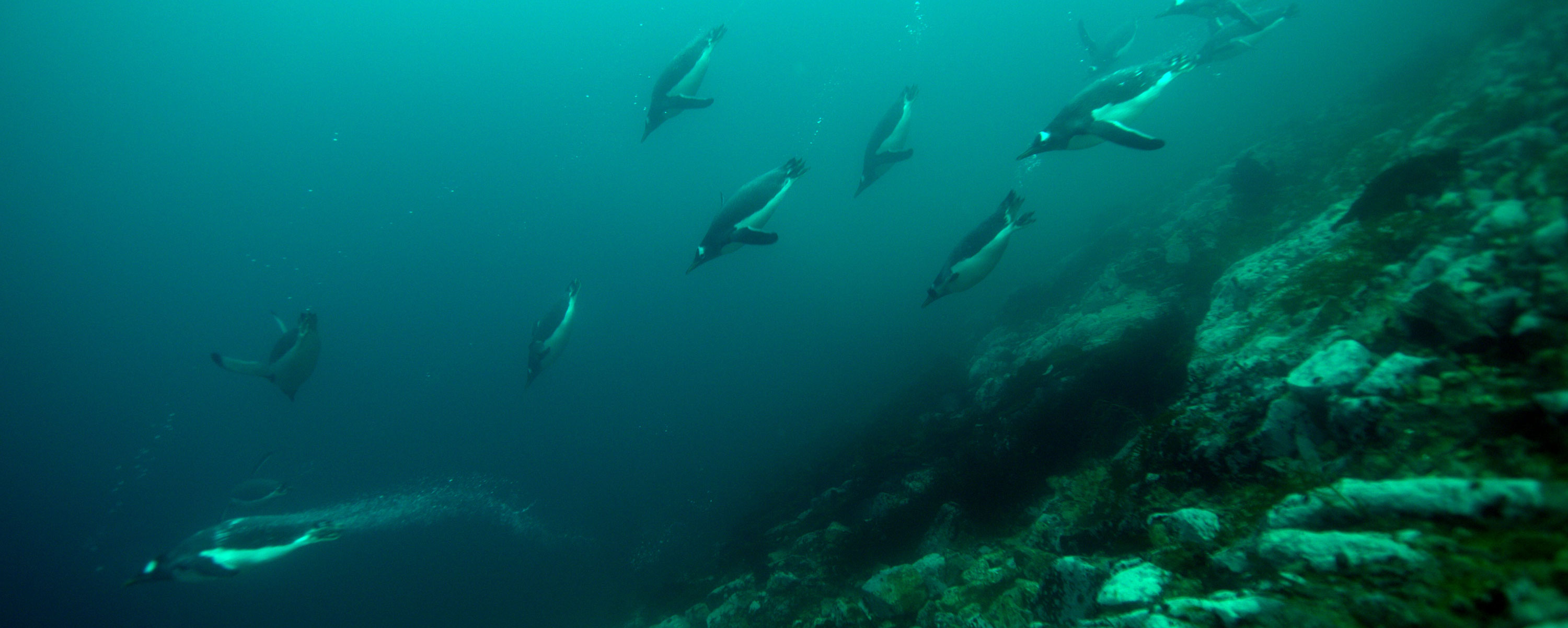 Natural History

For both divers and non-divers, this voyage provides a unique opportunity to see and learn more about the entire polar ecosystem than if on a purely land based expedition. Divers will have the opportunity to participate in zodiac exploration and land excursions after their dives have been completed; or as an alternative to the dives planned on any day.

This voyage is perfect for divers with non-diving partners who are in search of an equally inspiring experience. Each day, all participants will have the opportunity to share experiences, photographs and video footage with the experts and divers who have been exploring below the waterline. To enhance your understanding, there will be a programme of inspiring evening lectures about the wildlife, ecology and history of Antarctica.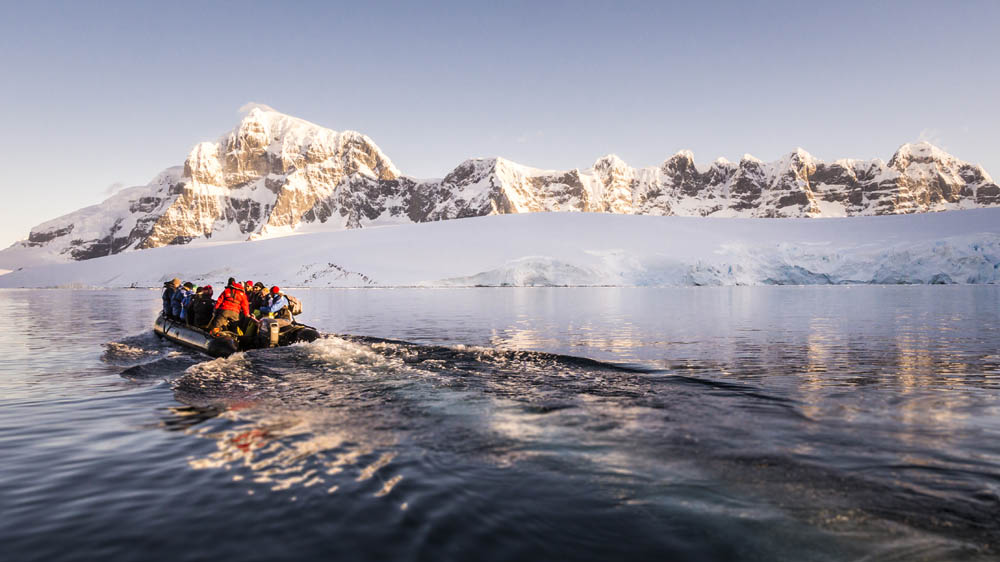 Itinerary
12 Day Sample Itinerary
This is a sample only based upon a 12 day voyage. The final itinerary will be determined by the Expedition Team and is influenced by local conditions, like ice and weather - in particular actual or anticipated headwinds affecting crossings of the Drake Passage.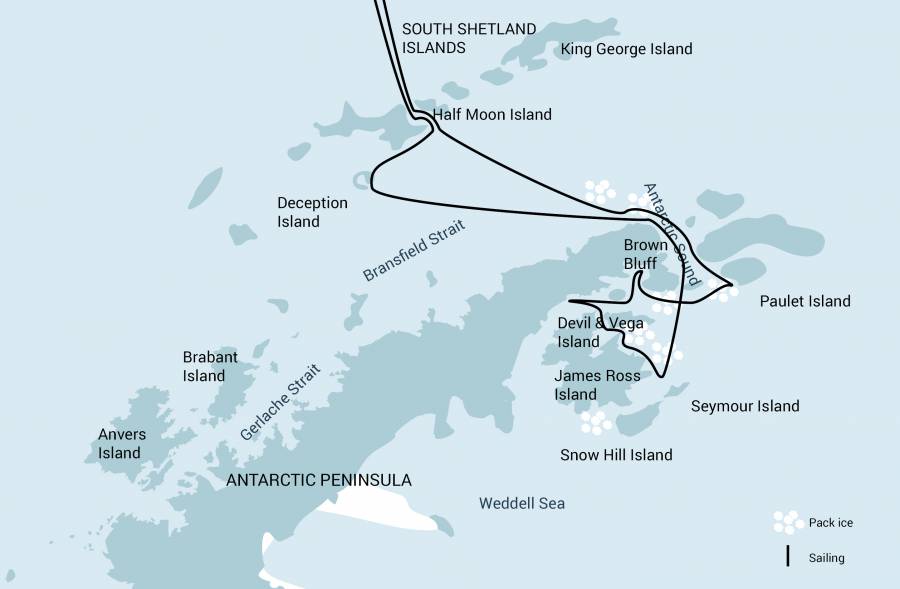 Day 1: Embarkation in Ushuaia
Your voyage begins where the world drops off: Ushuaia, Argentina, reputed to be the southernmost city on the planet, located on the far southern tip of South America. Starting in the afternoon, you embark from this small resort town on Tierra del Fuego – nicknamed "The End of the World" – and sail the scenic, mountain-fringed Beagle Channel for the rest of the evening.
Day 2 - 3: Crossing the Drake Passage
Over the next two days on the Drake Passage, you catch a taste of life from the perspective of the polar explorers who first braved these regions: cool salt breezes, rolling seas, maybe even a fin whale blasting up sea spray. After passing the Antarctic Convergence – Antarctica's natural boundary, formed when north-flowing cold waters collide with warmer subantarctic seas – you are in the circum-Antarctic upwelling zone. Not only does the marine life change, the avian life changes too: A variety of albatrosses and petrels show up, along with Cape pigeons and southern fulmars . Then, near the South Shetlands Islands, the first icebergs flash into sight.
You sail directly into the Weddell Sea through the often ice-clogged Antarctic Sound. Huge tabular icebergs herald your arrival to the eastern side of the Antarctic Peninsula. The Weddell Sea is largely covered in sea ice during the year, but the northwestern corner offers great opportunities for exploration in places only the lucky few get to visit.

The sites for your activities may include:

Paulet Island – A huge number of Adélie penguins take residence here. Brown Bluff – Maybe the most scenic location in the entire northern tip of the Antarctic Continent: sheer canyon walls, fallen boulders, beautiful volcanic creations capped with ice. A large Adélie penguin rookery lives here, with gentoo penguins and nesting snow petrels also to be found.

Dundee Island – A mostly uninhabited Argentine station , Base Petrel, can be seen here, as well as Antarctic fur seals (and southern elephant seals) along the coastline. Farther into the Weddell Sea, the options vary with the ice conditions.

James Clark Ross Island – You can explore a number of rarely visited places here. The imagination is further stirred by suggestive names like Brandy Bay and Whiskey Bay.

Devil Island – A large Adélie penguin rookery as well as stunning views of Erebus and Terror Gulf are seen here.

Snow Hill Island – This location, known for its sedimentary rock, tells tales of the incredible Antarctic explorations of the early 20th century.
Day 9: South Shetland Islands
The volcanic islands of the South Shetlands are windswept and often cloaked in mist, but they do offer subtle pleasures: There's a wide variety of flora (mosses, lichens, flowering grasses) and no small amount of fauna (gentoo penguins, chinstrap penguins, southern giant petrels).

In Deception Island, the ship plunges through Neptune's Bellows and into the flooded caldera. Here you find hot springs, an abandoned whaling station, and thousands of cape petrels – along with a number of kelp gulls, brown and south polar skuas, and Antarctic terns. Wilson's storm petrels and black-bellied storm petrels also nest in the ruins of the whaling station in Whalers Bay.

As an alternative, you may be able to engage in activities near Half Moon Island. Here chinstrap penguins and Weddell seals often haul out onto the beach near Cámara Base, an Argentine scientific research station. Conditions on the Drake Passage determine the exact time of departure.
Day 10 - 11: Familiar Seas, Familiar Friends
Your return voyage is far from lonely. While crossing the Drake, you're again greeted by the vast array of seabirds remembered from the passage south. But they seem a little more familiar to you now, and you to them.
Day 12: Disembark in Ushuaia
Every adventure, no matter how grand, must eventually come to an end. It's now time to disembark in Ushuaia, but with memories that will accompany you wherever your next adventure lies.
Dates
Included
- Voyage as indicated in draft itinerary
- All meals, snacks, coffee and tea
- All shore excursions and zodiac activities
- Dive master service
- Diving weights
- Free use of rubber boots
- Program of lectures by noted naturalists and leadership by experienced
expedition staff
- All miscellaneous services taxes and port charges throughout the programme
- Comprehensive pre-departure material
- Carbon offset for your voyage and flights if booked through us

Excluded
- Airfares
- Fuel surcharge where applicable*
- Optional activities (e.g. kayaking, diving) unless stated
- Pre and post land arrangements
- Transfers to and from the vessel
- Cancellation and personal insurance
- Passports and visas
- Arrival and departure tax
- Meals ashore
- Baggage
- Items of a personal nature (alcohol, laundry etc)
- Tips
Single supplement
Single occupancy price is 1.8 times the per person cabin price. There is no single supplement if you are prepared to share a cabin with another passenger of the same gender.
*Fuel surcharge:
The cost of fuel is currently volatile, so a fuel surcharge may be applied by the ship without notice. We will let you know if this applies to your booking and send you an updated invoice.