This expert led Antarctic Diving, Wildlife & Marine Life adventure offers a unique opportunity to experience the White Continent above and below water, and explore deeper into Antarctica by crossing the Southern Polar Circle. Antarctica is one of the most remote and least dived locations in the World and experienced dry suit divers can be richly rewarded by diving in this challenging and unique marine environment. Only a proportion of those who have dived in Antarctica have done so beneath Antarctica's Polar Circle - a line which at 66°33'39" South marks the point beneath which in midsummer the sun never drops beneath the horizon.

Our onboard team carries a vast array of experience and knowledge. Aqua-Firma have many years experience of diving in polar seas and as with all voyages, onboard will be expert wildlife guides and leaders with a passionate knowledge of human polar history. Kayaking and polar camping require additional guiding expertise and are both options are often available on these departures.

This exploratory voyage will first focus on the best dive sites of the Antarctic Peninsula and its offshore islands. Geologically, the Peninsula is a mountainous extension of the South American Andes, forming a coastal spine of mountains whose peaks rise 3,000 metres from the ocean. Its coastal mountain scenery is flanked by breathtaking glaciers, deep fjords and ice bergs more than a mile long - an environment that will humble the most seasoned explorer.

The icy oceans of the Peninsula and its many offshore islands are a rich feeding ground for whales including orcas, humpbacks, blue and sperm whales. The Peninsula is also a breeding ground for macaroni, chinstrap and gentoo penguin colonies, inviting great opportunities for their close observation.

Seals can be found in large numbers on the Peninsula, of which the largest seal is the Leopard Seal, which at up to 3.2 metres in length, is one of two top predators in Antarctica. Leopard seal encounters have proven a particular highlight of our previous Antarctic trips. On past expeditions these magnificent creatures were observed for long periods at close quarters whilst both diving and snorkelling. Having the opportunity to witness them ambush and then feed upon their penguin prey underwater is a truly exhilarating and memorable experience. (Click Here to read more about encounters with Leopard seals).

The macro marine life on the Peninsula includes a fascinating array of species you are unlikely to see anywhere else in the World. Giant isopods (10cm) crawl along the seabed like enormous woodlice, 34 armed star-fish in stunning colours hide amongst kelp walls, and shy Antarctic bloodless fish, filled with their own special anti-freeze survive in these waters. This voyage in the late Antarctic summer is timed to take advantage of increasing underwater visibility and receded sea ice which enables access deeper south, across the Southern Polar Circle. This is an area where ice covers marine life for longer each year, so it will be fascinating to see how macro life changes the deeper we go.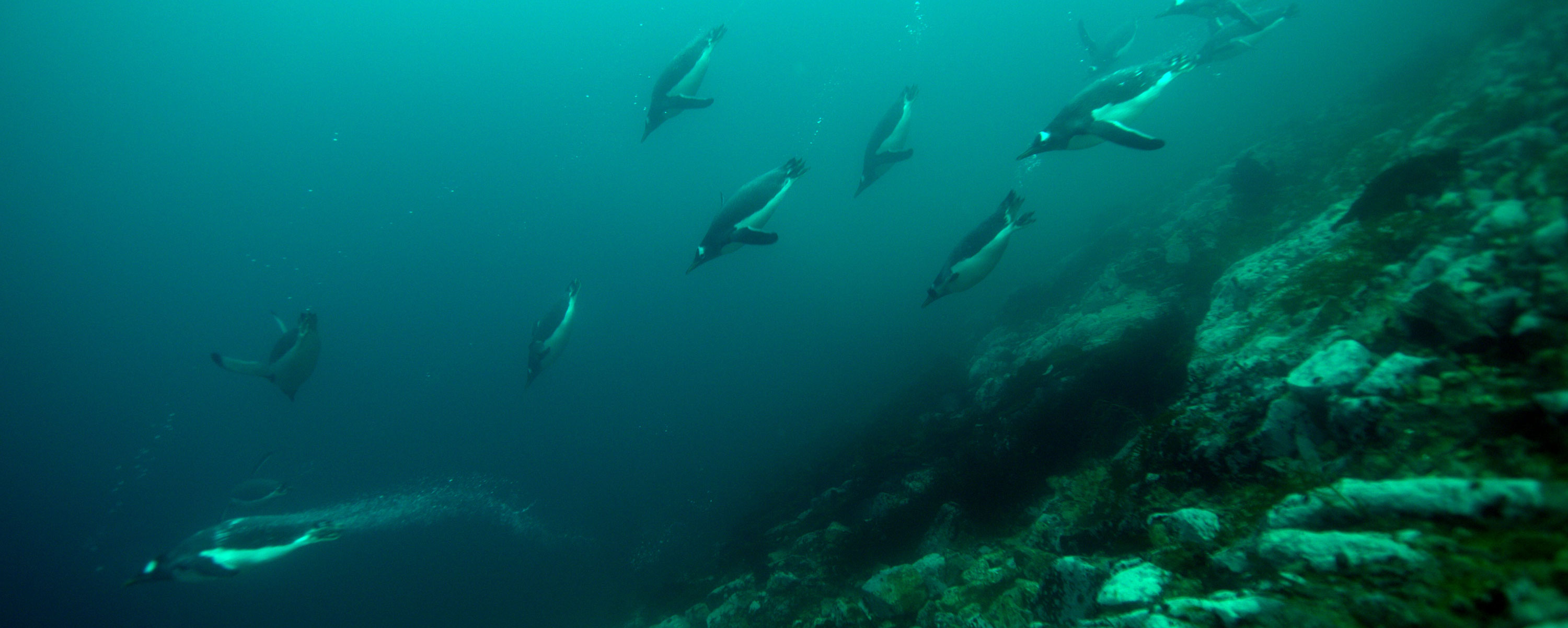 Wildlife & Polar History

For both divers and non-divers, this voyage provides a unique opportunity to see and learn more about the entire polar ecosystem and its rich history of exploration. Divers will have the opportunity to participate in zodiac exploration and land excursions after their dives have been completed. Some may also decide to enjoy fully guided land excursions as alternative to the planned days diving.

This voyage is perfect for divers with non-diving partners who are in search of an equally inspiring experience. Snorkelling is offered on several Polar Circle departures where you can experience all the full grandeur and beauty of the Antarctica below the water without having to be scuba certified. Each day, facilitated by our specialist marine scientific staff, all participants will have the opportunity to share experiences, photographs and video footage with the experts and divers who have been exploring below the waterline. To enhance your understanding, there will be a programme of inspiring evening lectures about the wildlife, ecology, history and conservation of Antarctica.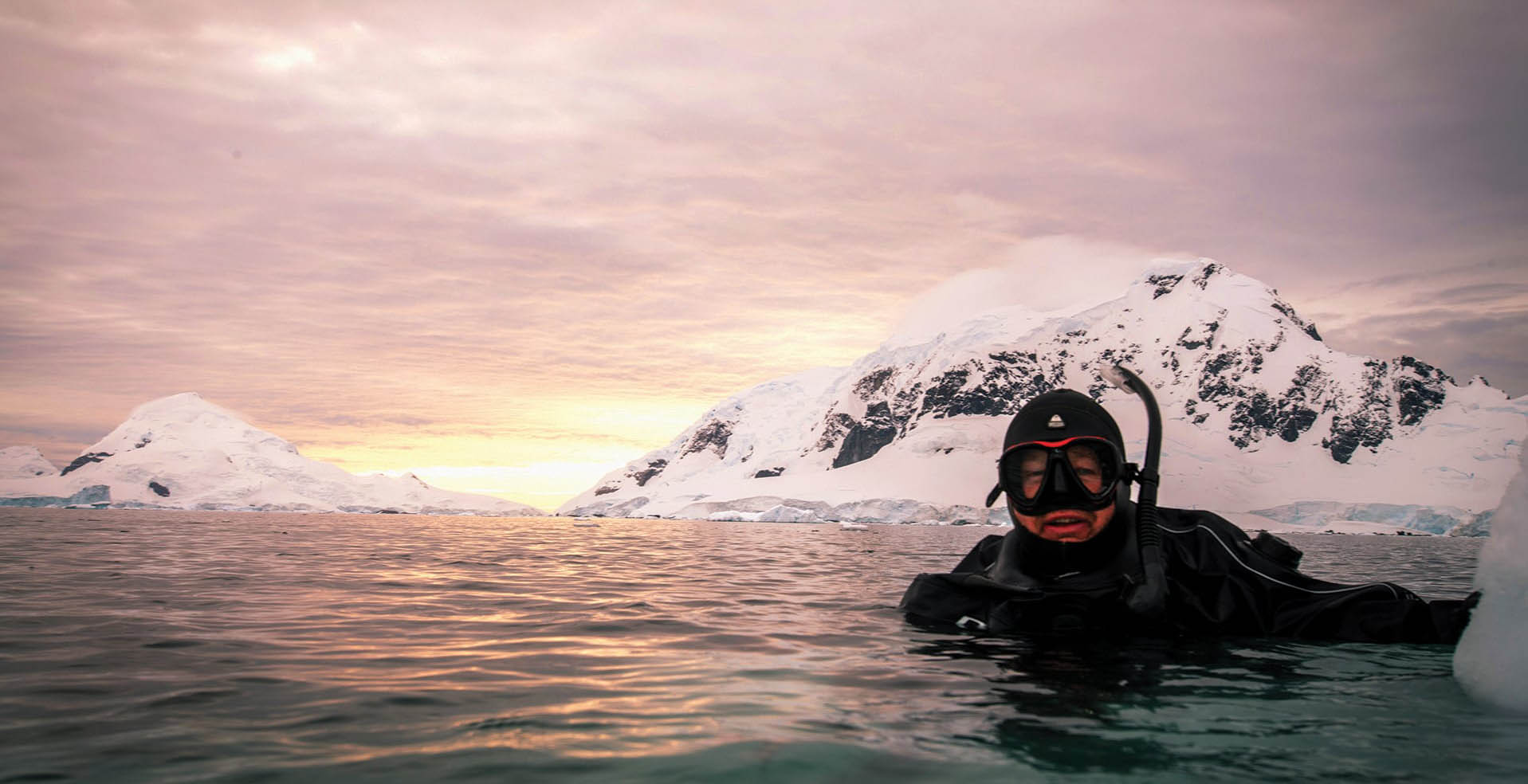 Itinerary
12 Day Sample Itinerary
This is a sample only based upon an 11 day voyage. The final itinerary will be determined by the Expedition Team and is influenced by local conditions, like ice and weather - in particular actual or anticipated headwinds affecting crossings of the Drake Passage.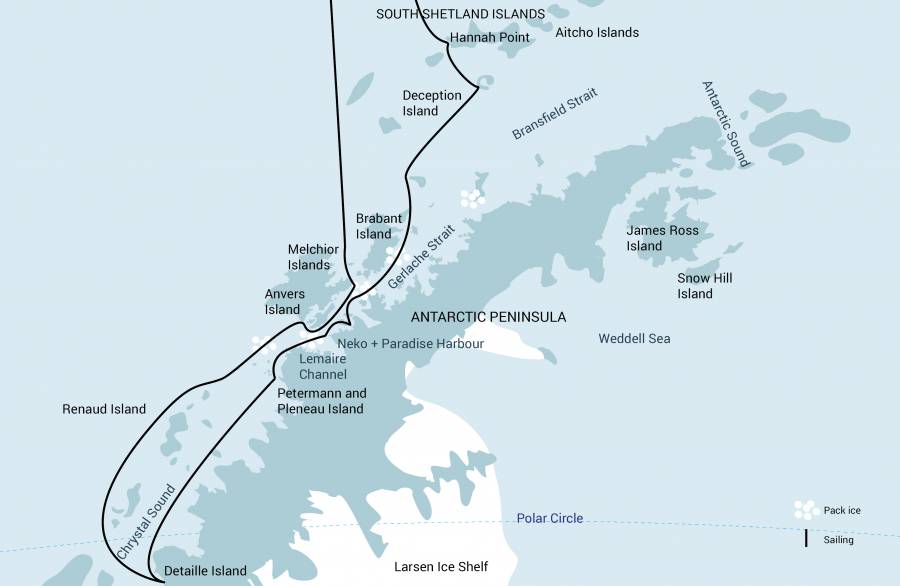 Day 1: Embrakation in Ushuaia
Your voyage begins where the world drops off: Ushuaia, Argentina, reputed to be the southernmost city on the planet, located on the far southern tip of South America. Starting in the afternoon, you embark from this small resort town on Tierra del Fuego – nicknamed "The End of the World" – and sail the scenic, mountain-fringed Beagle Channel for the rest of the evening.
Day 2 - 3: Crossing the Drake Passage
Over the next two days on the Drake Passage, you catch a taste of life from the perspective of the polar explorers who first braved these regions: cool salt breezes, rolling waves, maybe even a fin whale blasting up a column of sea spray. After passing the Antarctic Convergence – Antarctica's natural boundary, formed when north-flowing cold waters collide with warmer subantarctic seas – you are in the circum-Antarctic upwelling zone. Not only does the marine life change, the avian life changes too: A variety of albatrosses and petrels show up, along with Cape pigeons and southern fulmars. Then, near the South Shetlands Islands, the first icebergs flash into sight.
Day 4 - 9: Antarctic Peninsula
Options for Antarctic Peninsula activities are many, and no less great during the late summer. Humpback whales are prolific in this region, gorging themselves on krill before their migration north. The penguin chicks are also fledging, stirring up activity on the beaches while sleek leopard seals lie in wait, poised to attack the less fortunate ones.

Sites for your adventures may include:

Livingston Island – Here you find a wide variety of gentoo and chinstrap penguins on Hannah Point, in addition to southern giant petrels and elephant seals hauling out onto the beach.

Deception Island – Actually a subducted crater, this island opens into the sea and creates a natural harbour for the ship. Hot springs, an abandoned whaling station, and multiple bird species – cape petrels, kelp gulls, brown and south polar skuas, and Antarctic terns – can be seen here. Wilson's storm petrels and black-bellied storm petrels also nest in the ruins of the whaling station in Whalers Bay.

Cuverville Island – A small precipitous island nestled between the mountains of the Antarctic Peninsula and Rongé Island, Cuverville houses a large colony of gentoo penguins and breeding pairs of brown skuas.

Neko Harbour – An epic landscape of mammoth glaciers and endless wind-carved snow. Opportunities for Zodiac cruising and kayaking provide you the closest possible view of the ice-crusted alpine peaks. You may also be able to set foot on the Continent here.
Paradise Bay – You could take a Zodiac cruise in these sprawling, ice-flecked waters, where you have a good chance of seeing humpback and minke whales.

Booth, Pléneau & Petermann Islands – If the ice allows it, you may sail through the Lemaire Channel in search of Adélie penguins and blue-eyed shags. There's a good chance you'll encounter humpback and minke whales as well as leopard seals. You may also visit Booth Island's Port Charcot.

Crystal Sound – The journey takes you south along the Argentine Islands to this ice-packed body of water, and from here across the Polar Circle in the morning.

Detaille Island – You may make a landing at an abandoned British research station here. Fish Islands – Further north you encounter one of the southernmost Adélie penguin and blue-eyed shag colonies in the Antarctic Peninsula.

Melchior Islands – A beautiful landscape rich with icebergs. Leopard seals, crabeater seals, and whales are found here, and there are excellent opportunities for kayaking and diving. You depart at noon, depending on conditions on the Drake Passage.
Day 10 - 11: Crossing the Drake
Your return voyage is far from lonely. While crossing the Drake, you're again greeted by the vast array of seabirds remembered from the passage south. But they seem a little more familiar to you now, and you to them.
Day 12 - Disembark in Ushuaia
Every adventure, no matter how grand, must eventually come to an end. It's now time to disembark in Ushuaia, but with memories that will accompany you wherever your next adventure lies.
Dates
Included
- Voyage as indicated in draft itinerary.
- All meals, snacks, coffee and tea.
- All shore excursions and zodiac activities.
- Diving.
- Dive master service.
- Diving weights.
- Free use of rubber boots.
- Program of lectures by noted naturalists and leadership by experienced
expedition staff.
- All miscellaneous services taxes and port charges throughout the programme.
- Comprehensive pre-departure material.
- Carbon offset for your voyage and flights if booked through us.

Excluded
- Airfares.
- Fuel surcharge where applicable*
- Optional activities (e.g. kayaking, diving) unless stated
- Pre and post land arrangements.
- Transfers to and from the vessel.
- Cancellation and personal insurance.
- Passports and visas.
- Arrival and departure tax.
- Meals ashore.
- Baggage.
- Items of a personal nature (alcohol, laundry etc).
- Tips.

Single supplement
Single occupancy price is 1.8 times the per person cabin price. There is no single supplement if you are prepared to share a cabin with another passenger of the same gender.
*Fuel surcharge:
The cost of fuel is currently volatile, so a fuel surcharge may be applied by the ship without notice. We will let you know if this applies to your booking and send you an updated invoice.