These Antarctic diving and snorkelling expeditions offer a unique opportunity for above and below the water insights into the white continent, which few have been privileged to experience.

Antarctica is one of the most remote and least explored locations in the World and experienced dry suit divers and snorkellers can be richly rewarded by exploring this challenging and unique marine environment. To specifically join our diving activities you must have at least 20 dry suit dives under your weight belt and experience of cold water diving. Please check our polar diving information section for a detailed outline of diving practices and the equipment you will need for diving in Antarctica.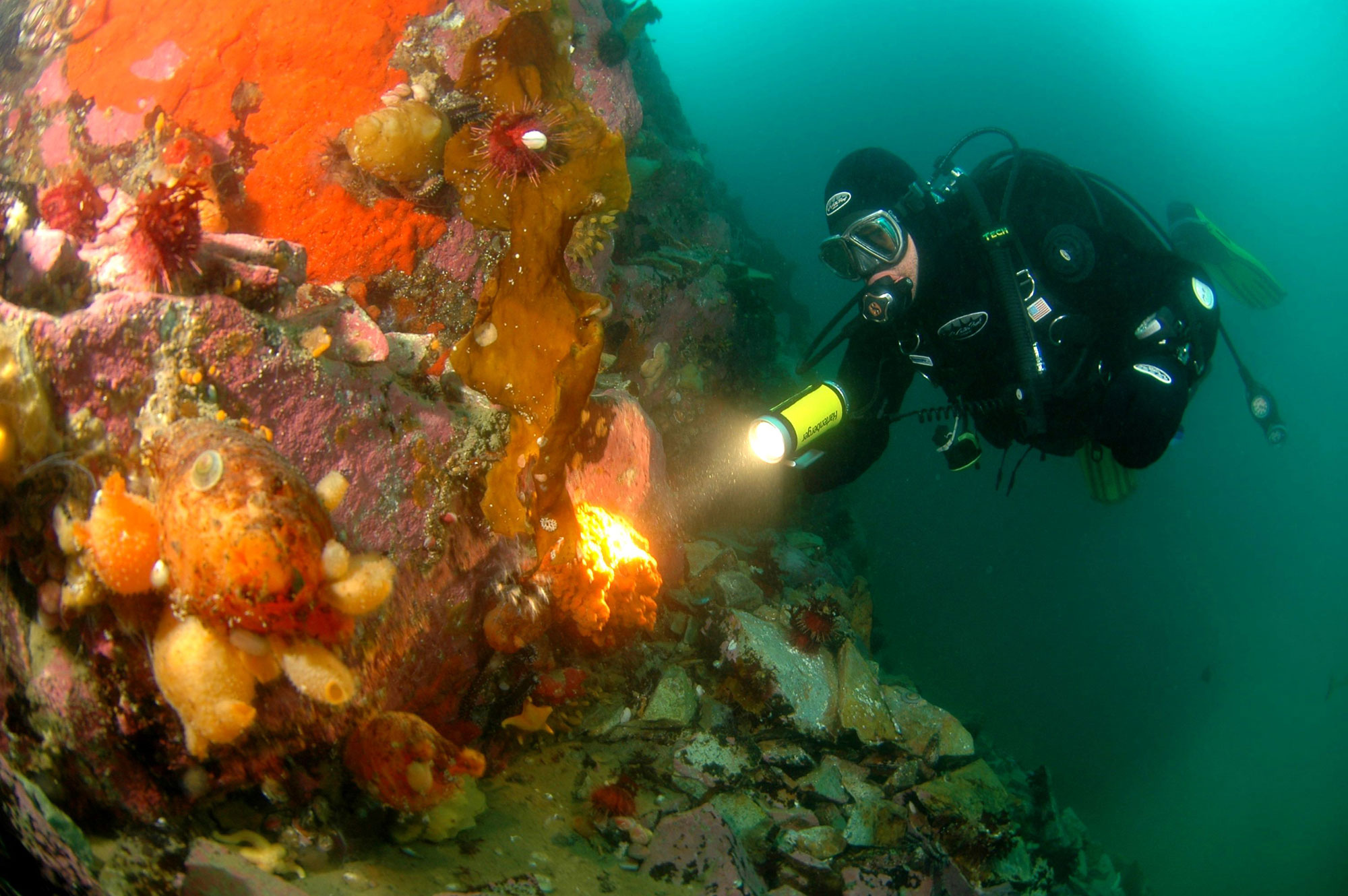 Our small group exploratory voyage is led by an expert team who will focus on the best dive sites around the Antarctic Peninsula. Rather than dive from a hole in the ice, we dive and snorkel off the edges of ice flows and around spectacular icebergs where we hope to observe penguins from beneath the surface as they plunge en masse into the sea. The ice itself forms one of the special features of diving in Antarctica . Four fifths of every berg is submerged and diving permits us to observe their intricate forms beneath the water. Sunlight reflecting off the turquoise blue sculptured ice adds to the extraordinary atmosphere you can only appreciate in this wild and remote part of the world.

Around the peninsula we hope to encounter Weddell, crabeater, fur seals and of course one of Antarctica 's top predators- the leopard seal. Leopard seal encounters have proven a particular highlight of previous trips. Often these magnificent creatures can be observed for long periods at close quarters whilst both diving and snorkelling. Having the opportunity to witness them ambush and then feed upon their penguin prey underwater is a truly exhilarating and memorable experience. (See our Leopard Seal article for more details.)

The macro marine life on the Peninsula includes a fascinating array of species you are unlikely to see anywhere else in the World. Giant isopods (10cm) crawl along the seabed like enormous woodlice, 34 armed star-fish in stunning colours hide amongst kelp walls, and shy Antarctic bloodless fish, filled with their own special anti-freeze survive in these waters. This is a little documented world and new species are being discovered in Antarctica all the time.

Photography

The opportunities for excellent wildlife and landscape photography abound from the moment we slip our moorings in Ushuaia . The landscapes of the Peninsula are particularly breath-taking, with their precipitous peaks, sweeping glaciers and elaborately sculptured icebergs. The wildlife itself lives up to its reputation of being abundant, diverse and a gift to both the professional and amateur photographer alike.


Natural History

For both divers and non-divers, this voyage provides a unique opportunity to see and learn more about the entire polar ecosystem than if on a purely land based expedition. Divers will have the opportunity to participate in zodiac exploration and land excursions, after their dives have been completed. Some may also decide to enjoy fully guided land excursions as alternative to the planned days diving.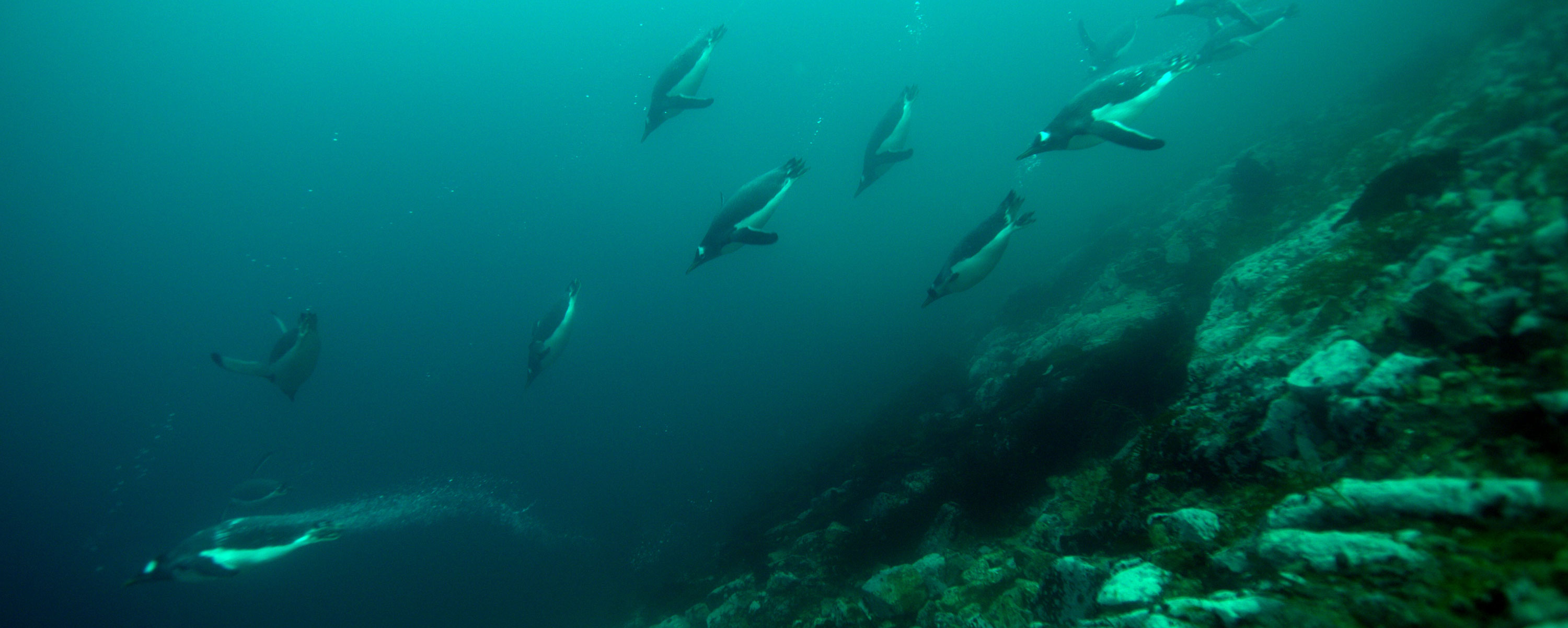 This voyage is perfect for divers with non-diving partners who are in search of an equally inspiring experience. The experts are on hand to assist participants in make the most of your camera equipment, from hints and tips to demonstrations; you can enjoy personal time with these people.
Each day, all participants will have the opportunity to share experiences, photographs and video footage with the divers and snorkellers who have been exploring below the waterline. To enhance your understanding, there will be a programme of inspiring evening lectures about the wildlife, ecology and conservation of Antarctica.
Itinerary
11 Day Sample Itinerary
We can provide only a 'typical' itinerary of what to expect in the Antarctic Peninsula. The final itinerary will be determined by the Expedition Team and is influenced local conditions, like ice and weather.
In case of any flight delays, it is important to arrive into Ushuaia the night before the voyage, or earlier.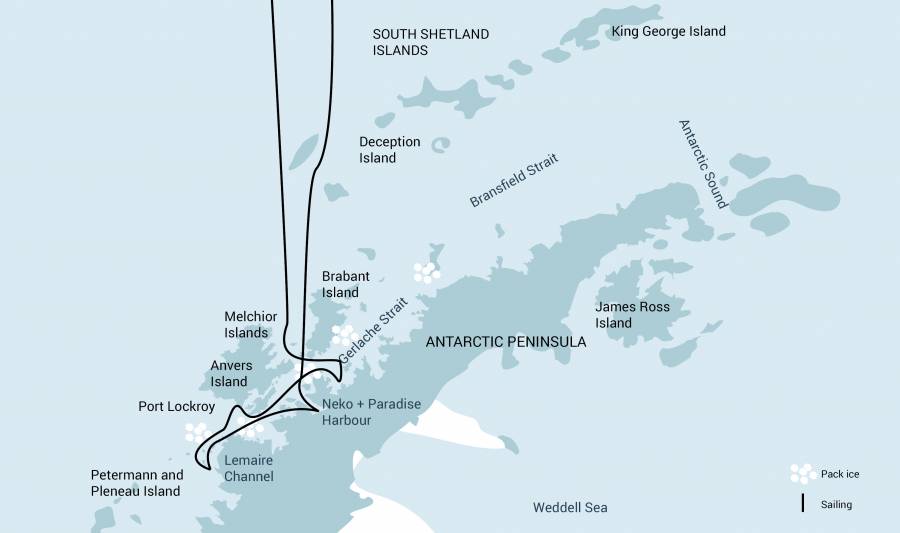 Day 1: Embarkation in Ushuaia
Around 4pm you can make your way to the pier in Ushuaia to board the ship. Have your identification on hand, because you must pass through security in order to board the ship. The onboard staff will assist to find your cabin and provide guidance on where to store your dive gear. Take only your regulator with you into your cabin, all else can be stored in the designated area. When the Argentine authorities complete immigration, customs and other procedures, you will enjoy a welcome dinner and then begin your sailing through the scenic waterway of the Beagle Channel.
Day 2 - 3: Path of the Polar Explorers
Depending on weather conditions you will have around 2 days sailing across the Drake's Passage. When you cross the Antarctic Convergence, you arrive in the circum-Antarctic up welling zone. The Drake Passage can be calm and wonderful at times despite a reputation for high winds and rolling seas. Traversing the Drake is as much a part of the Antarctic experience as the destination itself and you can take advantage of albatrosses on the wing and sightings of whales on the bow. With the right weather conditions your passage will be relatively easy!

You catch a taste of life from the perspective of the polar explorers who first braved these regions: cool salt breezes, rolling waves, maybe even a fin whale blasting up a column of sea spray.

After breakfast, the excellent programme of talks and workshops begin with a presentation that could be about seabirds of the Southern Ocean. In this area you may see Wandering Albatrosses, Grey Headed Albatrosses, Black- browed Albatrosses, Light- mantled Sooty Albatrosses, Cape Pigeons, Southern Fulmars, Wilson's Storm Petrels, Blue Petrels and Antarctic Petrels. Near the South Shetland Islands, we may glimpse our first icebergs.
Day 4 - 8: Antarctic Peninsula
You may start your first day in Antarctica with a mandatory check-out dive at an easily accessible site to get accustomed to the cold water and to adjust your weights. Dive guides will be with you in the water to assist you with your equipment, although most of the time you will dive independently in your buddy pairs. Diving in Antarctica is to be taken very and safety is our first priority and being comfortable in the water with your equipment is essential.

Gray stone peaks sketched with snow, towers of broken blue-white ice, and dramatically different wildlife below and above. You first pass the snow-capped Melchior Islands and Schollaert Channel, sailing between Brabant and Anvers Islands.

Sites you may be able to visit include:

Cuverville Island – Stabbing up between Rongé Island and the Antarctic Peninsula, Cuverville houses a colony of several thousand gentoo penguins as well as pairs of breeding brown skuas.

Danco Island – Activities here may focus on the gentoo penguins nesting on the island, in addition to the Weddell and crabeater seals that may be found nearby.

Neko Harbour – An epic landscape of mammoth glaciers and endless wind-carved snow. You have the chance to set foot on the Continent here, and also to go for a Zodiac cruise with view of the ice-crusted alpine peaks.
Paradise Bay – You may be able to walk on the Continent again at this location, or to take a Zodiac cruise in the sprawling, ice-flecked waters. Here you have a good chance of seeing humpback and minke whales.

Port Lockroy – After sailing through the Neumayer Channel, you may visit the former British research station – now a museum and post office – of Port Lockroy on Goudier Island. You might also be able to partake in activities around Jougla Point, meeting gentoo penguins and blue-eyed shags. There are great opportunities for kayaking and camping here. When conditions are right, you can even snowshoe around the shore.

Booth, Pléneau & Petermann Islands – If the ice allows it, you may sail through the Lemaire Channel in search of Adélie penguins and blue-eyed shags. There's also a good chance you'll encounter humpback and minke whales as well as leopard seals. You may also visit Booth Island's Port Charcot.

Wilhelmina Bay & Guvernøren – This is a great place to spot humpback whales, and you also may embark on a Zodiac cruise. Divers can hope to dive the ghostly wreck of Guvernøren, a whaling vessel that caught fire here in 1915. Around the Melchior Islands, amid a frozen landscape peopled with icebergs, you may encounter even more whales, leopard seals, and crabeater seals. You depart at noon, depending on conditions on the Drake Passage.
Day 9 - 10: Familiar Seas, Familiar Friends
Your return voyage is far from lonely. While crossing the Drake, you're again greeted by the vast array of seabirds remembered from the passage south. But they seem a little more familiar to you now, and you to them.
Day 11: Disembarkation in Ushuaia
Every adventure, no matter how grand, must eventually come to an end. It's now time to disembark in Ushuaia, but with memories that will accompany you wherever your next adventure lies.
Dates
Notes:

Included
- Voyage as indicated in draft itinerary
- All meals, snacks, coffee and tea.
- All shore excursions and zodiac activities.
- Program of lectures by noted naturalists and leadership by experienced
expedition staff.
- All miscellaneous services taxes and port charges throughout the programme.
- Comprehensive pre-departure material.
- Use of rubber boots.

Excluded
- Airfares (unless otherwise stated)
- Fuel surcharge where applicable*
- Optional activities (e.g. kayaking, camping, diving) unless stated
- Pre and post land arrangements.
- Transfers to and from the vessel.
- Cancellation and personal insurance.
- Passports and visas.
- Arrival and departure tax.
- Meals ashore.
- Baggage.
- Items of a personal nature (alcohol, laundry etc).
- Tips.

Single supplement
Single occupancy price is 1.7 to 1.8 times the per person cabin price.However this does not apply if you are prepared to share a cabin with another passenger of the same gender.
Fuel surcharge:
The cost of fuel is currently volatile, so a fuel surcharge may be applied by the ship without notice. We will let you know if this applies to your booking and send you an updated invoice.