The Bismarck Sea is a part of the South Pacific which is almost encircled by the mainland and offshore islands of Papua New Guinea. Its southern boundary is PNG's largest offshore island, New Britain, along whose 500km northern coast and outlying islands of Witu, Fathers Reefs and Rabaul, these liveaboard trips focus for some simply World-class diving.
The foundation of liveaboard trips into the Bismarck Sea is the huge and sheltered Kimbe Bay, whose patch reefs are home to a staggering 900 species of fish and over 400 species of hard coral! With almost 200 undamaged reefs and dive sites within the bay and comparatively few visitors, you can almost be sure of being the only divers in the water at any chosen site.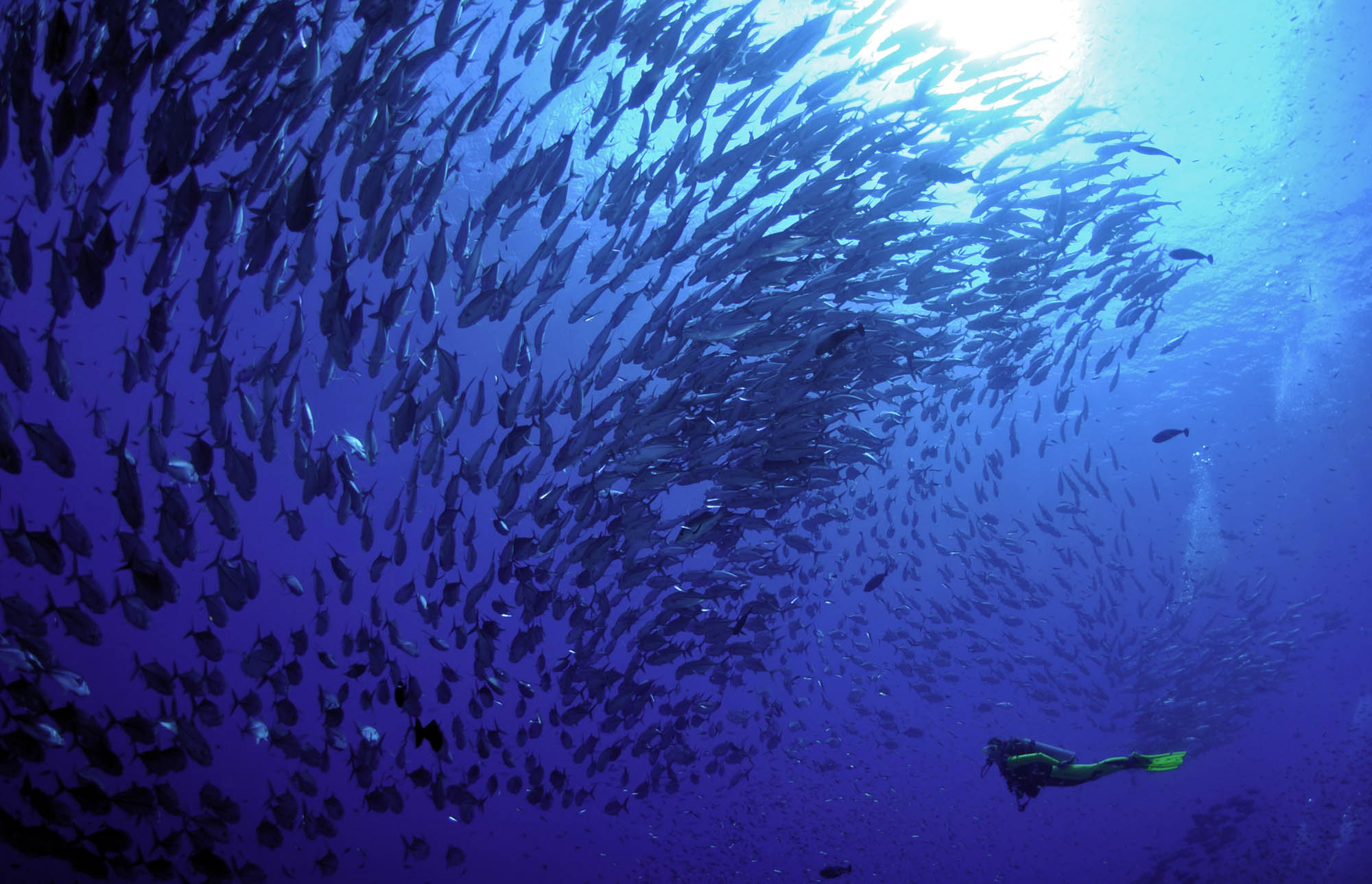 Highlights in the Bay include giant sea fans up to 4 metres wide, within which Pygmy Seahorses can often be seen. Coral cover is often 100%, both on reef flats which expose at low tide and on coral walls which surround some spectacular pinnacle dive sites. Small barren areas are ideal for beautiful Mandarin Fish, whilst back from the reef you might find huge schools of barracuda, big-eye trevally, triggerfish, batfish, dog tooth tuna, grey reef sharks and sometimes hammerheads. Rarer species include the newly discovered Walindi wrasse.
Whilst many of the Kimbe dive sites can be reached by day boat, the Witu Islands need a liveaboard to reach. These remote islands are located north west of a 30 mile long volcanic peninsula that forms the western barrier of Kimbe Bay.
The remote Witu Islands are themselves of volcanic origin and rise from very deep water. Garove Harbour was once a large volcano. The crater is now flooded and makes for great diving around the island that was created within the caldera. Nutrient rich currents frequently waft across reefs here and as a result there is a profusion of life including barracuda, large dogtooth tuna, Spanish mackerel and sharks. Schools of pelagic fishes abound on the world renowned Lama Shoals, which is a sea mount rising to within 15 feet of the surface from the surrounding deep waters.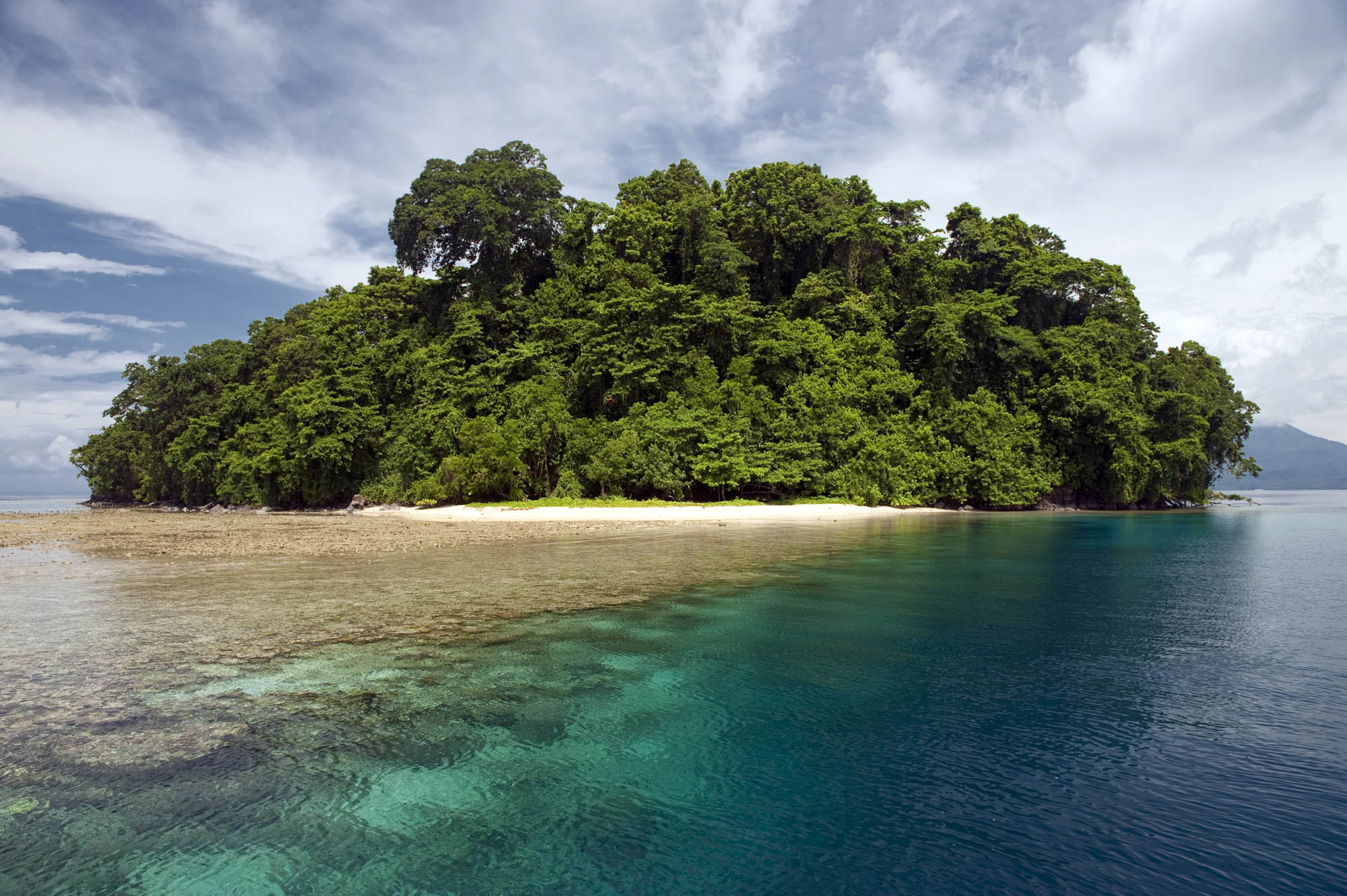 Fathers Reefs, in the north east of Kimbe Bay, are a series of offshore reefs formed above the sunken remains of a huge extinct volcanic caldera. The reefs have interesting topography with swim throughs and arches adorned with soft corals and other sea life. The offshore nature of these reefs attracts many pelagic, which all come in to feed off the prolific reef fish and other invertebrate species that have settled here.
Rabaul is an island at the far east the South Coast of New Britain which is included in some one way itineraries starting or ending Kimbe Bay. In addition to diving amongst WWII wrecks, coral walls and critter havens in volcanic sand, this location is fascinating to visit for its live volcano, Tavurvur, and seasonal mask festivals.
Itinerary
12 Day Itinerary
Please note, the 12 days itinerary Port Moresby to Port Moresby below is based on the shortest liveaboard itinerary which is 7 nights / 8 days onboard. These are the different itinerary duration … please Contact Us for dates:
- 8 days / 7 nights Kimbe Bay & Fathers Reefs
- 9 days / 8 nights Kimbe Bay & Fathers Reefs or Witu Islands
- 10 days / 9 nights Kimbe Bay, Fathers Reefs & Witu Islands
- 10 days / 9 nights Rabaul - South Coast of New Britain - Rabaul
- 11 days / 10 nights Kimbe Bay, Fathers Reefs & Witu Islands
- 13 days / 12 nights SE PNG (Milne) - Tufi - South New Britain - Rabaul
Day 1: Arrive in Port Moresby
If you arrive on Air Niugini from Singapore, then you will be able to connect with a flight to New Britain, so jump to Day 2. Assuming that you fly in with Philippines Airlines then ……
Arrive Port Moresby where you will be met and transferred to your hotel.
If you wish, in the afternoon we can take you from the hotel and drive you to the Port Moresby Nature Park. Here you have a chance to see some of the highlight animal and bird species of the country, as well as thousands of fruit bats which have made a home of what was once a botanical garden. Of captive species, you will be able to see all three species of cassowary, Birds of Paradise, tree kangaroos and wallabies.
Overnight in Port Moresby. You will be staying on a b&b basis, but there are several great food options on site.
Day 2: Port Moresby to New Britain
You will be transferred from the hotel to Port Moresby airport.
Fly Port Moresby to Hoskins airport in central New Britain.
You will be met upon arrival and transferred about 1½ hours to your coastal lodge. You will pass through some old established palm oil plantations which are considered some of the most 'sustainable' in the world, except of course that they replace what was once rainforest.
You will be staying at a lovely coastal lodge where the width of plantation narrows significantly. Beyond the lodge, a peninsula made up of volcanoes stretches out into the Bismarck Sea, creating a giant protected bay to the east over which you will look.
After checking into your room, you will be able to wander some long established gardens where many birds can be seen, including the very colourful red-flanked lorikeet.
All meals are included here.
Day 3: Embarkation in Kimbe Bay
AM: If you wish, we can add in day boat diving to get you 'warmed up' for your liveaboard journey …. or we can take you to see something of the rainforest, birdlife or the well preserved wreck of a World War II Japanese aircraft landed in the midst of rainforest.
Alternatively, you might like to relax or prepare underwater camera gear ready for the big dive liveaboard expedition.
PM: Board the liveaboard and head out into Kimbe Bay.
Days 3 - 10: Your Dive Liveaboard*
(*or longer depending upon the itinerary)
Your liveaboard trip across the huge Kimbe Bay and remote Witu Islands.
Day 10: Disembark in Kimbe Bay*
(*or later, depending upon duration of liveaboard itinerary)
You will step off the liveaboard early this morning. You will spend the rest of the day decompressing, but within that time we can, at additional cost, arrange any of these activities to help you see something of the rainforests and volcanic mountains in this part of Papua New Guinea:
- Half day or full day dedicated to expertly guided bird watching
- Half day visit to a World War II wreck of a plane 'lost' into the forest
- Conduct a full day guided hike through some excellent rainforest, all the way to the edge of an active volcanic crater. This requires a good level of fitness.
Please Contact Us to discuss options.
Day 11: Return to Port Moresby
You will be driven back to Hoskins airport.
Fly Hoskins to Port Moresby.
Upon arrival you will either be able to connect to your international flight home, or if you wish, we can take you on a day trip to the small Varirata National Park (cost not included) for views, birdwatching and possible sightings of forest wallabies.
Overnight in Port Moresby.
Day 12: Depart Port Moresby
You will be transferred to the airport for your flight home … or further exploration of Papua New Guinea, or further diving in the Philippines, Truk or Guam.
Dates
Please Contact Us for us for dates and for prices of longer itineraries which are as follows:
- 8 days / 7 nights Kimbe Bay & Fathers Reefs
- 9 days / 8 nights Kimbe Bay & Fathers Reefs or Witu Islands
- 10 days / 9 nights Kimbe Bay, Fathers Reefs & Witu Islands
- 10 days / 9 nights Rabaul - South Coast of New Britain - Rabaul
- 11 days / 10 nights Kimbe Bay, Fathers Reefs & Witu Islands
- 13 days / 12 nights SE PNG (Milne) - Tufi - South New Britain - Rabaul
Notes:
Price per person sharing (based on 2 people travelling)
Single Cabin Supplement:
2018: $340
2019: $375
2020: $410
Price includes:
- All accommodation on land and on the liveaboard
- All food on liveaboard and at the coastal lodge in New Britain
- Breakfasts in Port Moresby
- All diving onboard
- All land transfers
Not included:
- Flights
- Dive kit rental
- Additional diving or land activities
- Tips
- Insurance
- Fuel surcharge where applicable