This 6 day itinerary takes you to the North Western corner of Iceland on an exciting wilderness journey to explore the beautiful fjords of Jökulfirðir (Glacier Fjords), located in Hornstrandir Nature Reserve and Ísafjarðardjúp Bay. Both of these untouched areas of natural beauty are considered to offer some of the best sea kayaking and hiking opportunities in Iceland.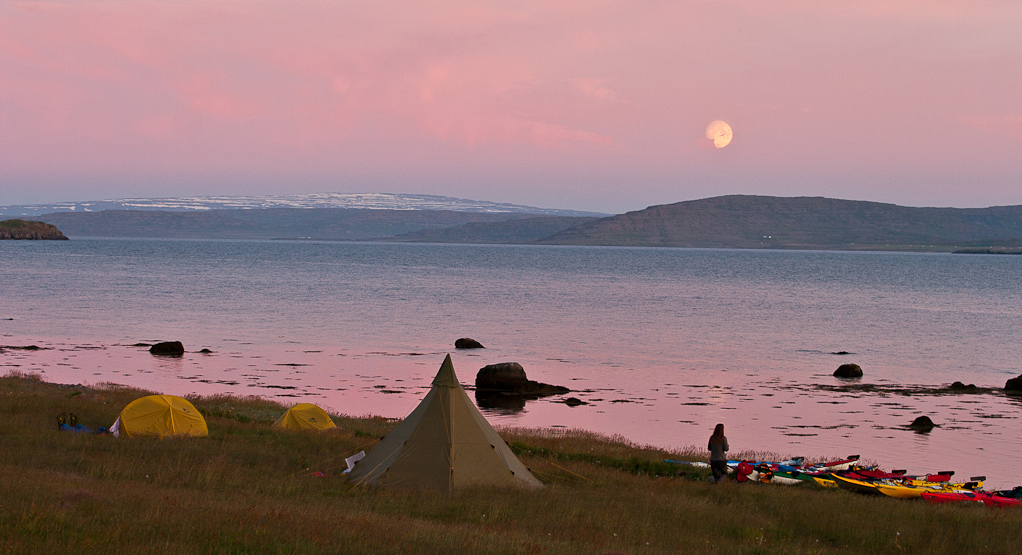 Often referred to as the 'Lost Fjords' due to their sheer remoteness and declared as a Nature Reserve in 1975, Hornstandir is a hidden gem, accessible only by boat (or kayak!). The vast area that the Nature Reserve covers is characterised by deep fjords, remote bays, towering cliffs and countless Siberian driftwood. Here you will witness some of the biggest bird cliffs in Europe and one of the largest sea fowl colonies in the world. Up to 50 species of breeding birds inhabit these areas, meanwhile there are also good chances for whale, seal and porpoises encounters and even the Arctic fox.

Approximately 260 species of flowering plants and ferns grow within the Nature Reserve, the majority of which are common in the west fjords, as well as a number of rare species too. For several decades now the reserve has been completely preserved from grazing, consequently, continuous growth of 300 - 400 metres can be reached. The area is prone to heavy snowfall and spends much of the summer months shedding snow cover, meaning that the vegetation here is extremely sensitive and should be approached with care.

For 6 days, you and your fellow group members will be very much self-reliant, immersed in nature and surrounded by natural beauty, your days spent kayaking and exploring by foot and your night spent sleeping under the stars in comfortable tents. This insightful wilderness adventure also provides access to wonderful mountainous terrain and valleys perfect for hiking.

Please note: previous kayaking experience is recommended for anyone considering this trip. The kayaking itinerary is very much dependent on weather conditions and the overall spirit and capability of the group, with the option sometimes to hike in place of kayaking.
Itinerary
6 Day Sample Itinerary
Please note that this itinerary is a brief overview of the trip and is subject to change depending on weather and other conditions.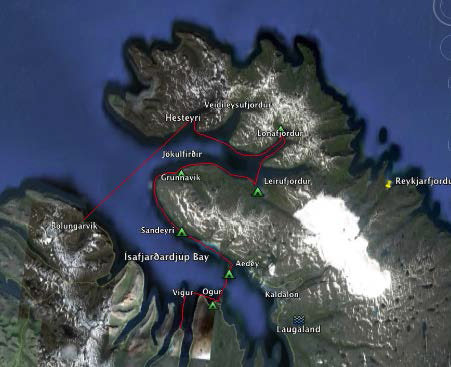 You will meet your guide at 5pm on the evening before departure at cafe Bræðraborg for a briefing, where you will also meet your fellow group members, have a Q&A session and go over final preparations. This shouldn't take longer than an hour. If you're unable to attend, then just let us know via email and we'll make sure that you have all the information you'll need.
You will meet again at thebase in Mávagarður C at 8am for last minute checks before departing from the harbour in Ísafjörður on the passenger ferry Bjarmi at 8am. You will be heading for Hesteyri, which was the biggest settlement in Hornstrandir Nature Reserve. After dropping off your gear at the old doctor's house, you will get straight to the paddling. You wll paddle out of the fjord along the coast to the lighthouse at Slétta. This is a short paddle aimed at getting to know your kayak and blow away any paddling cobwebs you may have before the longer days to come! You will enjoy a nice dinner at the old doctor's house before getting some good sleep ready for the day ahead.

Paddling Distance: 14km
After a hearty breakfast, you will pack your kayaks and start the voyage of the day over to Kvíar farmhouse in Kvíadalur valley. The route will take you along spectacular coastline and across the fjords of Hesteyrarfjörður and Veiðileysufjörður. There are opportunities to observe both whales and white-tailed eagles along the coast.

The plan is to land on the beach beneath the farmhouse in Kvíar and make yourselves at home. The farmhouse is the only house in the valley, built in 1921 and occupied by the same family until they moved away in 1948 seeking an easier life in Ísafjörður. You will have a nice dinner here and afterwards head for the warm and cozy sauna that's situated next to the house.

Paddling Distance: 15 km.
You leave most of the gear in the farmhouse and go for a beautiful paddle into Lónafjörður fjord which, according to many, is the most beautiful fjord in Iceland. Totally unspoiled with no sign of human presence. The fjord is a haven for birds and a huge seal colony can be found in the small bay of Sópandi. You'll follow the whole coastline and enjoy a long day of paddling. Back to the farmhouse for sauna to sooth sore muscles and delicious dinner.

Paddling Distance: 20km
Day 4: Leirufjörður & Grunnavík Bay
After packing up your boats, you will start paddling. Your first task is to paddle across the bay to the South side of the fjord near Höfði to get a good look at Leirufjörður fjord with the elegant Drangajökull glacier in the distance. The name Leirufjörður (e. silty fjord) explains itself when you see the clay and silt coming from the glacial river of Drangajökull. You will then then head along the shoreline towards Grunnavík Bay. En-route is a nice rock arch that you can pass under at high tide. There is also a good chance to spot porpoises close to the shore, especially if the sea is calm. At Grunnavík there are a few summer houses and a nice church that you can visit. This evening you will set up camp, eat dinner and sleep on the beach.

Paddling Distance: 20km
Day 5: Ísafjarðardjúp Bay & Snæfjallaströnd
Today you head out of the Jökulfirðir glacial fjords and into the big bay of Ísafjarðardjúp. You pass many beautiful waterfalls on the way that people rarely experience since they are so inaccessible by foot. You continue along the coast of Snæfjallaströnd and camp either in the beautiful cove in Ytraskarð (20 km) or near the breathtaking Möngufoss waterfall (24 km), all depending on conditions. This evening you will enjoy a campfire on the beach and watch the beautiful sunset.

Paddling Distance: 23km
Day 6: Vigur island & Súðavík
Your first stop on the last full day of kayaking is the island of Æðey. The island is inhabited by one family during the summer months and is a nice place to stop, relax and enjoy life on the island. The waters around the island are covered with puffins and other sea birds. Literally!

After visiting the island, you will take a long crossing (9km) to the island of Vigur. The birdlife on the island is quite amazing and the farmers have raised special rock walls for the eider ducks to nest in. Puffins are found all over the island. The beautiful and colourful houses are very picturesque and the small coffee house is a great place to stop and relax.

You will then continue on for the last leg of the trip. You will paddle to the village of Súðavík, where a car will pick you up. You will then make the 20 minute drive back to Ísafjörður. You will arrive back in town at approximately 4pm, in time for the afternoon flight for those flying back to Reykjavík.

Paddling Distance: 22km
Dates
We can arrange very economical domestic flights between Reykjavik and Ísafjörður (a 40 minute flight). Alternatively we can arrange for you to hire a car and take a leisurely drive (5 1/2 hour journey) and perhaps make some impromptu stop-offs at some points of interest along the way.

Included:
All food
Tents, cooking gear
Transfer to and from Ísafjörður airport
Boat or car transfer on first and last day of the trip
Kayaking gear (boat, paddle, dry-suit top and bottoms, life jacket and dry bags)

Not included:
Travel to and from Ísafjörður, Iceland unless specifically mentioned in itinerary.
Food the first day until leaving on the trip
Personal medical insurance
Personal equipment