This High Arctic wilderness dog sledding expedition in Spitsbergen takes you about as close to the North Pole as you would ever hope to get in the Winter and early Spring. You will follow in the footsteps of historic explores, mushing your own team of dogs just like Amundsen did when he reached the magnetic North Pole in 1904.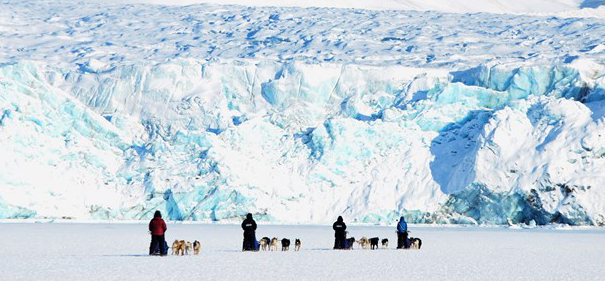 The experience starts in the northernmost city in the world (Longyearbyen) and takes you north east into spectacular scenery of the Svalbard mountains. Departures run from the end of March to mid April, so although the Northern Lights are not likely, by this time, there will be more daylight hours you have to enjoy some stunning Arctic landscapes and be on watch for polar bears, of which some two thousand or more are resident in Spitsbergen.

In Longyearbyen, you will be staying in a hotel designed in the form of an old trappers lodge. You will have a chance to see something of the town and become attuned to a quite different way of life from most peoples' temperate home.

The next day you will kick off your Arctic adventure with a briefing from your expert local guide; after which you will be taken to meet your team of working Alaskan huskies and shown how to harness and handle them before you set off. You will be responsible for your own pack of dogs throughout the expedition and will soon start to develop confidence in managing your own dog team. By the end of the 4 days you should feel a bond with these incredibly resilient animals.

During the 4 days you will spend away form the lights and bustle of Longyearbyen, you will be able to live and feel that arctic wilderness around you. You will spend two nights in a tent, which will give a true taste of what is was like for historic polar explorers. In contrast, the other two nights will be spent in a modern luxury hotel, which was a former radio station. During the days, you will dog sled through beautiful snowy landscape, travelling beside glaciers and amidst ice covered mountains which dominate the landscape of Spitsbergen.

In the tented camp you will sleep in expedition tents with warm sleeping bags. As a guest you will join as an active participant, helping your dog sledge in deep snow or steep hills. You will also be engaged in helping to set up the camp, melting water and preparing dinner for guests and dogs. Your team of dogs will be your polar bear guards for the night. This tented camp will be your base for two nights (Day 2 and Day 5), in a scene reminiscent of legendary polar explorers like Captain Scott - who sat through the winter, waiting for their chance to set out for the poles. Here you will be able to absorb your surroundings in a land of complete silence, far from the trappings of modern daily life.
In stark contrast, your accommodation for the other two nights (Day 3 and Day 4), you will be sleeping in a boutique hotel and former radio station, which until a few years ago was an important telecommunications link between the Norwegian mainland and the inhabitants of Svalbard. You would hardly recognise the interior now however, which is newly renovated and tastefully decorated, facilities of which are to a very high standard.

This is a true Arctic wilderness experience which provides a complete dislocation from the modern world.

Taking part in this trip requires careful preparation. It is important that you are in good physical condition, as aside from walking and sledging, you will be required to perform a number of tasks on the trip (as mentioned above). You will also need to be prepared to take care of your own team of 6 huskies. This means feeding and harnessing the dogs, making peace if they argue, as well as helping the guide and other participants when it is time to set up or pack up the camp.

Itinerary
7 Day Sample Itinerary
Please note that this itinerary can be shortened, lengthened and changed to suit your timings, budget and interests.
Day 1: Arrive Longyearbyen
Please Contact Us to discuss a potential flight itinerary to suit.

Upon arrival into Longyearbyen, you will be able to catch the airport shuttle bus to your hotel (approx 75 NOKpp).

The hotel will be your basecamp in Longyearbyen, decorated in authentic trapper's style down to the very last detail.

This evening there will be a mandatory briefing with your guide in the hotel at 15:00.
Day 2: Your Expedition begins (B, L, D)
After breakfast this morning, you will meet your guide in the reception at Basecamp Hotel at 10 am. After checking that you have all equipment needed, you will head straight to our Trappers Station in Bolterdalen. Here you will meet 90 happy Alaskan Huskies, eager to get on the trip. The guide will show you how to harness dogs and how to mush your own team.

Everyone will take care of their own team with guidance from the guide. You will harness, feed and look after your own dogs. After harnessing the dogs the teams for the first time you will head out into Bolterdalen towards Isfjord Radio. Lunch will be enjoyed in the wild. Today you can look forward to a drive through valleys and passing some majestic mountains. After a long first day of dog sledging, you set camp approx. half way to Isfjord Radio. When you have looked after your team, it is time to enjoy a nice warm meal before going to sleep in your sleeping bag.

Distance approx. 50km
Day 3: Exploring the Arctic Wilderness (B, L, D)
Breakfast will be served for animals and people before preparations are made for a new fairytale day with the dogs. The complete silence is only broken by the panting of the dogs and the scraping of the sled runners against the snow. Dog sledging in Svalbard is an experience that touches your soul. Lunch will be served out in the field. Today you will arrive Isfjord Radio, were the host will welcome you. A 3-course dinner will be served in the evening.

Distance approx. 50km
Day 4: Sledging & Exploring (B, L, D)
After a solid breakfast, you will go for a short dog sledge trip before returning to the station for a warm lunch. Your host will give you a guided tour around the station area. How about a bath in the Arctic sea. 3-course dinner will be served in the evening.

Distance approx. 10km
Day 5: Immersed in Nature (B, L, D)
After breakfast it is time to pack up your expedition gear and harness the dogs. You will start the trip back to the civilization and make some interesting stops on your way. The conditions can be demanding, but the trip will give you a fantastic adventure in the majestic Svalbard nature. In the afternoon you will set camp and make dinners for both dogs and people.

Distance approx. 50km
Day 6: Jouney Back to Longyearbyen (B, L)
The last day out in the wild and you get up early so you are able to make the most out of the day. Heading back for Longyearbyen on your sledge with your team. Expedition lunch will be served on the way. Back the Trapper's Station, you will take care of tiered dogs – your new friends – before returning to Longyearbyen. Arrival to Longyearbyen during the afternoon.

Distance approx. 50km
Day 7: Depart Longyearbyen (B)
If you are taking the 14:45 flight you will have plenty of time to relax and see some more of the most northerly town in Europe.
Dates
Enquire / Book
07 - 13 Mar 2024
-
from £ 4,660
based on two people sharing a twin / double room in Longyearbyen
Enquire / Book
14 - 20 Mar 2024
-
from £ 4,660
based on two people sharing a twin / double room in Longyearbyen
Enquire / Book
24 - 30 Mar 2024
-
from £ 4,660
based on two people sharing a twin / double hotel room in Longyearbyen
Single Supplement: £240 (for a single room in Longyearbyen Hotel only)

Price Includes:
2 nights in Longyearbyen on Day 1 & Day 6
5-day dogsledding adventure with Arctic nature guide.
All meals as per itinerary (B=breakfast, L=lunch, D=dinner)
Accommodation in shared room and tent on dogsledding adventure.
Meals according to the program.
You will be provided with a warm thermos-suit, winter boots, balaclava, hat, gloves and googles.
All camping equipment, thermos, cup and cutlery, sleeping bag.
Sleeping mat can be borrowed if needed without extra cost.
CO2 and environmental investment of NOK 250 per person

Price excludes
International flights (but we can arrange these from UK if you wish)
Insurance
Tips
Items of a personal nature
Airport bus transfers (approximately £5 each way)

Minimum group size 3

Equipment needed
Warm wool or flees trousers & sweater on the top
Two sets of layers of socks (thin & thick woolen socks)
Wind- and waterproof pants and jacket. We recommend spacious clothing because air is the best insulation.
Woolen gloves with wind and waterproof outer gloves
A pair of working gloves or mittens to have when handling the dogs
Warm and windproof hat
Two warm buffs of natural material
Toilet articles
Sunglasses min. category 3
Skiing goggles if you prefer to use your own
Contact lenses (for those using glasses)
Sunscreen factor 50 (not based on water)
Binoculars
Camera and extra battery/power bank for charging
Waterproof pack for personal equipment (40-60 ltr)

Pack all your personal equipment in a couple of small waterproof bags, rather than one big one due to the slim size of the sled. Do note that you need to pack some of the common equipment's to your sledge as well, and space is quite limited.

You can store other luggage at your Hotel in Longyearbyen during the trip.