Get ready for a sublime day in the heart of Iceland!

You will be picked up in Reykjavík and drived the scenic route of the must-see Golden Circle. Here you will stop to visit the National Park Þhingvellir, where you will witness one of only two tectonic rift valleys in the world, which has been created as the continental plates of America and Europe have gradually drifted apart. Þingvellir is also the only UNESCO's cultural world-heritage site in Iceland and it was here that the Vikings held their parliament and passed out judgments.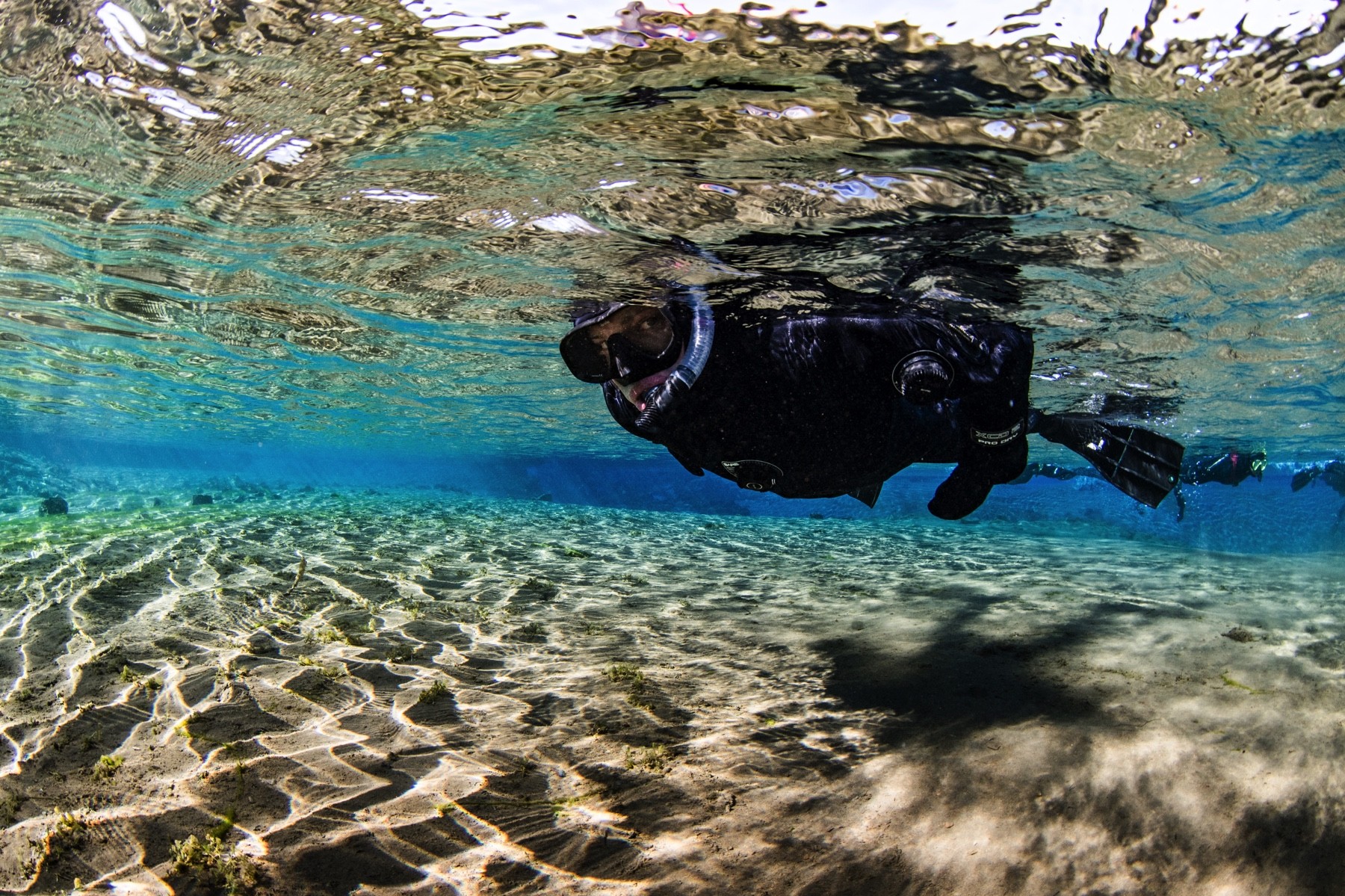 You will walk down through Almannagjá canyon and to the Silfra fissure in the heart of the park. Here you will get to experience the clearest waters in the world on a unique snorkelling experience. The underwater visibility of the lava field stretches into the distance, on good day more than 100 meters, making it one of the clearest bodies of water on earth! What makes snorkelling in the Silfra Fissure so extraordinary is its location in a narrow canyon in the lava field between Europe and America, meaning that you can actually get the unique chance to swim between both continents. Snorkelling in the pure crystal clear waters is a somewhat unique experience, where you will get the feeling of being weightless as you float along the lazy current and observe the unearthly underwater scenery.You will see all of the majestic parts of Silfra: Silfra Hall, Silfra Cathedral and Silfra Lagoon. After your snorkelling adventure we will dine on a packed lunch before taking the mountain track behind the picturesque shield volcano Skjaldbreid and along our second biggest glacier, the Langjökull. After about a two hour drive along mountain trails and through several rivers, you will join normal roads again just above Gullfoss waterfall.

This trip offers an amazing ride through the landscapes and natural forces that have shaped and continue to shape Iceland.
Dates
Price Includes Pick-up from Reykjavík, entrance fee of 1,000 ISK into silfra, driver guided super jeep safari, a visit to Þingvellir National Park, Guided tour of Geysir and Gullfoss waterfall, snorkelling in Silfra fissure at Þingvellir, snorkeling gear, hot chocolate & cookies.

Price Excludes Meals

Available On select days throughout the year

Duration of Trip 8 - 10 hours

Minimum Age 12 years or 150 cm height

Minimum Group Size 2 persons

Prerequisites:
Participants must be at least 150cm tall and weigh at least 45kg, physically fit, not be pregnant, be ready to wear a sometimes tight & constricting dry suit, be able to swim

Experience Required None

We recommend you bring Warm outdoor clothing, waterproof jacket and trousers, headwear, gloves, warm undergarment clothing (fleece/wool sweater and pants), warm socks and a change of clothing. Good hiking shoes are recommended

Activity Level Easy

Please Note Although you do not need to be able to 'swim' while snorkelling, we strongly recommend that you can. Being unable to swim can lead to undue panic, so it is imperative that you are comfortable with floating in water.