You need a boat to reach the best dive sites in Galapagos, but that does not mean you have to stay on a boat. Some of the best dive sites around the islands can be reached by a combination of land based travel and speed boat, all emanating from your hotel base on Santa Cruz island.

We can run land based dive trips at any time of the year for any duration. For those who are keen to focus on diving, 8 days can provide a highly rewarding cross section of the marine life these islands have to offer. Land based diving is also an ideal way to combine an exploration of Galapagos marine life with a more terrestrially focused Yacht Safari or one of our Sea Kayak, Hiking & Biking journeys around the islands. A short land based diving extension is also ideal for someone booked on to one of our liveaboard dive trips, but who wants to familiarise themselves with local dive conditions first.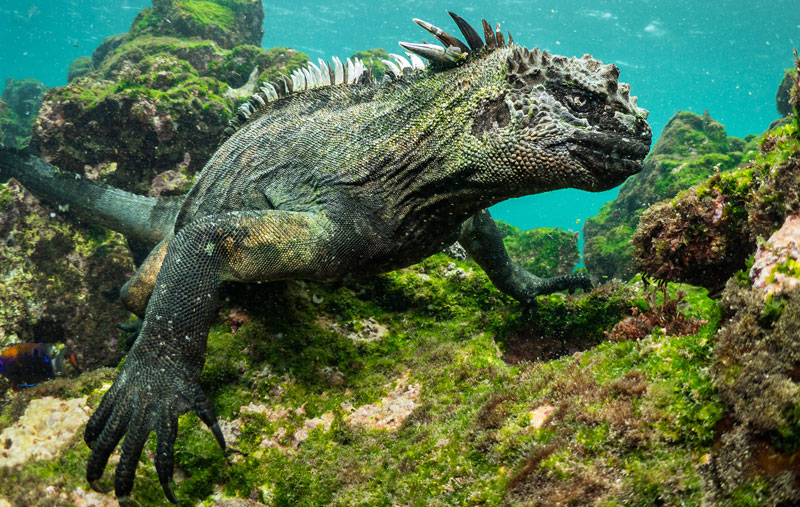 One of the most ubiquitous highlights of diving around the Galapagos are its sharks. Hammerhead sharks are often seen, in particular at the more advanced dive site of Gordon's Rock. White tips are also often seen, as are Galapagos sharks.

Rays are another feature of diving in the Galapagos, with the most commonly seen being eagle rays, golden cow nosed rays and sting rays.

Sea lions are one of the most entertaining marine life residents in the islands. Whilst you may come face to face with a sea lion's nose to your mask on a dive, you are most likely to enjoy their playful company whilst snorkelling between dives - or in fact, snorkelling on one of our yacht safaris or adventure trips in the islands.

All of the marine life so far described is here because of the incredible biomass of fish and smaller marine life. Fish shoals can be huge and swirling, whilst on a smaller scale 'fields' of garden eels are a wonderful sight at locations such as North Seymour, close to rocks covered in literally hundreds of blue nudibranchs.