As the brief Arctic summer draws to a close, a voyage to Western & Central Spitsbergen will take you to some breath taking Arctic scenery whilst watching out for signs of its enigmatic wildlife. This is a period of change in which temperatures can oscillate above and below freezing point. It is also a period when opportunities to see the Northern Lights get better by the day as night time hours start to get longer. Sunsets during September can be spectacular.
By October, you are likely to experience snow showers with sea ice beginning to spread into northern and eastern Spitsbergen, blocking our access to those areas. The warming effect of the Gulf Stream however, keeps some of the western fjords open, although sea ice can start forming in the calmest shallow waters. A little snow may also begin to fall late in October, adding a sprinkling of white to rocky mountainous landscapes and towering glaciers which empty directly into the sea.
With many of the visiting birds having already left the island for warmer climes, the Winter residents, snow bunting and Ptarmigan remain. These voyages focus on landscapes and chance sightings of whales and some of the resident mammals of the Arctic including ever curious reindeer, seals and Arctic foxes. Sailing down icy fjords and past towering glaciers, we also search for evidence of the largest predator walking the Earth: the mighty polar bear. Encounters are always down to chance and for your best opportunities we recommend voyages earlier in the year; but polar bears are sometimes seen on these voyages too, so your onboard team will always on the lookout for tracks and movement out on the tundra.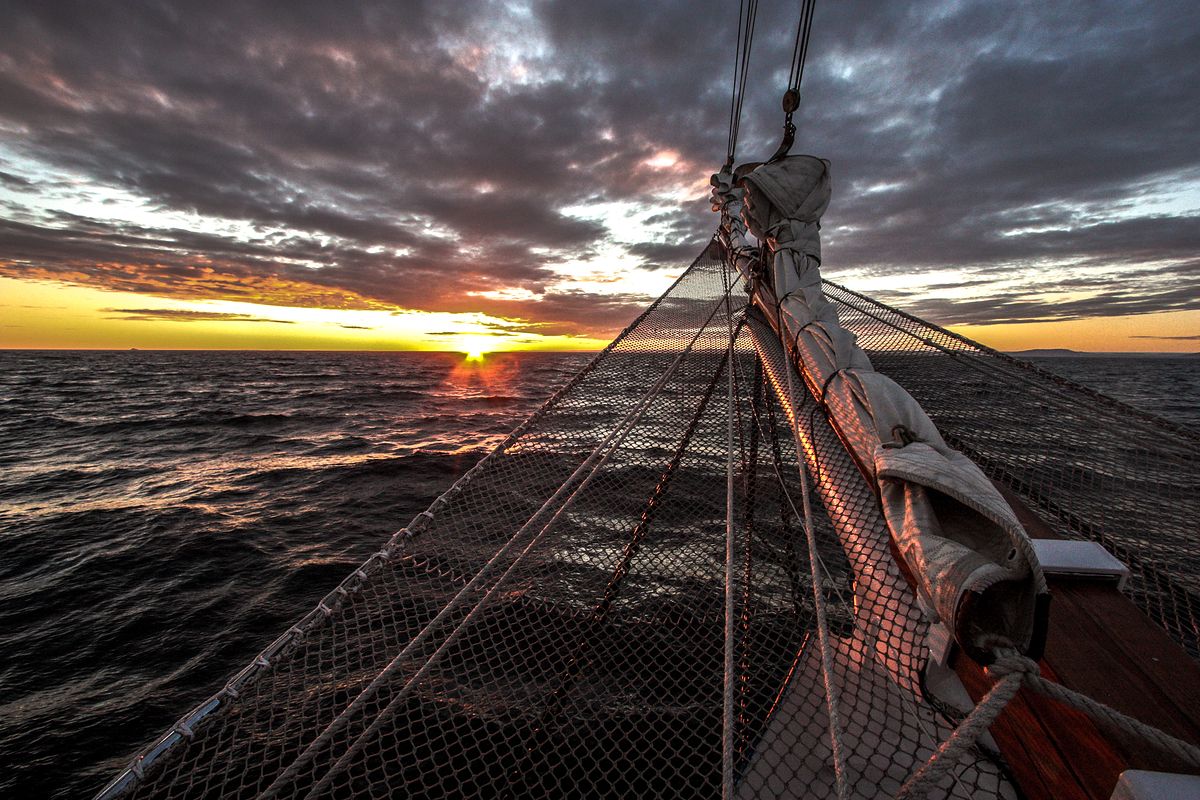 With the Midnight Sun now giving way to more regular patterns of night and day, this trip gives you the best chance to see the great Aurora borealis dancing through clear night skies. The ephemeral Northern Lights have enchanted and mystified us for thousands of years and you too are likely to be captivated by this celestial phenomenon, as it twists and turns high up in the ionosphere.
Whilst September West Spitsbergen Voyages are usually better for opportunities to see wildlife, those in October provide more night time hours for opportunities to see the Northern Lights. Daylight hours change quickly as we move through September and October. For the first of these September voyages the sun will lift above the horizon from about 5am to 9pm. If it is not overcast then before and after these times you can experience some wonderful periods of reddish-orange skies. These twilight hours grow longer towards the end of the month, whilst the hours of direct sunshine reduce to the point that by the last week of October, the sun never quite rises above the horizon. This is when pregnant polar bears begin to den in preparation for giving birth and suckling their new newborn cubs.
The cultural and explorative history of the Arctic is very much integral to the guiding on this voyage. Your expedition leader and knowledgeable skipper are passionate about both the history and nature of the polar environment and are permanently on hand to offer a comprehensive guiding experience.
Your base throughout these voyages is a stunning one hundred year old sailing schooner, reminiscent of the kind of ship explorers in the late eighteenth century might have used to explore this Arctic wilderness. With only 20 passengers onboard, this charismatic vessel boasts comfortable cabins, hot showers, central heating, good food and two beautifully wood-paneled salons to relax in. The spacious pilot house provides excellent all-round visibility, and with ample space onboard it is always possible to find your own peace and place from which to absorb the sheer drama and scale of this Arctic wilderness.
September and October are wonderful for enjoying a full sense of the vast emptiness of Arctic space, with daily opportunities for walks and for those who wish, the opportunity to hoist the sails and learn something of how to steer a ship of this kind through Arctic waters.
Itinerary
8 Day Sample Itinerary
These voyages offer the chance to experience Spitsbergen in the late summer and autumn, during these times you can enjoy spectacular sunrises and sunsets and later in the year - chances for the Northern Lights as you sail and explore the coastline and fjords of West Spitsbergen.
Day 1: Embarkation in Longyearbyen
Please note that these polar itineraries are written to provide a flavour of each voyage. Sailing rather than motor-only will be undertaken where and when conditions allow. The actual route will be decided by the captain and expedition team in accordance with prevailing ice, weather and sea conditions and opportunities to see wildlife and wilderness scenery. Your onboard Captain and expedition staff aim to provide the highest quality trips, providing you with the most rewarding experience possible and as a result, this itinerary may need to change at short notice. Itineraries have been changed in the past on account of instances such as impassable pack ice and the discovery of a dead whale with numerous polar bears feeding on it. Please remember that any changes in our itineraries are made with you in mind.
You will board the ship in the afternoon. In the evening you sail for Trygghamna, where you see the remains of a 17th century English whaling station and 18th century Pomor hunting station.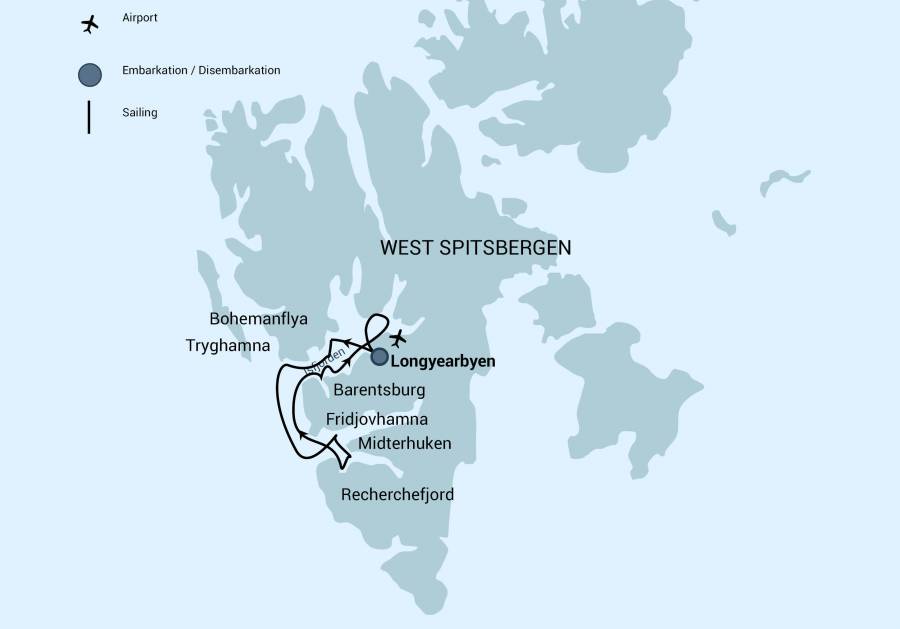 Day 2 - 5: Exploring West Spitsbergen
Leaving Trygghamna early in the morning, you sail to the north side of Bellsund. Here you find a fjord system with two major branches: Van Mijenfjord and Van Keulenfjord – and one smaller side bay, Recherchefjord. The geology has created particularly unique landscapes here, such as the long and narrow island of Akseløya, which blocks Van Mijenfjord almost completely. In Fridtjovhamna, the calving glacier Fridtjovbreen is surrounded by picturesque mountains. The rich wildlife of this area has attracted hunters throughout the centuries.
At Ahlstrandhalvøya you can walk in the hunters' footsteps, examining the remains of their huts. Recherchefjord has one of the highest concentration of historical sites in all of Spitsbergen, ranging from 17th century whaling culture to the mining period of the early 20th century. The glacier Recherchebreen ends at a lagoon, likely to be frozen in October, and several smaller icebergs. Polar bears are commonly sighted all over Bellsund, so keep your eyes open for them and for the belugas that frequent this area.
Day 6: Barentsburg or Colesbukta
You next pay a visit to Barentsburg, the only inhabited Russian settlement in Spitsbergen. An alternative is Colesbukta, an abandoned Russian coal mining settlement.
Sailing into the inner reaches of the Isfjord system, you can see the new ice that is forming on the heads of the fjords. You may also experience temperatures as low as -10° C (14° F), depending on how clear the sky is.
Day 8: Disembark in Longyearbyen
Disembarkation will happen after breakfast at 9am. Departure by scheduled flight from Longyearbyen to Oslo.
Dates
Enquire / Book
13 - 20 Sep 2021
-
€ 2,640
Longyearbyen - Longyearbyen (8 Days)
Arctic in the Autumn Voyage
20 passenger sailing schooner
Price per person in a twin shared non-private cabin
Enquire / Book
20 - 27 Sep 2021
-
€ 2,640
Longyearbyen - Longyearbyen (8 Days)
Arctic in the Autumn Voyage
20 passenger sailing schooner
Price per person in a twin shared non-private cabin
Notes:
Single supplement: This supplement can be avoided if you are willing to share with someone of the same gender. Single occupancy price is 1.85 times the per person sharing cabin price.
Our prices include:
Voyage as indicated in draft itinerary.
Group airport transfer to & from the vessel (when arriving/departing on recommended group flight).
All meals, snacks, coffee and tea.
All shore excursions and zodiac activities.
Programme of lectures by noted naturalists and leadership by experienced expedition staff and crew.
All miscellaneous services taxes and port charges throughout the programme.
Comprehensive pre-departure material.
Prices exclude:
Airfares.
Pre- and post- land arrangements.
Transfers to and from the vessel (except when arriving/departing on recommended group flight).
Items of a personal nature (alcohol, laundry, etc).
Cancellation and personal insurance.
Passports and visas.
Arrival and departure tax.
Meals ashore.
Baggage.
Tips.
Activity Level: Low-Medium
Flights: We can arrange flights or we are happy for you to do this yourself. Please contact us for advice.