For this experience, we take you deep into the heart of the Torres del Paine National Park, famed for its awe-inspiring mountains and iconic granite peaks. This is an a la carte experience, which we can tailor to suit your interests, whether that be some leisurely nature walking, a challenging trek, horse riding or boat navigation. In small groups, you will be guided by knowledgeable expert guides, who will point out the natural history highlights and enlighten you with flavours and facts about Patagonia.
For options, please click on the Itinerary tab where you will find a sample 7 day itinerary starting and ending in Argentina's El Calafate. Our tailor-made journeys TDP can start or end there, or in Punta Arenas or Puerto Natales.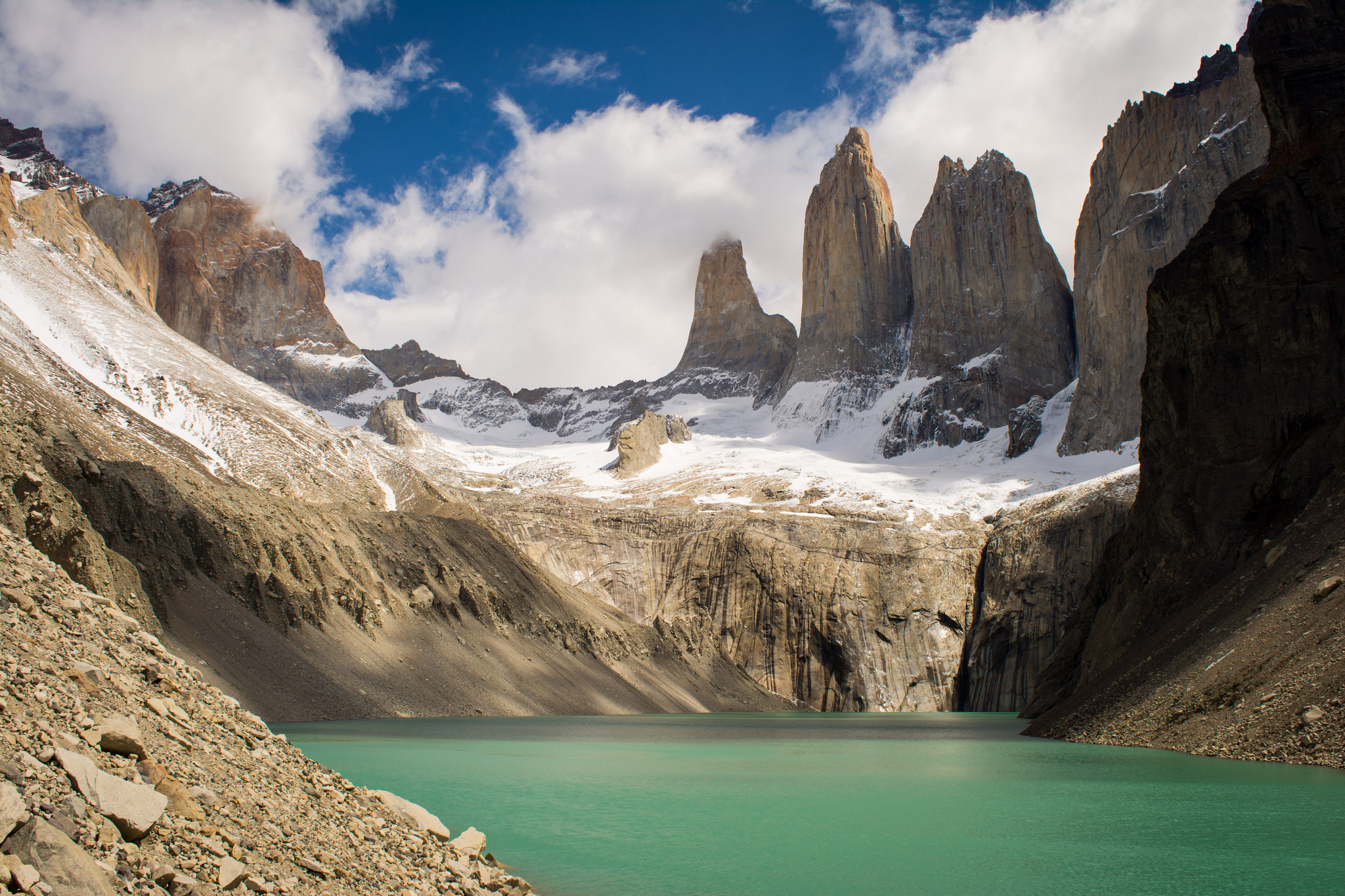 Within approximately 227,298 hectares, the Torres del Paine National Park comprises ancient forests, glaciers, lakes, rivers and fjords and is home to some 25 species of mammal and over 100 species of bird. The most common wildlife to encounter include guanacos, foxes, rheas and South Andean Deer. Birdlife is in abundance here, including the Andean Condor with a wingspan of up to 3.2 metres.
Paine Grande boasts the park's highest peak (3,050m), meanwhile The French Valley is home to some of the most beautiful rock formations, including Los Cuernos del Paine (Paine Horns). Whilst these are far from being the highest peaks in the Andes, these mountains start from a low altitude so you can enjoy steep and dramatic mountain splendour without the low oxygen experienced at higher altitudes.
Three different types of vegetation grow within Torres del Paine:
Patagonian Steppe consists of desert shrubs and tuft grasses resistant to harsh winds & weather.
Pre-Andean Shrubland: evergreen shrubs like the edible but thorny calafate or box-leaved barberry bush.
Magellanic Deciduous Forest: deciduous Antarctic Beech trees lining the park's gorges.
Andean Desert: a landscape with sparse vegetation tolerant to low temperatures and low precipitation.
Among the National park's most scenically dramatic features are its glaciers, including the hanging French Glacier and the 14km Grey Glacier. These glaciers are fed by an ice cap that drapes over the Torres del Paine mountains and which fill the beautiful Lago Grey. One cannot help but be amazed by the lakes that reside within Torres del Paine, most of which are an intense yet milky turquoise colour, caused by the rock flour particles left from glacial erosion.
Due to the vast unbroken stretch of ocean to the west and south of the South American continent, the Patagonian Andes is exposed to the wind. Furthermore, the influence from the strong marine currents and Southern Patagonian Ice field make the weather here hard to predict. During the summer you can expect an average temperature of ~15°C, reaching 24°C max. However, be prepared to experience all 4 seasons in one day and feel the elements that contributes to the unique life and colour of Torres del Paine.
We operate your experiences of this area based from two quite different types of accommodation. Firstly, we can base you at a former ranch which has been converted into a modern hotel, that still retains its historic Patagonian charm.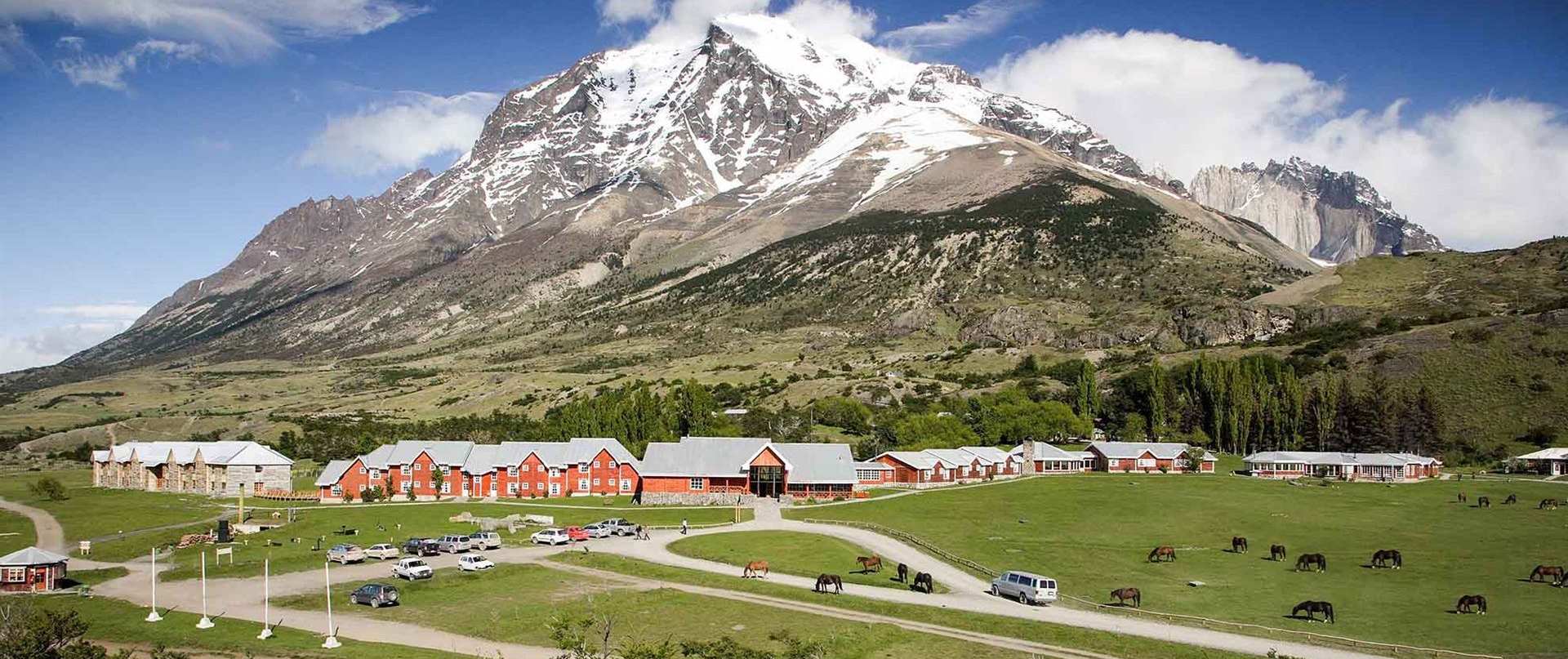 Alternatively, we can base you at a unique tented camp hotel, inspired by the early nomadic Patagonian inhabitants the Kaweskar. Both options are set at the foot of the majestic Torres del Paine mountain range, enabling you to immerse yourself completely in this wonderful environment.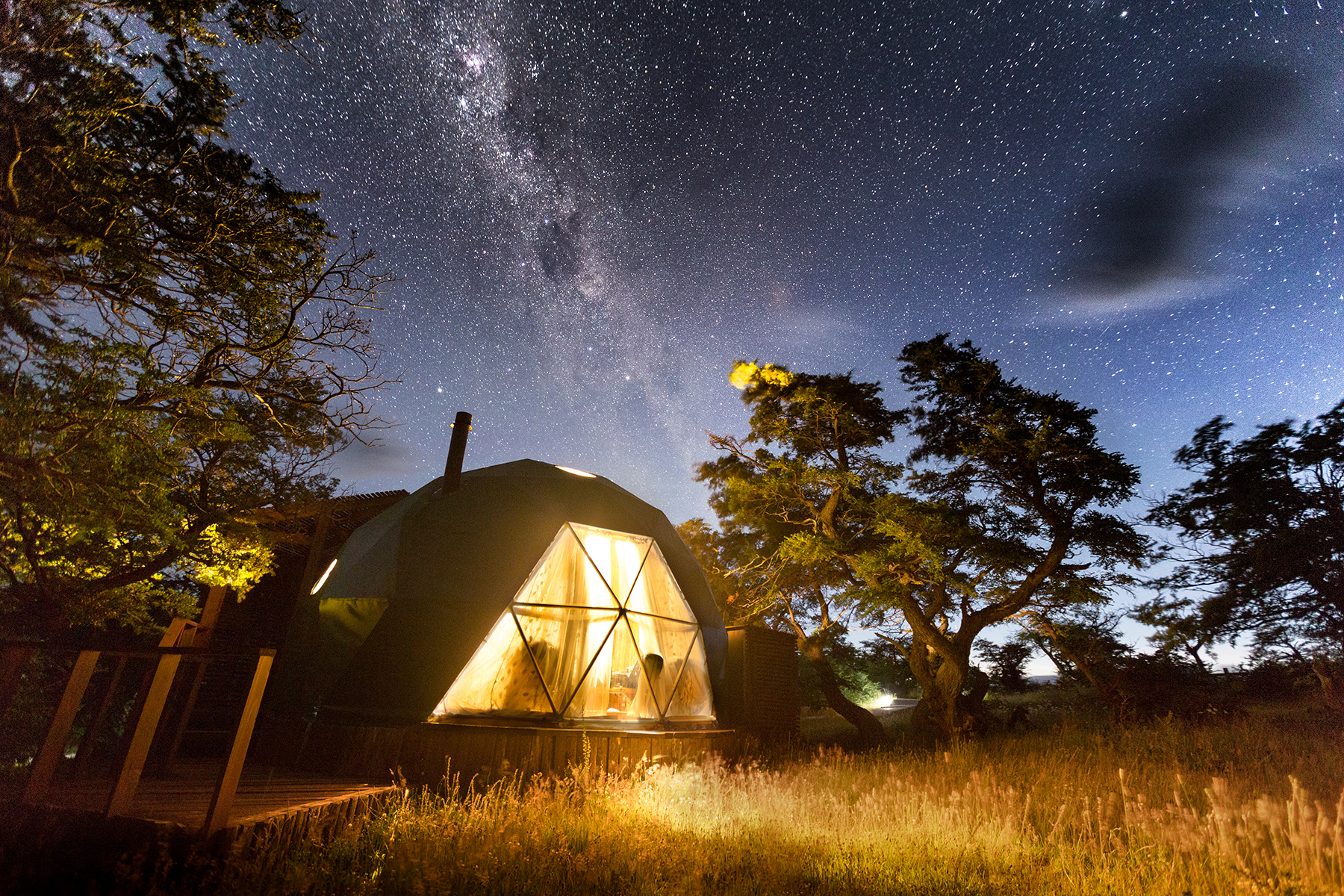 Itinerary
Sample 6 Days Itinerary
This itinerary can be extended or slightly shortened. It can also start and end in Punta Arenas or Puerto Natales in Chile if you prefer.
Day 1: Arrive El Calafate
Today you will arrive into El Calafate where we will meet you and transfer you privately to your hotel. You will have the rest of day free to explore this colourful town.
Day 2: Perito Moreno Glacier
After breakfast in your hotel, this morning you will be picked up in a small bus from your hotel at around 08:30 to visit the renowned Perito Moreno glacier, unique on the planet in its constant forward movement.

Along the 85 km (53 mi) that you will drive to get to the park, you will discover many Andean pre-cordillera sites that are worth sight seen or recording on camera and by the Argentino Lake you will access the National Park "Los Glaciares". Along Brazo Rico River you will start to spot the floating icebergs until you finally are able to grasp in all its awe this natural wonder considered World Heritage by the United Nations. You will have a few hours to yourself to explore the walkways and observe the glacier from an array of different angles.

In the afternoon you will be transferred back to your hotel. There is an option to also go glacier hiking on Perito Moreno too for an additional cost or include a boat navigation too. Please contact us for further details.
Day 3: Transfer to Torres del Paine
After breakfast you will be picked up from your hotel early this morning and transferred across the Argentinean border to Chile and to the Torres del Paine National Park. As you get closer to the National Park, you will start to spot wildlife out of the bus window, including guanacos, flamingos and rheas. There are 26 species of mammal in the National Park so it's worth keeping your eyes peeled. After settling into your accommodation this evening and enjoying an evening meal, you will be briefed about your day of activity tomorrow.
Day 3 - 6: Torres del Paine
During your stay in Torres del Paine, you can choose between nature walks, longer treks, horse-riding and bike excursions. Depending on your energy levels, interests and weather conditions, you will have a choice of half day and full day trip options to pick between each day.
Here is a summary of just some of the trip options:
Laguna Azul: This is a great option for those wishing to observe and photograph the towers, but with minimum trekking. The view of the towers from the East is particularly impressive. It is also a great opportunity to encounter many of the National Park's resident wildlife, including guanacos, flamingos, a variety of water birds, condors and raptors.
Salto Grande You will first drive westwards to Pudeto in the heart of the National Park's lake district, from where you can walk to Salto Grande, a beautiful cascading waterfall, descending from Nordenskjold Lake into Pehoe Lake. From here you will then enjoy a short hike to Mirador Cuernos, arguably one of the National Park's most impressive viewpoints where you will witness the "Horns" (Los Cuernos), Mount Paine Grande, the French Valley and the French Glacier rising straight up from the north shore of Lago Nordenskjöld, a breathtaking spectacle of rock and water.
Glacier Grey: This is a great option for those wishing to get a complete introduction to Torres del Paine in the shortest amount of time. It begins with a drive into the heart of the national park, offering views of snowy peaks and horn-like spires as well as opportunities to encounter herds of guanacos, Andean condors and interesting flora. You will then embark a catamaran boat and take a 3 hour journey across the icy waters to the towering blue walls of Glacier Grey which tumbles down from the impressive Southern Patagonia Ice Field. Lago Sarmiento Named after Spanish explorer Pedro Sarmiento de Gamboa, who wrote a famous book called 'The History of the Incas', this startlingly blue lake provides endless photographic opportunities. Keep your eyes peeled for various aquatic birds, grazing guanacos and ostrich-like ñandús (rheas). This fairly flat trek boasts diverse natural scenery, interesting geology and wildlife spotting opportunities. You will be able to observe the lake's interesting calcium carbonate formations called thrombolites, fossils formed some 7,000 years ago.
Moderate to Challenging Options
Cerro Paine: This day hike can be undertaken on foot or by horseback. You will head to the slopes of Cerro Paine which has an altitude of 1,500 metres and begin your ascent through lenga forests, stopping en route to observe the immense Almirante Nieto mountain and its glacier. Upon reaching your goal you will be rewarded with views that really help you to appreciate the majesty of the national park.
Tower Base Trek: This is the ultimate trek to be embarked on, a challenging hike of 18km (11 miles) across varying and often steep terrain. Your goal is the base of the Torres (towers), a stunning viewpoint beside a glacier-fed lagoon with iconic views of the slender rocky peaks which give the National Park its name. You may even catch a glimpse of some condors circling the towers up above. This adventurous journey can be undertaken solely on foot or going halfway on horseback.
French Valley Hike: Situated in the heart of Torres del Paine, a 45 minute drive from your accommodation, the French Valley is part of the famous 'W' Trail and makes for very rewarding hike. A half hour ferry crossing across lake Pehoé brings you to your start point. From here you will trek up to 21km (13 miles) through varied landscapes of lenga woods, rocky moonscapes and grasslands.
A number of the day trip options within Torres del Paine can be enjoyed via horseback, ranging from rides between 3km to 18km, from flat and easy terrain to steep and challenging assents. Patagonia is famous for is horses, so no trip to the region is complete without at least one ride. You can even spend the morning with the baquenos; join them for a typical breakfast chatting about Patagonian culture and learn how to saddle and of course how to ride a horse. By the end you will have a better understanding of what it was like to live and work in this remote corner of South American before the arrival of tourism.
Day 6: Transfer back to Punta Arenas
After a final breakfast in Torres del Paine, you will be picked up this morning and transferred to Punta Arenas airport, where you can catch a flight after 3pm.
Dates
Enquire / Book
01 Dec 2022 - 01 Dec 2023
-
from US$ 2,850
based on two people sharing en-suite room
Room upgrades available from US$480 per person
Room or hotel upgrades in El Calafte are available.

Prices Include:
Accommodation
All ground transport as indicated in itinerary
Transport to / from Torres del Paine
English speaking guides
Park fees for Torres del Paine National Park.
Meals: Day 2:Breakfast & Dinner, Day 2-4: Breakfast, Lunch & Dinner, Day 5: Breakfast & Lunch, Day 6 & 7: Breakfast

Prices Exclude:
Flights
Insurance (it is mandatory you purchase appropriate insurance for this trip)
Items not mentioned in the itinerary
Tips
Items of personal nature
Activity Level: Medium - Demanding

Standard of Accommodation: Comfortable hotel in El Calafate or Punta Arenas, choice of hotel or unique tented camp in Torres del Paine.

Hotel: Choose between Mountain or Garden View Twin, Double or Triple Rooms

Luxury Tented Camp: Choose between Standard, Superior or Suite

Standard (10m²/108ft²): Compact, yet charming. Twin or double beds. No electricity or heating. Shared gender divided bathrooms.

Superior (23 mt² / 250 ft²): Queen size or twin beds. Propane heater in bedroom. En-suite bathroom. State of the art composting toilet.

Suite (28m² / 300ft²): Spacious with open terrace & enclosed porch. King size or twin beds. Low-emission wood stove. Propane heater in bathroom. State of the art composting toilet. Safe.