The Norwegian Fjords and North Norway coastline are renowned for their beauty, with rugged mountains, vast fjord systems and forests. The area has twice been voted as the best travel destination in the world by National Geographic. Summers in Norway are colourful and beautiful, but winters are simply stunning with snow-covered mountains, beautiful sunsets, and of course excellent chances for the Northern Lights (Aurora borealis). These special Hike & Sail Voyages offer an active, adventure filled holiday on a beautiful small sailing ship with like minded passengers.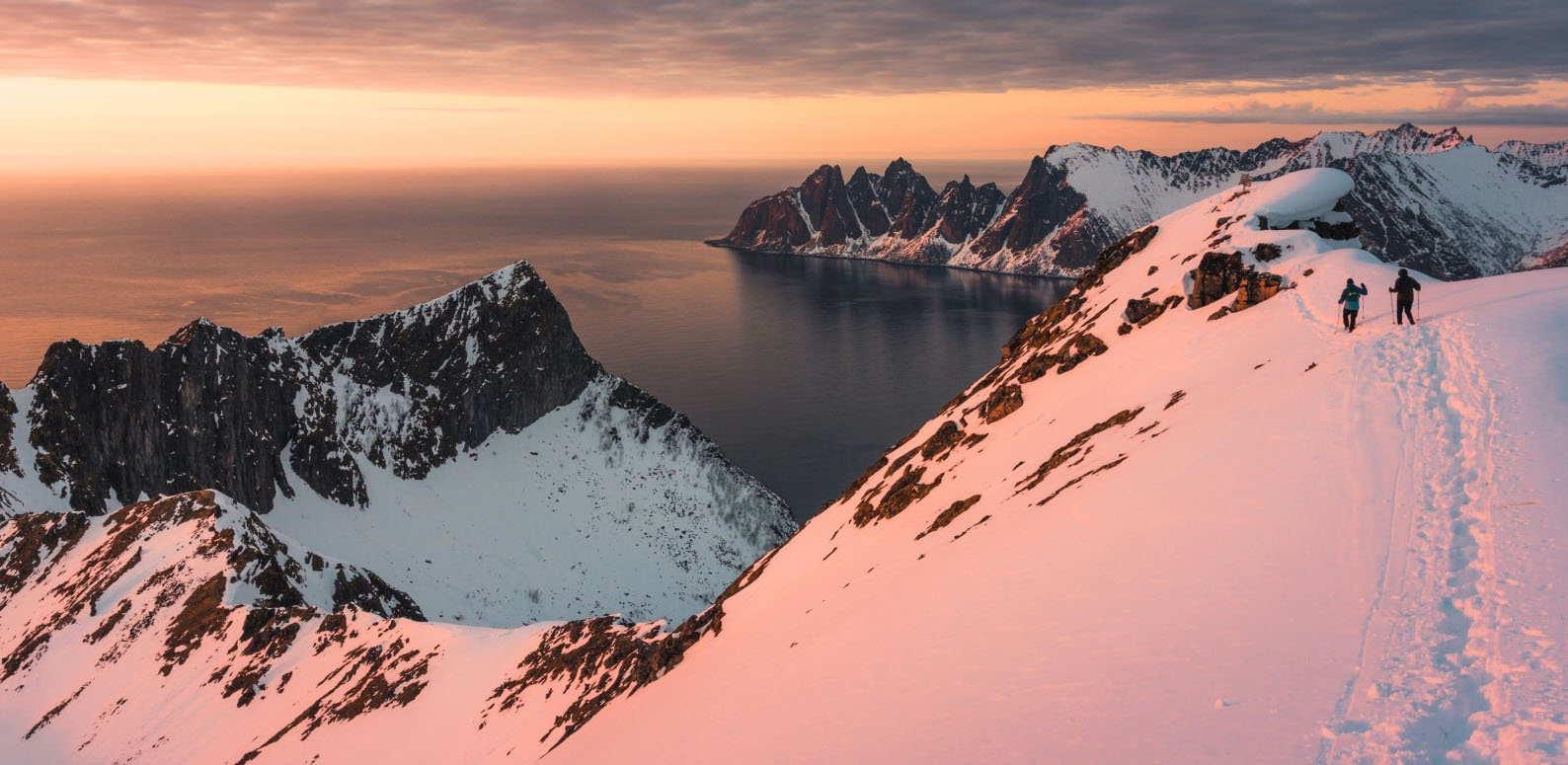 Throughout the voyage you will explore this remote and breathtaking region by sail and on foot, taking hikes along the shore and climbing coastal peaks in search of expansive views over the wilderness. You can also hope to make use of snowshoes (provided onboard) during the trip, to help you move faster and safer on the snow surface. Wildlife opportunities are good throughout the voyage; though this is not a dedicated Whale Watching Voyage, your chances for spotting humpback whales are good as they search for schooling herring sheltering in the fjords over winter. Less likely, but still possible are sightings of sea eagles, fish otters and orcas.
Above the Arctic Circle, the northern days are short during the winter months, but the twilight and nighttime hours are not wasted. Here, with little light pollution and long polar nights you can hope for clear skies and the dancing lights of the Aurora borealis above - a special sight witnessed amid spectacular surroundings - from the deck of a traditional sailing ship. Prolonged sunsets and sunrises make for great photographs, with soft pink hues and the sun hanging heavy in the skyline.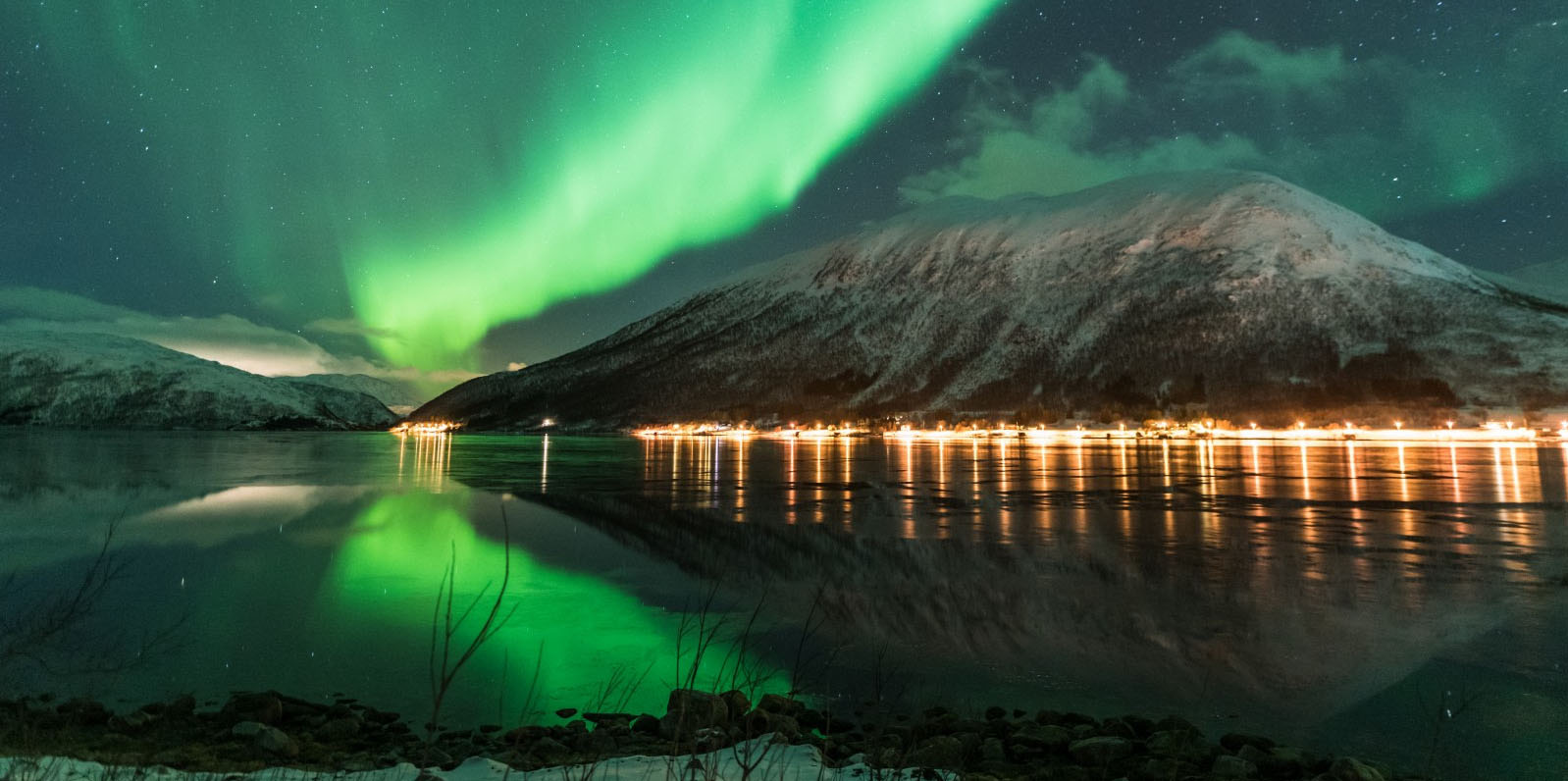 This is an active voyage suitable for fit and healthy passengers. You can expect one long or two short hikes per day, with the choice of a gentle or more strenuous route. No technical knowledge is required; just a pair of sturdy hiking boots and good physical condition. We will provide a full equipment list at the time of booking, or at any time on request.
Kayak, Hike & Sail Voyage
A few departures (please click on the Dates & Rates tab) are Kayak, Hike & Sail Voyages. An exclusive group of 4 - 8 kayakers will be able to participate in a Kayak Skills Progression Camp, where you can learn useful and effective kayaking skills from experts in a fantastic Arctic environment. Participants will be split into groups of 2 - 4 people, and each group will be offered one outing per day, aiming for a total of five outing - depending upon conditions. Participants will kayak in either the morning or afternoon, while the rest of the group are hiking on shore. You will all return to the ship for lunch, when you will swap activities with hikers.
The kayaking supplement covers your use of a single seater kayak and drysuit for the duration of your trip. This course is aimed at beginner and intermediate kayakers who want to kayak in sheltered fjords, bays and small harbours. It is a fun activity, focused on education and skills progression. All kayaking outings will operate under an experienced kayak guide and escorted by a zodiac for added safety. Physical fitness is essential. Basic kayaking experience is helpful but not essential. This would be a great way to improve your kayaking skills before undertaking the activity on an Arctic or Antarctic voyage.
Itinerary
8 Day Sample Itinerary
This 8 Day sailing voyage explores some of the stunning fjords of Northern Norway in search of great hiking opportunities and the northern lights.
Please note that our polar itineraries are written to provide a flavour of each voyage. Travelling under sail power alone will be undertaken where and when conditions allow. The actual route will be decided by the captain and expedition team in accordance with prevailing ice, weather and sea conditions and opportunities to see wildlife and wilderness scenery. We aim to provide the most rewarding experience possible and as a result, our itinerary may need to change at short notice.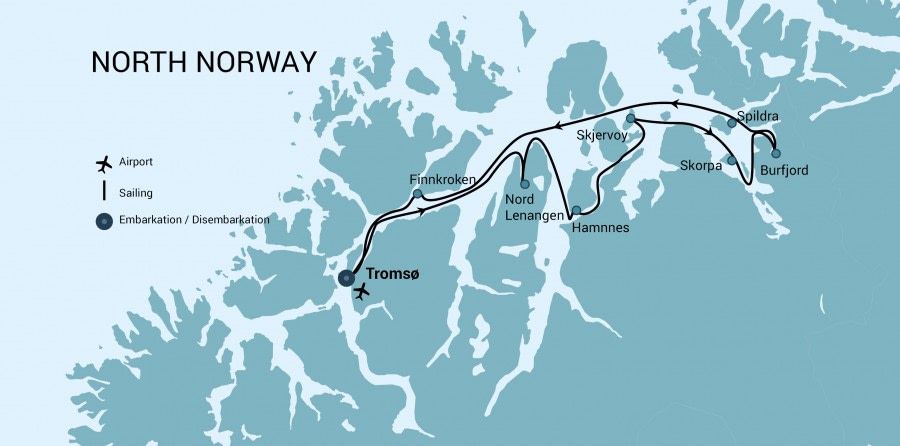 We strongly recommend that you arrive in Tromsø at least one day before your trip is due to begin to mitigate against any potential flight or baggage delays and to allow yourself time to relax and explore before your trip begins!
Day 1: Embarkation in Tromsø
You will embark this afternoon in Tromsø, also known as the Paris of the North which is said to have been inhabited since the last ice age, and is rich in Norse and Sámi history. You will depart from Tromsø this evening, sailing through Grøtsundet and Ullsfjorden towards the northeast.
You will arrive in the Nord-Lenangen fjord, just under Lyngsfjella (Lyngen Alps) where you are likely to stay for the night. Today you can hope to take a walk along the coast of the fjord, and your first glimpse of the northern lights if the skies are clear enough!
Days 3 – 6: The Nordic Fjords
You will aim to sail along the base of the Lyngen Alps, across the Lyngen fjord and may stay for one night in Hamnes on the island of Uløya. Hamnes is an ancient fishing and trading settlement dating back to the 17th Century with typical wooden warehouses where residents store dried cod. Uløya offers great hiking opportunities, often on snowshoes.
From Hamnes you will aim to sail northeast into the Kvawnangen Fjord. You will spend your days sailing and hiking, and each evening will find a harbour in a local fishing village to spend the night, for example in Skjervøy, Seglvik, Reinfjord or Burfjord. There are excellent hiking opportunities in these areas, for example on the island of Spildra where you might climb the 240m (788ft) Staurhammaren to enjoy expansive views over the fjord. Burfjord also offers great hikes, at just 31 miles (50km) from the northerly town of Alta.
On Day 6, you will sail back southwest, staying for the night near the tiny hamlet of Finnroken.
During the evenings and polar nights, you can hope for sightings of the northern lights from your remote locations, far from urban centres.
Day 7: Returning to Tromsø
You will enjoy a final hike this morning, hopefully with snowshoes to the 315m (1,033ft) Småvasshaugen to enjoy spectacular views. This afternoon you will return to Tromsø aiming to arrive at around midday, you will have the opportunity to explore the town on your own, or take a hike in the fresh winter air. You will return to the ship for your final evening onboard.
Day 8: Disembark in Tromsø
You will disembark this morning and are free to depart Tromsø at any time today, or consider spending a couple more nights here to explore the city.
Dates
Kayaking
There is no surcharge for the kayaking programme, however space is limited and must be added at the time of booking.
Single supplement
A supplement can be avoided if you are willing to share with someone of the same gender. Single occupancy is 1.7 times the per person sharing cabin price.

Our prices include
Voyage as indicated in draft itinerary.
All meals, snacks, coffee and tea.
All shore excursions and zodiac activities.
Programme of lectures by noted naturalists and leadership by experienced expedition staff.
All miscellaneous services taxes and port charges throughout the programme.
Comprehensive pre-departure material.

Not included
Airfares.
Passports and visas.
Pre and post land arrangements.
Transfers to and from the vessel
Items of a personal nature (alcohol, laundry etc).
Cancellation and personal insurance.
Arrival and departure tax.
Meals ashore.
Baggage.
Tips.
Flights: We can arrange flights or we are happy for you to do this yourself. Please contact us for advice.