Situated high above the Arctic Circle at 69 degrees north, the Lyngen Alps is an ideal location to be for potential Northern Lights sightings, which are best observed in the latitudes in the Arctic Circle from 68 and 74 degrees. From December through to March*, enchanting Northern Lights (Aurora borealis) observations can be experienced beneath star filled skies from our luxury lodge base against a mountainous backdrop. During your stay, you will be hoping for high pressure and consequent clear cold skies, which present the best chances for seeing the Auroras dance.
(*Snow can last into May)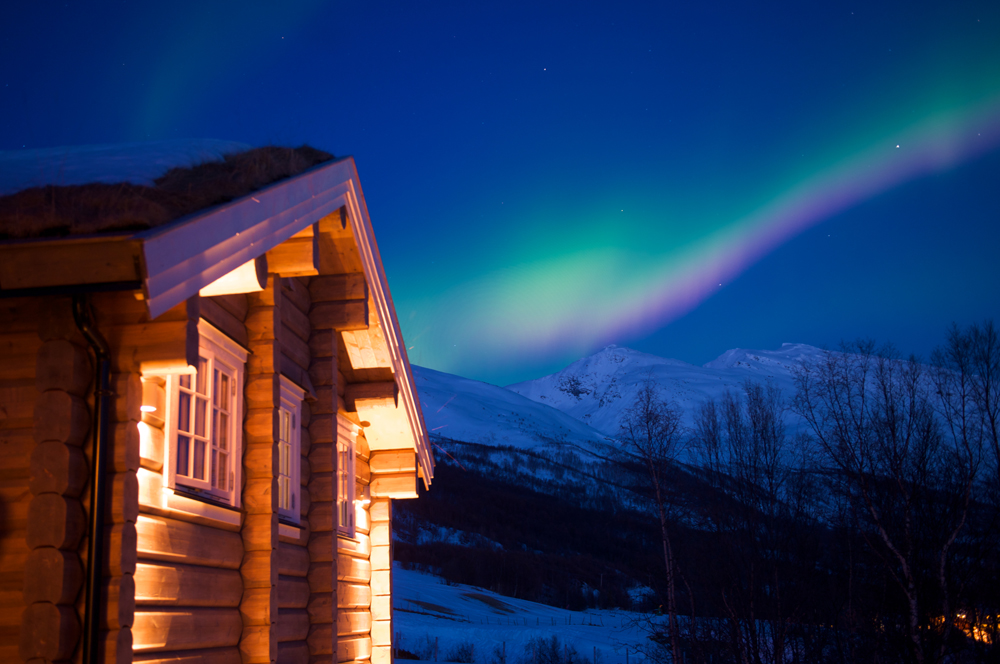 Nestled in unspoiled woodland beside the Lyngen Fjord, far from hustle, bustle and artificial light, you can enjoy spectacular coastal views in an atmosphere of escapism and tranquility. The lodge has been traditionally and thoughtfully constructed from Norwegian pine, providing warmth through geothermic heating and the interesting insulation properties of its grass roof. All meals are included and served to a high standard using local ingredients, with chefs concocting daily specialties, inspired by Norwegian coastal culture. With a fully licensed bar, lounge and large open fire; during your free time you can relax to your heart's content and enjoy the lodge's wonderful ambiance.

By day you will get the chance to explore the surrounding area through a complete range of Nordic winter sports activities, as well as see some of the marine life in this corner of Norwegian wilderness. We can adjust the proposed itinerary any which way you like (please click on the | Itinerary | tab at the top of this experience description). This can incorporate your favoured balance of adventure, which can include:

Cross Country Skiing (Langlauf) is a great way to experience the tremendous coastal mountain scenery of the Lyngen Alps. Previous experience is not necessary since expert instruction is included on site. The tracks we will take you along are home to the Norwegian National Cross Country Ski Team.

Snow Shoeing - Snow Shoe Hiking is a tremendous way to experience off-piste Norwegian wilderness with the potential to spot tracks of rare wildlife such as lynx, moose and wolverine. The snowshoes we provide are lightweight aluminium which attach to walking boots. As your weight is distributed more evenly over a larger surface area, you will feel as though you are floating over the snow.

Dog Sledding through pine forests, open tundra and towering mountains provides an exhilarating taste of polar travel. Norway is arguably the home of dog sledding with it great heritage best embodied by one of its greatest heroes, Roald Amundsen.

One of the unique features of winter sports in Arctic Norway is that you can find snow and ice at sea level. So whilst you can dog sled to the sea, you can then enter in by boat and head out to by Sea Safari in search of whales, dolphins, grey seals and giant sea eagles (Europe's largest bird of prey). This boat trip also provides a cultural insight into a local historic fishing village, where you can experience for yourself their traditional way of living.

Snowmobiling is another exciting way in which to explore the Lygen Alps and can be done directly from the lodge on a combined Snowmobiling & Ice Fishing trip. The journey from the lodge is an exhilarating ride through snow covered birch tree forests to reach a frozen lake located on a mountain plateau. To begin fishing, we will first cut you a hole in the ice.

The Lyngen Alps provides a majestic wilderness setting for partaking in a range of exciting activity options throughout the year. Please do not hesitate to get in touch to ask questions or to discuss your interests and ideas.
Itinerary
5 Day Sample Itinerary
This is a tailor made trip so the itinerary below can be adjusted as you wish:
Day 1: Arrive Lyngen Alps
You will be met upon arrival into Tromsø and transferred by road and boat to your comfortable alpine lodge, located at the edge of a stunning fjord.

After settling into the lodge you will be able to enjoy some of the Lodge's facilities, from indulging in a delicious freshly cooked meal and having a drink in front of the large open fire place to relaxing in the sauna or outdoor Jacuzzi.

There will be a Northern Lights presentation this evening and you will also receive some photography trips to help you get the best possible photographs should you be lucky enough to see them.
You will depart the Lodge at 10am and head to the start point of your Dog Sledding Adventure.

You will have the opportunity to mush your own team of 8 dogs and will be given expert guidance and instruction from professional sled guides. Alternatively you can sit in comfort on the sled (each sled holds one musher and one passenger) and simply sit back and enjoy the experience.

A well deserved lunch will be served en route over an open fire against the dramatic and impressive alpine landscape.

After exploring the open valleys and jagged mountain peaks of the Lyngen Alps and weaving through the peaceful wilderness you will arrive back at the lodge at approximately 4pm.

This afternoon you will be able to enjoy an afternoon tea and relax.
Day 3 Snowmobile & Ice Fishing
You will depart the lodge at 09:30 via snowmobile and traverse up the valley some 30 minutes through snow covered birch forests to reach a frozen lake. The lake, which is covered in about 50cm of ice during the Winter, is located on a mountain plateau boasting fantastic views over the peaks and fjords. Upon reaching the lake, the shelter camp will be erected and the holes drilled through the ice so that the fishing can begin. The chances of making a catch are good and a fire will be made to cook and eat it al polar alfresco.

If you tire of fishing for a while, there will be the opportunity to explore the surrounding area on snowmobile. You will arrive back at the lodge at approximately 15:30.

This afternoon you will be able to enjoy an afternoon tea and relax.
Today you will adorn snowshoes, providing you with access and means to navigate the snow covered forests on the doorstep of the lodge. Depending on your level of fitness and desire for adventure, guided snowshoeing trips can be tailored to suit, with a range of different trails to choose. Each trip will lead high above the Lyngen Fjord, to where you will be rewarded with wonderful views.
Optional Day 4: Cross-country Skiing
Today you will venture some 40 minutes drive away from the lodge to reach the ideal trails for your cross country ski-ing exploration. With the guidance of professional trainers, you will be cross country ski-ing within the training grounds of the Norwegian National Team, amidst silent snow covered forest scenery.

This afternoon you will be able to enjoy an afternoon tea and relax.
Optional Day 4: Sea Safari (additional supplement required)
This morning you will leave the lodge at 10am for a sea safari, the ideal way to begin your exploration of the Lyngen Alps and get a feel for the area. The start of your journey along the nature reserve at Spåkenes is often good for dolphin sightings, meanwhile en route to the ice cave and sheer towering rocks that plunge into the ocean you may also encounter Europe's largest eagle Havn Ørn.

You will gain an insight into the local Norwegian culture by visiting the island of Uløya, where you will be able to witness its historic stockfish drying process. There may also be opportunities here to witness grey seals and some early settling migratory birds. There will also be the chance to deep sea fish for giant cod and spot whales before concluding the trip in the glacier fed Strupen Bay, which boasts impressive fjord views.

This afternoon you will be able to enjoy an afternoon tea and relax.
Day 5: Depart Lyngen Alps
Depart your mountainside retreat and transfer to Tromsø airport for your flight home or onward travel within Norway.
Dates
Single Supplement: from £95

Additional Supplement: £185 will apply for Sea Safari (February). Available in the period December 2021 - February 2022

Price includes:
Full board accommodation in a luxury mountain lodge in the Lyngen Alps
Return transfers between Tromsøn Airport and Lyngen
All day trips as stated in the itinerary

Price excludes:
International flights
Additional nights
Additional activities (cf itinerary)

This itinerary can be adjusted to lengthen existing trips and / or incorporate different trips. Please contact us and we will be able to tailor an itinerary accordingly.