Norway is one of the few countries in Europe which retains a significant area of wilderness. One of the most beautiful of these is the Lyngen Alps in the far north of the country, beyond the Arctic Circle. Here we can take you to dramatic mountain scenery, where rocky peaks descend into coastal fjords, salmon filled rivers wind their way through deep river canyons and crystal clear waterfalls cascade over sheer cliff edges. There are glaciers here too, as well as forests and vast expanses of wild tundra which during the summer blooms with Arctic flora.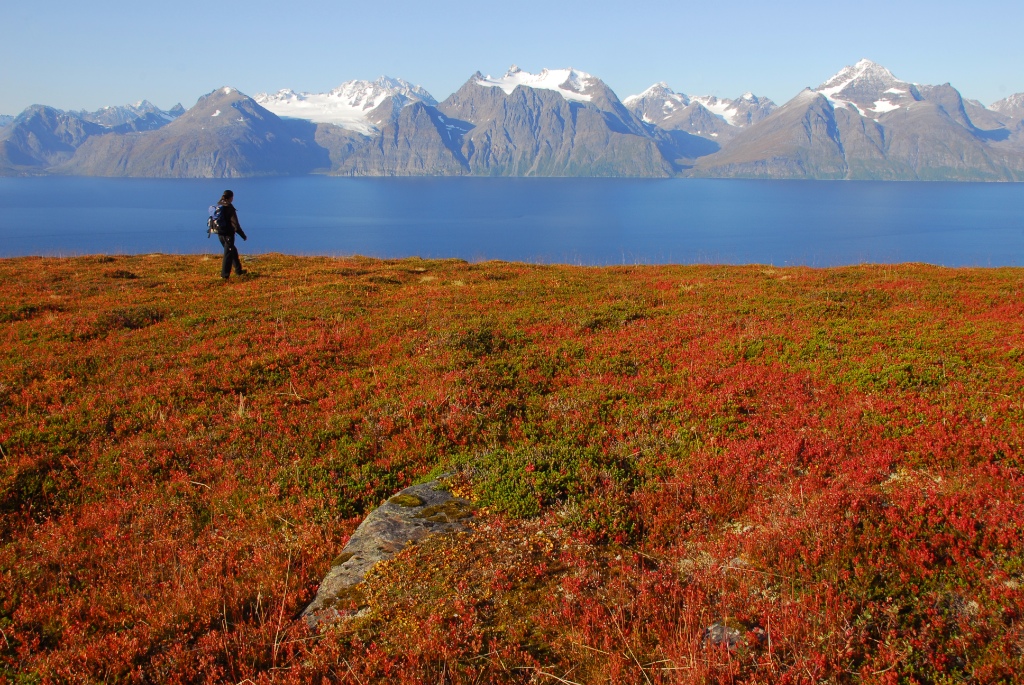 This experience takes you 60km inland from the city of Tromsø which is known as the 'Paris of the North' and the northern gateway to our Spitsbergen Wildlife Voyages. You will be based at a luxurious mountain lodge from which we take you to explore this diverse landscape via a combination of activities tailored to suit your interests and desire for balancing adventure and relaxation. When you first arrive you may just want to sit and absorb the great contrasts and drama of the scenery. This experience assumes that you will soon be ready to get out into the wilderness and explore. We can adjust the proposed itinerary any which way you like (please click on the | Itinerary | tab at the top of this experience description). This can incorporate your favoured balance of adventures, which can include:

- shorter walks to longer treks
- horseback riding on local Lyngshest horses
- kayaking on rivers and fjords
- boating to remote areas difficult to reach overland
- 'gig style' rowing
- salmon fly fishing
- glacier ice climbing with crampons

The Midnight Sun

From 17th May - 24th July, the Lyngen Alps enjoy 24 hour sunlight, when the sun never quite sets below the horizon. This makes for longer day trips or simply absorbing the views over the dramatic alpine landscapes. During this period, thousands of migrating birds can be spotted in the skies, whilst the mountains transform into lush green colour with flowers and trees in full bloom. As the summer progresses, the tundra and forests turn to shades of gold and red.

Waterscapes & Marine Life

The Reisa River National Park is one of the Lyngen's scenic highlights where you can witness Norway's highest waterfall of Mollisfossen, which cascades 270 metres down to the lush green flower filled meadows below. We can incorporate fly fishing along this river, as well as kayaking or boating.

Sea based boat safaris also extend into the seawater fjords, sometimes offering chances to witness Humpback Whales and Orcas; as well as Europe's largest bird of prey the Sea Eagle.

Arctic Hiking

Hiking within the Lyngen Alps can be highly rewarding, providing excellent photography opportunities, wildlife encounters and chances to traverse a range of landscapes. From mountain lakes and majestic fjords, to deep ravines and deciduous forests, you will be able to feel at one with the raw nature that surrounds you. Situated on the main Lyngen Peninsula is the spectacular Strupbreen Glacier, where by adorning crampons and with an ice axe in hand you can join an expertly guided glacier hiking adventure.
Itinerary
5 Day Sample Itinerary
Below is a sample 5 day itinerary which focus on walks and river trips. This itinerary can be shortened or lengthened and adjusted to incorporate different options if you wish, such as glacier hiking, deep sea or river fishing, horse riding, kayaking, rowing and sailing.
Day 1: Arrive Lyngen Alps
You will be met upon arrival into Tromsø and transferred by road and boat to your comfortable alpine lodge, located at the edge of a stunning fjord.
Day 2:Reisa River Boat Exploration
Your first full day in the Lyngen Alps will commence with a guided boat based adventure up the Reisa River, which will provide you with the ideal initial insight into this beautiful and unspoilt natural wilderness. You will journey some 35 km through dense forests, past cascading waterfalls and amidst a wealth of flora and fauna, to reach deep inside the canyon of Reisa National Park.

Upon reaching your destination, you will then take a short walk from to boat to observe Northern Norway's highest waterfall of Mollisfossen, as it gushes 275 metres over a sheer cliff into the river below. Afterwards, lunch will be served over an open fire beside the falls, before your journey back downriver.

For those seeking a longer hiking experience today, there is also the option of extending this day trip to incorporate a visit to the famous "Box Canyon" Imofossen Waterfalls.
Today you will leave the fjord scenery behind you as you trek deep inland into Northern Europe's deepest canyon of Kafjord, whose sheer rock walls drop over 150 metres to the river below. Just a few metres wide at its narrowest point, this fascinating geological attraction is best observed from a single span pedestrian bridge. From the bridge you will have excellent views over the deepest part of the canyon as well as the incredible waterfall that flows over its edge.

As an historic copper mining region, this day trip has the optional inclusion of visiting an outdoor museum.

This trip is generally around 3 hours long. However, for an additional £25, you have the option to extend it to a longer trip of around 5 hours.
Day 4: Storehaugen Mountain Hiking
Towering as an impressive backdrop behind your mountain lodge accommodation, at around 1,124 meters high, the Storehaugen Mountain is the focus of today's activities. From the lodge you will journey by boat across the Lyngen Fjord to reach the peninsula, before setting off on your day of hiking.

The mountain was carved by ancient glaciers thousands of years ago, subsequently, a number of hiking paths have naturally been created, which conveniently suit every level of fitness. Depending on your fitness levels on the day, your guide will accompany you on a hiking route to suit you. All routes of lead to a breathtaking and photogenic viewpoint.

Alternatively, for anybody wishing to partake in a longer hiking trip today, there is the option to instead join a scenic boat trip to the island of Uløya. Upon reaching this historic fishing port, you will receive an informative guided walk, before beginning your trek to reach the spectacular summit plateau of Kjelvagtinden, which towers high above the Lyngen Fjord.

Since this region is home to hundreds of migrating reindeer during the summer months, there are likely to be excellent opportunities for close encounters with them, as they seek the coolness of higher altitudes of this mountain environment.
Day 5: Depart Lyngen Alps
Depart your mountainside retreat and transfer to Tromsø airport for your flight home or onward travel within Norway.
Dates
Our Price Includes:
Full board accommodation in a luxury mountain lodge in the Lyngen Alps
Return transfers between Tromsø Airport and Lyngen
All day trips as stated in the itinerary

Supplements:
This itinerary can be adjusted to lengthen existing trips and / or incorporate different trips. Please contact us and we will be able to tailor make an itinerary accordingly.

Our Price Includes:
Full board(breakfast buffet, lunch sandwiches, afternoon cakes/coffee and 3 course dinner)
Free use of Wi-Fi, outdoor Jacuzzi & Sauna

Our Price Excludes:
International flights
Insurance
Alcoholic Drinks

Activity Level:
Low to Medium