This is a voyage along Russia's Ring of fire: the spectacular collision zone between two of the planets great tectonic plates – the Pacific plate sliding beneath the Eurasian Plate. This highly active subduction zone continues to push up hundreds of vast volcanoes, boiling lakes and geysers; creating the Kamchatka Peninsula itself and a chain of volcanic islands and submarine mountains that stretch all the way to Japan.


Onboard a small ice strengthened vessel in the company of expert crew and natural history guides, you will explore a region that is a wonderland for Sub Arctic and Northern Temperate Wildlife. Through daily guided landings and coastal RIB excursions you will be invited to explore the remote and expansive landscape of the 13000km² Kronotsky Biosphere Reserve. This is an area dominated by volcanoes rising to more than 3000m, the famous valley of Geysers (the only active Geysers in Eurasia), mighty rivers and forests. This protected area offers the best chances of tracking down some of regions Brown Bears feasting on salmon or fruiting berries. Steller's Sea Eagles build huge nests in the trees flanking the rivers and along the coasts we will also be looking for Ocean Giants.

Kamchatka provides good chances of sighting the critically endangered Eastern Pacific Grey Whales which annually migrate up the coast in search of rich feeding grounds. Deep, cold water upwellings from the Kuril Trench often provide sightings of, Sperm, Humpback, and Minke whales as well as Orcas, particularly in the vicinity of the Commander Islands. First discovered by Commander Vitus Bering, these are the most Easterly of the Aleutian Islands and home to impressive colonies of fur seals and birds. The area also boasts three Northern Species of those great ocean wanderers, Albatrosses: Short-tailed, Black-footed and Laysan Albatrosses - the only species that are found north of the equator.

In the Far South of Kamchatka you will set out in Search of Sea Otters and Harbour Seal. Sea Otter populations are good here, with the species making an impressive comeback from hunting. Heading South from Kamchatka, you will explore the Kuril Islands, an island chain stretching all the way South to Japan and Hokkaido. Each of the Kuril Islands is unique and special. Atlasova is home to the tallest Volcano in the chain; Matua, boasts the most recent volcanoes; whilst Simushir and Yankicha Islands have breathtaking colonies of marine birds. Hundreds of Thousands of Auklets, Guillemots and Puffins call the Kuril Islands home – islands famed for unpredictable weather and scenic beauty. Kumishir is the largest of Kuril Islands, swathed in areas of rich forest, and this island, almost touching the north of Japan, is our last stop before completing our journey in the port of Korskov on Sakhalin Island. This voyage is an adventure into the unknown that you will not easily forget.
Itinerary
13 Day Sample Itinerary
Please note that the following itinerary is draft only, designed to provide you with a flavour of this Arctic and sub-Arctic voyage. All polar voyages are expeditionary in nature and you should expect the actual route and places visited to deviate significantly from this itinerary. The actual path followed will depend upon sea and weather conditions, seasonal opportunities to sea wildlife, birdlife and scenery, decisions made by the expedition crew, Captain and local authorities - and in particular ice conditions which can vary considerably.
Day 1: Petropavlovsk-Kamchatskiy
You will be transferred to the vessel and we will depart for the Commander Islands. You are welcome on the bridge as we sail from what some people consider the best natural harbour in the world. There is also some good birding as we leave the shoreline behind.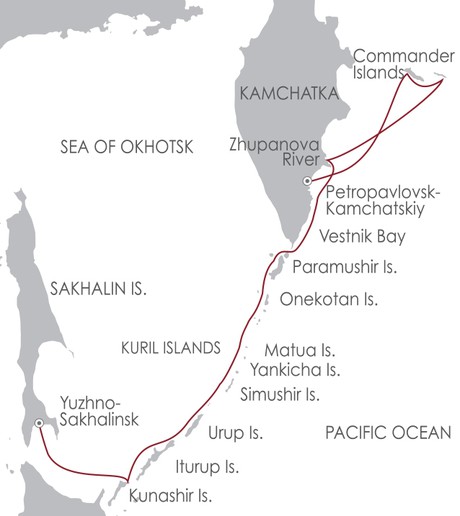 A day at sea as we cruise towards the Commander Islands. Enjoy several lectures and briefings as we prepare for the days ahead. It is also a good time to be on deck as the birding is good with Fork-tailed Storm-Petrel and Red-legged Kittiwake amongst the likely sightings.
Day 3 - 4: Commander Islands
There are two main islands in the Commander group, Bering and Medny, and during our two days we will explore several sites combining the best of the natural and cultural history. There is an excellent chance of finding Rock Sandpiper, Mongolian Plover, Pechora Pipit and Grey-crowned Rosy-Finch, as well as the endemic subspecies of Arctic Fox. Zodiac cruising can be extremely rewarding here with several species of auklets as well as the Red-legged Kittiwake. The area is also extremely rich in marine mammals. Potential species include Sperm, Humpback, Northern Minke and Baird's Beaked-Whales, as well as Orcas, Steller Sea Lions, Northern Fur Seals and Pacific Sea Otters. We include a visit to the small settlement of Nikolskoye and the local museum.
Day 5: Zhupanova River, Kamchatka
You will spend several hours in the Zodiacs cruising on the scenic Zhupanova River where you should get great looks at Steller's Sea Eagles as the birds often nest in the trees adjacent to the river. Other highlights could include Far Eastern Curlew, Long-toed Stint, Kamchatka Gull and Aleutian Tern. There is also a major salmon fishery on the river which you can visit.
Day 6: Bukta Russkaya, Kamchatka
In this deep fiord on the Kamchatka Peninsula you can look for the endangered Kittlitz's Murrelet as well as Long-billed Murrelet. A short excursion is planned at the head of the fiord, where there is a chance of seeing brown bears. At the entrance to the fiord where you can Zodiac cruise, there are almost always Orcas and Steller Sea Lions.
Day 7: Second Kuril Strait, Atlasova and Onekotan Islands
Very early in the morning you will pass through Second Kuril Strait which has one of the highest densities of Sea Otters in the Kuril Islands. The planned landing on Atlasova Island is great for birders and non birders alike. There are the remains of a Gulag to explore and numerous species to see. This evening on Onekotan Island you can stretch our legs through an amazing field of wild flowers as you walk to Black Lake.
Day 8: Ekarma and Toporkovy Islands
During an early morning Zodiac cruise at Ekarma Island, you should see various alcids, with close looks at Tufted Puffin and Whiskered Auklet. This afternoon at Toporkovy Island in the shadow of the active Matua Island volcano you can expect to find Harlequin Ducks, Red-faced Cormorants, Tufted Puffins and Brunnich's Guillemots. Ashore you could encounter Grey-tailed Tattler, Middendorff's Grasshopper Warbler and Black-faced Bunting.
Day 9: Simushir and Yankicha Islands
You will enter a flooded caldera at the northern end of Simushir Island where a once top secret Soviet submarine base lies abandoned. In the surrounding area look for Siberian Rubythroat, Eurasian Nutcracker, Pine Grosbeak and Japanese Grey Bunting. Your visit to Yankicha Island is likely to be one of the highlights of the voyage as the number of alcids which breed here is incredible, with spectacular concentrations of Crested and Whiskered Auklets.
Day 10: Chirpoy and Urup Islands
This morning depending on weather you will either Zodiac cruise or land on Chirpoy Island where there are some dramatic volcanic landscapes and headlands covered in breeding seabirds. This afternoon's landing on Urup Island is a chance to stretch your legs on an extended walk, beachcomb and look for Sea Otters or birds in the forest behind the beach.
This morning you land at the small settlement of Kurilsk from where local buses/trucks will take you into the volcanic highlands to thermal hot pools where you can enjoy a soak or go birding. Possible species include Kamchatka Leaf-warbler, Japanese Robin, Siberian Accentor, Pine Grosbeak and Japanese Bush-warbler.
Kunashir is the largest island in the Kuril chain. A landing is planned in the Kurilsky Reserve and will explore an extensive area of woodland, where there are some good walks and birding. This afternoon while you are at sea there is a chance for birding and an opportunity to recap and pack.
Arrive at the Port of Korskov on Sakhalin Island. There will be transport to a central hotel and the airport in the town of Yuzhno-Sakhalinsk.
Dates
Enquire / Book
26 May - 07 Jun 2021
-
from US$ 7,490
Petropavlovsk-Kamchatskiy - Yuzhno-Sakhalinsk (13 days)
Landing Fees: US$500
Enquire / Book
01 - 13 Jun 2022
-
from US$ 7,490
Petropavlovsk-Kamchatskiy - Yuzhno-Sakhalinsk (13 days)
Landing Fees: US$500
Prices includes

Land transfers to and from port hotel
All Meals on-board, coffee and tea
Guided Excursions as per itinerary
Comprehensive pre-departure material

Prices exclude

Port Hotel
International & Domestic Flights
Items of a personal nature
Alchoholic Drinks
Tips
Personal travel Insurance
Passports & Visas
Travel Insurance
Laundry