Siberia's eastern coastline is undoubtedly one of the most remote and least visited regions of the globe. It is home to several groups of indigenous people, including the Itelmen, Koryak, Even and Chukchi.

This is a voyage along Russia's Ring of fire: the spectacular collision zone between two of the planets great tectonic plates – the Pacific plate sliding beneath the Eurasian Plate. This highly active subduction zone continues to push up hundreds of vast volcanoes, boiling lakes and geysers; creating the Kamchatka Peninsula itself and a chain of volcanic islands and submarine mountains that stretch all the way to Japan.

Onboard a small ice strengthened vessel in the company of expert crew and natural history guides, you will explore a region that is a wonderland for Sub Arctic and Northern Temperate Wildlife. Through daily guided landings and coastal RIB excursions you will be invited to explore the remote and expansive landscape of the 13000km² Kronotsky Biosphere Reserve. This is an area dominated by volcanoes rising to more than 3000m, the famous valley of Geysers (the only active Geysers in Eurasia), mighty rivers and forests. This protected area offers the best chances of tracking down some of regions Brown Bears feasting on salmon or fruiting berries. Steller's Sea Eagles build huge nests in the trees flanking the rivers and along the coasts we will also be looking for Ocean Giants.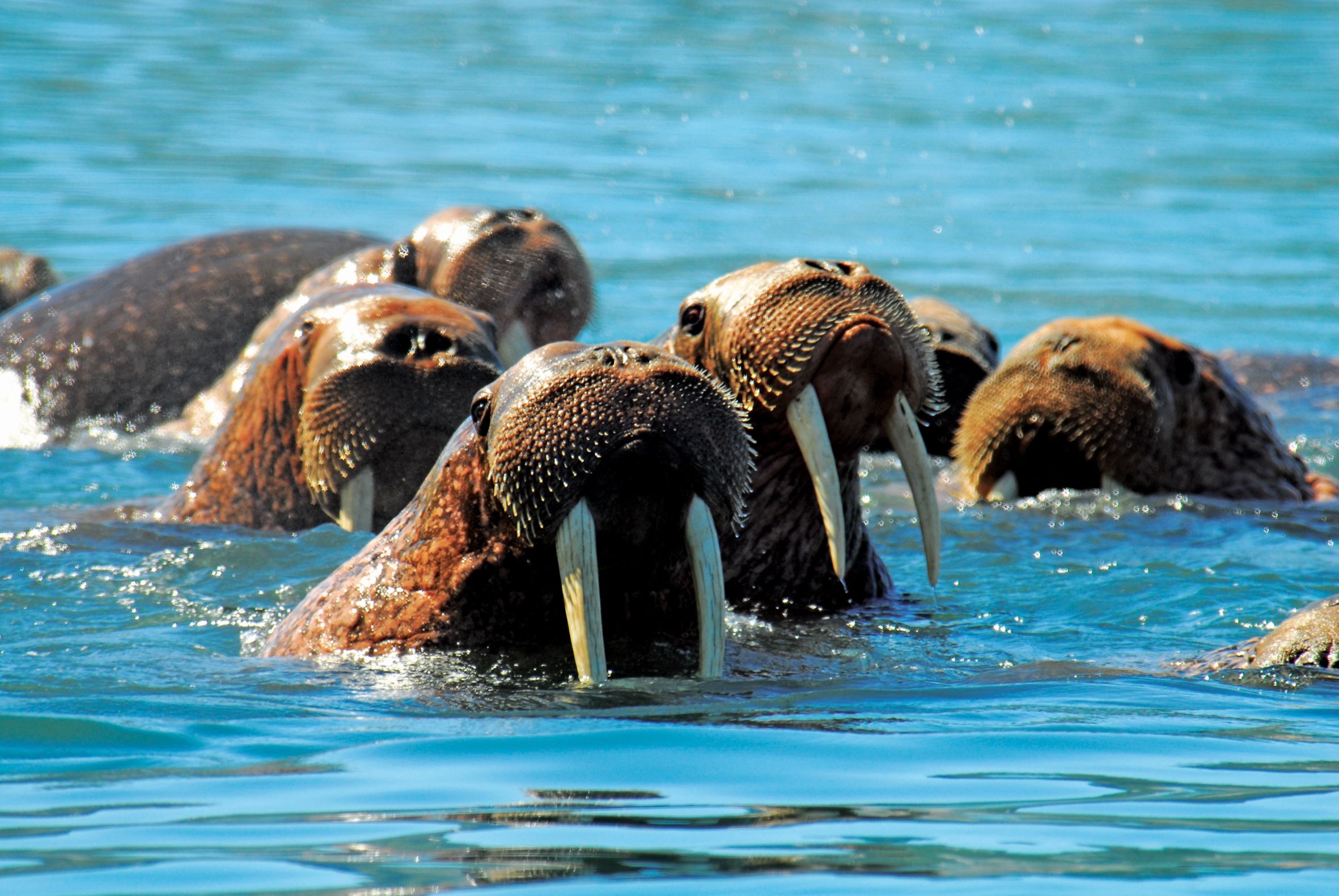 Kamchatka provides good chances of sighting the critically endangered Eastern Pacific Grey Whales which annually migrate up the coast in search of rich feeding grounds. Deep, cold water upwellings from the Kuril Trench often provide sightings of, Sperm, Humpback, and Minke whales as well as Orcas, particularly in the vicinity of the Commander Islands. First discovered by Commander Vitus Bering, these are the most Easterly of the Aleutian Islands and home to impressive colonies of fur seals and birds. The area also boasts three Northern Species of those great ocean wanderers, Albatrosses: Short-tailed, Black-footed and Laysan Albatrosses - the only species that are found north of the equator.

In the Far South of Kamchatka you will set out in Search of Sea Otters and Harbour Seal. Sea Otter populations are good here, with the species making an impressive comeback from hunting. This voyage is an adventure into the unknown that you will not easily forget.

This coastline has one of the most diverse assemblages of wildlife and habitats of anywhere of a similar latitude on the globe and virtually no people or visitors to disturb them. One of the most iconic species is the critically endangered Spoon-billed Sandpiper that is endemic to the region.
Itinerary
14 Day Sample Itinerary
Please note that the following itinerary is draft only, designed to provide you with a flavour of this Arctic and sub-Arctic voyage. All polar voyages are expeditionary in nature and you should expect the actual route and places visited to deviate significantly from this itinerary. The actual path followed will depend upon sea and weather conditions, seasonal opportunities to sea wildlife, birdlife and scenery, decisions made by the expedition crew, Captain and local authorities - and in particular ice conditions which can vary considerably.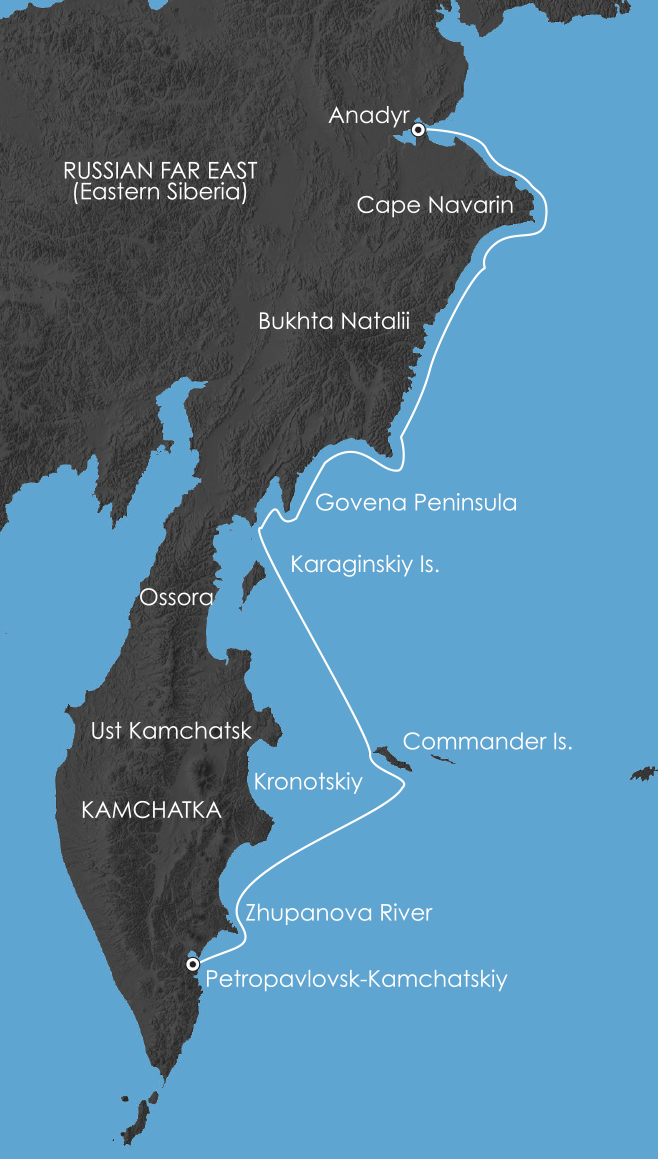 Day 1: Petropavlovsk-Kamchatskiy
Arrive into Petropavlovsk-Kamchatskiy, the capital and administrative centre of the Kamchatka Region and transfer to the port to board your ship.
The plan is to spend the morning Zodiac cruising on the Zhupanova River. The main target here is the Steller's Sea Eagle and there are usually some occupied nests close to the river. Good numbers of Largha Seals are also often hauled out on sandbars in the river and we should see a good variety of waterfowl and waders. By late afternoon, you should be over deep water heading for the Commander Islands and new species to look for include Laysan Albatross, Mottled Petrel and the Fork-tailed Storm-Petrel. The Kamchatka Trench can also be excellent for cetaceans and we have previously seen Blue Whales on this crossing.
Days 3 - 4: Commander Islands
The wildlife-rich Commander Islands were first discovered by the Commander Vitus Bering when his ship was wrecked here in 1741. The plan is to explore the islands through a combination of landings and Zodiac cruises and your first stop is hoped to be the village of Nikolskoye, where there is an interesting museum. Zodiac cruising is often spectacular and you can hope to encounter Red-faced Cormorant, Red-legged Kittiwake, Pigeon Guillemot, Horned Puffin, as well as Parakeet, Crested and Whiskered Auklets and Sea Otters. The plans also includes a ship cruise along the southern coast of Bering Island, as this area is excellent for cetaceans with Humpback, Sperm, Northern Minke, Orcas and Baird's Beaked Whales all regularly encountered.
Day 5: Karaginskiy Island
Your proposed landing site is a patchwork of boggy tundra, ponds and shingle spits where an interesting range of waders can be found including Pacific Golden Plover, Red-necked Stint and Red-necked Phalarope. You can also hope to see Bluethroat and Pallas' Reed Bunting.
Day 6: Verkhoturova Island and Govena Peninsula
Verkhoturova Island has some huge seabird colonies and by following a short trail to the cliff top you should be able to enjoy some fantastic views of Tufted Puffins, Brunnich's Guillemots, Pelagic Cormorants and Black-legged Kittiwakes. Both Steller's Eider and Harlequin Duck occur here too and you may also see some Steller Sea Lions, as they are often hauled out on some offshore rocks. Later in the day, there will be either a Zodiac cruise or landing on the Govena Peninsula. Good numbers of brown bears can often be found here.
Day 7 - 10: Koryak and Chukotka Coast
During these days of the expedition you will travel along this largely unknown part of the coast. It comprises deep forested fiords where you should see brown bears, Red Fox and with luck, mountain sheep and Kamchatka Marmots. In the many lagoons and shallow bays there is a vast array of birdlife including Tundra Bean Goose, Steller's Eider, Great Knot, Long-tailed Stint, Gyrfalcon, Siberian Accentor and Asian Rosy Finch. This area is also a stronghold of the Kittlitz's Murrelet and you should see several during our journey. In previous expeditions much of this coastline has been explored, documenting the distribution and abundance of many species. In 2011 a previously unknown breeding population of Spoon-billed Sandpiper was recorded. Working alongside researchers from BirdLife International and Birds Russia who will be travelling with you, you can hope to visit many of these areas to monitor changes and search for new breeding colonies. There will be unique opportunities for photography, for hiking and 'birding' in country where literally only a few 'westerners' have ever been and we know there is a rich diversity of species.
Days 11 - 12: Meinypil'gyno
Meinypil'gyno, located on a 40km long shingle spit is the most important site in the world for breeding Spoon-billed Sandpiper. Here about fifteen pairs are monitored by members of the Spoon-billed Sandpiper Recovery Taskforce. We will be guests of the Taskforce and if possible we may be guided to one of their monitored nests. The area is extremely rich in other wildlife, so we may also find Emperor Goose, Pacific Diver, White-billed Diver and Sandhill Crane. The lagoon entrance often has Largha Seal, Gray and Beluga Whales and a spectacular number of gulls.
Day 13: Cape Navarin and Keyngypilgyn Lagoon
This coastline is rich in marine mammals and one creature you will be looking for in particular, is the walrus, as there is a known haul out. The animals do regularly move between locations, so finding them is always very much a matter of luck, although this voyage has had success here in the past. Good numbers of Gray Whales often congregate here too. To the north of Cape Navarin is Keyngypilgyn Lagoon. On previous visits an excellent location for waterfowl and waders has been located, including Emperor Geese, Greater White-fronted Geese, Brent Geese, Whooper Swan, King Eiders, Red Knots and Aleutian Terns.
As you cruise into Anadyr Bay, there is an excellent chance of seeing more Beluga Whales and after a final breakfast on board your ship, it will be time to disembark. A complimentary transfer to a downtown hotel and the airport will be provided.
Dates
Enquire / Book
21 Jun - 05 Jul 2021
-
from US$ 7,100
Petropavlovsk-Kamchatskiy - Anadyr (14 days)
Landing Fees: US$500
Enquire / Book
28 Jun - 11 Jul 2022
-
from US$ 7,100
Petropavlovsk-Kamchatskiy - Anadyr- (14 days)
Landing Fees: US$500
Flight Nome -Anadyr $1000
Prices includes

Land transfers to and from port hotel
All Meals on-board, coffee and tea
Guided Excursions as per itinerary
Comprehensive pre-departure material

Prices exclude

Port Hotel
International & Domestic Flights
Items of a personal nature
Alchoholic Drinks
Tips
Personal travel Insurance
Passports & Visas
Travel Insurance
Laundry