The Galapagos is a diverse place with wonderful opportunities for close encounters with wildlife above and below the water. Added to this diversity is the variety of ways by which the islands and natural areas can be explored, which can often make it difficult to decide which way is right for you to discover the islands.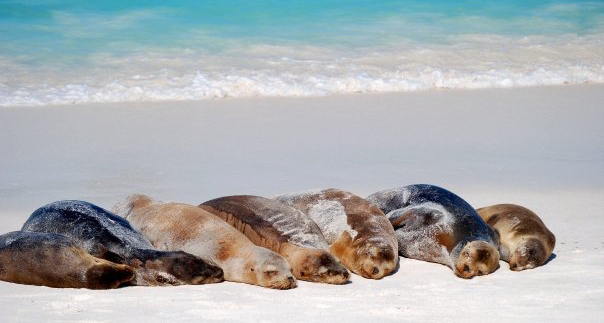 Our Galapagos Yacht and Lodge Safaris provide tailor made opportunities to incorporate all of the island's diversity with a combination of yacht based and activity focused exploration, with some nights spent at sea and others spend land based. The yacht based sections are ideal for providing focused natural history experiences on islands where land based accommodation is simply unavailable. Land based accommodation is particularly useful on the Galapagos's largest island of Isabela, where there are several days worth of activities worth pursuing and for which a beachside hotel is a more comfortable and spacious option than a yacht.

Santa Cruz is another location where land based accommodation is ideal, both in the highlands in a tented safari camp where giant tortoises can be found close by; or at the southern coast to provide access to coastal kayaking and day trips to some of the best diving and snorkelling sites in the islands.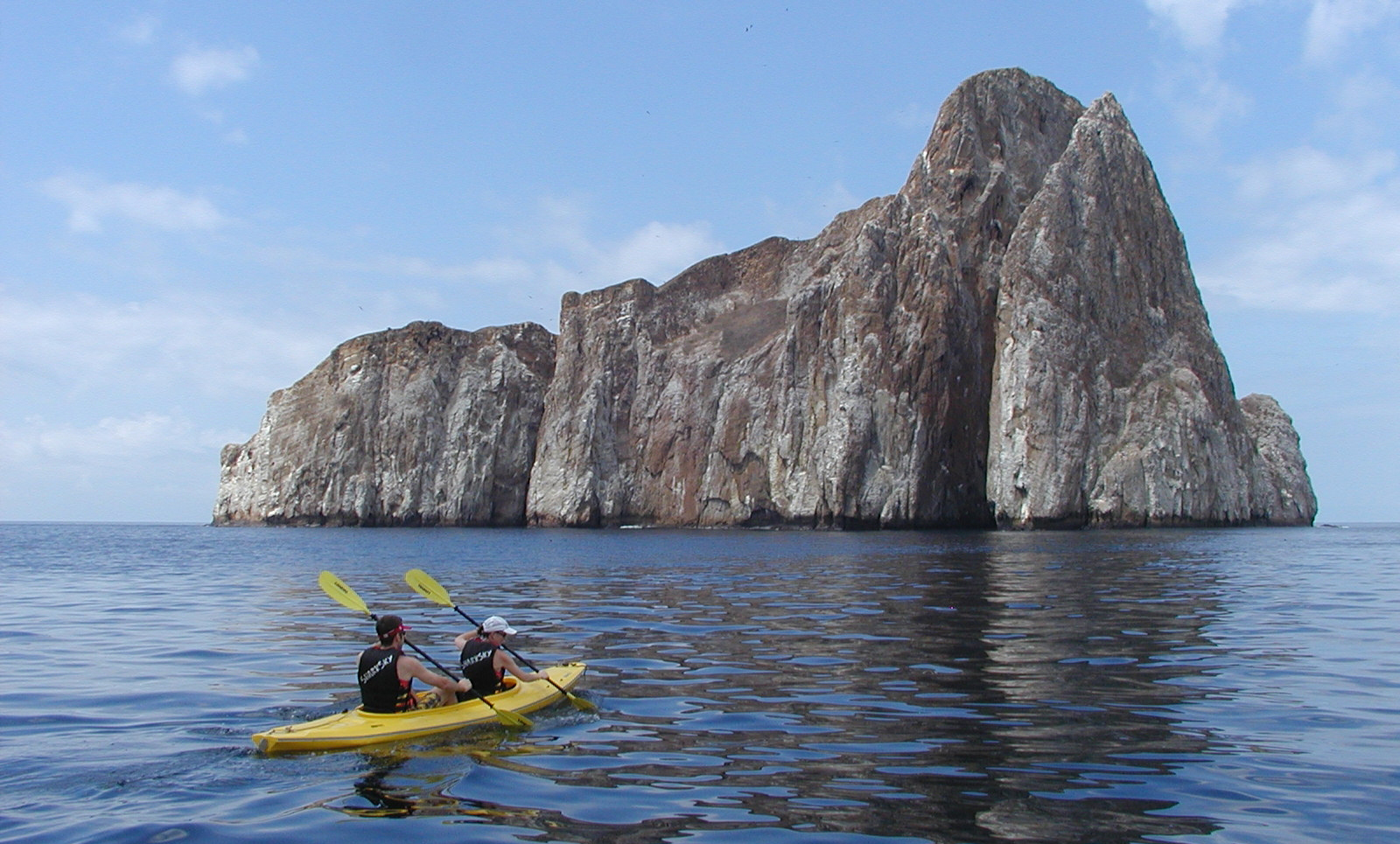 The itinerary provided with this experience description is a sample only, for which the yacht based section focuses on islands from the far north east to the far south west. If a Yacht & Lodge Safari is of interest, we recommend that you call us to discuss what you and your travelling companions most want from a trip to the islands so that we can propose an itinerary to fit. A combination trip can often provide for a more varied trip as well as a wider scope of guiding expertise.
Itinerary
Sample 14 Day Itinerary
This itinerary is merely a sample and it can be tailored according to your interests, timings and budget. Tlo discuss your ideal Yacht & Lodge Safari please call us or contact us by means of our Contact Form.
You will be met at the airport and transferred to your boutique hotel.
Day to acclimatize in Quito and take the opportunity if you wish to visit Old Quito - a UNESCO World Heritage Site.
Day 3: Fly to Galapagos San Cristobal Island & Los Lobos
You will be collected early from your hotel and taken to the airport in Quito.

Fly Quito to San Cristobal.

You will be met upon arrival and be taken to your yacht.

Offshore from San Cristobal is the island of Los Lobos. Here you will make a short walk, swim and snorkel if you wish since this is one of the best places in the Galapagos to swim with sealions. Other wildlife found on this island includes frigate birds, Darwin's finches, marine iguanas, lava lizards and a small endemic Galapagos snake.

You will visit the 148 metre high pair of rocks called Leon Dormido ('sleeping lion'). These are the jagged remains of an old tuff cone whose flanks are home to thousands of sea birds. Leon Dormido offers excellent snorkelling. There is a chance of seeing hammerhead and white tipped sharks, eagle and golden rays, as well as dozens of species of tropical fish, clams, starfish and marine invertebrates.

After lunch you will hike out of town to the San Cristobal Interpretation Centre to learn about the island's formation, evolution and natural history. You will then continue hiking to explore the island's unique dry forest which consists of cacti, acacia, palo santo and Galapagos cotton. You will also hike towards Frigate Hill, where we can find trails through the cooled and solidified lava with splendid views of the coastline. This trekking will provide encounters withblue footed boobies, brown pelicans, gulls, herons, warblers and mockingbirds. On your way back we can stop for a refreshing swim at Carola Beach. In the evening you can explore the town and dine at a waterfront restaurant.
Day 4: Santa Fé and Caleta Tortuga Negra
AM Santa Fé is almost at the epicenter of the Galapagos Islands. It has a rocky coastline and some incredibly turquoise waters in which you have good chances to see turtles, rays, sealions and tropical fish. The islands itself is 24km2 on which we can hope to see marine iguanas, land doves, hawks and two species of land iguana. These feed on the fruits and leaves of cacti.

Lunch onboard as you steam towards Caleta Tortuga Negra.

PM Caleta Tortuga Negra
Caleta Tortuga Negra located on the north west of the second largest island in the Galapagos: Santa Cruz. The island has several areas of mangrove swamp and consequently provides some of the most important habitats for the reproduction of marine birds and fish life. Black tip and white tip sharks are often see here, as well as frigate birds, pelicans and blue-foot boobies. Finches, cucuves and lava herons nest in the mangrove swamp. It is forbidden to use motors within this mangrove system, so you will explore them in rowed boats.
AM Darwin Bay We land here with a 'wet landing' which means that you need to step out into shallow water and then up onto the shore. From Darwin Bay you can go for short walks and take the opportunity to swim and snorkel. Close to the beach is a small mangrove forest within which species include masked and red-footed boobies, herons and cactus finches.

PM Barranco or Prince Phillip's Steps where you will dry land and walk to observe similar birdlife, as well as petrels and doves.
Day 6: Santiago & Bartolomé Island
AM Sullivan Bay & Puerto Egas Here we conduct a wet landing by inflatable 'tender' (small boat) for hiking. This area is composed largely of hardened lava flows which have yet to suffer much erosion. Plant life consist mainly of colonising species.

PM Bartolomé Island a combination of dry and wet landings to explore this highly picturesque island. You will have a chance to climb to the top of a 114m pinnacle, explore mangroves, dunes, snorkel and hopefully swim with Galapagos penguins.
After breakfast, you will be taken to visit the Charles Darwin Research Station to learn about conservation and management efforts in the archipelago. We also get to meet Lonesome George, the last giant Pinta tortoise.

From the Charles Darwin Research Station you will be taken into the Santa Cruz Highlands where you will stay at a comfortable tented camp. Once here you will be guided around the area by a naturalist guide. This is a good area in which to see Giant Tortoises.
Day 8*: Santa Cruz Island
*How long you stay on Santa Cruz Island is completely flexible. Options we can incorporate into a stay here include:
- exploring the Santa Cruz Highlands, of which some of the key features are its Scalesia forest habitats, full of endemic birds, a giant tortoise reserve and giant lava tubes.
- day trips to some of the Galapagos's best dive sites
- snorkelling
- a ½ day of sea kayaking

What we would propose is transferring you to a coastal hotel for your second and subsequent nights.
Morning to relax at your hotel and enjoy the largest town in the Galapagos, Puerto Ayora.

In the afternoon, transfer by boat to Puerto Vilamil in Isabela Island. You will be met by your guide here and taken to your lovely beachside hotel.
Day 11: Sierra Negra Crater
Today you will trek up to the world's second largest volcanic crater, Sierra Negra, located in the highlands of Isabela. As you climb you will see marked changes in the vegetation.

We will head to 'Volcán Chico' (little volcano) at the eastern rim of the crater where it is much drier. Here you will be able to view several volcanic features produced by two recent eruptions: wind blown materials on the main crater rim and massive lava flows below in the main crater resulting from the 2005 eruption, and complex lava flows and small cones related to the 1979 eruption. From here, weather permitting, we will also find spectacular views over central and northern Isabela, as well as Fernandina, Pinzón and Santa Cruz islands.
Day 12: Las Tintoreras Islands
In the morning we will take you to one of the marine highlights of the Galapagos: Las Tintoreras islands. This will include a channel where you have good chance of seeing white tip sharks very close to the water surface, as well as playful sealions. Other wildlife you may see today includes turtles, rays, penguins and marine iguanas. You will be able to snorkel here.

In the afternoon you will be taken to Humedales - a RAMSAR wetlands site of special ecological interest. At the end of the trial you will come to El Muro de las Lagrimas (Wall of Tears), which was raised in the late 1940's by the inmates of a prison colony built on the site of a World War II US base.

The road initially follows Vilamil beach, passing by the cemetery which offers us a glimpse of the history of the island's settlement. After wandering this outstanding system of trails and pathways which leads us through mangroves (all four are found here in one place) and marine iguana colonies we will be able to enjoy a picnic catered by the women of the village.

Later you will take a relaxing walk on the 1.2km boardwalk to the Giant Tortoise Breeding Centre. On your way you will pass three lagoons where we will likely see Flamingos. Once at the centre a guided tour will be provided of the several large areas where turtles of different ages are being raised before being released into the wild. High quality interpretative materials will be available. We will have the option either to walk to the Centre and back via the boardwalk; or if you prefer, we can take you by car to the Centre and then you walk back along the boardwalk and enjoy the sunset on our way back.
From Puerto Vilamil you will be transported either by plane or boat to Baltra Island.

Fly Baltra - Quito where you will be met and transferred back to your hotel.
You will be collected from your hotel and taken to the airport for your flight home.
Dates
Dates available throughout the year

Prices This is a completely tailored itinerary, so please call to discuss your interest, how long you would like to travel for and group size.

Accommodation From mid to premium standards of accommodation can be used, depending upon your needs and budget

Our prices include
All flights and transfers by land and sea within Ecuador and the Galapagos
3 nights boutique hotel in Quito
All yacht based and land based accommodation
Meals as specified in the itinerary (B=breakfast, L=lunch, D=dinner)
All transfers by land and sea
Activities as indicated
A year's free membership of the Galapagos Conservation Trust donated towards their Shark Campaign and the Charles Darwin Research Station Marine Programme.

Our prices exclude
International flights to Quito
Galapagos National Park entrance fee - $100** per person to be paid in cash at the airport in Galápagos).
$10** immigration tax payable before you arrive in Galapagos.
International departure tax - $44.30**
Drinks, tips.
Travel insurance.
(**correct at time of writing)

International flights
You can arrange your own international flights or Aqua-Firma can do this for you.
Flight price guide: from £630 with KLM, Iberia, British Airways / American Airlines and Continental depending upon the time of year and seat availability.