Galapagos Wildlife Expedition Cruise hosted by BBC Presenter, Naturalist, Writer & Conservationist, Mike Dilger; and local expert naturalist trained by the Charles Darwin Research Station.
Many of the impressions we have our Natural World are guided by experts from TV and radio broadcasters like the BBC. This Wildlife Yacht Safari is your opportunity to join one of those experts to one of the most iconic wildlife destinations of all: the Galapagos Islands.
Your host will be BBC TV Presenter and Radio 4 broadcaster, Mike Dilger, whose presenting roles have included Nature's Top 40, the BBC One Show, Inside Out and Nature's Calendar. With degrees in both Ecology and Botany, Mike is also a frequent writer in the BBC Wildlife magazine and wildlife books. Mike's connection with Aqua-Firma goes back to the 1990s when he was stationed in an area of Andean cloud forest which was in the process of being saved by Rainforest Concern - a charity which Aqua-Firma Director, Ralph Pannell, also used to work.
Mike is not only highly knowledgeable, but great fun to be with. Supported by a local expert guide trained at the Charles Darwin Research Station, Mike will lead you on a packed yacht safari holiday, sure to provide close encounters with a wide range of the Galapagos' unique Wildlife and Marine, as well as experience habitats and dramatic landscapes ranging from parched lava fields, to verdant mangroves forest and rich coastal habitats. The islands we plan to visit will be:
Española Bartolomé Floreana
Santiago Genovesa South Plaza
Mosquera Santa Cruz San Cristobal
Santa Fé
April is an excellent month to visit the Galapagos: a time when critically endangered Waved Albatrosses launch their massive annual arrival on Española and commence their courtship displays. This is also the turtle hatching season, for which Espumilla Beach, which you will visit, is an important turtle nesting site. Sea visibility is usually good in April and these yacht safaris will take you snorkeling at up to nine snorkel sites.
Amongst the varied wildlife and birdwatching we anticipate opportunities to see will be Sealions, Galapagos Fur Seals, Blue Footed Boobies, land and marine iguanas, Galapagos penguins, Great & American Frigatebirds, American Flamingos and Galapagos Penguins.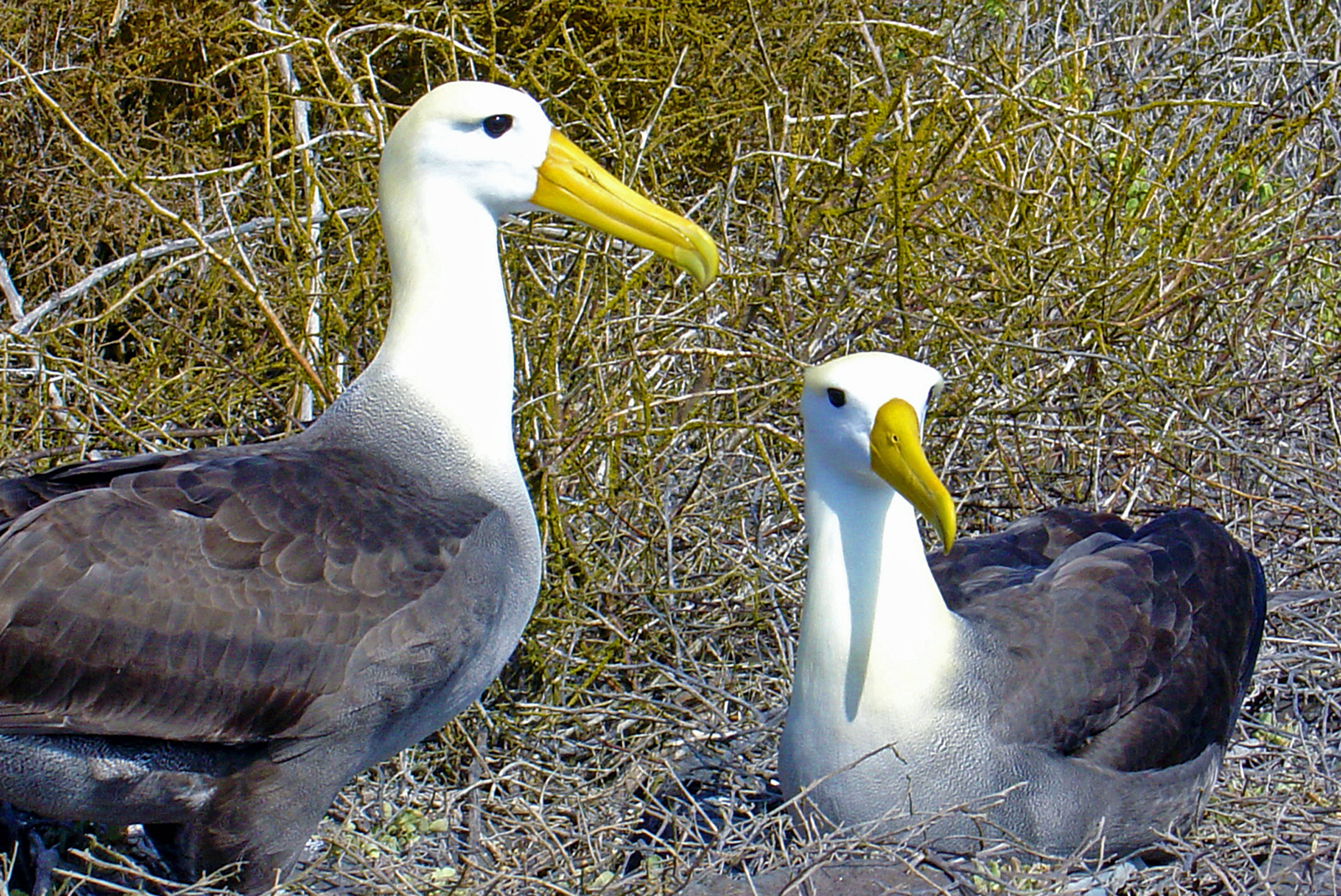 Our floating base will be a luxurious mono-hull motor yacht. Her cabins are bright with windows looking out onto the ocean and islands, large open decks, as well as comfortable inside dining and relaxing if you prefer to enjoy some air-conditioned air. There will be a maximum of 15 passengers onboard.
* * * * * *
In case you want to see something of mainland South America on your visit, Mike will be leading a trip to Choco-Andean Cloud Forest areas he helped to save when he was at Rainforest Concern; and a protected area which Aqua-Firma has helped to expand via our Rainforest4Climate programme; and through which all carbon emissions from your Galapagos voyage and flights will be offset.
Should you wish to stay longer in the Galapagos, or extend your travel to the Andes or Amazon in Ecuador or Peru, then we operate tailor-made journeys throughout the year.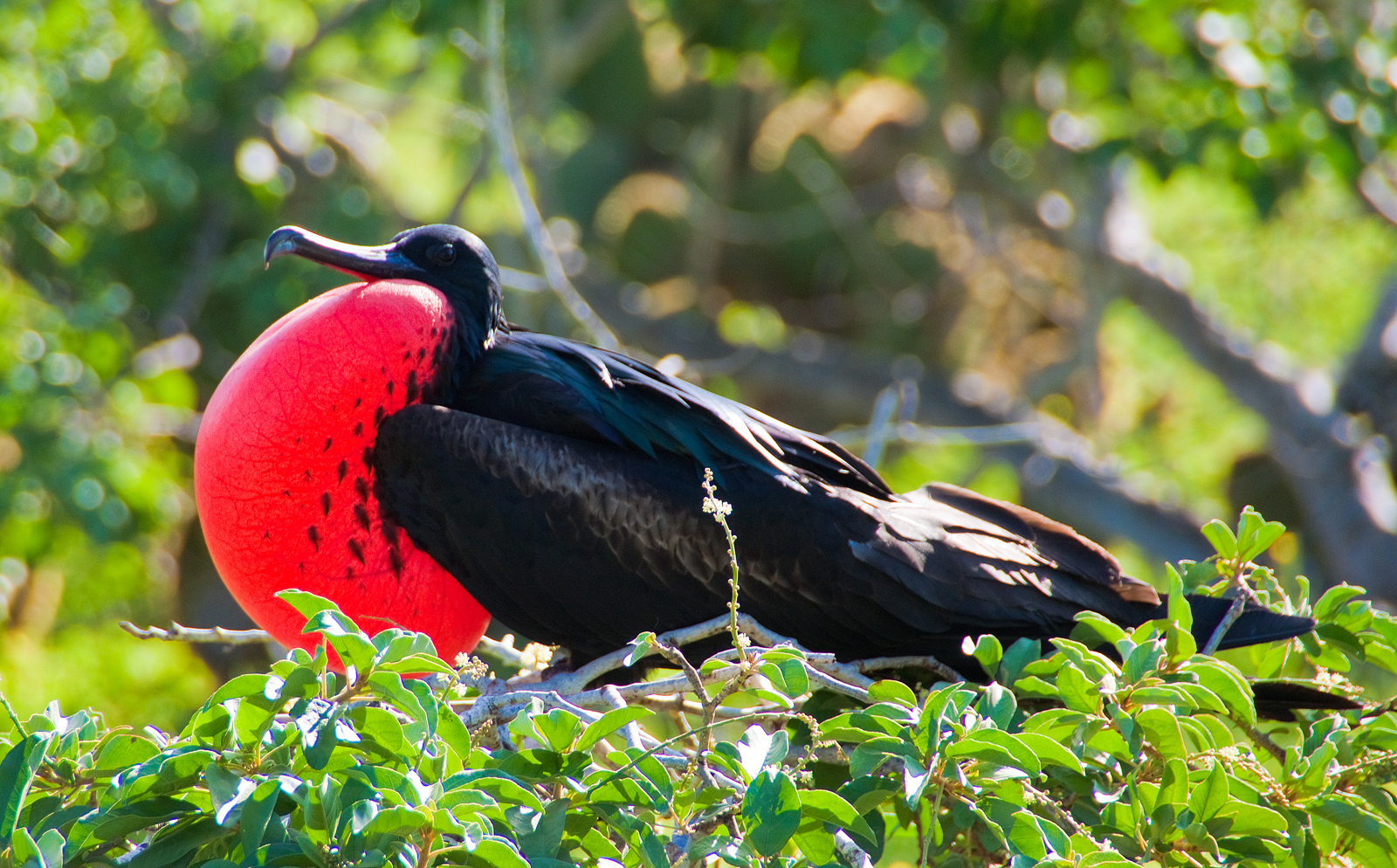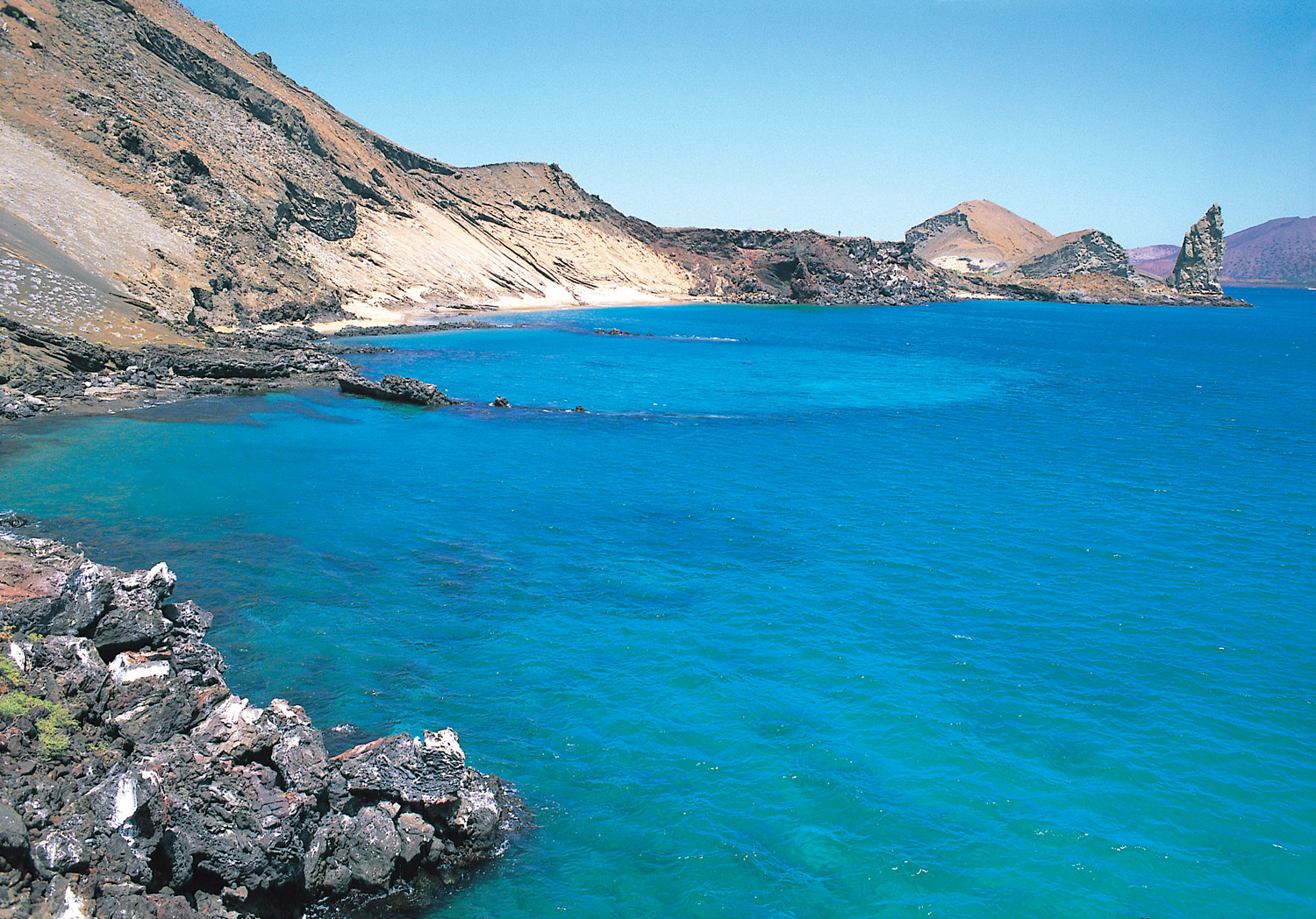 Itinerary
Galapagos Islands with BBC Presenter Mike Dilger 23 - 30 April 2022
All of our Galapagos trips follow an itinerary agreed with the Galapagos National Park and are accompanied by a natural history guide trained by the Charles Darwin Research Station. The precise itinerary is subject to change without notice according to National Park requirements, prevailing weather conditions and the decision of the captain.
Day 1 (23 Apr) - Baltra & Mosquera
Upon arrival at Baltra Airport, you will pass through an airport inspection point to make sure that no foreign plants or animals are introduced to the islands; and to pay the park entrance fee of $100. We will take care of your luggage and take you, by bus, on short drive to the harbour where we will board our yacht.
This afternoon we will take you to the small white sand tropical island of Mosquera. This is a great place for close encounters with sealions, as well as American oyster catchers, yellow warblers and more.
As the sun sets, you will be onboard to enjoy dinner in view of Santa Cruz, North Seymour and Santiago islands. A series of explanatory talks will begin this evening.
Day 2 (24 Apr) AM: Santiago – Sullivan Bay
You will enjoy a 'wet landing' on Santiago. This doesn't mean that you have to swim there (!) … rather that you step off an inflatable panga into very shallow water and onto the beach. This location is covered largely in uneroded lava flows where we can find excellent examples of colonising species.
Day 2 (24 Apr) PM: Bartolomé
This afternoon, you will be looking upon one of the most iconic scenes in the Galapagos: the beautiful volcanic islet of Bartolomé. In geological terms, this is among the youngest of the islands, with a landscape still visibly formed by its dramatic creation. The best view of this island is overlooking Pinnacle Bay and you will have the opportunity to look down over this if you join your guide to a viewpoint at the top of the island which is 114m above sea level. The trail to this point is ideal for observing how pioneer vegetation such as lava cactus, struggles to take root on the bare lava fields. You will also be able to see extinct spatter cones and solidified lava droplets.
Bartolomé is often a good place to see Galapagos Penguins - especially at Pinnacle Rock.
You will have the opportunity to snorkel at the North Beach.
Day 3 (25 Apr) AM Genovesa - Barranco Trail (Prince Philip's Steps)
This morning you will arrive at Genovesa - an island in the far north east of the Galapagos Islands. Here you will take the Barranco trail, which is also know as Prince Philip's steps. There are good opportunities here to see birds like petrels, Frigatebirds, Nazca boobies and the largest population of Red-footed Boobies of any island in the Galapagos.
Day 3 (25 Apr) PM: Genovesa - Darwin Bay
Darwin Bay involves a wet landing before setting out for walks, photography, swimming and snorkeling. Close to the beach we find stands of mangroves which are home to Frigatebirds, marine iguanas, red-footed boobies, the Great Terrestrial Finch, Cactus Finches and Lava Gulls.
You will set sail through the night towards the island furthest east in the Galapagos: San Cristobal.
Day 4 (26 Apr) AM: San Cristobal Interpretation Centre
The San Cristóbal Interpretation Centre just outside the provincial capital of Puerto Baquerizo Moreno, is a perfect compliment to the field explanations and briefings of your naturalist guide and host. Information panels are in English and Spanish, with many photographs, models and true to life dioramas which tell the background story of the islands in different ways. They really capture what makes the Galapagos Islands so unique. The well-maintained botanical garden with native species from the arid zone (including the giant prickly pear and candelabra cacti) is worth your visit as well; and you will probably spot the Chatham Mockingbird which is endemic to this island - a bird which put Darwin on track to his theory of evolution. The attractive exhibition is quite complete and explains a series of natural circumstances that create the Galapagos' unique environment: such as the volcanic genesis of the islands, their remoteness from the continent, its ocean currents, its special climate, the arrival of different species, and their establishment, among others. It also recounts historic discovery and attempts of colonisation; and shows a diorama with ancient mail barrels from Post Office Bay. Extensively it concludes how times have changed with current conservation and the many ways in which this is being achieved, as well as the environmental challenges that proceed.
Day 4 (26 Apr) PM: Los Lobos Island
Los Lobos is a thin islet off the coast of San Cristobal, famous for its large colonies of sealions. There are shallow waters between Los Lobos and San Cristobal which are often considered the best for snorkeling with sealions. The youngest are the most playful, sometimes swimming right up to your mask and even tugging playfully at your fins.
Day 5 (27 Apr) AM: Española Island – Gardner Bay
The striking white beach at Gardner Bay is an important breeding site for Pacific green turtles. However, without doubt its main attraction is the Galapagos sealion colony. Females stay year-round in this nursery, suckling their pups until they are three years old, although they start to fish at five months. During the breeding and mating season, the colony becomes even larger.
Day 5 (27 Apr) PM: Española – Suarez Point
Huge ocean waves crash onto the southern basaltic cliffs of Suarez Point, forming a spectacular blowhole. How high the water sprays into the air depends upon tide, wind strength and direction. As we observe each blow from the top of a cliff, around us we can finding nesting Blue-footed Boobies and watch birds in flight, such as the Red-billed Tropicbirds . Back from the cliffs, we can find nesting Waved Albatrosses in April, perhaps performing their famous courtship displays. Nazca boobies are a common sight too on Española, as well as marine iguanas and Galapagos Hawks.
Day 6 (28 Apr) AM: Floreana – Post Office Bay
Post Office Bay is one out of three nearby visitor sites on Floreana's northern coast. Bring your postcards and post them in the peculiar barrel on this historic site. The barrel commemorates an improvised mail service that was set up for communication between British 16th century whalers and poachers.
Day 6 (28 Apr) PM Floreana Island - Cormorant Point & Devil's Crown
The peninsula of Cormorant Point marks the extreme north cape of Floreana - an area formed by a number of small volcanic cones covered in tropical dry forest (palo santo). At the landing beach, you will be welcomed by a small Galapagos sealion colony. The green sand on this beach contains a high percentage of glassy olivine crystals which derives from the surrounding tuff cones. The 'flour sand' beach on the southern side of the peninsula is formed of fine white coral sand which feels very smooth on your feet. Parrotfish have pulverised it, grinding the calcareous skeletons of living coral. You can spot schools of stingrays who take cover by burying themselves in sand on the shallow sea floor. During the early months of the year, Pacific green turtles come ashore to lay their eggs.
Offshore we find Devil's Crown, which is a series of jagged rocks which can provide some excellent snorkeling.
Day 7 (29 Apr) AM: Santa Fé
One of the most striking features of Santa Fé island as you approach, is its coastal scenery of opuntia trees, which are tree sized cacti. These are an important source of food for the land iguanas we find here, which have to wait for 'leaves' to fall to the ground since they cannot climb to reach them.
The island is some 24 km2 in area and a maximum 60 metres above sea level. The waters which surround it can be a lovely turquoise blue, with a protective barrier of rocks creating a semi-lagoon which is ideal for humans and sealions alike for swimming and snorkeling.
Day 7 (29 Apr) PM South Plaza Island
South Plaza is a very pretty island, with opuntia cacti growing amongst an endemic succulent Sesuvium. During dry months this Sesuvium casts a shade of red across the ground; and in the wetter months it is a bright green. Both land iguanas and marine iguanas can be seen here; and there is a stunning cliff to the west which is excellent for watching birds in flight and nesting in the rocks.
Day 8 (30 Apr) AM: Santa Cruz Island – Charles Darwin Research Station
Although the great majority of Galapagos visitors come here to observe and appreciate natural wonders, it is also interesting to learn about the protection and conservation of the islands. The main attractions are the National Park information centre, the Van Staelen Exhibition Hall, the Breeding and Rearing Centre for young tortoises, and adult Galapagos tortoises in captivity. Aqua-Firma is a Corporate Donor to the Galapagos Conservation Trust - something we can be by your choosing to travel with us. Most of the donations we give to the Trust pay for work conducted by the Charles Darwin Research Station.
If you have elected to stay on in the islands, then we will help you to continue with your travels. Otherwise, from Puerto Ayora, we will take you across the Santa Cruz Highlands to the Itabaca Channel, where we will board a ferry to Baltra Island. From here you will take your flight back to the mainland.
Dates
8 days Wildlife Yacht Safari starting & ending Baltra airport in the Galapagos
Price per person sharing
Mainland Ecuador hotel & flight package: 3 nights hotel, transfers and Quito - Galapagos return flight package: add £970 pp sharing
Single supplements
If you are willing to share a cabin onboard then there is no single supplement for the liveaboard.
For a cabin to yourself add 85% to the liveaboard price.
Single supp for Quito / flights package = £335 to cover single hotel room occupancy & transfers
Price includes
Cabin space onboard
Shore excursions and zodiac activities
All meals onboard
Coffee, tea and water
All guiding by local expert guide & international host
A year's membership of the Galapagos Conservation Trust
Carbon offset for fuel used on the voyage
Not included
Flights*
Hotels before or after the voyage*
Galapagos National Park entrance fee - $100** per person to be paid in cash at the airport in Galápagos
INGALA Galapagos Immigration fee (US$20**)
Tips
Travel insurance
*we can arrange these if you wish
**correct at time of writing