Aqua-Firma offers inspirational small ship voyages to this unique and rarely visited archipelago which forms part of the Russian Arctic National Park. Situated north of Svalbard in the icy and wildlife-rich Barents Sea and enjoying 24 hour daylight under the midnight sun, in Franz Josef Land you will encounter a stark, enigmatic landscape steeped in the history of early polar exploration.
Wildlife highlights here can include walrus, seals, whales including the rare bowhead whale, nesting colonies of seabirds and of course, the King of the Arctic - the polar bear.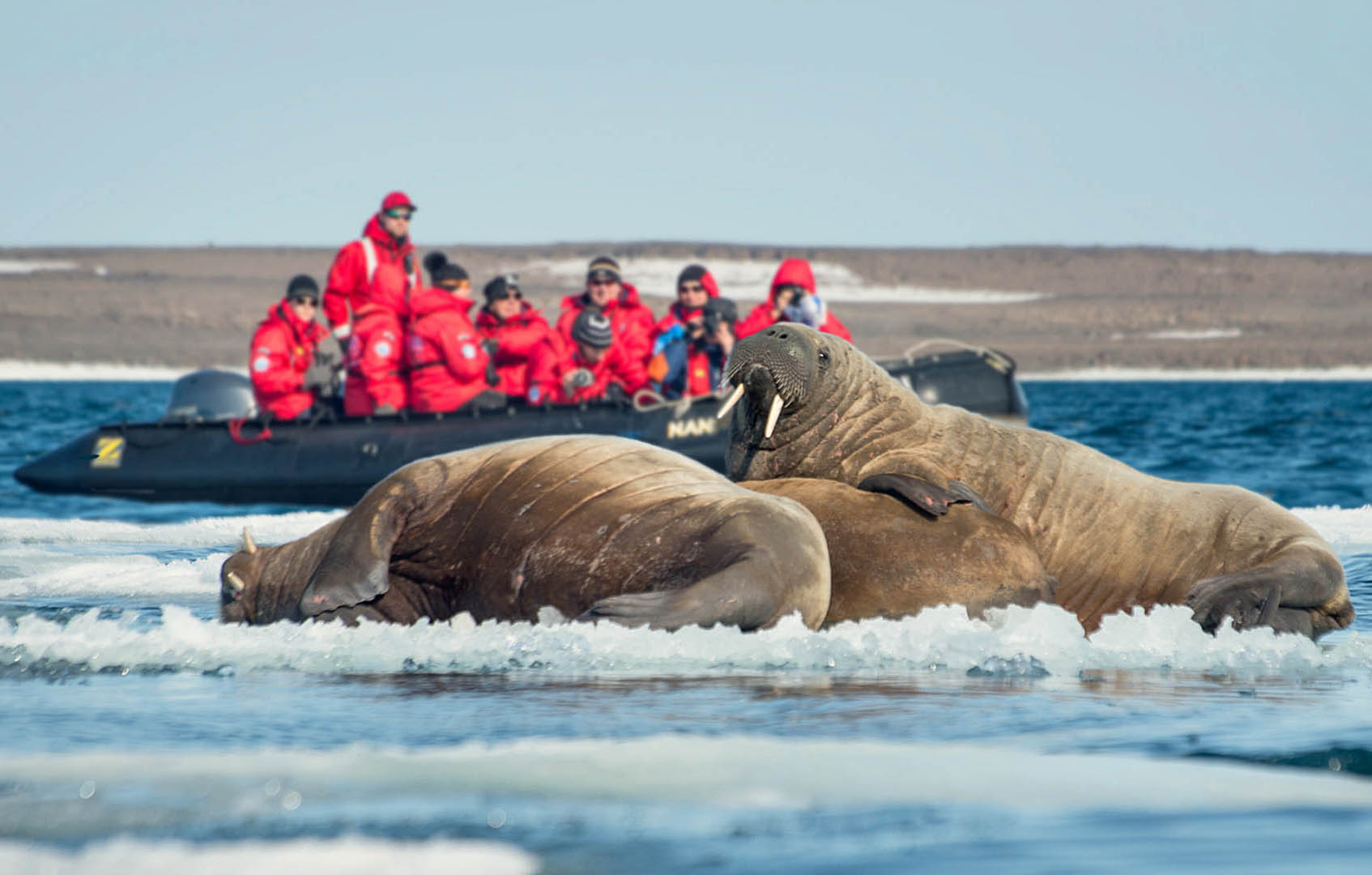 Aqua-Firma Marine Scientist and Polar Guide, Charlotte Caffrey, will be one of the leaders onboard our escorted Wildlife & Marine Life Expedition cruise to Frans Josef Land 15th - 28th August 2022. With more than 15 years experience of guiding in Spitsbergen, she invites you to explore deeper into a seldom visited Arctic sanctuary. Being almost 85% ice covered, scientists believe Frans Josef Land to have a population of polar bears around three times that of Svalbard.
Our base is a luxury expedition cruise ship carrying 114 guests in style and comfort. In recent years, this has been the only ship permitted to explorer the area, with an onboard polar expedition team whose knowledge of the human and natural history of the area is unsurpassed.

The archipelago, has been a nature sanctuary since 2012 before which time it was closed to visitors. Polar bears and other quintessential High Arctic wildlife-such as walruses and some rare whale species-can be spotted anytime, anywhere in and around Franz Josef Land. Scree slopes and cliffs around the islands host enormous nesting colonies of seabirds such as guillemots, dovekies, and kittiwakes.
Photography: Franz Josef Land offers an abundance of unique photo opportunities. On select departures our onboard complimentary photography program gives you the chance to learn and practice your photography skills alongside an expert photographer. A dynamic land of contrasts, Franz Josef Land boasts lush tundra oases amidst vast polar deserts, bird cliffs in sight of glaciers, and sea ice any time of year. You can capture it all with the benefit of 24-hour daylight. This enchanting landscape also has photo-worthy geological features such as the mysterious stone spheres of Champ Island.
National Geographic Photographer: Special Guest (selected departures)
Kayaking: If visitors to these islands are few, then kayakers who have taken advantage of these waters are far fewer still. With an incredible 191 islands, the possibility of encountering seals and walrus make this an exciting place to enjoy Arctic kayaking. Paddling adventures here are real and unscripted and on select departures we explore Frans Josef Land's rugged coastlines and uncharted waters.
Itinerary
Sample 14 Day Itinerary
A typical itinerary is illustrated below. All itineraries are for guidance only. Programs may vary depending on local ice and weather conditions, the availability of landing sites and opportunities to see wildlife. The final itinerary will be determined by the Expedition Leader on board. Flexibility is paramount for this truly pioneering Arctic expedition.
You will arrive into Longyearbyen today and will have the rest of the day free to explore this small but fascinating settlement. Be sure to see the excellent Svalbard Museum and enjoy the shops, cafes and restaurants in the town centre. You will stay in a local hotel tonight in preparation for embarkation tomorrow.
You will have the morning free to relax and further explore the town. In the afternoon you will be transferred as a group from your hotel and welcomed onboard your expedition ship. After settling into your cabin and a quick explore of the ship, watch as the long days of summer sunlight illuminate your surroundings as you slip your moorings and sail into a true wilderness where wildlife abounds. The scenery as you sail through Isfjorden on your first evening is spectacular and there is already the possibility of marine mammal encounters.
Days 3 - 4: Crossing the Barents Sea
From Isfjorden you will proceed straight to Franz Josef Land across the Barents Sea. As you sail, there will be a series of presentations and workshops by your expert staff to prepare you for what lies ahead. In these far northern latitudes, it is possible to encounter sea ice even in summer. Along the way, be sure to remain vigilant for sightings of ice-dependent marine mammals such as the elusive bowhead whale, various Arctic seal species, and the majestic polar bear.
Days 5 - 11: Exploring Franz Josef Land
This is expedition cruising at its most authentic! As such, your route and exploration opportunities in Franz Josef Land are heavily dependent on weather and sea ice. Your experienced captain and expedition leader will decide your best route and continually adjust plans as opportunities warrant in this wild and remote corner of the Arctic.
Between obligatory initial and final calls at the Russian polar station Nagurskoye in Cambridge Bay you are free to explore the many waterways and islands of this unique Arctic wilderness.
The archipelago, part of the Russian Arctic National Park since 2012, is a nature sanctuary. Polar bears and other quintessential High Arctic wildlife-such as walruses and some rare whale species-can be spotted anytime, anywhere in and around Franz Josef Land. Scree slopes and cliffs around the islands host enormous nesting colonies of seabirds such as guillemots, dovekies, and kittiwakes. You will take advantage of the 24-hour daylight to exploit every opportunity for wildlife viewing.

Franz Josef Land is dominated by glaciation, which covers 85% of the archipelago. Immense tidewater glaciers and glittering icebergs provide a stunning backdrop to our voyage. Franz Josef Land is also home to some interesting geological features, such as the mysterious stone spheres on Champ Island. Collectors of geographical extremes may take note that Cape Fligely on Rudolf Island is the northernmost point of land in the Eastern Hemisphere.
Franz Josef Land also offers visitors the opportunity to walk in the footsteps of famous polar explorers at well-preserved historical sites. The journals of explorers such as Julius von Payer, Benjamin Leigh Smith, Frederick George Jackson, and Fridtjof Nansen come alive at Cape Norway, Cape Flora, Eira Harbour, and Cape Tegetthoff. Memorials, monuments, crosses and the remains of dwellings are testimony to incredible historical events that are further illuminated by your expert lecturers.
Tikhaya Bukhta is currently a Russian Arctic National Park ranger station occupying Soviet-era research buildings and was also a major base for polar expeditions. Nearby the fascinating columnar basalt cliffs of Rubini Rock are home to thousands of nesting seabirds.
Days 12 - 13: The Svalbard Coastline
Following your week of exploration in Franz Josef Land, you will cross back through the bountiful waters of the Barents Sea and then along the coastal islands of the Svalbard Archipelago. From panoramic open decks, you can hope to enjoy Arctic landscapes and wildlife sightings. Bountiful inshore and offshore waters are home to walrus and a wide variety of whales.
The crossing also gives your expedition team the opportunity to offer a final presentation or two in the ship's lounge. Weather and timing permit, you will take a Zodiac cruise to have a closer look at wildlife as you make your way back to Longyearbyen.
Day 14: Disembark in Longyearbyen
You will bid farewell to your fellow passengers as you disembark after breakfast. You will either be transferred to the airport to meet your international flight, or to the town centre if you have a later flight or choose to extend your time in Longyearbyen.
Dates
Our Prices Include:
- Voyage on a sharing basis per person
- All meals, snacks, coffee and tea onboard
- Group transfer to airport or central Longyearbyen on disembarkation
- All shore excursions and zodiac activities
- Program of lectures by natural history and professional guides
- Comprehensive pre-departure material
Sea Spirit Voyages include:
- 1 pre-night hotel in Longyearbyen (2022) or Oslo (2023)
- Return flights Oslo-Longyearbyen (2023)
Price Excludes:
- Airfares
- Soft and alcoholic beverages
- Optional activities (e.g. kayaking) unless stated
- Visa and passport fees (please note that a Russian visa is mandatory)
- Additional pre and post land arrangements
- Cancellation and personal insurance
- Items of a personal nature (alcohol, laundry etc)
- Tips
Single supplement: There is no single supplement to pay if you are willing to share your cabin with someone of the same gender. For a cabin to yourself the supplement is 1.7x the per person rate (2x for premium cabins)
Potential Fuel Surcharge: If the cost per Brent barrel price rises significantly then there may be an additional fuel surcharge applied to some voyages.
Activity Level: Low to Medium