Immerse yourself in Greenland's pristine landscape of colossal icebergs and towering mountains in this thrilling 10 day (and 130km!) kayaking expedition. Your senses will be awash with the sites, sounds and smells of this breath-taking polar wilderness. Come face-to-face with curious seals, watch whales surfacing from afar, listen to the sounds of icebergs crumbling and glaciers creaking.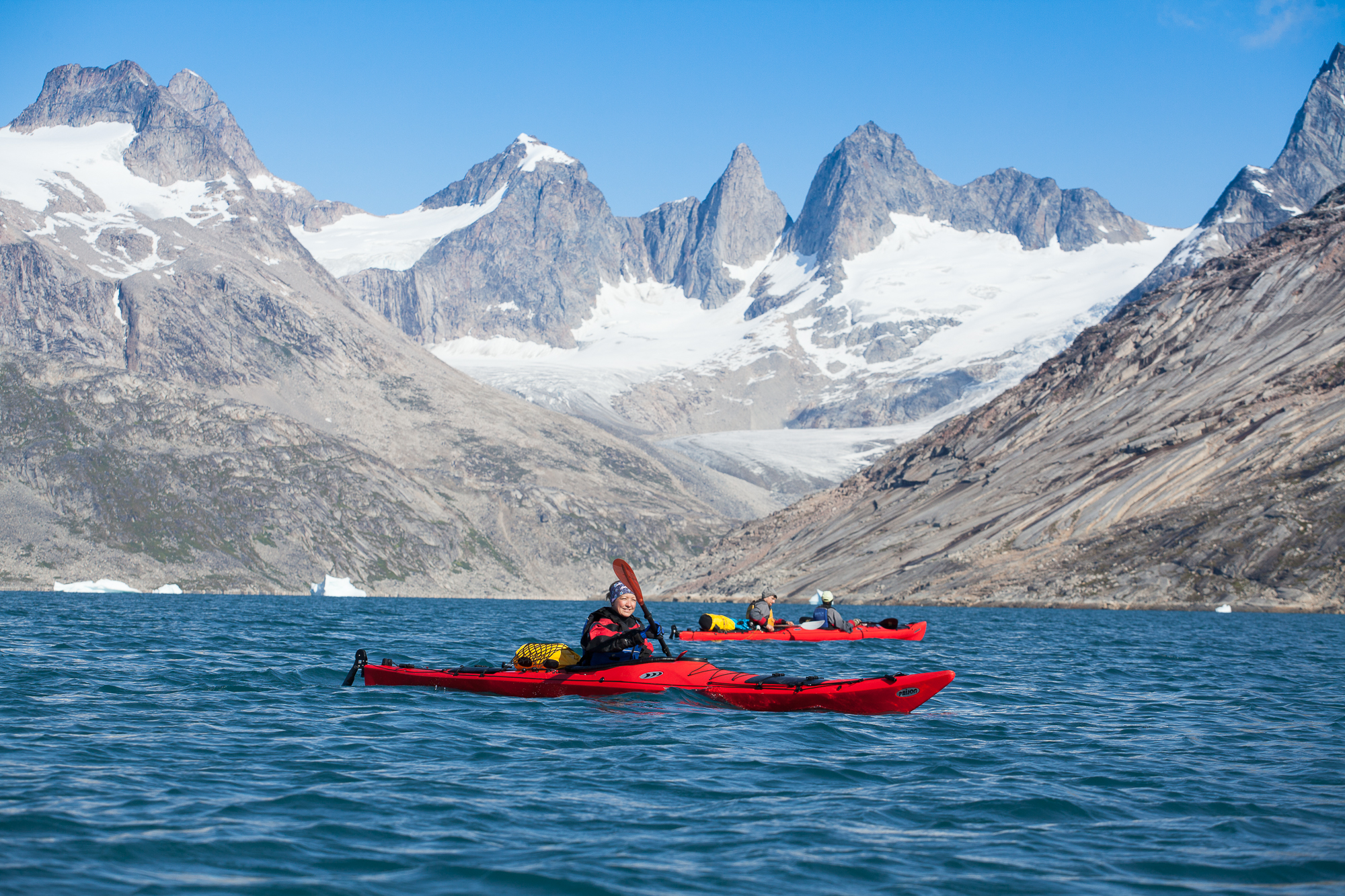 In your choice of single or tandem kayaks, you will be in safe hands with your experienced kayaking guide. With air temperatures ranging from 0°C to 10°C, you are open to the elements, however, previous group trips here in the summers have experienced sunny days, very little rain and calm conditions.

You will visit Inuit settlements and meet its inhabitants, gaining a taste of local culture and learning first-hand how they travelled from various hunting grounds to another a few generations ago.

Camping by night is an experience in itself. You will pitch your tents in remote and secluded bays unreachable by foot.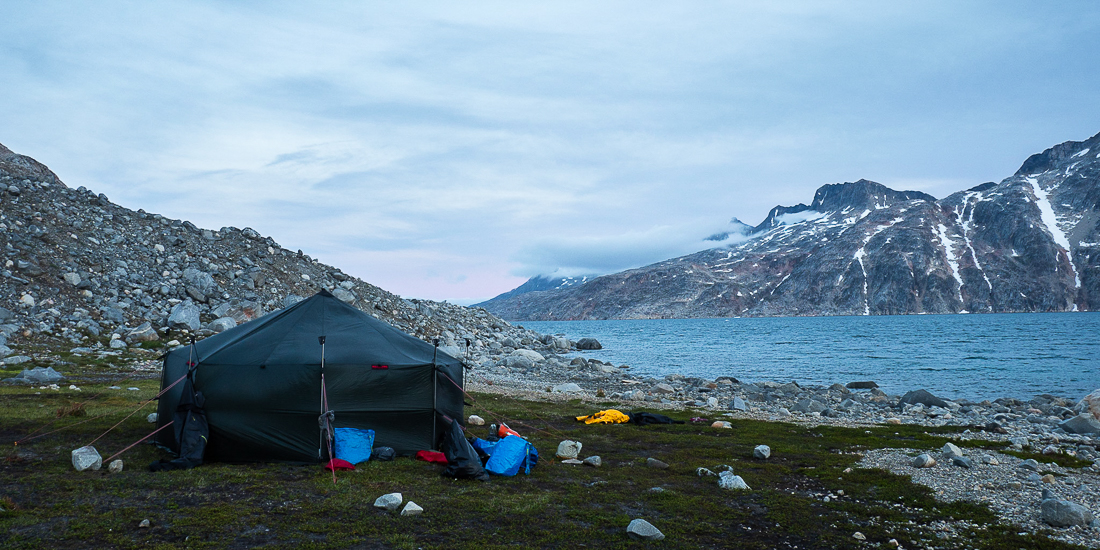 You will be provided with a kayak, paddle, spray deck, PFD, dry suit and neoprene shoes.

We have pre-arranged flights return flight between Reykjavik and Kulusuk airports. Please contact us if you would like to pre-book yours.
Itinerary
12 Day Sample Itinerary
Please note that this itinerary is a brief overview of the trip and is subject to change depending on weather and other conditions.
Please Contact Us to receive a flight quote.

You will step onboard a pre-arranged shuttle bus to your hotel.

You will be spending tonight in a centrally located hotel in Reykjavik's city centre.
Day 2: Flight from Reykjavik Domestic Airport to Kulusuk, Greenland
Upon arrival to Kulusuk, final preparations are made, then your kayaking adventure commences! At noon, you will begin paddling between beautiful icebergs towards Apusiaajik Island, where you will see your first glacier – and then west towards your campsite. The plan is to cross Ammassalik Fjord in order to reach a beautiful campsite in a small bay on east coast of Ammasalik Island.

Accommodation: Tents
Kayaking: 4 hours, 15 km
After a hearty breakfast, you will pack up the kayaks and head deeper into the stunning fjords of the East coast. Your destination is at the end of Sammileq Bay. Your campsite is situated next to a very powerful river surrounded by impressive high peaks and glaciers. After dinner you can take a nice short walk up river.

Accommodation: Tents
Kayaking: 5-6 hours, 16 km
Today you will head towards Ikaasatsivaq Fjord, still among high peaks, glaciers and huge cliff faces. You will pass an abandoned village and navigate between small islands if the ice allows conditions allow. This is likely to be one of the longest days. You will stay overnight next to a glacier halfway along the fjord.

Accommodation: Tents
Kayaking: 7-8 hours, 26 km
Day 5: Ikâsartivaq Fjord – Tiniteqilaaq – Sermilik Fjord
After half a day paddling in the fjord surrounded by mountains so tall that they make you feel tiny and humble, you stop in the small Inuit settlement of Tiniteqilaaq. After spending some time in the village, visiting the shop and meeting the locals, you steer your kayaks into the magical ice filled Sermilik Fjord and navigate your way around icebergs towards north to a bay and a well-earned rest after a long day.

Accommodation: Tents
Kayaking: 7-8 hours, 28 km
To really grasp the enormity and beauty of the area it's good to leave the kayaks behind for a day and head up to the mountains for a better view. From your beautifully located campsite you hike uphill to the top of Innertvik (543 m). This is a wonderful spot to view the whole Sermilik Fjord and to get a good look at the Greenland Icecap.

Accommodation: Tents
Hiking: 6-7 hours
Day 7: Sermilik Fjord - Pupik
You will continue South in the Sermilik fjord, weaving your way through the maze of icebergs. You can enjoy the mezmerising ice sculptures, listen to the thunder-like sound of icebergs breaking and turning while looking for curious seals surfacing between the ice. In the afternoon you will arrive to the area of Pupik where you will spend the night.
Accommodation: Tents
Kayaking: 7-8 hours, 27 km
Day 8: Pupik – Southern part of Sermilik Fjord
Today you embark on your last day of kayaking. You will follow the West coast of Ammassalik Island further south. Following closely the coastline you pass a nice sand beach and the last few gigantic icebergs before you head into a quiet bay and your last campsite on Ammassalik Island.

Accommodation: Tents
Kayaking: 4-5 hours, 18 km
Day 9: Hike from Sermilik to Tasiilaq
After sending your kayaks off in transfer boats you will walk, crossing the Ammassalik Island towards Tasiilaq. Walking first gradually uphill to a pass where you will be rewarded with a great view of the Sermilik Fjord that you are now seeing for the last time. Then you head downhill and on flat ground into a different and more fertile landscape. You pass a waterfall and some beautiful lakes on your way to Tasiilaq where you arrive in the late afternoon.

Accommodation: Guesthouse
Hiking: 7-8 hours, 18 km
Day 10: Tasiilaq and boat to Kulusuk
Today you have a full day to explore Tasiilaq - the largest town on the east coast with a population of about 2,000 and one of the fastest-growing towns in Greenland. Whilst here, why not visit the local museum, experience the traditional local way of life at the harbour, go for a walk in the blooming Flower Valley or buy some souvenirs to take home.

In the late afternoon you head back to Kulusuk with a boat. A unique sailing experience where the local boat driver safely navigates the boat through the ice-filled water. Make sure to look out for whales surfacing between the ice.

Accommodation: Hostel in Kulusuk.
Day 11: Kulusuk – Reykjavik
You will have the morning free to explore before heading to the airport later to catch your flight back to Reykjavik.
You will be transported back to Keflavik airport to catch your flight home.

Iceland is a country with its own varied and spectacular volcanic scenery. If you can manage even just one full day in Iceland, we can take you to experience some of the country's glaciers, mountains, waterfalls, hot springs and shooting geysers. This can all be seen with only a moderate level of activity; but equally, this can involve a high level of adventure. For details of our relaxing please click HERE to view our Iceland homepage.
Dates
Difficulty: Moderate to Challenging
Accommodation: Tents (7 nights) and guesthouse (2)
Meeting point: The tour starts and ends at Kulusuk airport
Group size: Minimum 6 - Maximum 10
Language: English
Kayaking per day: 4 - 9 hours
Note: The tour is operated in English and the guide will meet the group in Kulusuk Airport

Price Includes:
- Return Airport Bus Transfers between Keflavik & Reykjavik
- 2 nights B&B in Reykjavik Day 1 & 11 (based on two people sharing)
- Guide
- Food for 10 days (from lunch day 2 to breakfast day 11)
- Boat transfer: Tasiilaq – Kulusuk
- Tents (7 nights, 2 people in each tent) and camping equipment
- Kayaks and kayaking equipment
- Transport of kayaks and equipment
- 2 nights in a guesthouse in Tasiilaq (shared rooms and bathrooms)

Price Excludes:
- Flights to/from Kulusuk (can be added on the first and last day of the trip)
- Sleeping bag
- Travel insurance
- Any expenses derived from unexpected bad weather or delays in flights or boats
- Anything not stated on "what's included"

Total kayaking distance: 130 km.